Santa Cruz Hiking Trails & Guide
Santa Cruz is located in California, near San Francisco, Limekilns State Park, and Saratoga. The city hugs Monterey Bay vistas, and its hiking trails are some of the most beautiful and scenic spots on the West Coast.
Santa Cruz has some of the best geographies in California, from coastal views to infamous State Parks and national park trails, Santa Cruz mountain trails, inspiring Castle Rock sights, and cool island hiking. All of it is easily accessible and great year-round.
As a coastal town with plenty of splendid surrounding geography, there's a lot to see. There are hikes in Santa Cruz for families, casual wanderers, or seasoned mountaineers, as well as spelunking, climbing, and enjoying the city.
You can find biking trails and dog-friendly hiking Santa Cruz trails, Bay Area, and San Jose. For this reason, Santa Cruz is the perfect location for your hiking adventures.
Hiking Santa Cruz mountains is a must if you're into beautiful heights and landscape views. For Santa Cruz island hiking, you can get the best of forestry and ocean views in one trip.
No matter what kind of adventure you're looking for, you have your pick of choice destinations hiking around Santa Cruz. Try one of these trails to see the best of what Santa Cruz hiking has to offer.
Pacific Redwoods Loop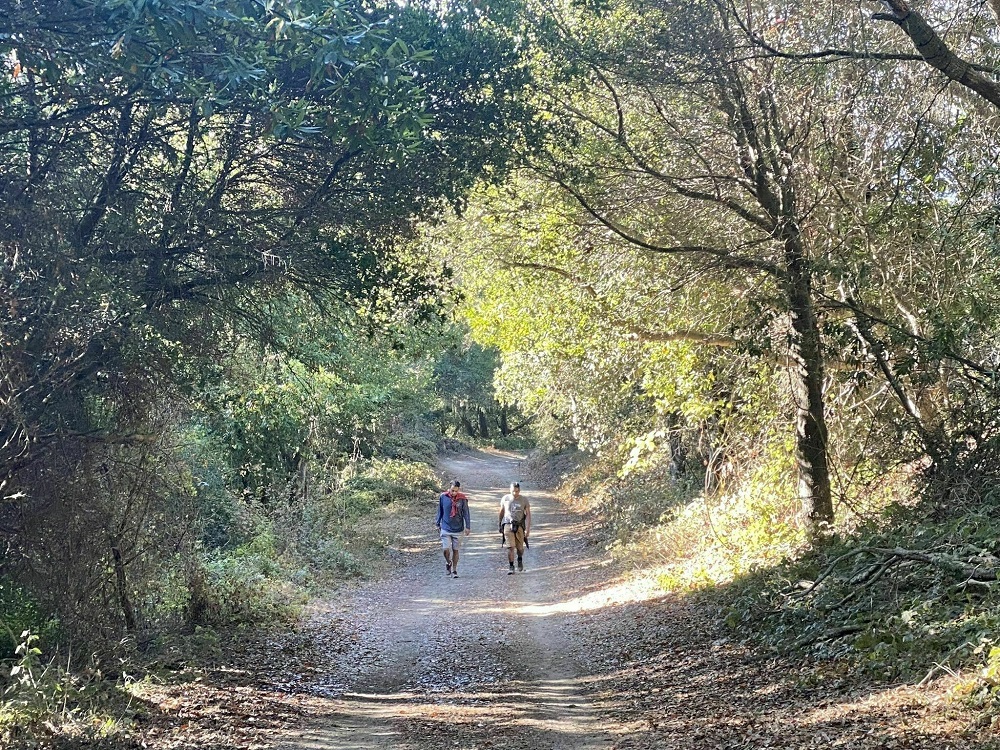 Located just a few minutes outside Santa Cruz, Pacific to Redwoods Loop is a 12-mile hoop trail encircling Wilder Ranch State Park.
This hike is rated moderate, with more difficult spots and some elevation gain around the loop. It's a favorite spot for bikers, runners, and trail walkers of all sorts. There is a lot of wildlife on this trail. Keep an eye out for squirrels, cottontail rabbits, turkeys, banana slugs, and butterflies along the way.
You can take a modified trek through part of the loop, or you can journey around the whole trail and enjoy all it has to offer. Stop at a picnic area and enjoy the view. There are lots of alternative trails to explore throughout the park.
Going clockwise, you'll encounter grassy meadows heading and old-growth redwoods and firs, carpeted wood sorrel.
Don't forget about the gorgeous ocean views. The skyline-to-the-sea trail is a great trek full of diverse, memorable Pacific Ocean views. Keep an eye out on 4-Mile Beach for harbor seals!
Heads up, going to the beach can get pretty windy, so you may want to pack a jacket for a colder day. Stop by the overlook on your way back to top this hike off with a peaceful view of the surrounding area.
Wilder Ranch State Park is one of those see-it-to-believe-it gems of the West Coast. The park's beautiful variety of redwood grove loop trees, oaks, rolling hills, majestic wildflowers, bluffs, cliffs, and coastal views makes it a pick you shouldn't miss.
Overall, this is a good Santa Cruz hiking trail for yourself or a family. Just take some caution when traveling cliffs while enjoying the sunset trail and miles of straights.
Any way you go about it, this is a spot you can easily spend multiple days exploring all its variations or plan for an epic day hike. Try this hike if you want something close to town that offers a little bit of everything Santa Cruz has to offer.
Parking: $10 fee
Dog-friendly: No
Camping: No
Sequoia Trail to Sempervirens Falls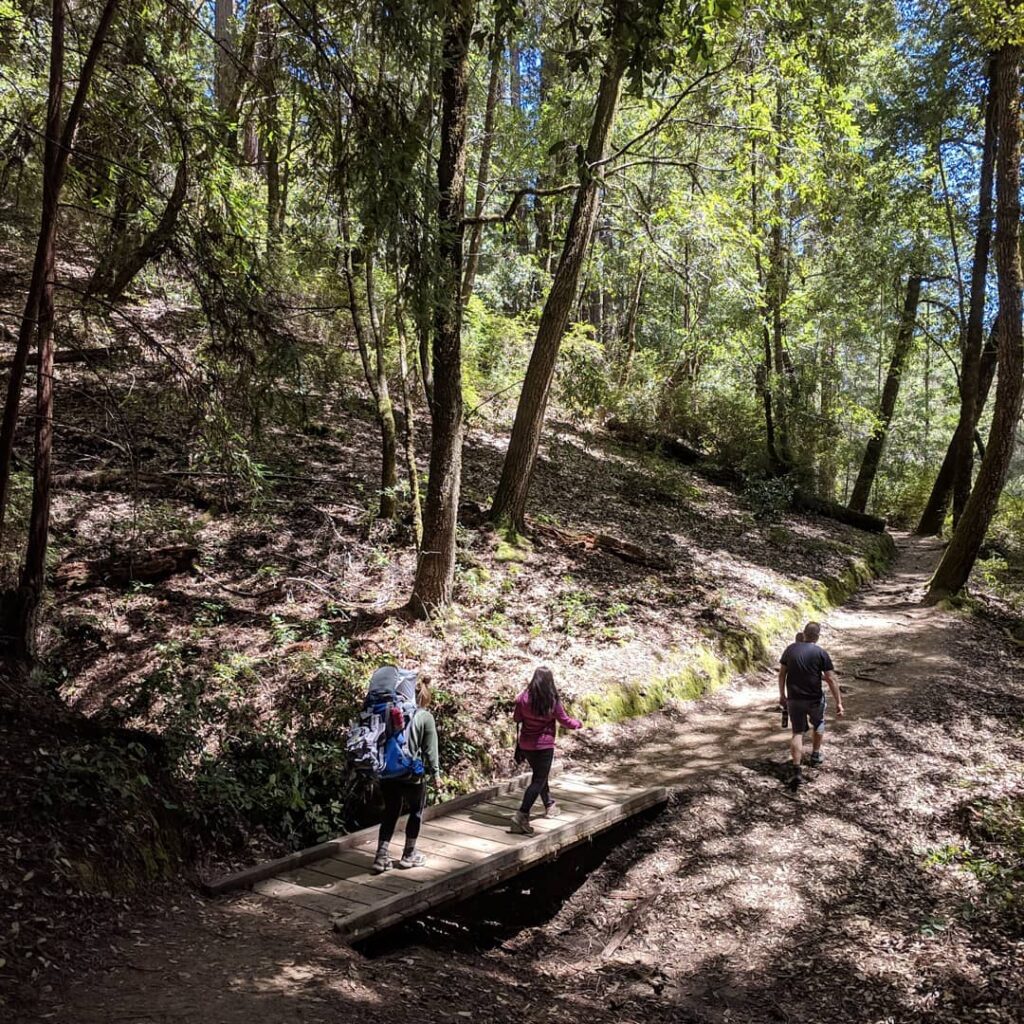 Sequoia Trail to Sempervirens Falls is a casual, short hike. The trail is in Big Basin Redwoods Park, 45 minutes from Santa Cruz. The .5 mile out and back hiking trail features a waterfall. From the park headquarters, the Sequoia Trail leads along Sky Meadow Road. From there, you can retrace your steps on your return.
This hike has plenty of open space under tree cover from redwood woodlands to stay cool on hot days. These locations are appropriately named after the sequoia sempervirens, another name for the redwood forests' coastal trees, which can be found across the coastland from southern Oregon to Central California.
The waterfall offers a small oasis with nearby campsites. Sempervirens Falls is a 25 ft waterfall and a great family-friendly piece of scenery. Are you looking for something laidback? This is a choice pick for hiking around Santa Cruz county if you want to be surrounded by easy sights.
If you're interested in seeing all of what Big Basin State Park has to offer? Take the Sempervirens Falls Loop via Sequoia Trail, or loop around the entire park for great backpacking, camping, and a memorable ocean view summit.
Parking: Street parking
Dog-friendly: No
Camping: No
Old Landing Cove Trail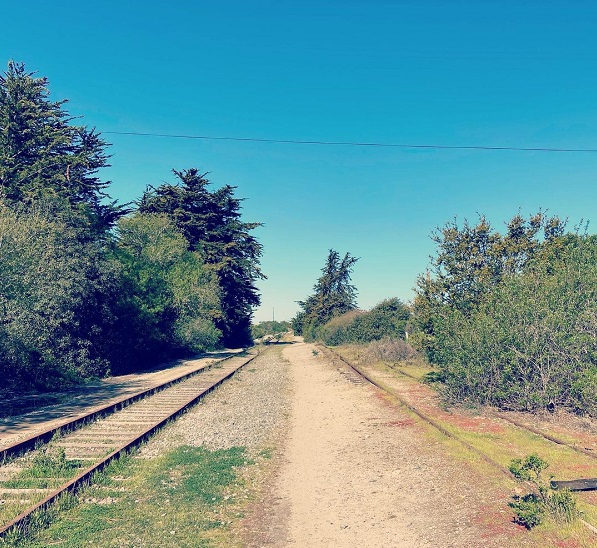 Old Landing Cove Trail is a 2.3-mile loop trail near Santa Cruz. This trail features a beautiful view along the Pacific Ocean.
This trail is perfect for nature and animal lovers. Hiking here, you're likely to see geese, pelicans, and other waterfowl and a chance of seeing sea lions or even a passing whale during its yearly migration.
Old Landing Cove trail, and it's even wheelchair friendly. The trail is heavily trafficked, so you might want to consider a peaceful early sunrise overlooking the water on a cliff walk. Since there isn't much shade on this hike, you'll stay cool and enjoy a calm trip.
This trail is for hikers and runners and is excellent for mountain biking, and is accessible year-round. It's popular with locals and visitors because of its location at the edge of Wilder Ranch State Park, near Santa Cruz.
If you want to add to this trip, travel through Wilder Ridge, Ohlone Bluff, Baldwin, and Old Cove Landing Trail and explore Wilder Ranch State Park. The park is 10.1 miles and more moderately trafficked.
Wilder Ranch State Park was formerly a Ranch, and many of the ranch buildings have been kept and restored as a museum. You can see the history there and get a nice sampling of the rugged hills and beautiful beaches the Santa Cruz county area has to offer.
If you want to explore North of Santa Cruz further, try Maple Falls for a beautiful vista waterfall.
Parking: $10 fee
Dog-friendly: No
Camping: Yes
Fall Creek Trail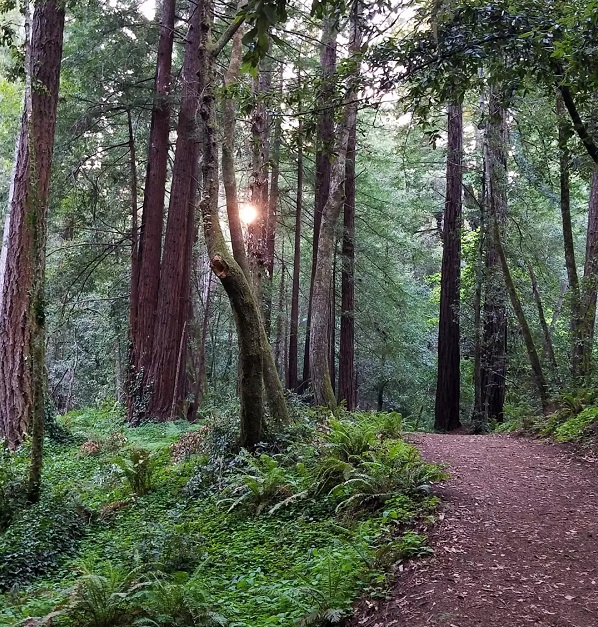 Fall Creek Trail is a moderately trafficked, 4.6 miles out and back trail located near Palmdale. Fall Creek and the trail run in a deep, steep valley. Redwood trees are around the valley, and the vegetation there is denser.
The trail is moderate and primarily for hiking. Here pass through hills and forest and see small waterfalls scattered along Fall Creek. You're likely to see some wildflowers on your way.
Bring water on this trail because it can get hot. This is another good morning or evening for some afternoon shade. Dogs are allowed on this trail also, so it's a great hike to get your pet good exercise.
If you want to add to this trip, make the Fall Creek and Lost Empire Trail Loop. The old-redgrove loop is a more challenging, 9.4-mile loop. It's heavily trafficked and also allows horses on the trail. Even going up the trail 1.5 miles, you'll reach the narrows and lots of swimming pools along the way.
Parking: $10 fee
Dog-friendly: Yes
Camping: Yes
Fern Trail, Spring Trail, and Lookout Trail Loop
Fern Trail, Spring Trail, and Lookout Trail Loop are great places to hike in Santa Cruz. The hike is 4.6 miles in total. Fern Trail, Spring Trail, and Lookout Trail Loop connect Henry Cowell Redwoods State Park, Pogonip, and the upper UCSC campus.
The scenic features and old fallen trees are great for nature photography. It will take you through coastal scrub, conifers and redwoods, and grassland.
Keep an eye out, and you may spot a deer or turkeys. You'll be impressed with the variety you'll see in the ecosystems and ecotones. With lots of natural beauty, it's easy to get lost in.
Be sure to detour to visit the quarry at the west end. There is a man-made rock garden that can be found along the way that you won't want to miss. This is a favorite spot along the whole trail.
This is a wild trail that makes for good, easy hiking. This is also a good running trail close to Santa Cruz. It's also well hiked, so expect some company.
Parking: No
Dog-friendly: No
Camping: No
Aptos Creek and West Ridge Trail Loop to Top of the Incline and Sand Point Overlook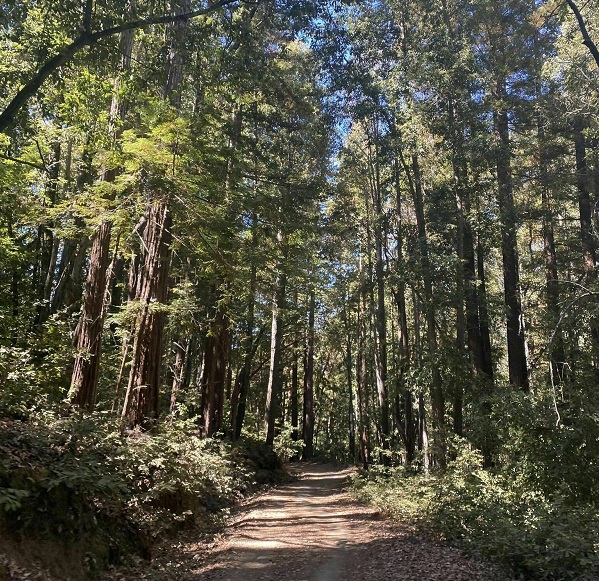 Aptos Creek and West Ridge Trail Loop to Top of the Incline and Sand Point Overlook is a 1.9-mile loop. This trail is located near Aptos and is heavily trafficked. The trail is 14.9 miles and is rated moderate.
You'll see lots of lush foliage on this trail. The trail's creek and the array of birds and other wildlife make it a peaceful atmosphere.
It is well maintained and has plenty of shade, plus a cool sea breeze to keep you comfortable. There is a nice blend of up and down elevation, so you'll get a little rest as you go.
This trail is a popular biking area, and the forest road along the trail might have some bikers traveling. There is plenty of open space for comfort on this trail.
You'll see creeks and running water during cooler months. Once you get farther into the old-growth loop, you'll begin to see fewer people.
The views on top of West Ridge are stunning and Nisene. You'll have stunning redwood views throughout and a beautiful creek to walk beside.
Parking: $8 fee
Dog-friendly: No
Camping: Yes
Scorpion Bay to Cavern Point Loop on Santa Cruz Island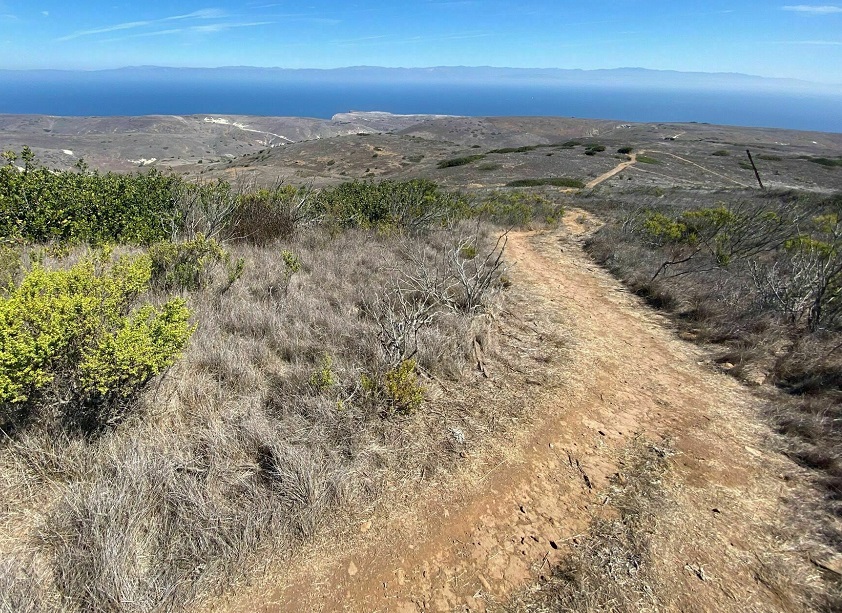 Santa Cruz Island is one of five islands that make up Channel Island National Park, just off the Pacific Coast from Santa Cruz. From its peak, you can enjoy views of the sunrise on the coastline and sunset over the Pacific Ocean.
Santa Cruz Island is the largest in Channel Islands National Park and has some of the most sought-after hiking trails in the Santa Cruz area. You\'ll spot all sorts of birds and other animals on your trip, as well as a colorful diversity of flora and fauna.
To go hiking on Santa Cruz Island you will need to book a boat transfer first to get to the island. The port station to the Channel Islands is in Ventura, so you\'ll have to park there to start. You can find booking information on Island Packers.
El Montañon Peak Hike on Santa Cruz island is a beautiful one-day sightseeing adventure. This 8-mile hike has some rugged trails, but you\'ll be glad you took the trek when you reach the top.
The hike is on the western side of Santa Cruz island and the highest island peak with general public access. It begins along a well-graded track and becomes rockier as you travel. If you stay right while you\'re walking to the ridge at the two-mile mark, you\'ll spot the remnants of an old mining operation and other landmarks.
At the top of the first ridge, you\'ll reach a false peak at the radio tower and catch your first great view of Santa Cruz island and the surrounding channel.
Continue past the tower to the next peak for a miraculous 360-degree view. From here, you\'ll be able to stop and appreciate the height and serenity of the Pacific and island landscape.
Boat fare: $59 for a day trip, $79 for overnight
Dog-friendly: No
Camping: Yes
Tips for Hiking in Santa Cruz
There are a few things you should consider if you've never been hiking near Santa Cruz. Or if you're not an experienced hiker. Hiking in a new area, especially off the beaten path, it's always good to learn about your surroundings.
Wildlife
Keep in mind that you might run into things like ticks, wasps, poison ivy, or even a rattlesnake. It's good to be prepared, especially if you're going on your Santa Cruz trek solo, but don't let this scare you. Just consider wearing something with good coverage and bringing bug spray.
There are plenty of other people on most of these trails, and they're some of the best hikes in the State.
Weather and Fire
Keep an eye on weather and fire alerts. There are fire roads for a reason. You don't want to get caught off guard on a hot day. You don't want to be out hiking when there are fire dangers, a lot of smoke, or trails that have been closed off.
Fires spread quickly. Check the local weather and check wildfire notifications to make sure you know the conditions of your area.
Hydration
In a hot climate, hydration is critical. Even on cool shady hikes, you want to have plenty of water with you to stay hydrated.
The terrain isn't always going to be easy, and you don't want to be dehydrated on a difficult journey back to the trailhead or risk heat stroke. A drink heavy with electrolytes is even better. Pack a meal for the picnic table or visitor center if you're going more than a few miles on your hike.
Join the Santa Cruz Hiking Club
Are you planning on getting acquainted with everything Santa Cruz has to offer? Join the Santa Cruz hiking club. You'll be able to connect with other hikers and learn the ins and outs of hiking in Santa Cruz.
Bring the Right Items
You're better off going through the checklist. Ensure you have a water bottle with enough water and any extra items you might need while hiking. What about items for enjoying the scenery, like binoculars or a camera?
Bringing the right clothes for your hike is wise, as well as good, well-fitting boots. A hat and sunglasses may come in handy if you won't be hiking with much shade. It's also a good idea to have a GPS or map on hand for longer trips.
A small pack is nice to have on some hikes and necessary on others. Some people choose to bring camel packs with them for easy access to water.
When to Go Hiking in Santa Cruz
The best time to visit California for day hiking is from September through November. During these months, the weather is still warm and sunny but won't be at its hottest. The sunsets during this time at about 6:00 pm by October, and you'll have enough time for a long day hike.
After Labor Day and before Thanksgiving, there are fewer tourists out hiking in Santa Cruz. This means the area will be less touristy, and you'll have emptier trails and a more open parking lot. Morning is always a great time to start your hike.
You can greet the sunrise or sunset on a skyline-to-the-sea trail for a long trek and get a lot of miles in with fewer people out on the trails. Even better, there will be less traffic and more space in the parking lot.
This will expedite your commute and provide a better, more calm experience on the best Santa Cruz hiking trails.