The Best Spots for Mountain Biking in Santa Cruz
If you're a cyclist looking for beautiful scenery and unique riding trails, Santa Cruz County is the perfect location for you. Mountain biking on Santa Cruz trails is quite the attraction, and the riding conditions are beautiful all year round.
Whether you\'re a seasoned vet or a newbie to the biking community, there are various types of trails that will suit your level of experience.
Keep reading for more information on biking responsibly, respecting your fellow riders, and how to find the best solo or guided bike tours in Santa Cruz.
Emma McCrary (Best for Beginners)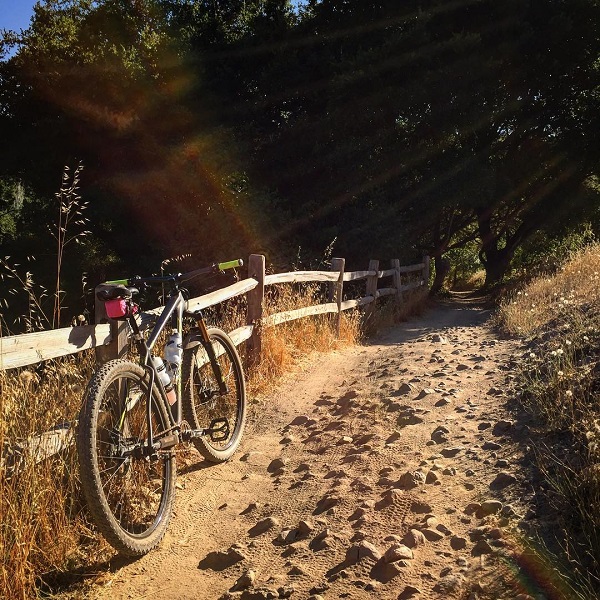 If you find yourself near Pogonia Park or the downtown area, take a look at the easier Emma McCrary bike trail. It is a winding trail that goes through a bay and oak forest and along a creek.
Emma McCrary Trail is known as a flow trail because the ride flows smoothly and there is not as much pedaling required as it is for some other trails. This trail helps you to get yourself used to ride longer distances, and it is the top sustainable mountain biking trail in the county.
This trail, thanks to the help of over 300 volunteers, was finished in 2012. It includes rollers, jumps, and berms, as well as a drainage system that helps to eliminate erosion.
Since the hills are not very steep, going uphill feels more comfortable and enjoyable if you like a slight challenge that won't tire you out.
The Soquel Demonstration Forest (Best for Experienced Bikers)
Almost every mountain biking trail on Santa Cruz is versatile and serves multiple functions. The Soquel Demonstration Forest is another flow trail that offers a nice landscape. Nisene Marks State Park is home to this trail, and a review site rated this route the top flow trail nationwide.
Advanced riders love the uphill battles and gradual climbs as well as the technical drops. If you enjoy a challenge and want to experience this rollercoaster in the forest, head over to The Soquel Demonstration trail. Aside from the steep hills, berms, rollers, and jumps, the forest itself is beautiful to observe.
The Wilder Ridge Loop (The Best Scenery)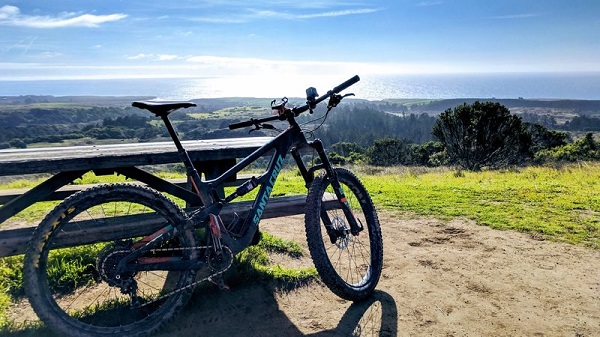 This trail has a nice mix of simple and slightly challenging hills, but the four-mile stretch of coastal grasslands in the Wilder Ranch State Park is breathtaking. The Wilder Ridge Loop puts you right in front of the azure Pacific.
No worries if you find that the trail isn't quite as long as you'd hoped; you can try connecting to some of the other trails that are a little more extensive. The Enchanted and Baldwin loops are two other enjoyable trails for bikers with varying levels of experience.
The Old Cabin Classic (The Most Diverse Trail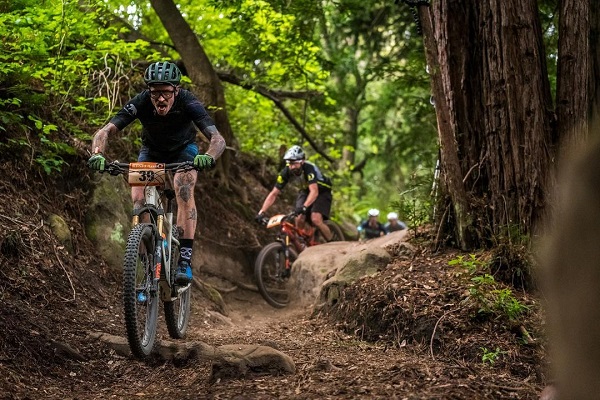 The trail begins in Wilder State Park on the side facing the ocean. It's the chosen bike route for an annual race occurring in May. For 11 miles, you can enjoy oak woodlands, chaparral, shady redwoods, and pastures along the coast.
Not only is the view stunning, but there are challenging hills, turns, and drops to keep you engaged along the way.
Honorary Mentions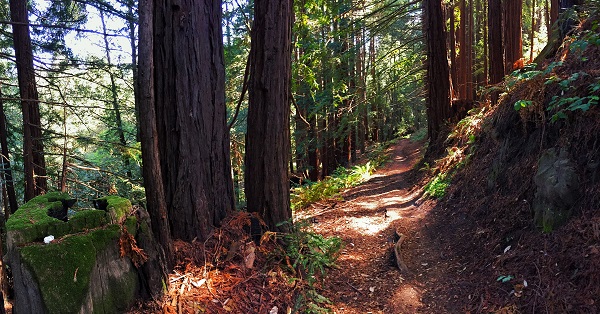 Be sure to check out these other bike trails if you have time to squeeze in a few more while your visiting:
The Enchanted Loop
West Cliff Drive
De Laveaga Parks
Additionally, check the MBOSC site for more legal trails in Santa Cruz.
Going On a Biking Tour
Planning your adventure can be invigorating. However, sometimes you do not want to put any thought into the trail; sometimes, you just want to ride. A seasoned guide can help you navigate some of their most-loved single tracks and favorite places to kick back after a ride.
If riding alone is not your forte, and you would rather ride the trails with others, Girls Rocks hosts public rides each month, weather permitting.
And if you ever find that it is too wet for mountain biking, Dig Days, hosted by the MBOSC, is a reputable venue for socializing and meeting new friends.
Where Can I Rent a Bike?
There are many bike shops to explore while you go sightseeing in Santa Cruz. Santa Cruz is home to 11 bike shops and boasts leading mountain bike manufacturers such as Juliana, Ibis, Specialized, and Santa Cruz Bicycles.
If you are looking to rent instead, check out the Family Cycling Center in Pleasure Point or take a trip to the Westside and check out Epicenter Cycling in Aptos.
If you\'re not looking forward to exerting yourself to climb hills, you can get yourself an electric mountain bike. There is only one caveat; be sure to research because electric bikes are not permitted on all trails.
Mountain Biking Responsibility
Here are a few etiquette tips if and when you decide to visit Santa Cruz to explore the trails:
Only Ride Legal Trails
One thing you should be aware of as a fellow rider is that just because a trail is mentioned online doesn't mean it is legal in Santa Cruz. For this reason, it is important to stick to trails you can legally access in order to create a culture that's friendly and conducive to the wellbeing of the biking community.
In this same vein, the MBOSC has worked together with the city on many projects to create more official trail access for mountain bikers all around.
Check the Conditions
Trails can be closed from time to time due to maintenance, storm damage, or even prescribed burns which can be quite common in Wilder. You can find information on whether or not a trail is open if you check MBOSC's website or social media channels, or you can call a local bike shop.
When you find that it's wet on the trail—don't force it, just stop somewhere and enjoy a beverage. As a rider, you don't want to bike in the rain if at all possible. It's not good for your bike or the trail.
Riding on the wet dirt will only serve to corrode the trail—ruining it over time. The combination of rain and mud is bad for your bike components, and the slippery conditions are a hazard in and of itself as they can cause terrible falls and serious injuries.
Make Preparations
When mountain biking, you want to prepare for the worst-case scenarios. That's why we recommend that you don't bike alone to ensure that nothing happens while out on the trail.
Keep in mind that cell signals are scarce and unreliable while out on the trail. Finally, don't forget your map. The GPS on your phone won't work either without a strong signal.
Be Friendly
Maybe this goes without saying, but respect your fellow trailmates! Many hikers and equestrians enjoy these trails as well, so be sure to share the trail, and don't be afraid to say hello!
Final Thoughts
We hope that we've provided you with a comprehensive list of trials that can help you have a great time while biking in Santa Cruz. Each trail offers something new and fresh, and you won't get bored exploring and traversing them.
As long as you're mindful of the things to watch out for, then you will have a great time biking in Santa Cruz!
Happy cycling!