An Insider Guide to Panther Beach, Santa Cruz
If you are planning a trip to Santa Cruz, California, you need to make sure you get as much as possible out of this trip. There are loads to do within Santa Cruz that most tourists will recommend, like strolling the Santa Cruz Beach Boardwalk, and while that\'s a fun way to pass some time, that\'s not a local hotspot in Santa Cruz.
Make some time in your itinerary to include visiting Panther Beach! Along with the beaches in Capitola, this is one local secret that most tourists don't venture to. 
Located in Santa Cruz County, just north of the city, you'll find this beach off of Highway 1 on the way to San Francisco. Visiting this beach is absolutely something that you do not want to miss while enjoying your holiday in Santa Cruz. 
Learn more about this beautiful beach below and grab some big tips to make sure you plan your trip accordingly.
Why Is it Called Panther Beach?
So, given that Panthers are not exactly common along the California Coast, why is it called Panther Beach?
After waking up and making a strong cup of coffee at your Santa Cruz beach rental, travel north approximately 10 miles. This beach sits exactly at the northern start of Monterey Bay and doesn't look anything like the main beaches in Santa Cruz.
You might need a bit of imagination, but as you take a look at the golden cliffs near the beach, you might be able to spot a panther! Sure, it is just going to look like a mixture of yellow, gray, and red rocks, but if you let your imagination take hold, you might just be able to spot a Panther shape in the rocks themselves.
To get to this beach, begin the drive in Santa Cruz and head north along Hwy 1. You will pass by Laguna Beach, and you will probably spot a few cute beach shacks along the way. You might also see some people working hard on the farm.
About 1 mile south of Bonny Doon beach, you'll notice an unmarked parking lot. There, pull off to the side of the road, follow a few deep ruts, and start your walk down the railroad tracks. Eventually, you should see a sign for the Coast Dairies State Park. This is where you will find Panther Beach.
Don't Judge the Beach By the Access Point
As you begin your walk, you are probably going to wonder why you are checking out this beach at all. It is important for you to stick with it. It is certainly worth the journey. And, hey, in my opinion, this unassuming walk makes the beauty of the beach that much more special when you do arrive.
The trail is going to look a bit narrow and overgrown. There will be a bunch of flowers lining the trail and, while they do look nice, they also cover up the path. As a result, you may have to work hard to cut through the overgrown foliage, but you will eventually get to Panther Beach!
There is a good chance you will see plenty of other people making the walk with you, which is a sign that you have come to the right place. Most of the people who come to the beach are UCSC college students, so whether that's your age group or not, get ready to have a blast! 
What To Expect on the Beach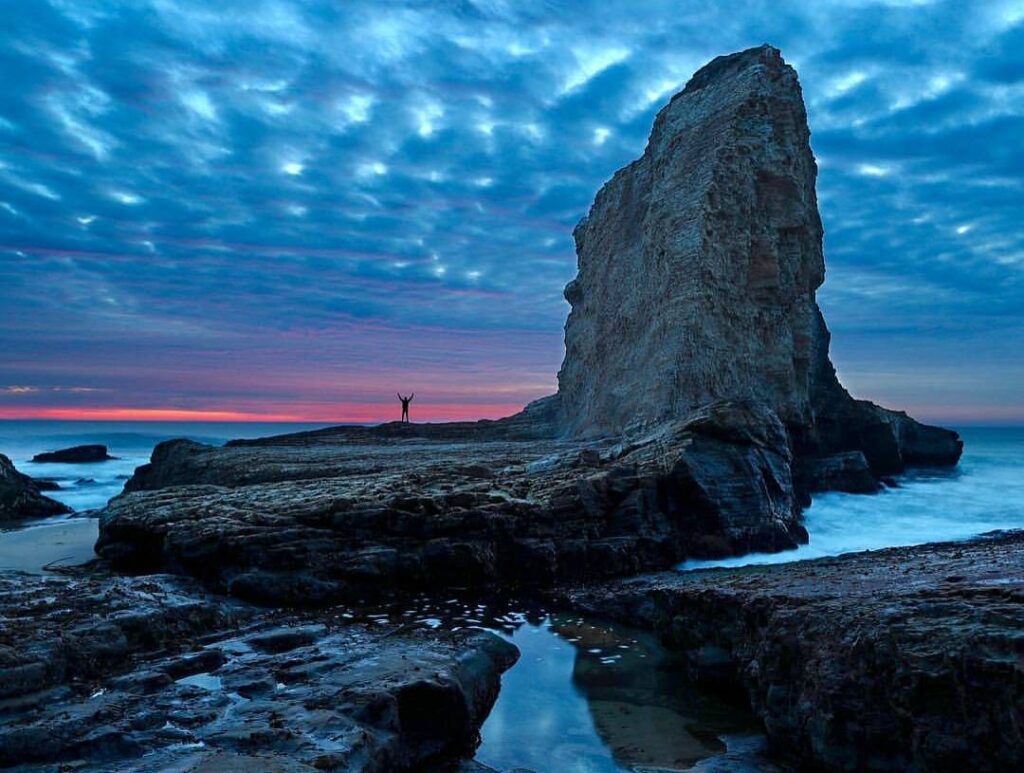 Now that you\'ve actually made it to the beach, what should you expect? Panther Beach is a remote Northern California beach. It is one of the best-kept secrets of the region and is loved by locals.
If you come to Santa Cruz, California as a tourist, you'll feel like you're being let in on a pretty incredible secret. It is certainly worth the journey to see this amazing rock formation on your road trip.
The beach itself is at the mouth of the Yellow Bank Creek. At one point, it was known as Yellow Bank Beach, but it is better known as Panther Beach today. You might also hear it called Hole in the Wall Beach. The reason why it has this name is that when the tide goes out, you can walk underneath an arch in the rock. If you want to do this, you need to come to the beach at low tide.
Don't worry, it is still plenty of fun to visit at high tide but the beach looks markedly different. At high tide, you won't get the stereotypical view that probably made you want to visit this beach in the first place.
Regardless of the tide, you will have a beautiful view of the Pacific. You will probably spot a few animals playing to the rocks, particularly as the tide goes out.
Just as a fair warning, you may spot a few nude sunbathers as well, so make sure you keep this in mind during your trip. At this state beach, it\'s clothing optional so either embrace it or divert your eyes!
Do Not Go Rock Climbing
When you take a look around, you will probably see a bunch of college students, high schoolers, and young adults engaging in a variety of activities. Just because you see them doing so doesn't mean they aren't necessarily allowed.
For example, because you see so many unique rock shapes, you might think about going rock climbing. This is not permitted, and is incredibly dangerous. If you decide to go rock climbing, you will do so at your own risk. Remember that it is illegal, and if you slip and fall, you could suffer a serious injury. It is better to be safe than sorry.
Other Rules To Follow
During your visit to Panther Beach, there are a few other rules to follow. A few points to keep in mind include:
You should not bring any glass bottles to the beach. Even though you'll probably see them littering the sand, this is an important safety hazard. You do not want to step on a piece of broken glass, so leave the glass bottles in the car.
You are not allowed to have any bonfires on the beach. Even though you will probably see a bunch of college kids burning firewood to light a fire, this is not permitted.
Pets are not allowed on the beach either. Even though you will probably see your fair share of dogs, and maybe a few adventurous cats, you should not bring your own pets.
You are also not permitted to camp out overnight. Some people may decide to do so, but this is technically illegal.
There are no public restrooms at this state park.
Now, there are a lot of college students who regard these rules as guidelines instead of laws; however, it is better to be on the safe side.
Bring Your Swimsuit and Surfboard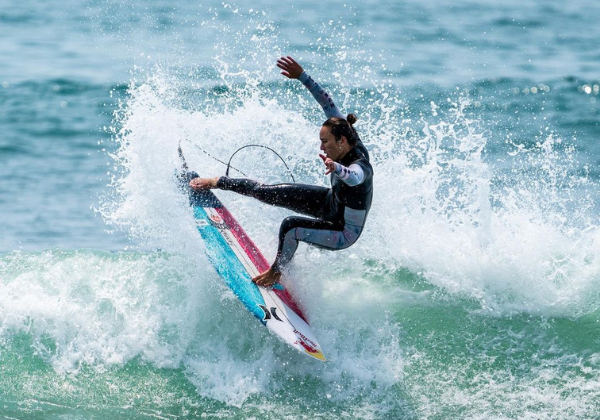 Even though there is a lot that you cannot do on the beach, there are still plenty of aquatic activities to take advantage of! The waves are absolutely huge, so this is one of the most popular surf spots in the region. Make sure you bring your surfboard!
After getting your exercise in, you may want to take advantage of the tide pools as well. The current can be a bit strong, so you may want to keep an eye on children. Younger children may even want to wear some floaties or a life jacket if they are not strong swimmers.
Please Pack Up Your Trash
The views you will see at Panther Beach are absolutely striking. In fact, the juxtaposition of the sheer amount of litter when compared to the beautiful natural scenery might even be described as shocking.
Remember that there are lots of other people who will want to enjoy this gorgeous beach as well.
Therefore, no matter how much you eat and drink, and no matter how tired you are at the end of the day, please remember to pack up your trash. Even better, leave it cleaner than you found it and pick up any nearby trash you see as well.
That is the only way to keep this beautiful, secluded beach in good condition for the next wave of guests! Some people call this the best beach to see on your getaway!