5 Haunted Places in Santa Cruz County
Santa Cruz is a fun and sunny area filled with friendly people and places to enjoy outdoor activities. However, don't let this bright and cheery front fool you. There's also a dark and spooky side to Santa Cruz.
You can find a lot of historical landmarks and structures that have a rich history of haunted lore. Even Alfred Hitchcock drew inspiration from Santa Cruz's landscapes for his suspenseful thrillers.
Make sure to visit these haunted Santa Cruz locales, along with other spooky places during your next visit.
The Brookdale Lodge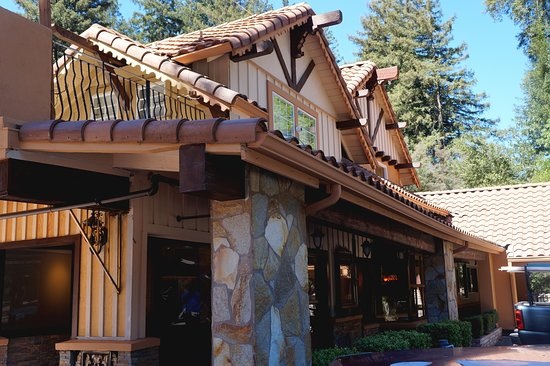 Established in the 1800s, the Brookdale Lodge became the second most popular resort in California by the 1950s. At its peak, it used to be an escape and hideaway for Hollywood A-listers.
Both owners and guests have shared experiences of ghost encounters over the years. The most famous ghost is Sarah Logan. Sarah was a relative of the lodge's owner at the time. She was playing in the Brook Room, which has a river running through it. She, unfortunately, tripped and fell and drowned in the river.
Ever since this tragic incident occurred in 1918, many guests have reported that they've seen a young girl with braided blonde hair wandering the halls. When she\'s sighted, she's often looking for her mother and asking for help to find her.
There are other reports of ghosts and supernatural encounters. Many guests and staff of the lodge have heard echoes of big band music playing in empty rooms. Appliances and lights also turn on and off on their own, and some areas have unexplainable cold spots.
Golden Gate Villa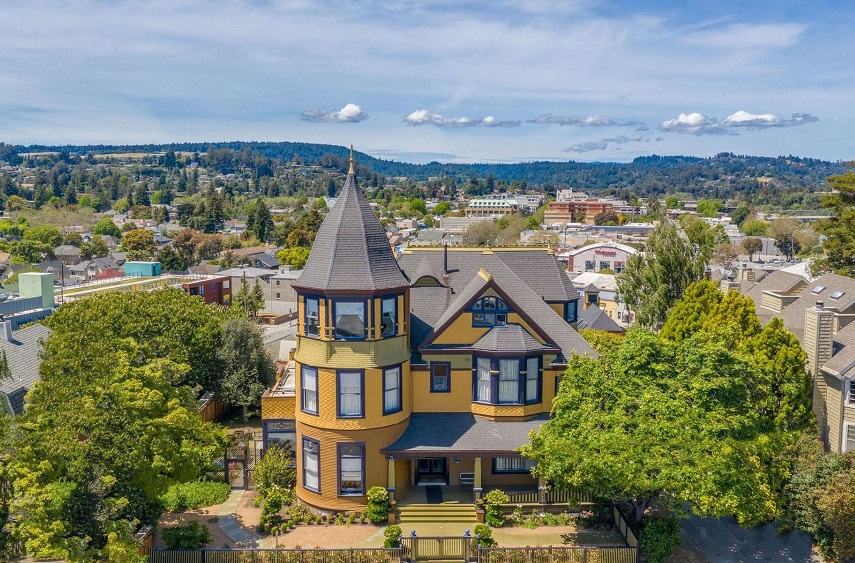 The Golden Gate Villa is a Queen Anne Victorian-style home built in 1891. It's a stunning space with Tiffany-quality stained glass windows and rooms with intricately detailed interior design. However, much like how sunny Santa Cruz has a spooky side, there's a chilling story that happened within the walls of this villa.
Tragedy struck in 1907. The homeowner at the time, Major Frank McLaughlin, had involved himself in a great financial scandal that cost $12 million. This scandal, along with other political downturns resulted in McLaughlin doing the unthinkable.
On the second anniversary of his wife's death, he fatally shot his adopted daughter, Agnes, while she slept, and then he took his own life.
Over the years, the villa has been open to guests. Many of these guests have reported seeing an apparition of Agnes during their stay. There are also reports of mysterious cold spots, and guests sometimes feel like they're not the only ones in the room.
Many locals now consider Golden Gate Villa as a prime haunted Santa Cruz destination. However, although Agnes had a horrific and untimely death, her ghost doesn't maliciously haunt the villa. A past resident even remarked feeling positive energy in the home and attributed it to Agnes.
Haunted Tuttle Mansion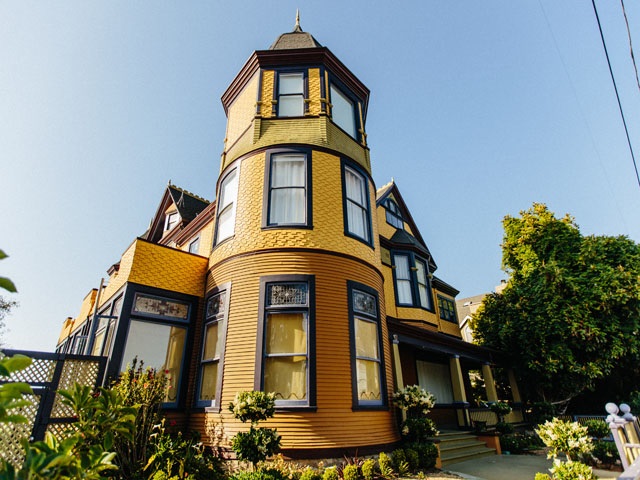 This haunted Santa Cruz mansion came to be in 1899 and housed the Tuttle family. This family was large and multi-generational, and it had a lot of turbulent dynamics and relationships. Several known deaths also occurred on the premises of this mansion.
With the enigmatic energy associated with this family, it's no surprise that the Tuttle Mansion eventually became a well-known haunted site. Many visitors have seen apparitions and orbs and have seen doors opening and shutting on their own. They have also reported hearing typewriter keys clacking and children's laughter in the rooms and hallways.
Many ghost hunters also believe that the Tuttle Mansion is a portal that holds the energy of the Tuttle family. It's an active site with numerous reports of supernatural occurrences.
Ocean Street Extension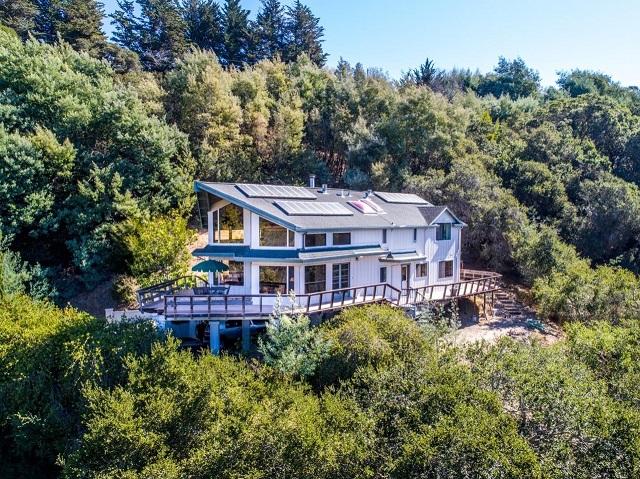 Ocean Street is the location where many people have sighted the infamous White Lady. Her legend begins in the 1870s. She was a mail-order bride, and she, unfortunately, wed a horrible husband. He would often get drunk and force her to wear her white wedding dress while he hit her.
The woman eventually started making plans to escape her husband. However, word got out, and when he discovered her plans, he ended up murdering her. Since then, there have been numerous sightings of her apparition. She haunts her property on Quail Crossing and the surrounding area.
Many people have heard moaning near her property and the sound of footsteps with untraceable sources. There are many sightings of her in multiple areas on Ocean Street, and some people have reported seeing her in the Santa Cruz Memorial Cemetery.
The White Lady is a violent and vengeful spirit. Some people have heard her murmur death threats. There's also a popular rumor that she once threw an ax at a child.
Arana Gulch
Many people have spotted one of Santa Cruz's most famous ghosts in Arana Gulch. This ghost is Andrew Jackson Sloan. In 1863, Sloan rode his horse through Arana Gulch and encountered three bandits who fatally shot him.
Sloan's name didn't resurface to the public eye until over 30 years later. A mother and daughter were near the gulch when they saw an apparition. They were able to provide a very detailed description. The ghost was the form of a man, and he wore a black overcoat and wide brim hat.
A man involved in Sloan's murder investigation heard the report of the sighting, and he stated that it perfectly described Sloan.
After this initial sighting in 1895, other reports of Sloan's ghost popped up from other witnesses. Sloan's story started gaining popularity. It even spurred the writing of the fictional book, Ghosts in the Gulch: An Evergreen Cemetery Mystery, which is based on true events.
Today, Sloan's gravesite rests at the Evergreen Cemetery, but his ghost seems to roam around as a restless spirit.
Final Thoughts
If you plan to visit Santa Cruz, you can fill your day with fun outdoor activities and sunbathing at beautiful beaches. As the daytime turns to twilight, make sure to leave space to experience Santa Cruz's eerie side.
When you dig beneath the surface of Santa Cruz's history, you'll find many haunting historical accounts and tales. It's no surprise that this city has a lot of spooky lore and haunted landmarks.
Besides visiting these Santa Cruz haunted places, there are plenty of other things to do during the Halloween season. You can start with the Haunted Castle at the Boardwalk and then find some Santa Cruz haunted tours. Who knows where the night will lead!