Best Seafood in Santa Cruz, CA
When most people think of California, they imagine sand, surf, and excellent cuisine. Fortunately, Santa Cruz has all three, especially if you\'re in the mood for seafood restaurants. Since the city is right on the water, many spots offer excellent fish dishes that will get your mouth watering.
We\'ve scoured all of Santa Cruz and discovered the top 10 best Santa Cruz seafood restaurants. So, join us on a culinary taste test.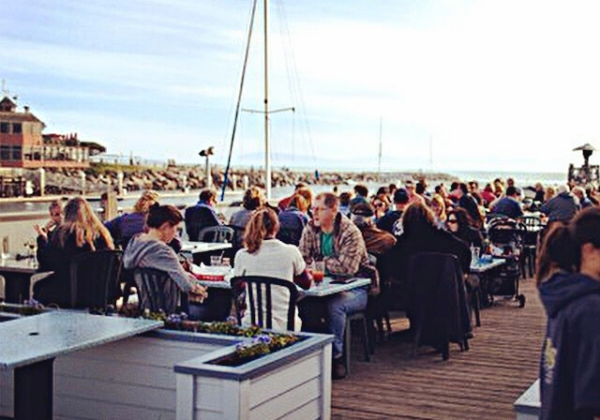 2790 Mariner Park Way, Santa Cruz, CA 95062
If you like a side of history with your main course, you\'ll appreciate Aldo\'s Harbor Restaurant. This place goes back to the 1950s when restauranteur Aldo and his wife Inez opened their first stand on the Santa Cruz wharf.
It wasn\'t until 1962 that the couple opened their first seafood restaurant after first running a pancake house and a bait and tackle shop. Interestingly, the original Aldo\'s site is now the Crow\'s Nest, and the current Aldo\'s Harbor Restaurant is where the bait and tackle shop used to be.
Although Aldo\'s serves some gourmet meals, it\'s only open for breakfast and lunch. You can start your day off right with some blackened Mahi Mahi, grilled rock cod, or some salmon eggs benedict. If you come back for lunch, be sure to try Aldo\'s famous cioppino, made with mussels, calamari, prawns, and Dungeness Crab. If you want something a bit heartier, we recommend the crab or shrimp fugasa sandwich.
429 Front St, Santa Cruz, CA 95060
If you\'re going to go to a seafood restaurant, why not get a mess of seafood poured out onto a plate in the middle of your table? The Crazy Crab delivers bags of steamed shellfish for you and your dinner guests to dig into with joy.
As a crab boil restaurant, there\'s little variation on the menu. However, you\'re not coming to a place like the Crazy Crab to try a salad or a sandwich. The restaurant specializes in seafood boils, so there\'s no reason not to get one. You can get your mixture hot and spicy or mild and buttery, just the way you like it.
As far as ingredients, you can include whole lobsters, clams, crawfish, shrimp, and, of course, sausage, potatoes, and corn on the cob. What more could you want?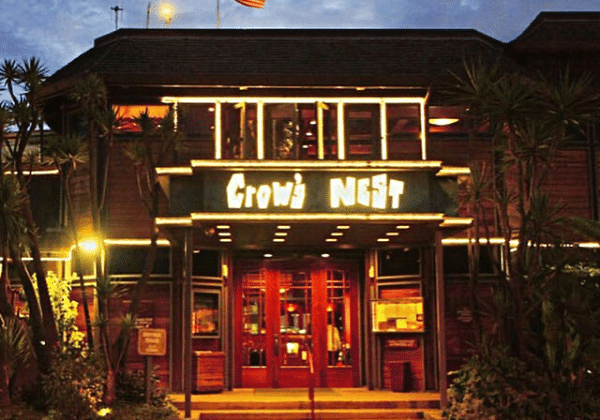 2218 E Cliff Dr, Santa Cruz, CA 95062
This seafood restaurant is notable because it\'s a twofer. If you visit the downstairs section, you can partake in any meal of the day, from breakfast to dinner. However, if you\'re more of a bar & grill type, you can head upstairs and see how well your favorite fish pairs with your favorite beer. There\'s also the Beach Market if you can\'t get enough to eat from the first two options.
Let\'s start our journey downstairs, where highlights from the menu include award-winning calamari, seafood Thermidor (a casserole dish), and Nova Scotia sea scallops.
Upstairs, you can sample some delicious options like Dungeness crab cakes, fish and chips, or fish tacos. The bar & grill also serves laughs every Sunday starting at 9:00 p.m. There is a cover, and the bar hosts three acts.
Finally, if the beach market is more your scene, you can fill your belly with wood-fired pizzas, sandwiches (both hot and cold), and salads. Overall, if you\'re coming to the Crow\'s Nest for seafood, downstairs is your best bet.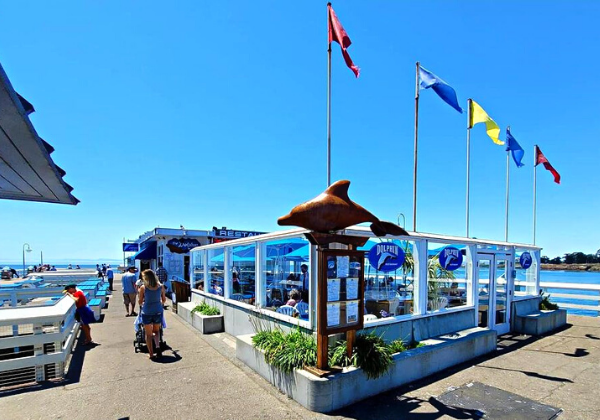 71 Municipal Wharf, Santa Cruz, CA 95060
Santa Cruz has a mixture of both fine dining and laid-back seafood restaurants. Dolphin certainly falls into the latter category as a place to bring friends, family, or old acquaintances. The menu is full of seafood favorites, so you know what to expect, and you know you\'re not going to pay an arm and a leg.
In addition to hot sandwiches and seafood pasta, you can also buy the catch of the day. Dolphin serves sole, Pacific snapper, and salmon fresh to your table so that you can get the authentic harborside experience. The restaurant also has a decent fried fish menu if you want to add some extra deliciousness to your plate.
493 Lake Ave, Santa Cruz, CA 95062
As with Dolphin Restaurant, Johnnie\'s is another local favorite where you can kick back, relax, and watch the sun set over the water. The restaurant is located at the Santa Cruz Yacht Harbor, so you also get to see boats coming in and out while you eat.
As far as the menu goes, it\'s pretty simple fare like fish tacos, a prawn and crab hoagie, and a fresh catch of the day. Unlike Dolphin, you\'ll need to ask your server which fish is in stock as it rotates regularly. Another specialty is the Katsu Curry Cod, which is a breaded cod fillet with miso, ginger, and a side of sticky rice.
Photo Credit Via Instagram @rivafishhouse
31 Municipal Wharf, Santa Cruz, CA 95060
The Santa Cruz wharf has quite a few notable seafood restaurants, but only one has been voted the Best on the Wharf, and that\'s Riva Fish House. Once you sample some of the eats here, it\'s easy to see why voters were so impressed. Not only is the menu exquisite, but the fish house has an excellent happy hour from 3–6 p.m. Monday through Friday.
Notable seafood dishes include calamari, prawn cocktail, cajun linguini and clams, and the snapper sandwich. If you\'re in the mood for fresh fish, you can choose from salmon, snapper, Mahi Mahi, and tilapia. Best of all, you can pick your sauce, including butter, southwest, or pesto cream sauce. The clam chowder here is also pretty tasty.
59 Municipal Wharf, Santa Cruz, CA 95060
Usually, if you want fresh seafood, you have to go to a fish market to pick your catch. Fortunately, Stagnaro Bros is both a fish market and a restaurant so you get the best of both worlds. If you want to keep things simple, just choose your favorite fish or crustacean, and they\'ll cook it to your liking. However, if you want something a bit more gourmet, the brothers have you covered.
For appetizers, you can choose between prawn tacos, shrimp quesadilla, or salmon nuggets. For entrees, highlights include seafood lasagna, Ernesto\'s fisherman\'s pasta, or Giovanni\'s famous cioppino. If you couldn\'t tell, Stagnaro Bros also acts as one of Santa Cruz\'s best Italian restaurants. The place has been in business since 1937, so they must be doing something right.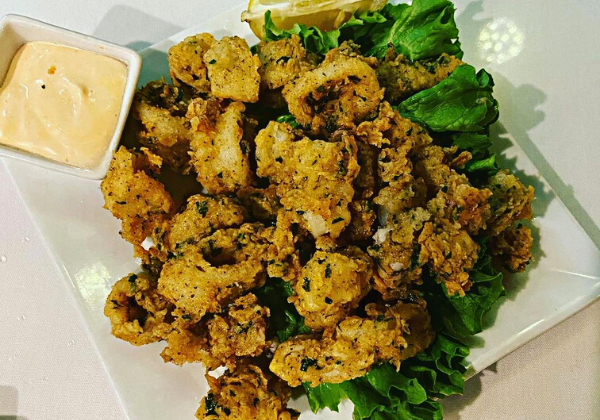 503 Water St, Santa Cruz, CA 95060
Although this restaurant isn\'t on the water, it is located on Water Street, which is the next best thing. Also, you don\'t have to be next to the ocean to be one of the best seafood restaurants in Santa Cruz.
The atmosphere here is both fancy and laid-back. It\'s the type of place with snazzy outdoor seating but also a happy hour every day. The menu reflects this dichotomy with rich dishes like steak and lobster or calamari steak almondine paired alongside traditional favorites like clam chowder, fish and chips, and a cajun fish sandwich.
1400 Wharf Rd, Capitola, CA 95010
Despite its name, this seafood restaurant is not on the municipal wharf. Instead, it\'s the pier next to Capitola Beach and Soquel Cove. However, despite not being part of a landmark destination, the Wharf House has everything you could want and more.
Here you can get breakfast, lunch, and dinner. Highlights from each meal include a smoked salmon scramble, fried prawns and chips, and seared ahi tuna. The beach-style vibe of the Wharf House makes it an excellent place for friends and children alike.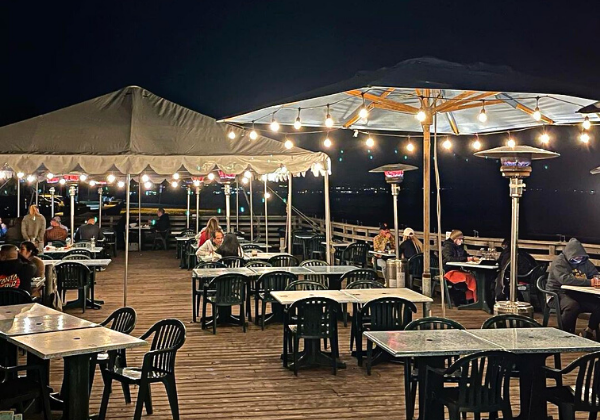 Photo Credit Via Instagram @zeldasonthebeach
203 Esplanade, Capitola, CA 95010
Our final seafood restaurant is also in Capitola and pretty close to the Wharf House. Zelda\'s offers beachfront dining with a relaxed atmosphere that helps you feel at home. Be sure to order a crafted cocktail to go along with your dish so that you get the full beach experience.
Some notable menu items include grilled sea bass, fresh oysters, and cioppino. The restaurant also does an excellent brunch if you\'re into that kind of crowd.