The 17 Most Delicious Capitola Restaurants
Tucked next to Santa Cruz, Capitola is a relatively small town with a big-city feel. Although it's not close to Los Angeles or San Francisco, there's a lot to do in Capitola Village, including eating. There are some world-class restaurants, cafes, and wine bars here, and they offer delicious dishes that will make you and your family happy.
We've compiled a list of the top restaurants in this coastal town and we've arranged them by price so you can make an informed decision. Let's get eating!
Margaritaville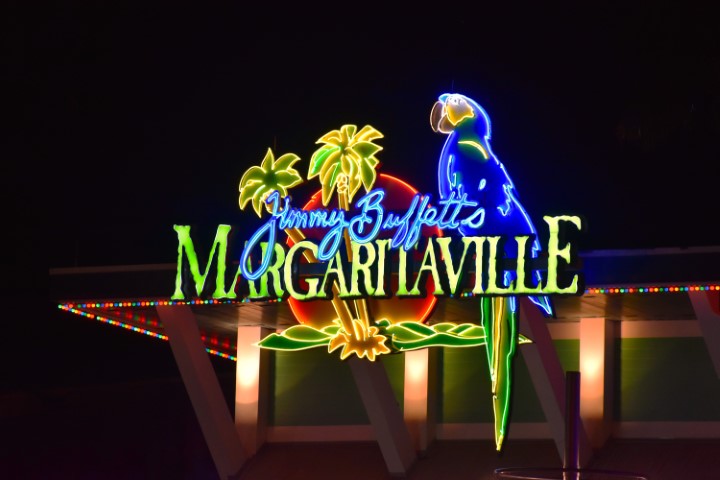 Jimmy Buffet's Margaritaville is a classic from coast to coast. Here, you know you'll be served cold drinks, fresh food, and a fun atmosphere. Situated right on the water with a great view of brightly painted Capitola, we recommend sitting outside if the weather is right for it.
For those of drinking age, we highly recommend you start your meal off with one of their signature margaritas. With so many flavors to choose from, you're sure to find one to fit your mood. Food-wise, you can't go wrong with any of their tacos or seafood plates. They're always fresh and super flavorful.
Fish Lady
Since Capitola is next to Monterey Bay, you may want to eat some freshly caught seafood. Although there are fancier places to get your fix (which we'll see on this list), Fish Lady offers the same dishes in a low-key environment. This dining experience is much more casual and laid back so that you can focus on the taste of your food.
Here you can get salmon, seabass, sole, and tuna. For shellfish, you can buy prawns, scallops, and mussels. You can even get steak and chicken if you're not feeling seafood.
Britannia Arms of Capitola
Britannia Arms is a local chain with restaurants in San Jose, Monterrey, and Capitola. This pub and restaurant is a community staple, serving breakfast, lunch, and dinner. They have nights for karaoke, live entertainment, and trivia, too, making it an extra enticing place to grab dinner and then stay afterward for a round of drinks or two.
Their pub-style food is a crowd-pleaser but they also go over the top of normal bars and serve full meals like juicy steaks, too.
Pono Hawaiian Kitchen and Tap
Hawaiian food is always a delicious dining experience, whether you're getting barbecue fast food or something a bit more handcrafted like the dishes at Pono.
If you're unfamiliar with the Hawaiian language, Pono means "righteousness," and it's an apt descriptor for the food.
Here you can find all your favorites like Spam musubi, loco moco, kalua pork, chicken katsu, and a wide assortment of poke bowls. Pono also has tons of beer options from Maui and the mainland.
Thai Basil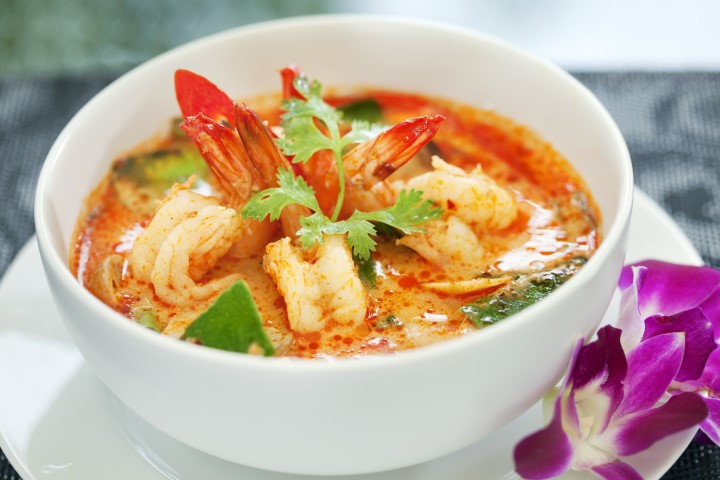 Craving authentic Thai food? While hopping on a plane to Thailand might be tempting, eating instead at Capitola's Thai Basil is the next best thing. This family-owned and operated restaurant does homestyle cooking like no other.
For towering plates of Thai favorites like Pad Thai, Green Curry, and Veggie Rolls, plus a few others you maybe haven't heard of, your tastebuds are in for a real treat at Thai Basil.
The Sand Bar
This seafood restaurant is next to Paradise Beach Grille, and it offers an excellent food selection with a laid-back and breezy atmosphere. The Sand Bar is a great hangout place, but the dishes are good enough to come for a special occasion.
Here you can choose from burgers, salads, and fried dishes, depending on your mood. We highly recommend the Hawaiian teriyaki burger or the Mahi Mahi sandwich.
El Toro Bravo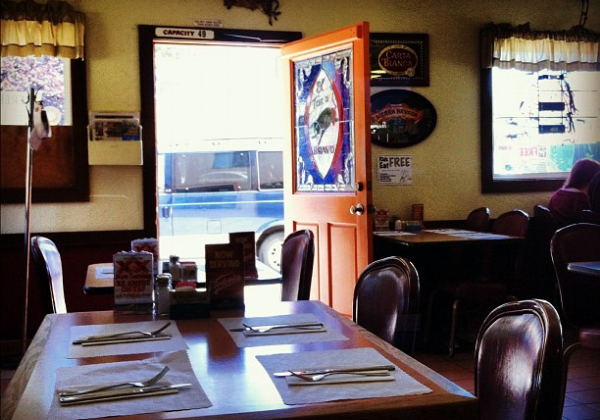 El Toro is a quintessential Mexican restaurant and taqueria, but because it's California, it has a regular and vegan menu to accommodate its guests.
The dishes are traditional but with a SoCal twist. For example, you can get crab or prawn quesadillas, cocktails, or tostadas. El Toro also offers tacos, burritos, and tamales in meals or a la carte.
Sushi Garden Capitola
There aren't too many authentic Japanese restaurant options in Capitola, so if you're in the mood for world-class sushi, noodles, and tempura, Sushi Garden is the place to visit. The sushi selection is incredible, with tons of unique rolls and sashimi for you to choose from.
Beyond the fish, Sushi Garden also sells grilled meats, katsu dishes (Japanese fried meats), and tempura plates. If you're in the mood for noodles, you can choose between ramen or udon.
Dharma's Restaurant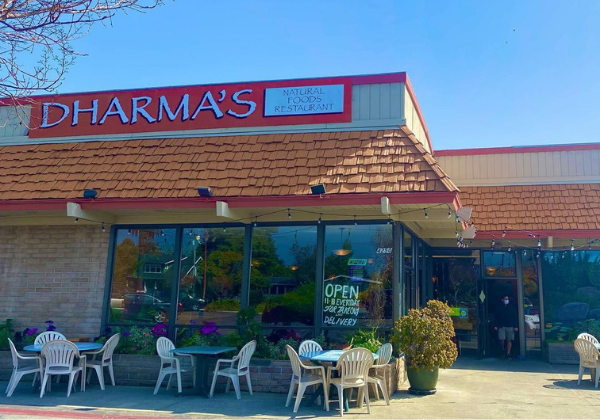 Although El Toro has a vegan menu, it's pretty limited. So, if you're more interested in vegan or vegetarian food, you'll want to check out Dharma's. The entire menu is meat-free, so you can feel good about everything you order.
Dharma's offers breakfast, lunch, and dinner, so feel free to go anytime during the day. Some notable dishes include a Brahma burger, a vegetarian Dharma dog, and a BBQ bluff sandwich.
The flavors may trick you into thinking you're eating meat, but it's all vegetarian.
Zelda's On the Beach
As the name suggests, Zelda's is right on the beach, so you get the best views to accompany your meal. You can get even closer by opting for their outdoor seating. There's something so satisfying about watching the waves crash into the sand while eating your favorite dish.
Zelda's specializes in all kinds of seafood, from American to Italian to Mediterranean. You can get oysters on the half shell, sauteed Mahi Mahi, or seafood fettuccine. There are also land-based meats and vegetarian dishes.
East End Gastropub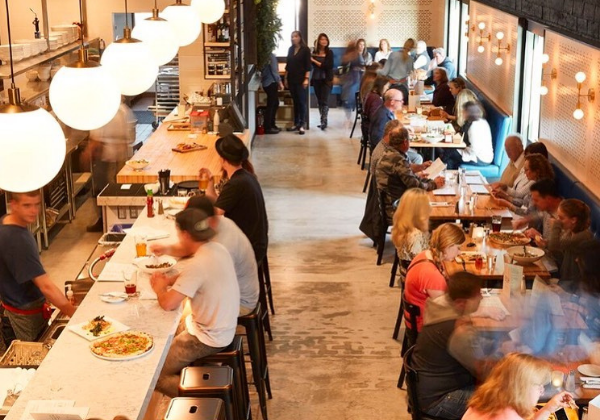 Gastropubs have become pretty popular in recent years, and East End is the top hangout place for most people in Capitola. East End is the spot to visit when you want to have a few drinks after work or visit with friends.
While you might come for the beer, you should stay for the food. Highlights include pork belly bao buns, locally caught mussels, or juicy burgers with French fries. Weekends are also for brunch, including fried chicken, michelada mussels, and shrimp toast.
Shadowbrook Restaurant
Now we're getting into the fancier side of the best restaurants in Capitola. Shadowbrook is also along Soquel Creek, but it's far away from the touristy hustle of Capitola Beach and the pier.
This place is the type of establishment where you can order a swordfish steak, a baked brie appetizer, a bottle of Bordeaux, and a Jack Daniel's mud pie for dessert. Or, if you're not into seafood, you can try the filet mignon or blackened prime rib.
Gayle's Bakery and Rosticceria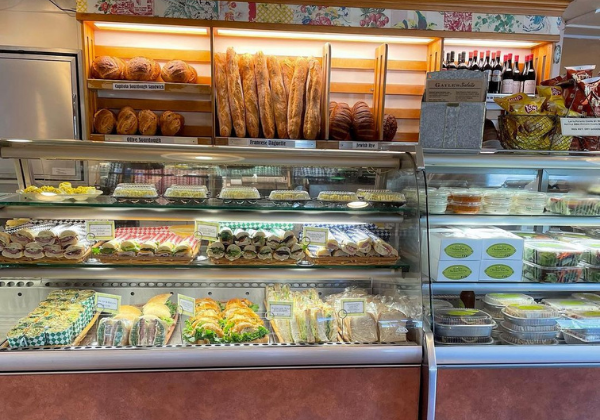 One of the best things about the best Capitola restaurants is that they're committed to locally sourced ingredients and sustainable cooking practices. Gayle's takes these ideas to the next level by creating from-scratch menus one week at a time.
Every week it's different, so you have to check the website often to see what's in store. Gayle's also offers blue plate dinners that regularly rotate, such as flank steak, pan-seared halibut, and chicken Marbella.
Pizza My Heart
This popular chain restaurant is cheesy by name and cheesy by nature! Expect specialty pies with unusual combinations such as the Big Sur with an incredible 40 cloves of garlic, or the Watsonville Apple which combines pepperoni with green apple slices.
Meat-free diners will be glad to know that plant-based vegan pizzas are also now available for full-sized pies, and gluten-free crusts made from rice flour are also on the menu.
Paradise Beach Grille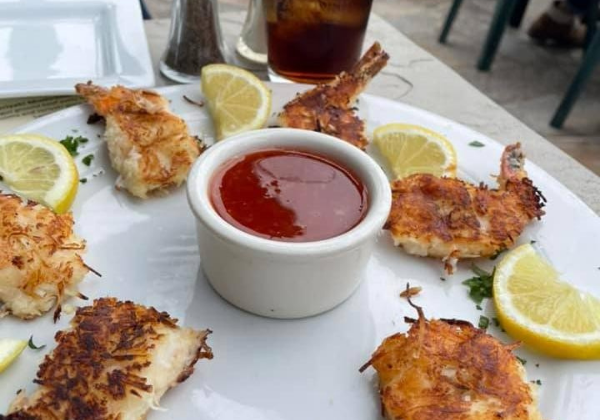 Soquel Creek runs up into Capitola from the bay, making it prime real estate for various restaurants. There are several top-tier choices between Stockton Ave and the bay, including Paradise Beach Grille.
Although the waterfront views are spectacular, you should also indulge in some excellent seafood, including fish tacos, coconut prawns, and linguini with clams.
Capitola Bar & Grill
A sports bar with cocktails? Check! Unspoiled beach views? Check! Delicious lobster rolls? Check!
Whether you head over for breakfast, lunch, or dinner, you're guaranteed a hearty portion of fresh food at this popular spot. Don't miss the grilled oysters, fresh ceviche, and decadent lobster truffle fries.
Trestles Restaurant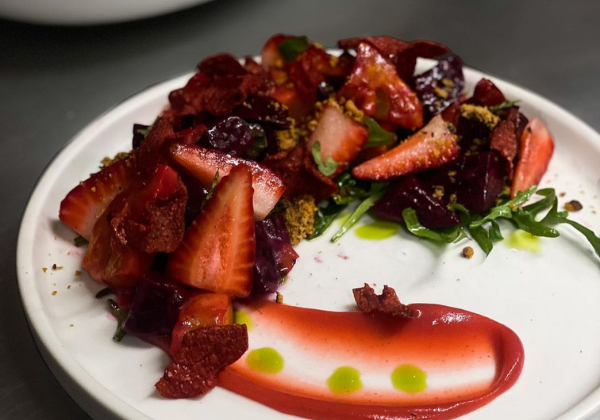 While Shadowbrook offers traditional pomp and class, Trestles is focused on fresh, sustainable ingredients and cooking methods. So, you're paying extra for the work and passion that goes into each dish.
Here you can find unique items like Ahi tuna carpaccio, tuna tartare tacos, roasted duck breast, and trumpet mushrooms. The wine and cocktail list are also extensive, so you're sure to find something to drink with your meal.
Experience the Ambiance of Capitola's Dining Scene
Whether you're looking for fine dining and extensive wine lists or a casual deli with takeout options, you'll have no trouble finding exactly what you're in the mood for here in Capitola. Although you'll have a full kitchen at your vacation rental home, make sure you try at least a few of the area's best restaurants.