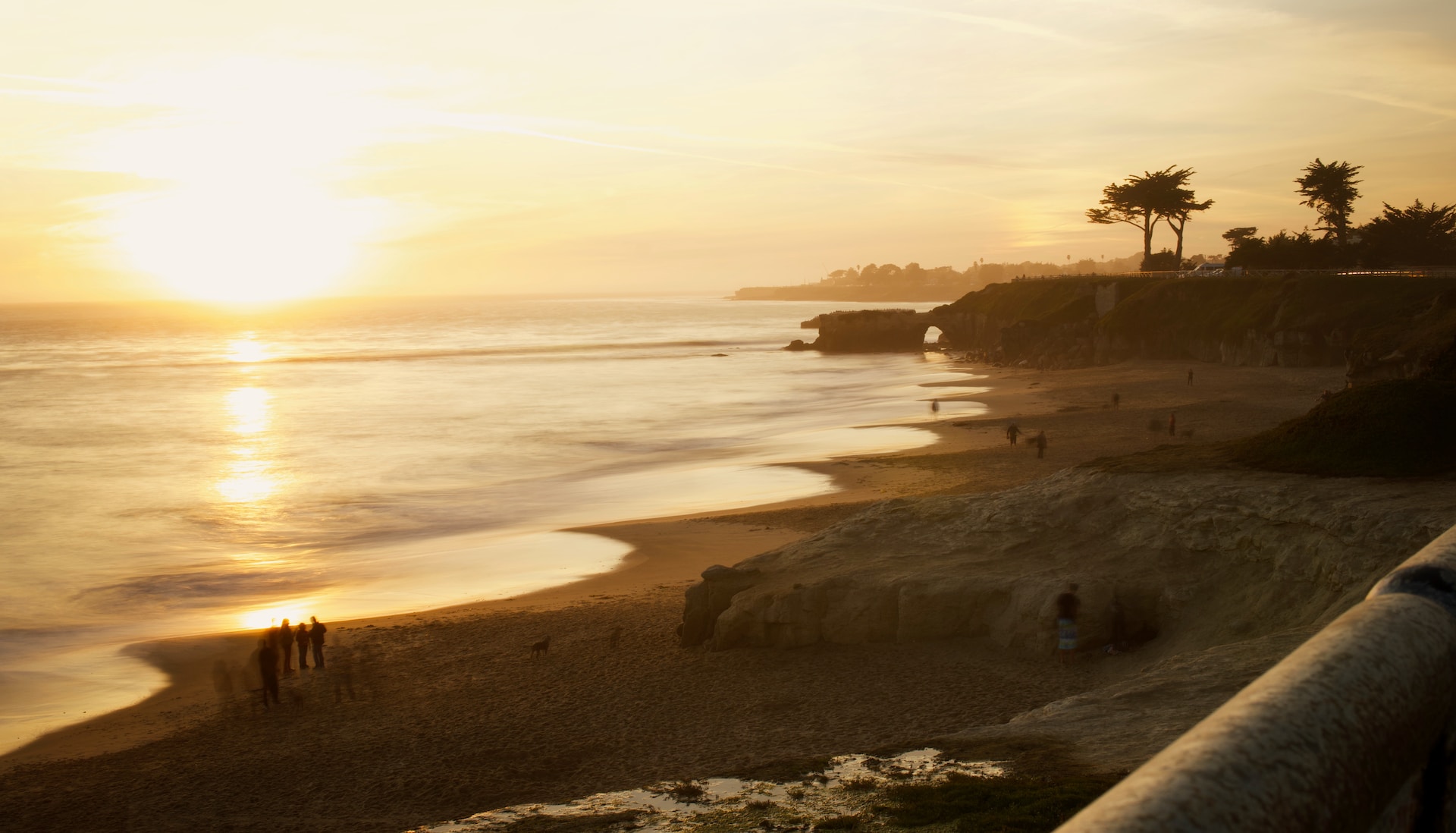 7 Can't Miss Day Trips from Santa Cruz
With its relaxed Cowell Beach, Santa Cruz Beach Boardwalk, and one-of-a-kind Surf Museum, there is plenty to see in the laid-back town of Santa Cruz. However, part of its pull as an excellent place for a vacation rental is the many incredible day trips within reach of this relaxed beach town.
Surrounded by the Santa Cruz Mountains, this laid-back town makes a perfect travel destination but is also an excellent home base for several amazing day tours and road trips.
Whether you want to get your city fix in San Francisco, explore charming storybook-style houses in Carmel-by-the-Sea, or visit some of the many surrounding state and national parks, it's all possible with an easy day trip from Santa Cruz.
Here are seven can't-miss day trips from Santa Cruz.
1. Big Basin Redwood State Park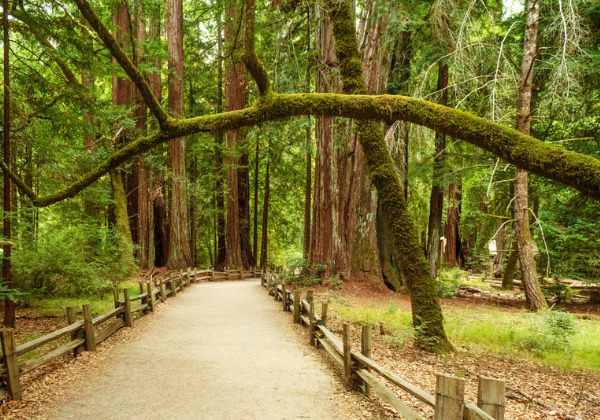 Distance from Santa Cruz: 45 minutes
Located just 22 miles away from Santa Cruz, a trip into Big Basin Redwood State Park is one of the best day trips from Santa Cruz.
History
Big Basin Redwood State Park was established in 1902, giving it the grand title of the oldest state park in California and marking the beginning of the preservation movement in the state. Due to the great logging craze of the last few centuries, many of the grand, ancient redwood trees in the Santa Cruz area are gone forever.
You typically have to venture much further north in California to see the giant redwoods. However, Big Basin Redwood State Park is home to many old-growth redwoods. Some are over 300 feet tall and 50 feet around, reaching ages of 1,000 to 2,500 years.
Seeing these trees is an incredibly fantastic experience and well worth the day trip from Santa Cruz.
New Hiking Trails
In 2020, the LCU fire ravaged much of Big Basin Redwood State Park. However, the park recently reopened this past July of 2022 and is now better than ever, with brand new hiking trails open to the public.
Easy: For an easy hike, you can do the Redwood Loop Trail, a .6-mile trail that will take you past some of the tallest trees in the park. The .5-mile Opal Creek Loop is another easy trail that takes you past the beautiful Opal Creek and old-growth redwoods.
Moderate: For moderate hikes, you can try the 1.75-mile Dool Trail Loop or the 4.15-mile Ocean View Summit Loop. The Dool Trail will take you past old-growth redwoods and forests recovering from the fires, and the Ocean View trail will take you through old-growth trees and deliver panoramic ocean views.
The Best Season to Visit
With magnificent views, trails, and so many old-growth redwoods, the Big Basin Redwood State Park is truly amazing to visit all year round.
2. Big Sur
Distance from Santa Cruz: 90 minutes
Just south of Santa Cruz lies dramatic cliffs, waterfalls, and the beautifully rugged Big Sur. Big Sur has so much to see and do that a day trip may not be enough.
However, one day in Big Sur is the perfect amount of time to get a taste of this beautiful stretch of coastline and leave you wanting more. One day in Big Sur will give you plenty of time to cruise down the scenic Highway 1 while stopping at some of the most epic parts of the area.
Here are a few of the must-sees in Big Sur during a day trip from Downtown Santa Cruz.
Point Lobos State Natural Reserve
Point Lobos State Natural Reserve is a lovely coastal area located in the northernmost part of Big Sur. It's an excellent place for photography, spotting sea animals like otters and fish, and hiking. Be sure to see China Cove, a popular playground for seals where the water is a sparkling shade of blue.
Point Sur Lighthouse
The Point Sur Lighthouse is one of the most iconic sites in Big Sur. You can visit this scenic lighthouse by taking a guided tour. You'll be educated in the exciting history of the lighthouse and treated to spectacular views.
Bixby Bridge
Driving south, you'll take in the impressive sight of Bixby Bridge. This massive 260-foot bridge is one of California's most photographed bridges, thanks to its impressive architecture and dramatic surroundings.
McWay Falls
You'll have to drive an additional 25 minutes to make it to McWay Falls, but if you have the time, it is 100% worth seeing this spectacular, pristine waterfall cascading onto an untouched beach from 80 feet above the sea.
The Best Season to Visit
Big Sur is amazing to visit all year long. If you're seeking temperate weather, the summer is a great time to visit, while spring is lovely for taking in the blooming flowers. Winter and fall are the least crowded and the best times to go if you want to beat the traffic.
3. Carmel-by-the-Sea
Distance from Santa Cruz: 53 minutes
Carmel-by-the-Sea, or simply Carmel, is a quaint seaside town just south of Monterey. In addition to the lovely Carmel Beach, this town has long been enchanting visitors with its charming downtown area and storybook-style houses.
Downtown
Downtown Carmel is full of delicious restaurants, tasting rooms, clothing stores, and art galleries. It's a great place to grab some ice cream, do some shopping, and pick up some coastal gifts or souvenirs from lovely galleries and craft stores like Blackbird and Gallery-by-the-Sea.
Dining
If you're hungry, you can grab a bite from one of Carmel's many excellent restaurants, like Brophy's Tavern for craft beers and pub food or Cultura Comida y Bebida for delicious Mexican food.
Fairytale Houses
While the beaches, restaurants, and shops are wonderful, the most famous and unique draw to Carmel is its vast collection of fairytale houses!
Back in 1924, designer and builder Hugh Comstock came to Carmel and started constructing a series of fairytale cottages based on children's storybooks. These whimsical buildings, painted in bright colors and adorned with intricate details, are like something out of a storybook.
Today, you can tour Carmel and wander through the cobblestone streets, exploring the fairytale cottages and one of California's seaside gems.
The Best Season to Visit
Carmel-by-the-Sea is best visited in the summer if you want to enjoy the beach. However, if you're mainly coming for wine tasting, shopping, and exploring the cottages, Carmel is an excellent day trip from Santa Cruz during any time of year.
4. Half Moon Bay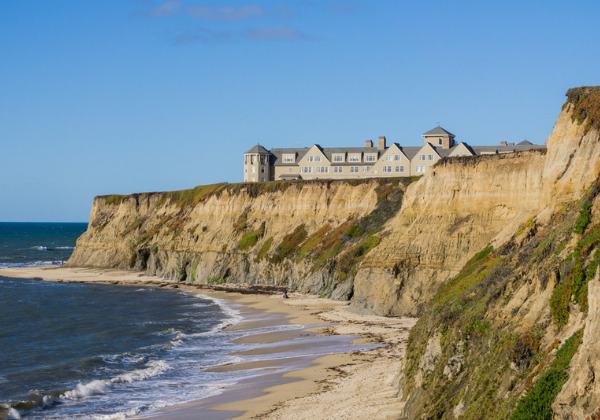 Distance from Santa Cruz: 1 hour
Half Moon Bay is the perfect getaway for Santa Cruzers looking to soak in some of Northern California's coastline beauty! From majestic pelicans gently floating overhead, a main street filled with quaint charm, and legendary Mavericks waves close by – this stunning beach town offers an unforgettable experience.
Big Wave Surfing
If you're there at the right time, you might even see "Mavericks," one of the world's most famous "big waves," breaking. The waves at Mavericks get up to 60 feet tall, and brave surfers attempt to ride them between November and March.
If you want to see the big waves at Mavericks, the best time to visit Half Moon Bay is during the winter. However, for anyone seeking out sunny, clear skies, the best time to visit is during the fall, when the weather is warmer and the least foggy.
Half Moon Bay State Beach
Half Moon Bay is home to several beaches, one of the best being Half Moon Bay State Beach. This beautiful beach is excellent for "kayak fishing," picnicking, and sunbathing in the warmer months.
Half Moon Bay California Coastal Trail
Another great way to take in the lovely coastline of Half Moon Bay is to walk or bike along the Half Moon Bay California Coastal Trail. This 7-mile trail runs from Miramar Beach past Poplar Beach. It provides excellent views of the different beaches and surrounding nature.
Historic Downtown
You also don't want to miss Main Street, Half Moon Bay's historic downtown area. Main Street is home to lovely cafes, bookstores, boutiques, and many other locally owned shops.
The Best Season to Visit
Tip: Half Moon Bay is a great place to get on a whale-watching tour of the bay. March and April are the best months to catch a trip going out of Johnson Pier.
5. San Francisco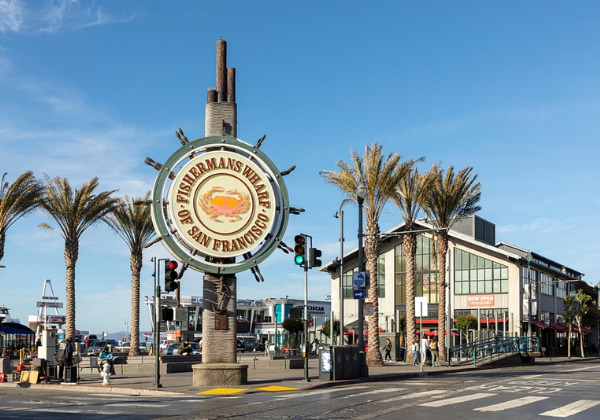 Distance from Santa Cruz: 1 hour and 22 minutes
Less than 90 minutes from Santa Cruz, San Francisco is another great day trip from Santa Cruz. While San Francisco is a large city, one day is plenty of time to see incredible sights, eat amazing seafood, and people-watch in The Golden City.
Fisherman's Wharf
During your day trip to San Francisco, you can't miss checking out Fisherman's Wharf. This eclectic waterfront neighborhood is full of great shopping, seafood, and even a seaside amusement park located at Pier 39.
Alcatraz
This storied prison and San Francisco go hand in hand. Take a ferry to tour the infamous prison, Alcatraz. A two to three-hour guided tour will take you to explore the various cells and exhibits of the prison.
Cable Cars
San Francisco boasts world-famous cable cars that take visitors on a unique mode of transportation around the city. These cable cars, introduced in 1873, boasted revolutionary technology as it was the first example of a transportation system powered by moving cables beneath the street.
Rising and falling up the hills of San Francisco's steep slopes along three separate lines, cable cars provide spectacular views of landmarks like Fisherman's Wharf and Chinatown. Although an unreserved ride is not recommended during peak visits due to crowding, any seasoned traveler knows a journey on a classic San Francisco cable car is an experience like no other.
Foodie Heaven
One of the best parts of a day trip to San Francisco is all of the amazing food. You can get your fill of fresh crab and chowder over at Fisherman's Wharf, enjoy decadent Italian over in Little Italy, and eat authentic Chinese food in San Francisco's famous Chinatown.
The Best Season to Visit
If you visit San Francisco in the summer and early fall, you'll have the best weather but also the most crowds. If you visit in the winter and spring, the weather will be colder, but you'll experience fewer crowds and waiting times for things like the cable cars.
6. San Jose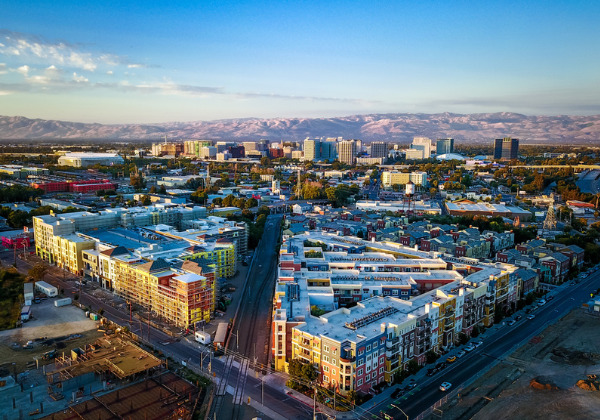 Distance from Santa Cruz: 41 minutes
For a dose of culture and excitement only one hour away, San Jose is another of the best day trips from Santa Cruz. The capital of Silicon Valley is home to more than just technology giants like Netflix, PayPal, and Adobe. San Jose also has incredible museums, parks, restaurants, and cathedrals.
Museums
If you love ancient history, the Rosicrucian Egyptian Museum will not disappoint. This unique museum is home to the largest collections of Ancient Egyptian artifacts in the United States and the entire Western Hemisphere!
You can also gaze at incredible artwork at the San Jose Museum of Art and learn all about the technology industry that is so vital for the city at the Tech Museum of Innovation.
Downtown
Downtown San Jose is a foodie's paradise! Venture down North San Pedro Street and let your taste buds do the talking to explore some incredible culinary experiences.
Treat yourself to succulent steaks at Taurinus Brazilian Steakhouse or opt for traditional Oaxacan fare at Mezcal Restaurant – either way, you won't be left wanting more!
The Best Season to Visit
The idyllic city of San Jose awaits your exploration any time – but if you can visit in autumn, take it! With sunny skies and mild temperatures taking hold during this season, you'll be rewarded with breathtaking views minus overwhelming crowds. Don't hesitate; plan an unforgettable getaway to bustling San Jose today!
7. Monterey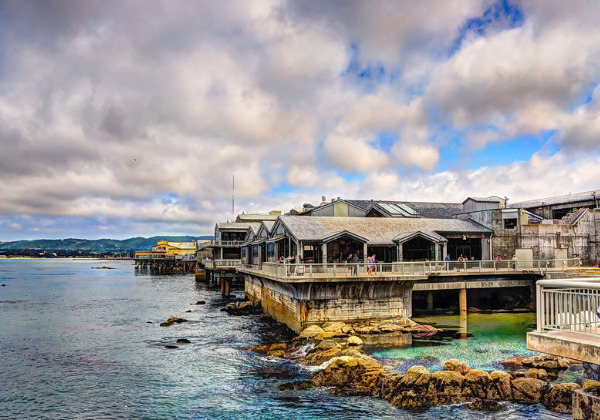 Distance from Santa Cruz: 49 minutes
The Monterey Bay area is home to gorgeous wild beaches, a bustling Fisherman's Wharf (featuring appearances from sea lions), delicious restaurants, and the famous Monterey Bay Aquarium. Located just under an hour down the coast, Monterey is one of the best day trips from Santa Cruz.
Monterey Bay Aquarium
Situated in front of the Monterey Bay National Marine Sanctuary, you can discover one of the world's greatest marine sanctuaries at Monterey Bay Aquarium!
Explore a riotous underwater kingdom filled with thousands of fascinating creatures, including whales, sharks, dolphins, sea otters, sunfish, and jellyfish.
Experience firsthand how conservation efforts are helping protect these beloved ocean dwellers while learning about their unique habitats. The aquarium is home to over 75,000 ocean species and focuses on preservation, animal rehabilitation, and teaching the public about these amazing creatures and how to protect them.
Downtown
Fisherman's Wharf, Cannery Row, and the Old Downtown area of Monterey are great for shopping and sightseeing. You can find plenty of fun souvenirs in these areas, along with fun stores like the Ghirardelli Chocolate Shop and the famous Bubba Gump Shrimp Co.
Beaches
From Del Monte Beach to Lovers Point Park, there is something for everyone looking for a bit of idyllic shoreline scenery in Monterey. You can take your time exploring what these beaches offer or get out on the water and go boating, paddle boarding, kayaking, or even take a whaling tour.
The Best Season to Visit
The best time to visit Monterey is during the winter and spring, which is the low tourist season. If you also want to enjoy the beaches in Monterey, the summer and early fall are when you experience the best, warmest weather, but the tide pools are good for exploring year-round.
Enjoy the Best Day Trips From Santa Cruz
Thanks to its central location along the California coast, Santa Cruz is ideal for a vacation rental. It is also an easy drive to all of these world-famous travel destinations.
Visit Santa Cruz, and make time to road trip any of these incredible surrounding destinations.