Your Travel Guide to the Santa Cruz Mountains
The Santa Cruz Mountains are a beautiful mountain range from northern to central California that runs adjacent to the Pacific Ocean.
They're packed with dramatic views, excellent wineries, restaurants, and plenty of adventurous activities.
With so much to do, and so much natural beauty, the Santa Cruz Mountains are the perfect day trip from nearby coastal towns.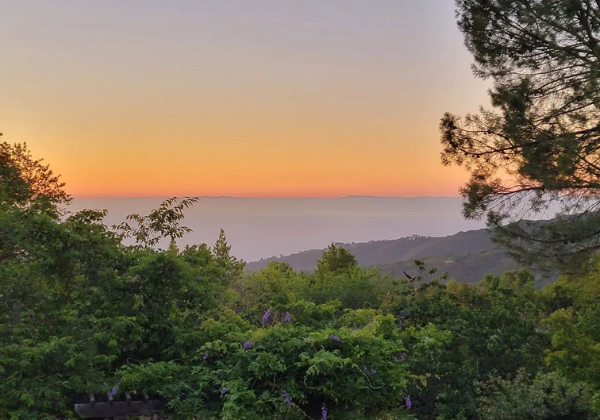 Visiting the Santa Cruz Mountains from the coast
The Santa Cruz Mountains spread from San Francisco Bay in the north, through San Jose and Silicon Valley, and to the Salinas Valley in the south. They are also bordered by the Pacific Ocean on the west and the Santa Clara Valley on the east.
The beach towns of Santa Cruz, Watsonville, and Capitola are right at the gateway to the southernmost part of the mountains, where you can travel from the beach into the redwoods in 30 minutes or less. Booking a stay at a vacation rental house in Santa Cruz provides the perfect home base for exploring these mountains and the surrounding area.
From downtown Santa Cruz, you can quickly and easily get into Henry Cowell State Park by hopping on HWY 9 north. To venture further into the mountains, you can continue on HWY 9 which will wind through several beautiful mountain towns, including Felton, Ben Lomond Mountain, and Boulder Creek.
When to Visit the Santa Cruz Mountains
Additionally, the mountains have a mild Mediterranean climate. In the summer they are warm and dry. In the winter they are rainy and cooler, yet still very mild.
With such pleasant weather, the Santa Cruz Mountains are quite nice to visit all year round, and often provide a welcome reprieve from the coastal climates.
Things to do in the Santa Cruz Mountains
The Santa Cruz Mountains are rich in both nature and activities for visitors to enjoy. In addition to marveling at magnificent redwoods and a variety of other wildlife, there is plenty to do here for adventurers, foodies, and wine lovers alike!
Hiking in the Santa Cruz Mountains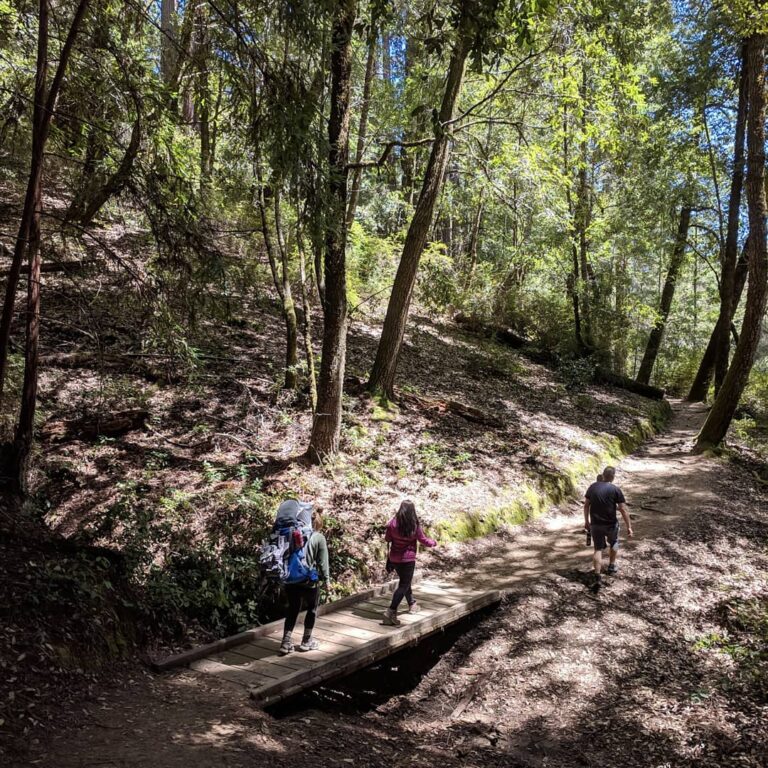 With so many great hiking trails in the Santa Cruz area it can be tough to narrow down which one you should traverse. A few of our favorites include:
Henry Cowell Redwoods State Park is only 7.5 miles away from downtown Santa Cruz, and hosts one of the most popular hikes in the area- The Redwood Grove Loop Trail.
The Redwood Grove Loop Trail is about 1 mile long and offers spectacular views of some old-growth redwoods, as well as informational placards about the surrounding forest.
Castle Rock State Park is a little further, about 20 miles from downtown Santa Cruz, and offers more hikes, open space, and nature loops.
In total, Castle Rock State Park has 34 miles of trails, including the 1.8-mile Cherry Creek Trail Loop with views of a waterfall.
Biking in the Santa Cruz Mountains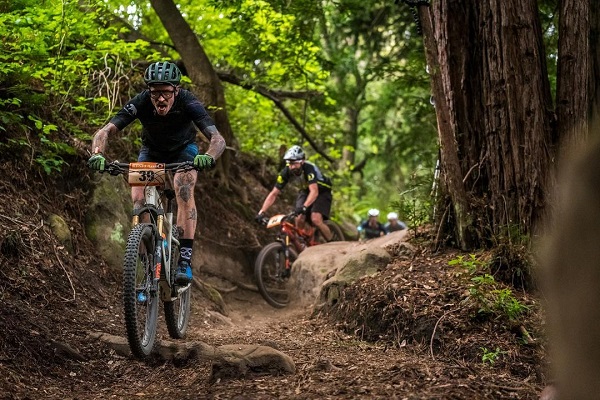 The biking culture runs deep in the mountains of Santa Cruz County, and there are many great biking trails to explore for absolute beginners, experienced mountain bikers, and everyone in between.
A Few of the best biking and mountain biking trails are:
The best beginner trail, Emma McCrary, is just minutes away from downtown Santa Cruz, in Pogonip. Emma McCrary is a fun, flowy trail that navigates through a variety of trees, crosses a bridge over a brook, and eventually gently climbs into the redwood forest.
Additionally, Wilder Ranch State Park offers some excellent mountain biking more suitable for intermediate and advanced riders.
The Wilder Ridge Loop and the Enchanted Loop are two exhilarating trails in Wilder Ranch State Park with incredible views of redwoods and the park.
Climbing in the Santa Cruz Mountains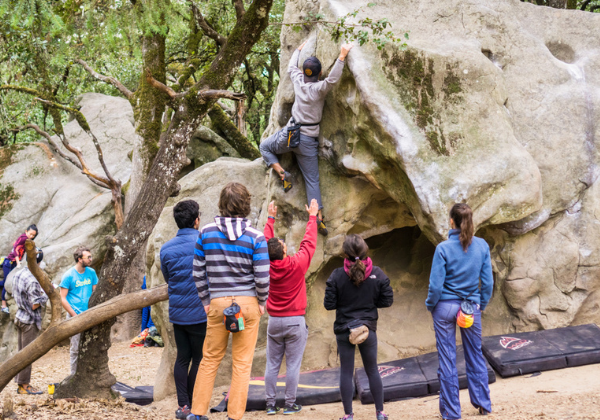 In addition to biking and hiking, the Santa Cruz Mountains have a robust rock climbing scene.
Castle Rock State Park is full of fun, sandstone bouldering problems. There is a great variety of bouldering climbs here for all levels, and access is easy. Also in Castle Rock State Park, Goat Rock has several roped climbs, with heights on some of the routes reaching up to 80'!
Learn about the wildlife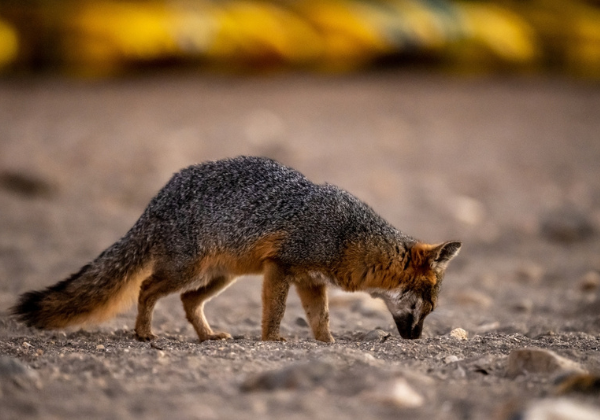 The Santa Cruz Mountains boast some incredibly diverse wildlife, including a variety of birds, trees, foxes, bobcats, deer, and even rattlesnakes and mountain lions. Typically, rattlesnakes are only found at higher elevations where there is more of a chaparral biome.
While the Santa Cruz Mountains are most famous for their redwoods, they also are home to several other types of trees, including maple, oak, and Douglas-Fir trees.
Bird watching is also quite popular here.
Due to the combination of the mountain and ocean climates, there is a huge variety of bird habitats, which bring tons of different bird species to this part of the Central Coast.
Santa Cruz has one of the most diverse bird populations in the entire United States! Some impressive bird species to watch out for in the Santa Cruz Mountains include the Great Horned Owl, Wilson's Warbler, and the Pacific Wren.
Cool off in the San Lorenzo River swimming holes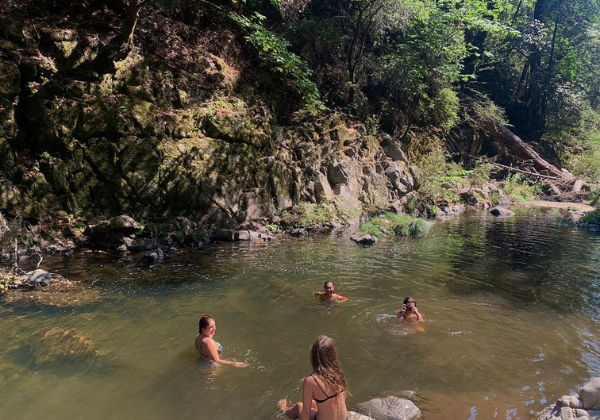 Another of the best things to do in the Santa Cruz Mountains is to go for a nice dip in the river. The San Lorenzo River has several great swimming holes, where you can safely enjoy the refreshing mountain water.
The Garden of Eden swimming hole is one of the best, and it's located right in Henry Cowell State Park. The clean, emerald waters here are peaceful, refreshing, and a wonderful retreat from the bustle of the nearby bay area towns.
Garden of Eden is just one of many great swimming holes- there are plenty more to enjoy, and they can be found with just a little exploring of the areas along the San Lorenzo River.
Wine tasting in the Santa Cruz Mountains
With a higher elevation and cooler climate, the Santa Cruz Mountain region is known for its Chardonnay, Pinot Noir, and Cabernet Sauvignon. The wineries in this region are often tucked away into the forests, with sweeping mountain views and open-air tasting areas.
Wine tasting in the Santa Cruz Mountains is an exciting and unique experience, and here are some of the best wineries to visit for tastings:
Loma Prieta Winery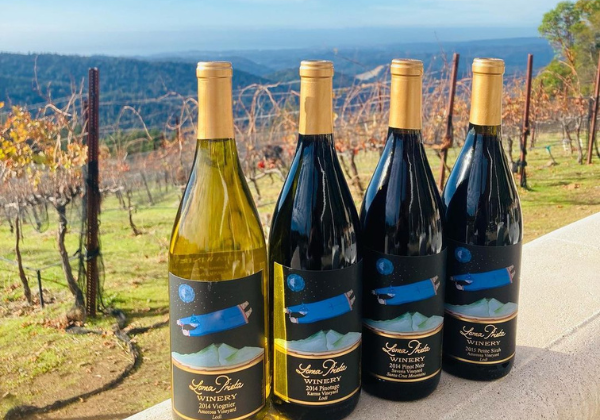 Named for the tallest mountain in the Santa Cruz Mountain Range, Loma Prieta Winery is a boutique winery nestled in the mountains, high up Highway 17.
They are the number one producer of Pinotage and also produce award-winning Pinot Noir, Chardonnay, Viognier, Merlot, Cabernet, and Petite Sirah.
Loma Prieta Winery currently offers tastings on the weekends from noon until 5 pm and does not require a reservation to visit.
Silver Mountain Vineyards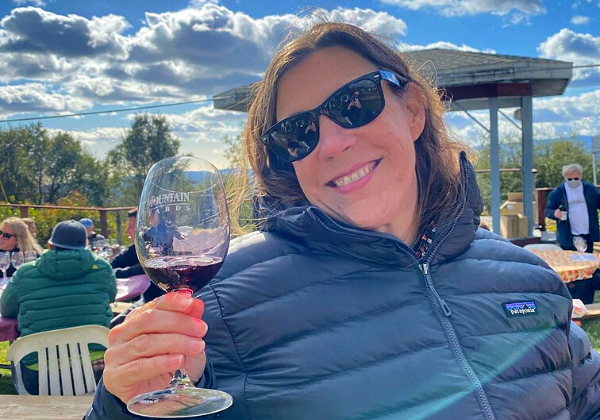 Silver Mountain Vineyards is a certified organic and sustainable winery situated high in the Santa Cruz Mountains that produces a variety of gold medal-winning wines.
Back in 1972, the founder of Silver Mountain, Jerold O'Brien fully converted an abandoned orchard into a vineyard, where the first wine he created at Silver Mountain Winery was a Zinfandel.
Since then, Silver Mountain has expanded to produce certified organic Chardonnay, Pinot Noir, Cabernet, and Bordeaux blends.
You can enjoy tastings at Silver Mountain Winery on Saturdays and Sundays from noon until 5 pm, either inside their tasting room, or from their observation deck with sweeping views of both the Santa Cruz Mountains, and ocean views of Monterey Bay.
Mindego Ridge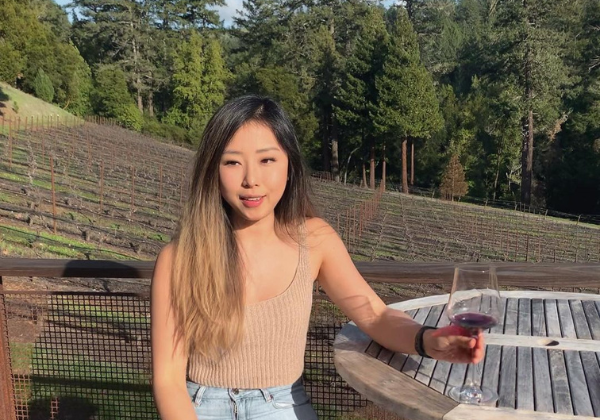 Mindego Ridge is a small vineyard tucked away in the Santa Cruz Mountains, owned by husband and wife David and Stacy Gollnick.
The vineyard produces award-winning Chardonnay and Pinot Noir wines, and offers tastings by appointment on their rustic outdoor tasting pavilion that overlooks the vineyard.
Restaurants in the Santa Cruz Mountains
Surrounded by redwoods, fresh mountain air, and a collection of charming mountain towns, the restaurant scene in the Santa Cruz Mountains has a lot to offer. Some great options for dining include:
Heavenly Roadside Cafe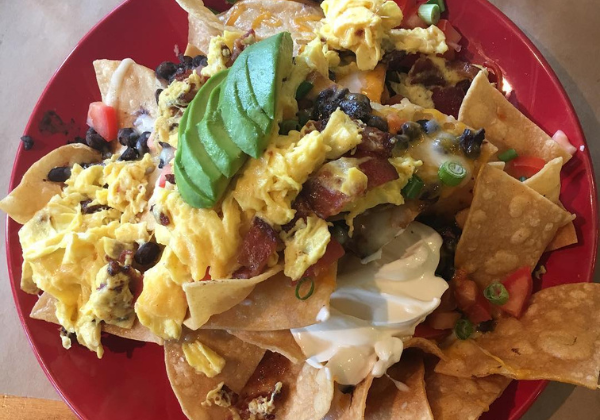 After some early exploring in the mountains, Heavenly Roadside Cafe in Scotts Valley is a great place to score some delicious breakfast or lunch.
The cafe was originally founded in 1955 and is now one of the signature landmarks in Scotts Valley.
Today, they serve a variety of good breakfast and lunch dishes, and use fresh, local, and organic ingredients whenever possible.
Cowboy Bar & Grill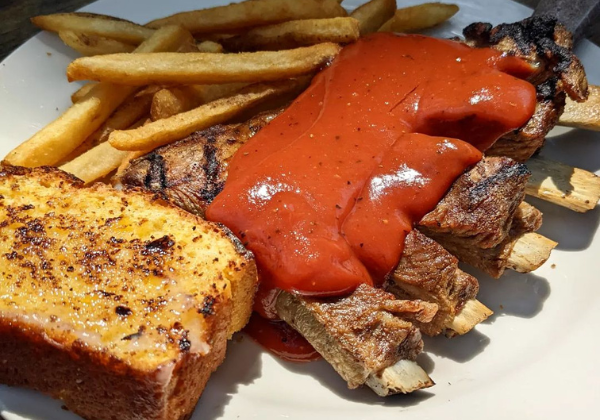 Cowboy Bar & Grill is a delicious and iconic restaurant located in the historic logging town of Felton.
The restaurant is decorated with witty and nostalgic cowboy decorations.
In addition to a fun atmosphere, their 'Frontier Menu' has a variety of options, including classic staples like burgers and tacos with a western twist.
They also have a large variety of whiskeys and tequilas, and a cowboy-inspired cocktail menu.
Scopazzi's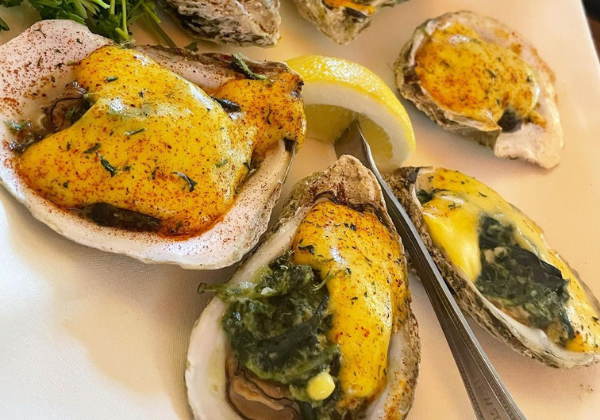 Up in Boulder Creek, you can find Scopazzi's- an upscale Italian restaurant with a redwood dining room!
Scopazzi's serves the finest Italian food in the Santa Cruz Mountains, along with a section of delicious wines and cocktails.
The building itself has stood for over 100 years, and you can choose to dine in their elegant dining room or lovely open-air patio.
Steel Bonnet Brewing Company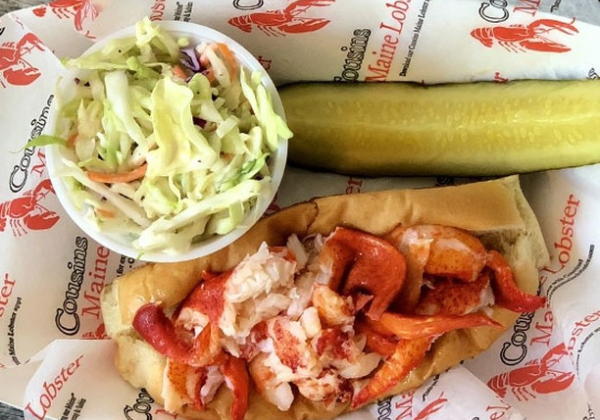 Steel Bonnet Brewing Company is located in Scotts Valley and has a wide variety of small batch craft beers on tap from their brewery.
In the summer, you can enjoy craft beer, snacks from local food trucks, and live music here.