The Truth Behind the Santa Cruz Mystery Spot
Everyone loves a good mystery. Throw in a bunch of quirks that defy the odds and you've got yourself a true tourist draw. The Mystery Spot Santa Cruz garners a lot of hype for the curiosity alone. People travel from far and wide to witness perplexing instances of gravity-defiance.
Stand at an angle without losing your balance. Walk on the walls. Watch water flow upward. These are the kinds of unusual and downright shocking activities that are par for the course at the famous Mystery Spot.
A lot happens here, much of it explained away very simply—but that doesn't stop this touristy haunt from being a truly fun excursion for visitors to Santa Cruz county and locals alike. If you've booked a vacation rental home, make time during your getaway for a visit.
Where Is the Mystery Spot?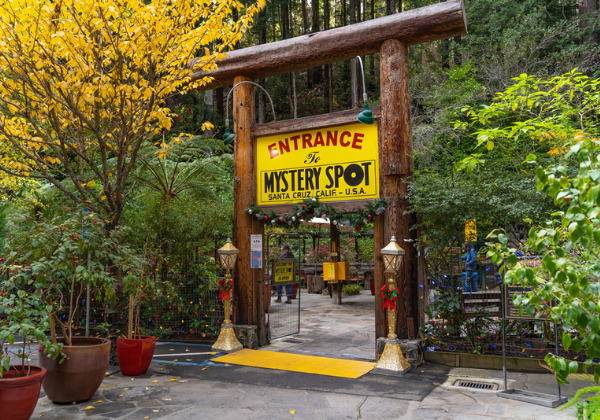 Fittingly, you'll find the Mystery Spot within the redwood forests on the outskirts of Santa Cruz, off of, fittingly enough, Mystery Spot Road. It's approximately 10 minutes by car from downtown Santa Cruz and roughly an hour away from San Jose. If you're planning a visit to the tourist trap, traveling by car is definitely the easiest way to go.
If you've taken advantage of one of our beachfront rentals, you won't have to journey far to make your way to the Mystery Spot. The destination is about four miles north of the Santa Cruz Beach Boardwalk. You don't even need to drive if you'd prefer to leave the job to someone else. There's a shuttle bus that runs every half hour that will take you directly from the boardwalk to the Mystery Spot.
What Is the Mystery Spot?
Once you arrive, you'll find yourself positively shrouded in enormous redwood trees—but don't let those scare you off. They're part of the charm of the experience, and they lend the roadside cabin its inherent ambiance.
The trees are everywhere you turn, serving as a canopy for the enigma that awaits. It may be exactly what George Prather had in mind when he built the cabin deep in the heart of the Santa Cruz Mountains back in early 1940.
It's a little bit eerie, no question, but you'll feel more fascinated than frightened by what awaits you at the Mystery Spot. There's the fact that it's rather difficult to decipher the actual size of the cabin when you walk up to it. Step inside and you'll find yourself practically mesmerized by peculiarities.
You'll see them right away at this California historical landmark worthy of all the buzz. Where else can oddities like water flowing upward and round items moving uphill seem completely normal? Where else can you stand on the edge of a table at an angle—with absolutely no risk of falling flat down? The pitched floors would have you believe otherwise, but it's clear that there's a strangeness about the Mystery Spot that can't be explained.
The Mystery Spot Tour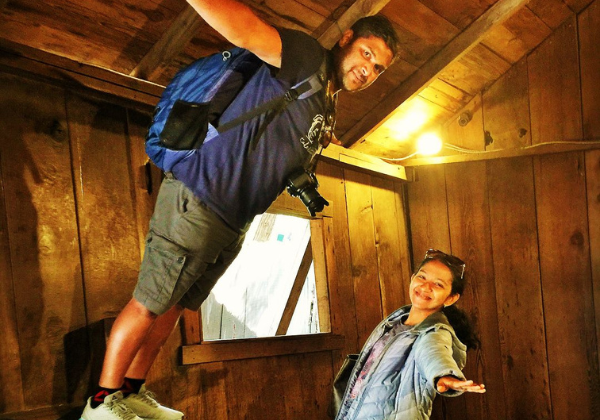 Visitors must pay an entry fee, payable by credit card online or with cash or check at the door. There's also a parking fee that visitors must pay either by cash or check when they arrive at the parking lot. All visitors must arrive at least half an hour before the tour begins.
There's a gift shop on-site with an ATM if you don't have cash with you. Children ages three and under are free. Wait times vary at the Mystery Spot. Since they're open every day of the year, you may get lucky and arrive on a day when there are minimal crowds. If that's the case, expect a small wait time.
If you're coming on a busy day or during a heavy tourist season, though, that wait may be extended for quite a while. If you order your tickets online, make sure you pick them up on time or you risk missing your spot—the team will simply sell your tickets and you'll need to wait for the next tour.
Keep in mind that they offer up to five tours every hour, and you can purchase yours at least two hours beforehand. That should allow plenty of opportunity to take advantage of a convenient slot. If you're a member of the military, present them with your identification card to receive free admission. This applies only to active duty personnel, and not their families or retired members.
Everyone gets one extra perk before they leave, however: a free Mystery Spot bumper sticker. If you're from the area or familiar with it, you may recognize the bumper sticker because it's plastered on so many vehicles.
Pop into the gift shop and grab a banana slug magnet while you're at it! Why banana slugs? This curious creature happens to be the official mascot for the University of California, Santa Cruz!
Why Is It Called the Mystery Spot?
The Mystery Spot is located on what is known as a gravity hill. Also known as spook hills or magnetic hills, they're often found in hidden or obscure areas that are still accessible with a little bit of effort. They're notorious because both solid objects and water appear to move uphill against gravity's force—essentially defying all that is known to be true about the laws of physics.
Gravity hills are forces of nature in and of themselves. Set a bottle on the ground and watch it roll upward. Put the car in neutral and feel it travel forward. The "magnetic" moniker derives from the old schoolyard legend that claims the hill in question possesses some type of magnetic power, causing all types of strange and inexplicable phenomena to occur.
The "mystery" of the spot is how, exactly, this occurs in the first place. It helps that there are no obvious horizontal points on the landscape for people to set their sights. That prevents them from grounding themselves and finding the distinction between the "mystery spot" in question and the land that surrounds it. In most cases, the hill is actually just a road broken up into a pair of surfaces that run uphill.
The bottom line: any types of visual illusions you see and experience in the Mystery Spot are just that—illusions that occur because it's easy to misjudge the space before you. When you aren't properly oriented, you can't quite get your bearings.
It's easy, then, to be fooled by the appearance of someone standing at an implausible angle on a completely flat surface or someone standing on an angled surface at an extreme angle.
Another key point is that the cabin itself appears perfectly normal at a glance. You won't look at it and suspect that you're about to enter something akin to a funhouse. When you step, any part of the floor that suggests it's situated at an angle can easily be covered or concealed. It's essentially a revamping of the landscape with a considerable amount of trickery involved to give the naked eye a little jolt.
What Else Can You Do in the Area?
Mother Nature's gifts alone are a big part of the reason to visit this gravitational complexity—and are a big part of the reason you may want to stay a while even after you've completed your visit to the Mystery Spot. Once you've completed your tour and finished marveling over the experience, you may want to take some time out to explore the area by strolling some of the hiking trails in the vicinity.
You might even want to bring along lunch and have a seat at one of the many picnic tables in the area. It's a great opportunity to relax, discuss your experience at the Mystery Spot, and fuel up for your next adventure in Santa Cruz. That's smart, because there are plenty of other activities to experience while you're in town.
Make a Day Trip to San Jose
If you'd love to see another major city while in the area, make some time for a trip to San Jose. It's about 30 miles north of the Mystery Spot, and it's home to some of the country's most iconic and fascinating attractions. Wander the completely free Municipal Rose Garden and take advantage of some epic picture-taking opportunities. Drive through Silicon Valley and check out the thousands of companies that power the technology universe, including the likes of Google, Netflix, eBay, LinkedIn, Cisco, and Adobe.
For adventures for the whole family, you'll find plenty of options in San Jose. The Tech Museum of Innovation offers plenty of hands-free fun for everyone in your group, while the beautiful exhibits at the San Jose Museum of Art are sure to inspire. If you're seeking inspiration for your own creations, a stop to the San Jose Museum of Quilts and Textiles is a must.
Things to Do Downtown Santa Cruz
If you're more of a foodie, there's a seemingly endless list of haunts to try in Santa Cruz. You'll find everything from cozy cafes to modern microbreweries to vibrant bistros, all brimming with wildly imaginative menus that will make you want to book your next trip to the city as soon as you get home.
Make some time during your excursion for the Monterey Bay National Marine Sanctuary Exploration Center. Featuring a theater and an interactive gallery of exhibits, it's a family-friendly destination ideal for kids and adults alike. It's about four miles south of the Mystery Spot and makes a great end destination for your Santa Cruz experience, especially if you're making a beach-and-boardwalk day out of it.
Don't miss the Santa Cruz Museum of Art & History, too. Situated at the Cooperhouse Shopping Center, it's a large and modern venue featuring a broad range of exhibits and programs for people of all ages. It's not far from the Ocean View Park, which offers expansive play space for kids and beautiful water views.
That's a Wrap on the Mystery Spot
While Santa Cruz is very much a surfer's town, there's more to experience in the area than meets the eye. The Mystery Spot is proof of that: it's a fascinating peek at what happens when the laws of physics are defined in such mystifying fashion. Inexplicable it may be, but that is also part of the charm of this tourist attraction.
Whether you're planning a visit to the Bay Area or just happen to be elsewhere in California or even in Oregon, you may well want to make some room on your itinerary for the Mystery Spot. It's where some of the world's most shocking optical illusions and many gravitational anomalies occur, after all—and it's a great place to visit with your family and friends alike.