The Best Beaches to Visit in Santa Cruz
Are you looking for beaches in Santa Cruz, California? Just south of San Francisco and San Jose, this beach town is synonymous with surfers and laid-back beaches. Here, you're liable to be spoiled for choice when it comes to finding the perfect beach. From the Santa Cruz Beach Boardwalks to secluded bonfire beaches and even dog-friendly beaches, there is truly something for everyone.
Not all beaches are equally suited to all visitors, though, and with that in mind, we compiled a list of some of the best Santa Cruz's beaches and broke them down for you. While Santa Cruz beach hours and weekend availability can vary, there's bound to be something for everyone on this list.
Without further ado, here are our 14 favorite beaches in Santa Cruz County we know you'll love.
Family & Pet-Friendly Beaches 
Beaches make wonderful places to run your beloved dog. But while you might enjoy holidaying with man's best friend, not everyone or everywhere welcomes your pup with open arms.
That shouldn't stop you taking your dog along on your getaway, though. There are all kinds of dog-friendly beaches in Santa Cruz. That being the case, we assembled a list of some of the Santa Cruz beaches where dogs are allowed.
Twin Lakes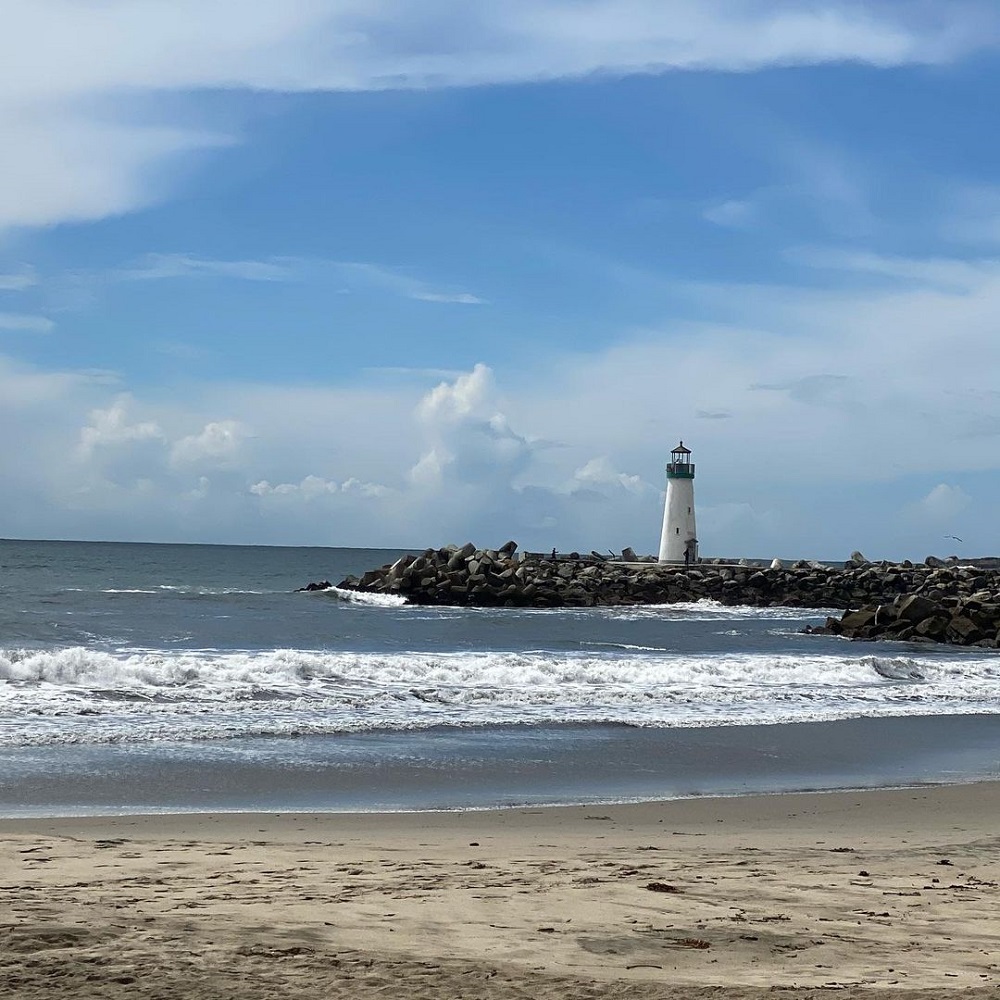 Twin Lakes adjoins Harbor Beach and runs from the San Lorenzo River to Black Point. It's best suited to visitors who want a taste of the Santa Cruz beach experience but without the crowds of the main beaches.
The water on this beach is warm, making it a favorite for water activities from surfing the waves and boogie boarding to a casual kayak trip. As ever with ocean activities you'll have to be careful of currents and undertow; it's all too easy for the swell to catch an unsuspecting swimmer unaware.
That said, there's a lot to recommend at Twin Lakes as a Santa Cruz beach. There's a good selection of parking on hand, and The Crow's Nest, a highly popular restaurant, is close by should you go looking for food. We highly recommend you get a margarita to-go from here to take with you down to the sand. If you're visiting us in the summer, Crow's Nest is also home to Thursday night live music which is a lot of fun.
Twin Lakes also host a wide selection of beach wildlife, from seal colonies to sea lions and otters, and even whales. Wildlife varies by the season, so there's always something interesting to watch out for.
And, should you stay late into the evening or arrive after sunset, Twin Lakes is one of several beaches that offers a selection of fire pits for a bonfire.  
Manresa Beach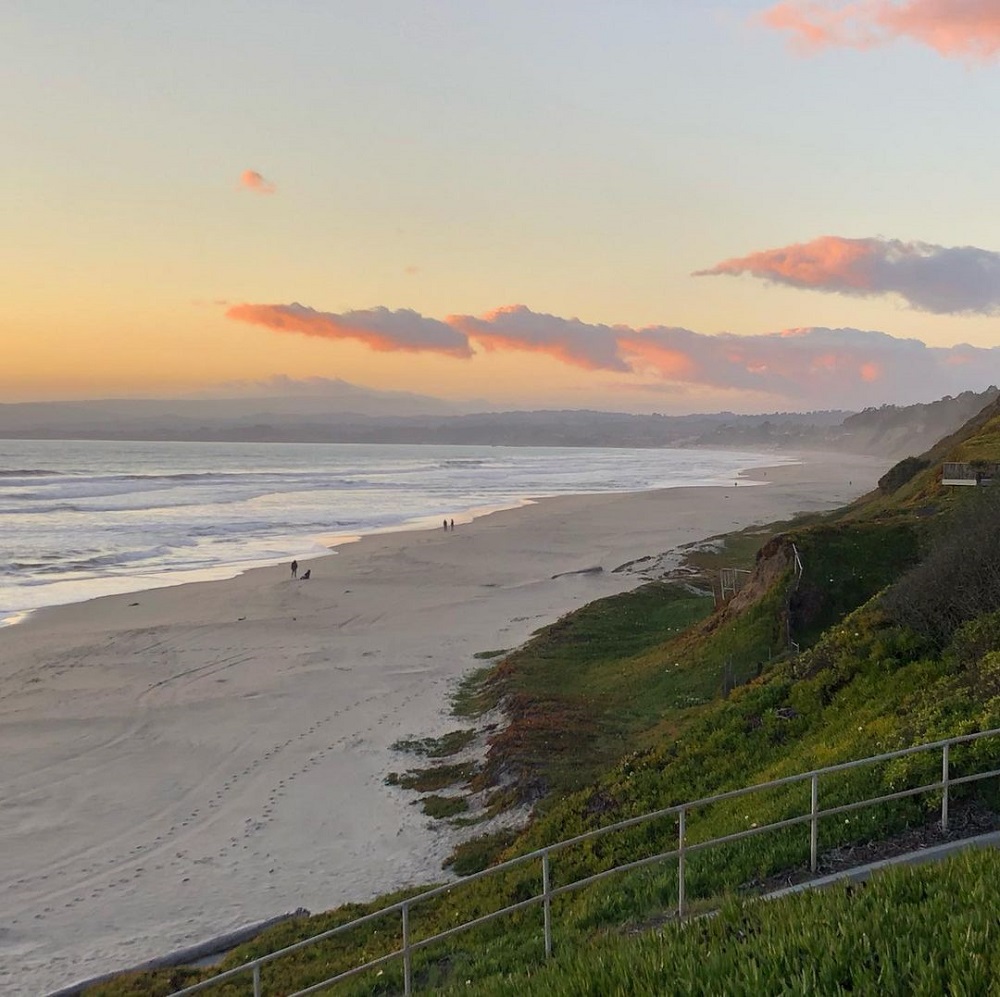 If you are looking to get away from fellow tourists, Manresa State Beach may be the answer. This Santa Cruz beach is privately considered the locals' beach, but that shouldn't discourage you from seeking it out.
Come before nightfall to enjoy the views of the Santa Cruz Mountains while you let you dog run freely in the surf and sand. This get them more than tired out to enjoy a tranquil night under the stars at your bonfire.
El Patio, a nearby shop, sells everything from firewood to paperbacks for a beach bonfire. It stays open until 9 PM, so there's no need to rush and gather materials ahead of time. The beach has four fire pits, which is less than other beaches with bonfires. However, it tends to be quieter because of that. 
There are more birds here too. If you arrive in time for the sunset, you might get to hear them calling to each other, or engage in some bird watching. With mile after mile of shore, this beach is too remote to get overcrowded. The water might be a tad cool, too, if you were thinking of a late-night swim. But for a beach bonfire on a summer evening, it's perfect.
Lighthouse Field State Beach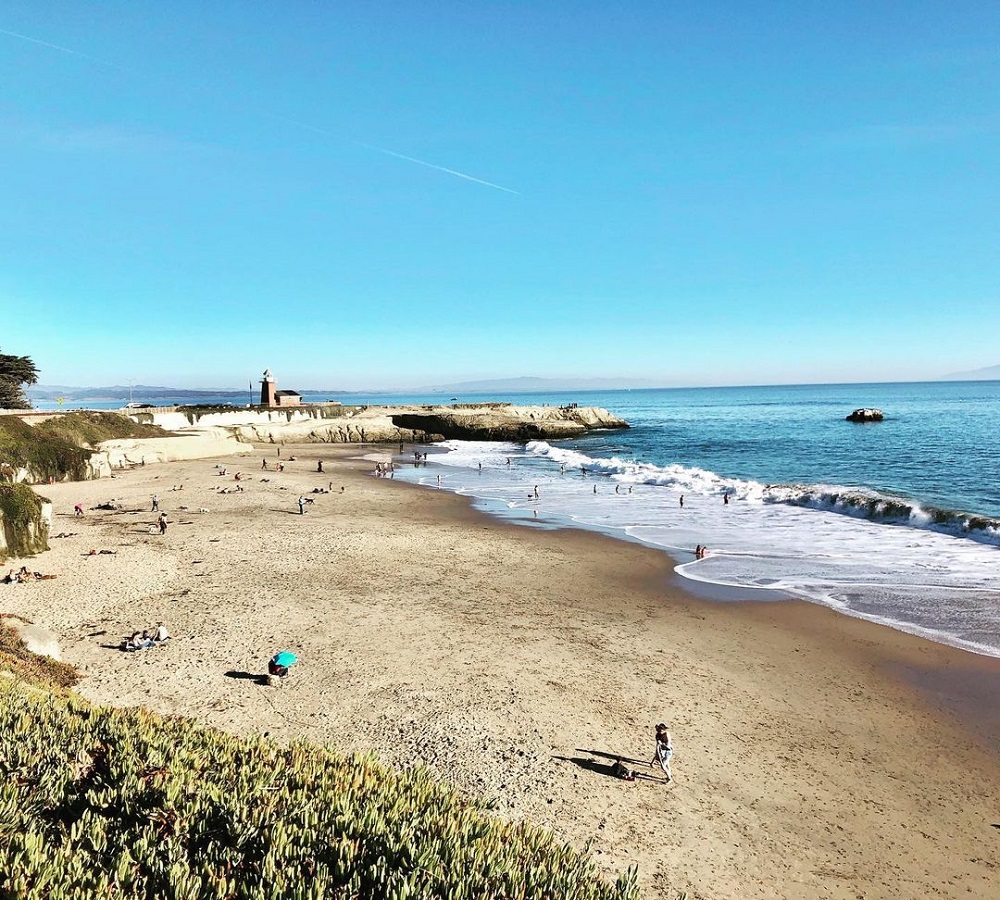 Also called Its Beach, Lighthouse Field Beach is the first beach north of the local lighthouse and West Cliff Drive. It has stair access and is so popular with man and canine that it's colloquially dubbed 'Dog Beach.' If you're visiting Santa Cruz with your four-legged friend and are staying in one of our pet-friendly vacation rentals, you'll love spending your day at this beach.
This Santa Cruz beach allows dogs off-leash, if you pup is well-behaved, making it a lovely, scenic place to walk for you and for your dog to run freely. If your dog doesn't quite yet listen to your commands, bring him or her down but keep them on a leash while you walk.
Mitchell's Cove Beach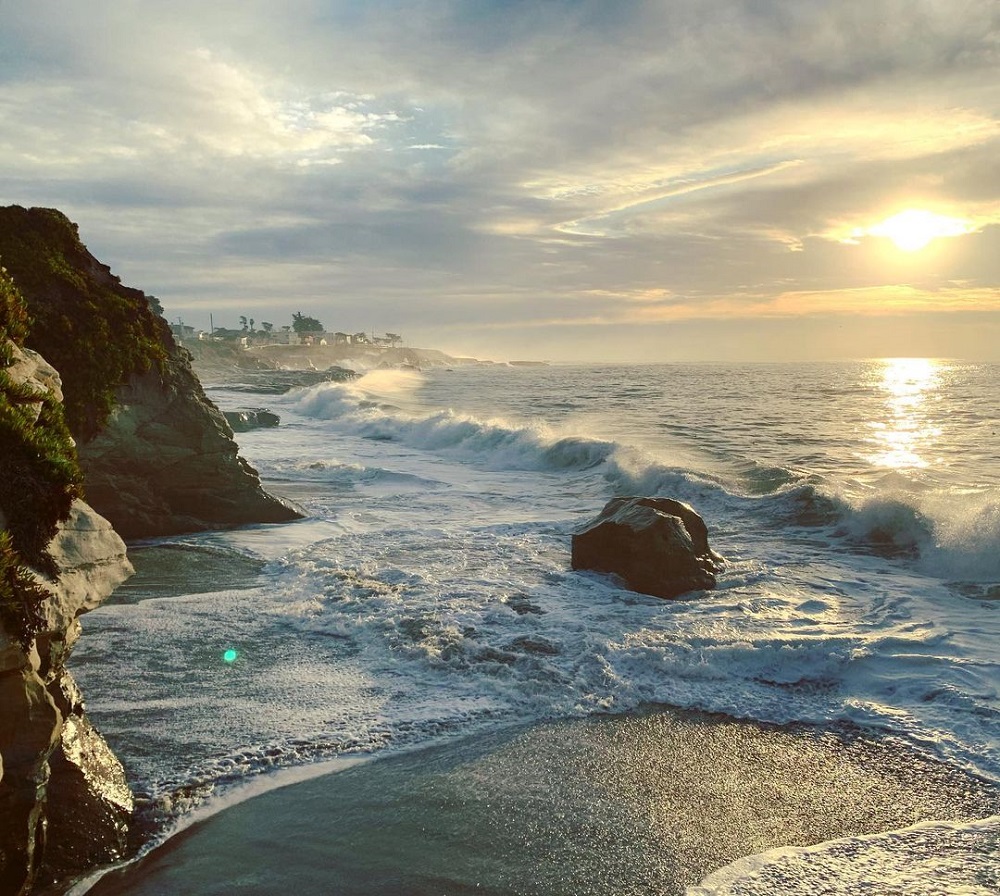 From 10 AM to 4 PM, dogs are allowed off-leash on this Santa Cruz beach. Mitchell's cove is located between West Cliff Drive and Almar Avenue, with steps that take you and your pet from the cliffside down to the beach.
Keep your eye on the tide, though. If you don't time it to coincide with a tidal ebb, you may find there's more of Monterey Bay than sand. Hardly ideal for a coastal ramble! When the tide's out though, this beach is a beautiful cliffside excursion for you and your pet. This is definitely one of the most popular beaches to let your pet run free and make some friends along the way.
Seabright State Beach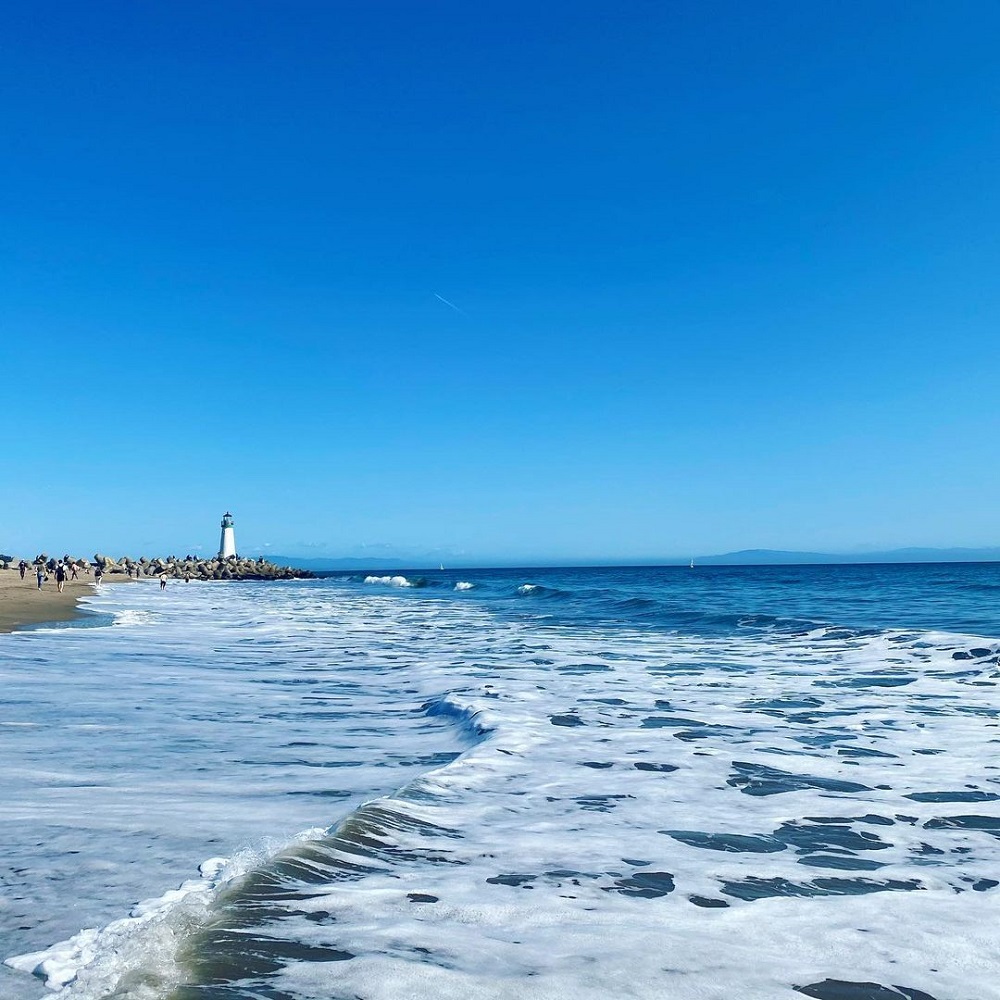 With lots of sand for digging, walking, and burying beloved treasures in, this state park is a favorite with visitors. Dogs are allowed on-leash here. The view of the harbor and Santa Cruz wharf contribute to this beach's famously evocative views.
Its sunrises and sunsets are particularly noteworthy, making this dog-friendly beach ideal for the early riser as well as the sunset worshiper.
Both stairs and a trail grant you access to this beach, but it's steep going, so if you do decide to visit, take your time on the descent. There's no need to spoil your walk with a turned ankle, and the bluffs and ocean views along the way are worth the extra patience.
Main Beach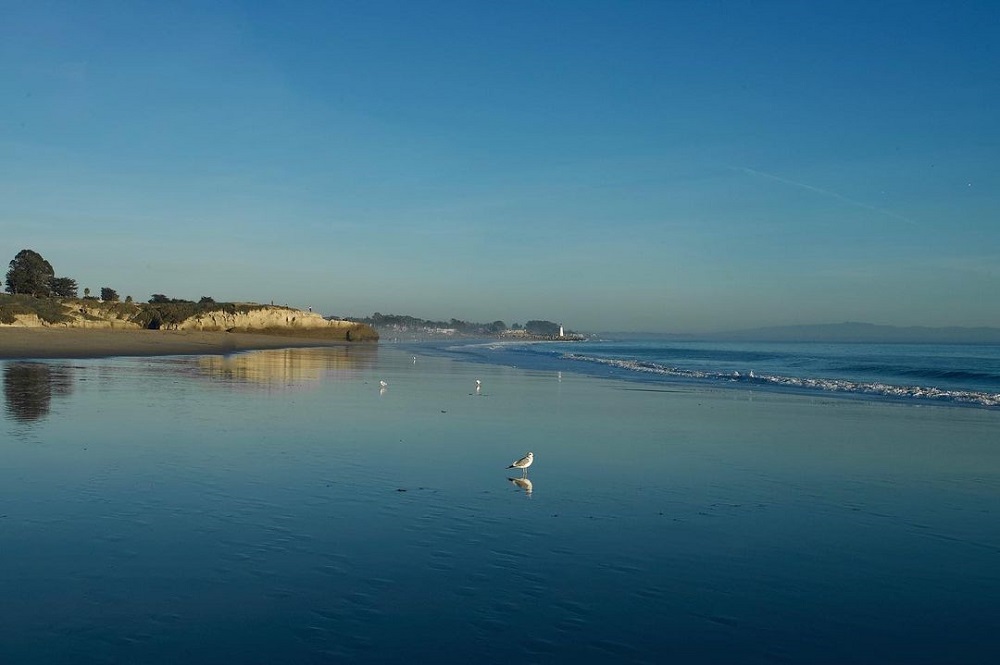 Easily, one of the best things to do with kids in Santa Cruz is to hit the beach together. Few people love fun in the sun as much as kids, but sometimes finding the best Santa Cruz beaches for families can be a challenge. Whether the crowds, access, or other concerns defeat you, there's nothing like the disappointment of driving out to a beach and discovering it's not as suitable for kids as you had thought. But this one is perfect for your kiddos!
Much as you'd expect, Santa Cruz Main Beach is the beach at the heart of the city's seaside activities. It connects the mouth of the San Lorenzo River with popular attractions such as the Santa Cruz Boardwalk and Wharf. Do note that this beach is not dog-friendly though.
Ever popular with tourists, Main beach is bustling with families and holiday-makers taking advantage not only of the sun but surrounding rides. Nearby this Santa Cruz beach is the amusement park with a variety of funfair-type attractions that run the gamut from rollercoasters to mini-gold and arcades.
A walk to the end of the Wharf will bring your family to a range of shops and seafood restaurants, while Main Beach's thoroughfare, Beach Street, offers still more selection. There are also public restrooms here, unlike at many other beaches.
If you choose to stay on the beach, you'll soon discover that the Santa Lorenzo River backs onto this beach to form a placid lagoon. The beach's popularity also means lifeguards are almost always on hand, which makes it a safer place to swim than some of Santa Cruz's other beaches.
You'll still want to check the water quality before taking a dip, though; nearby surf spot, Cowell beach, routinely scores low water quality, and sometimes that spreads. Even so, there's more than enough here to keep your family active for several days, and for first-time visitors this beach is a must.
New Brighton Beach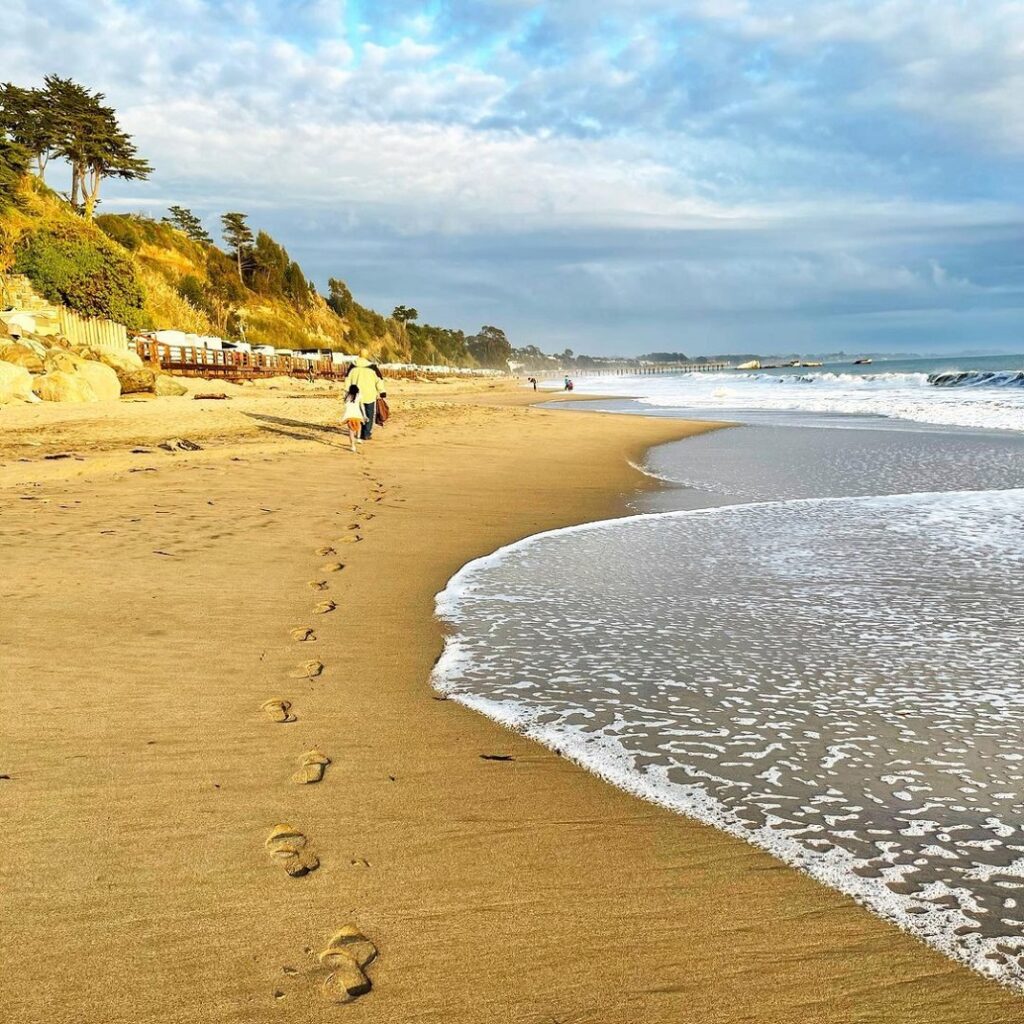 Found at the end of ten northern Santa Cruz beaches, New Brighton State Beach features ten fire rings, making it ideal for an evening bonfire. There's an attached campground where the owner sells wood for $10 a bundle, saving you the bother of seeking out enough driftwood and fire starting material to set your bonfire alight.
Despite being close to both the popular Capitola beach and Highway 1, this beach has a serene quietness to it that makes it well-suited to an evening wind-down around the fire. The surrounding scrub and forest offer shelter, and with the sand extending out to Moss Landing, it's easy to forget the hustle and bustle of the surrounding area.
You dog is welcome to join you at New Brighton State Beach but keep in mind that pets are meant to stay leashed while here.
While the water's not much for surfing, it's a great place to mine shells and other seaside treasures at low tide. Or, if you're lucky, you may spot a passing flock of dolphins. If you time your visit for late summer or autumn, you might even be in time to catch the migratory birds, who were so populous they became the inspiration for Alfred Hitchcock's cinema graphic thriller The Birds.
Davenport Landing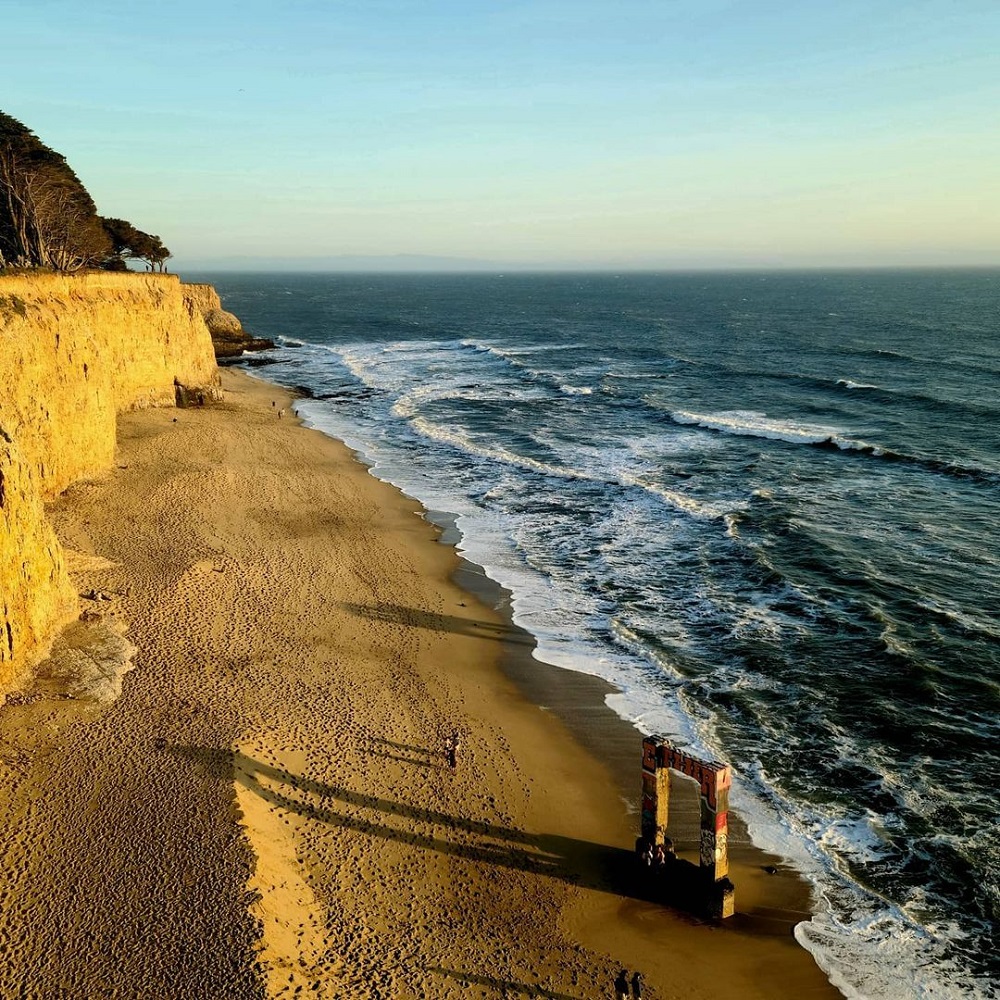 Featuring a wild, evocative coastline, this beach looks out over the Pacific. Accordingly, keen-eyed aspiring scientists can hunt for a variety of wildlife in the rockpools, including anemones, starfish, and crabs.
Moreover, if you visit Davenport Landing on the weekend, then you can pig out on shellfish at the nearby American Abalone Farms. If shellfish isn't to the young peoples' taste though, it still makes an enjoyable treat for attending adults while offering an opportunity for the kids to catch a glimpse of an Abalone close-up.
While access to this Santa Cruz beach can be reached by a rocky dirt path or a short and level walkway for kids to run rampant through, providing alternative and easier access for you and your family.
Natural Bridges State Beach
There are many appealing features to this iconic Santa Cruz beach. Of particular note, if you're traveling with children, there are the dunes that border the cove, preventing little ones from wandering too far away. Further along the beach is a rock shelf full of secret tide pools and hidden wildlife.
Perhaps Natural Bridges' most attractive feature to families on holiday, though, is the cluster of picnic tables and barbeques. If you're looking for a reason to pack a lunch and enjoy a picnic area in the sun, look no further. Or, if the mood for a picnic comes on you suddenly, there's a local bakery a short walk up the road.
And if the weather unluckily turns, a nearby visitors' center is full of activities to keep your children engaged and entertained. If it holds, though, you can follow a sheltered eucalyptus trail to a monarch butterfly sanctuary for some respite from the sun and a chance to spot more than just sea creatures.
Sunny Cove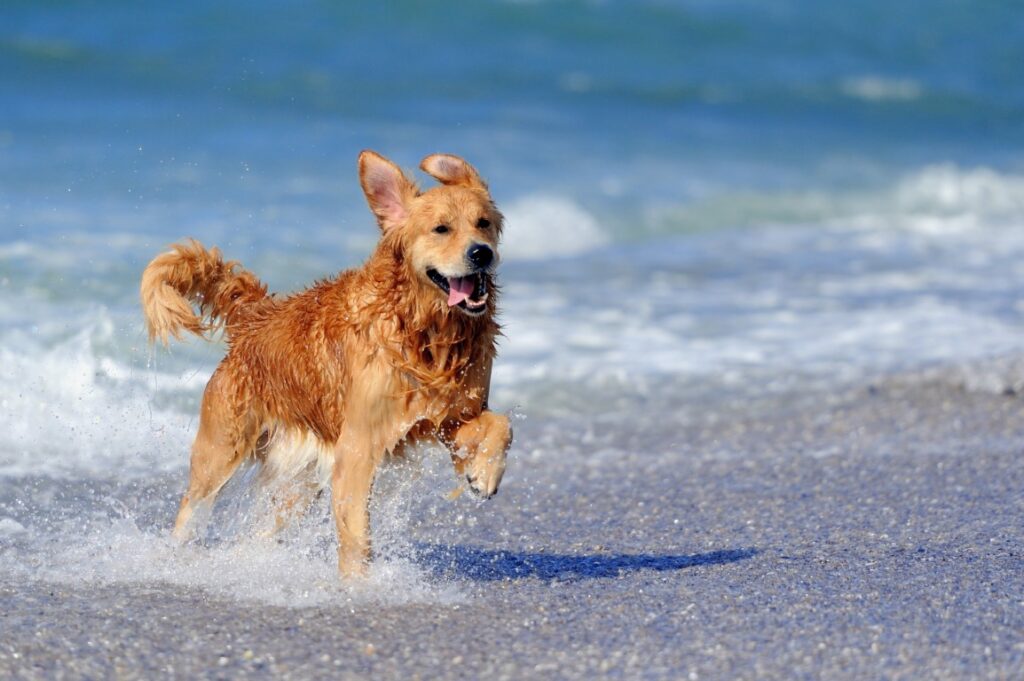 For a small stretch of sand where you can keep an easy eye on your pets and kids, you'll love spending the day on Sunny Cove in Twin Lakes. Surrounded on one side by the ocean, two sides by low, grassy bluffs, and the other by the beach access, you can see this entire beach in one view.
Do note that Sunny Cove isn't the best beach for swimming due to rip currents but is better to let your pet run freely off leash and for your children to build sandcastles on the shore.
Two-Six Beach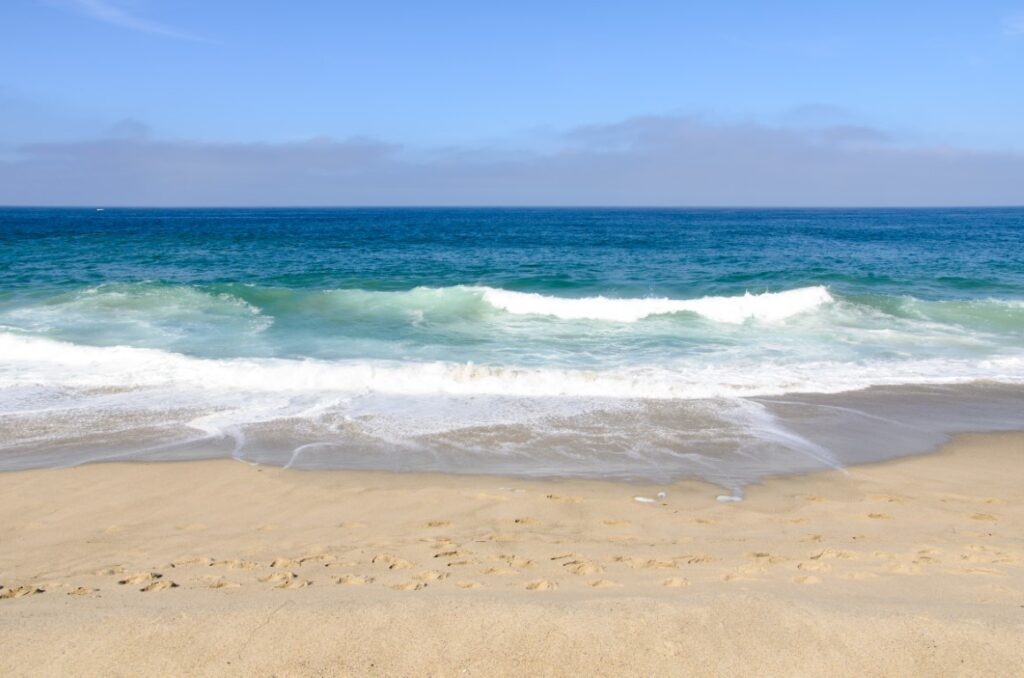 Two-Six Beach, also know as 26th Ave Beach or even 26th Street Beach, is another one of our favorite beaches in Santa Cruz. This pet-friendly beach is a great place to bring your entire family for a day in the sun. Here, your pup doesn't need to be leashed, so long as he or she is well-behaved and listens to commands.
Nestled between Moran Lake and Corcoran Lagoon, this beach is usually quieter than most and isn't as well-known for tourists. There's a public parking lot here but keep in mind that it's quite small so you might need to park at Moran Lake Park and walk the few steps from there.
Seacliff State Beach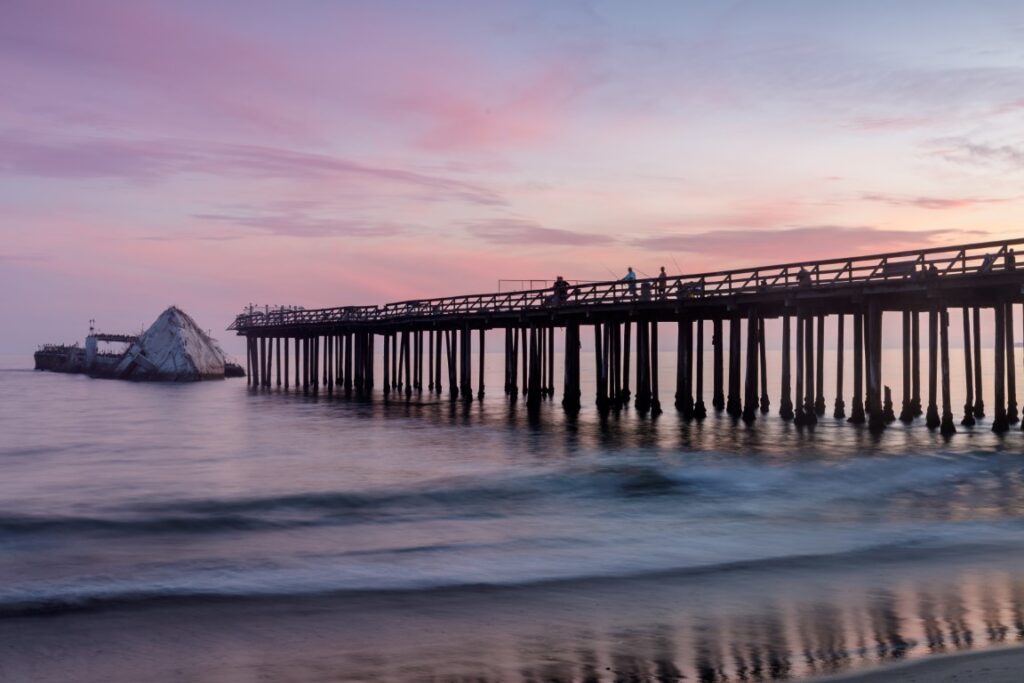 Seacliff State Beach is one of the best beaches in the area for you and your whole family to enjoy. Located in Aptos, here you can swim, play in the sand, and enjoy the surrounding wildlife. Dogs are allowed to visit with you but must be kept on a leash.
Before big storms in 2023 damaged the pier, there was also an extensive pier jutting out in the Pacific. This pier is currently being removed with plans to rebuild. Off the coast, there are also 2 shipwrecks that you can see from shore. Enjoy the unique horizon these boats make jutting out of the water but please don't try to explore them up close.
Panther Beach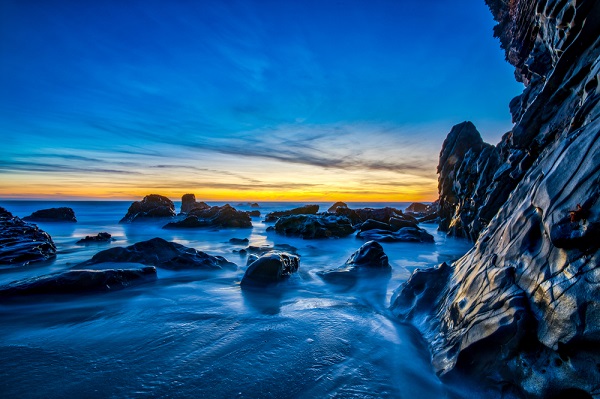 Although a bit more difficult to get to than other beaches on this list, Panther Beach is still a really great family-friendly beach if your kids are old enough to walk there themselves. It can be a tough spot to bring a stroller or carry a lot of beach supplies to, so even better if your kids can carry their own toys or are content enough to play in the sand without needing much else for entertainment.
This beach is a favorite among locals and offers really amazing views and rock formations you won't get anywhere else on this list. Bring a towel to do some sunbathing or come ready to splash in the water while you enjoy Panther Beach. While you might see a few dogs while here, it's technically not a pet-friendly beach so leave your pup at home for this one.
A short drive north of Santa Cruz, you'll be happy you made the trip once you check out the views and tranquility of this beach.
Beaches for Surfing
Ever a beach favorite, surfing draws hundreds of people to beaches annually. Water level, degrees of shelter, and a range of other factors all contribute, though, to make Santa Cruz's many beaches more or less suitable for surfing.
If surfing is on your list of must-do things this summer, here are some of the Santa Cruz beaches we think best suited to the exercise. 
Pleasure Point Beach
Beloved of locals, Pleasure Point is quieter than many beaches recommended for surfing and doubly worth a visit if you enjoy a sunrise. This beach is world famous for its steamers so only plan to surf here if you know what you're doing on a board.
Located on the east end of Santa Cruz, this hedonistic, fun-loving shoreline first got its name in Prohibition-era American misadventures. Today it continues thick with colorful characters, surfboards, and local charm.
For those less inclined to surf but still wanting to watch spectacular waves come in, the nearby waterfront promenade is a worthwhile excursion. It winds through views overlooking the bluffs and Monterey Bay, with glimpses of flying surf and restive seaside coves.
Close by, the Penny Ice Creamery and Live Oak Farmers' Market comprise some of Santa Cruz's best-beloved beachside attractions. Its position in the wider resort district of Santa Cruz beaches means that inevitably the surrounding shops and Pleasure Point restaurants cost a bit extra, but a neat trick is to get chatting to the many local surfers. Chat enough and you might find out what restaurants they favor, and the prices are bound to be easier to swallow.
Capitola Beach
If you're staying at one of our vacation rental homes in Capitola, you're in for a treat! Capitola Beach is one of the best beaches in the area for surfing. This beach is particularly popular with beginners and long boarders.
Located right at the brightly painted Capitola Village, not only is it a great beach to learn to surf or enjoy some more relaxing waves, it's also a great beach for everyone in your group to enjoy. You'll have shops and restaurants within walking distance so you can spend all day out here and not lack for a thing.
Cowell's Beach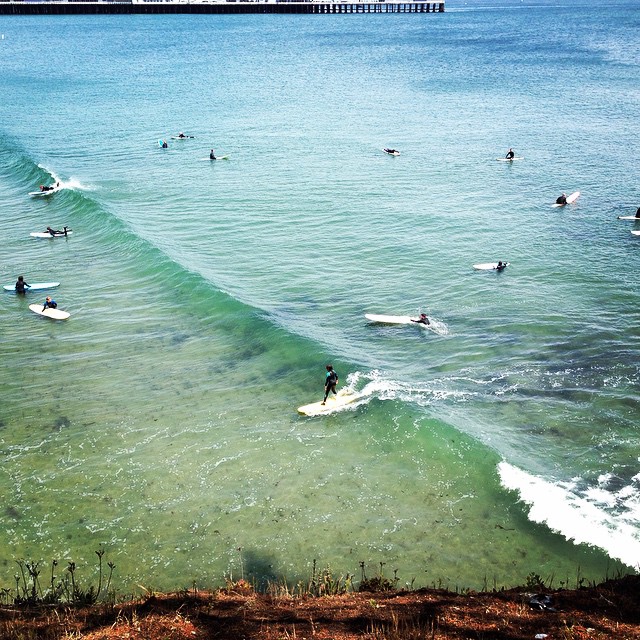 If you've come to the Santa Cruz beaches for surfing, then this is a well satisfactory choice. Cowell's Beach is popularly dubbed 'Surf City.' This beach is thick with surfers, as well as those who enjoy watching the spectacle.
Other frequent visitors are the sea lions. They aren't often seen surfing though; they prefer to sunbathe in the shade of the pier, taking morning and afternoon naps where the pier juts out into the sea.
A selection of nearby shops will sell you just about anything in the event you need to pick up an emergency surfboard or a gift for a family languishing back home. The only drawback is that the shops err on the pricier side, as do the restaurants.
The surf costs nothing though, so long as you've brought your own board, and it's first-rate.
Beaches for Bonfires
Speaking off, an evening bonfire can be the perfect cap for a day in the sun. While a selection of Santa Cruz beaches have fire pits for those visitors wanting to roast marshmallows, host an evening singsong, or just enjoy the moonrise, not all beaches do.
We've put together a short list of our favorite Santa Cruz beaches amenable to the evening bonfire:
Manresa Beach
New Brighton Beach
Sunset Beach
Conclusion
Whatever you're looking for – surf, sun, or scenic dog-friendly beach runs – there truly is something for everyone on offer in Santa Cruz's beach selection. From the bustling Main Beach and a thriving harbor to quieter, remote spots, Santa Cruz's beaches cater to all tastes. If you want even more options, head to nearby Aptos and Capitola, two other cool beach towns you'll love exploring.
The wide variety of Santa Cruz's beach camping and house rentals make it easier than ever to enjoy a protracted bit of fun in the sun. All you need to worry about is how to decide on a beach that's right for you. But with so much on offer, it's hard to go wrong.