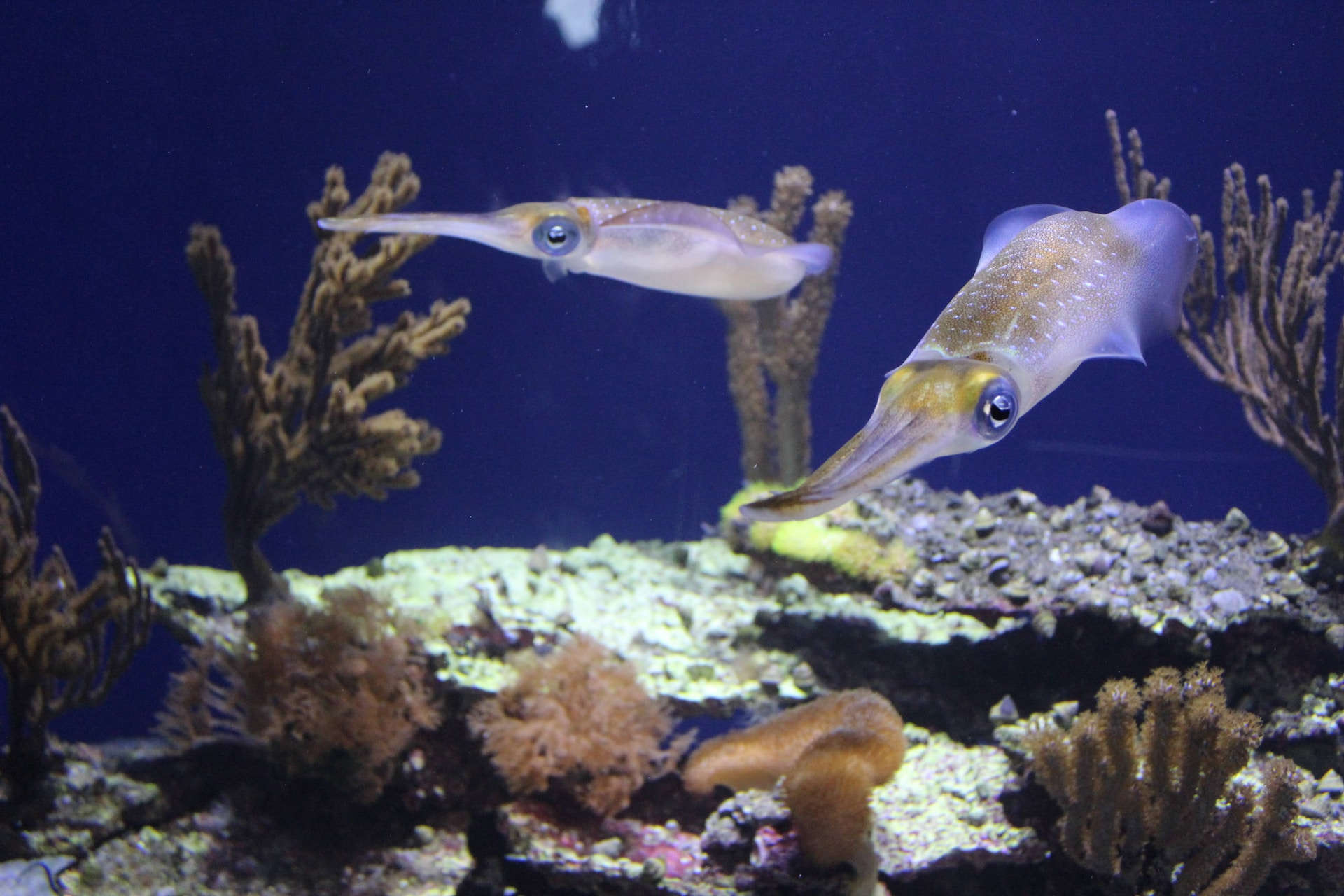 8 Best Santa Cruz Museums to Visit
From the pristine coastlines to the majestic redwoods, Santa Cruz is full of amazing things to do. One of the more unique things to do is to visit one of the many fun and interesting Santa Cruz museums.
Santa Cruz has an amazing variety of museums. There really is a museum for everyone.
Art lovers will appreciate the creative exhibits at the Santa Cruz Museum of Art and History, and young children can both play and learn from the interactive exhibits at the Santa Cruz Children's Museum.
To help you decide which museums to visit during your stay in Santa Cruz, here is our guide to the 8 best Santa Cruz museums.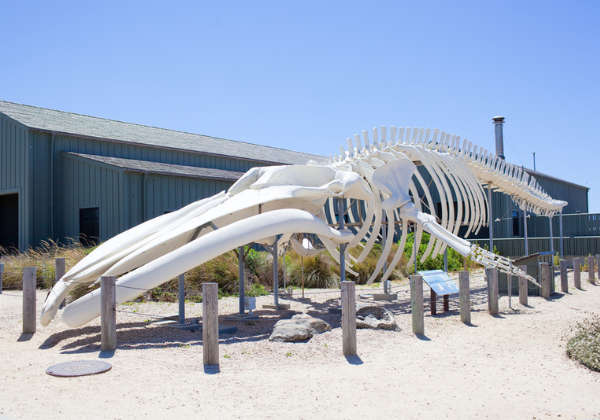 Address: 100 McAllister Way, Santa Cruz, CA 95060
Located on the campus of UC Santa Cruz, the Seymour Marine Discovery Center is a marine science education center, run by the Long Marine Laboratory.
The Seymour Marine Discovery Center offers visitors a hands-on marine learning experience. Within the 20,000 square foot discovery center, you'll find the world's largest whale skeleton, various touch tanks, and several tanks with unique animals like jellyfish, rockfish, and eels. In one of the touch tanks, there are sea stars, urchins, hermit crabs, sea anemones, and more. The other is the shark pool, where visitors can learn more about sharks and even touch a swell shark!
This amazing Santa Cruz museum is located adjacent to the ocean, and overlooks the beautiful Monterey Bay National Marine Sanctuary. This is a great museum to learn more about the ocean and its creatures in a fun, interactive way.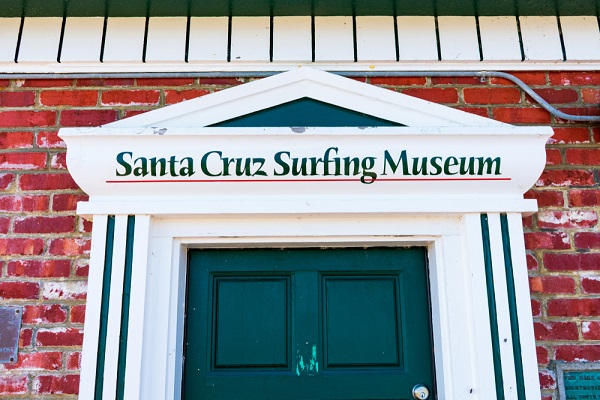 Address: 701 W Cliff Dr, Santa Cruz, CA 95060
The Santa Cruz Surfing Museum is a unique museum that was established in 1986 to document the surfing history of Santa Cruz.
This Santa Cruz Museum is located inside the Mark Abbott Memorial Lighthouse, perched above the world-famous Santa Cruz surf spot, Steamer Lane. Many claim that Santa Cruz was the birthplace of surfing on the mainland United States, with the sport being brought over by three Hawaiian princes.
Inside this museum, you'll find treasures from 100 years of surfing history in Santa Cruz. You'll find photos and videos documenting iconic surfers and surf eras, along with tributes to the three Hawaiian surf princes.
There are also surfboards on display from different eras, including large, redwood surfing planks from the 1930s, all the way to modern surfboards made of foam and fiberglass.
This Santa Cruz Museum is small, but a great museum in Santa Cruz to visit if you're interested in surfing, history, or both.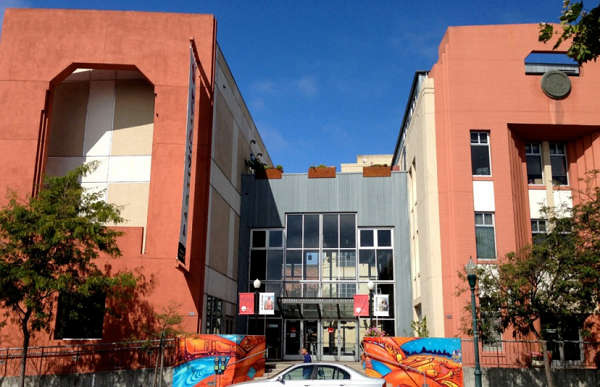 Address: ​​705 Front St, Santa Cruz, CA 95060
The Santa Cruz Museum of Art & History, or the MAH is a community gathering place that features a rotating collection of incredible art and history exhibits. The exhibits hosted at the MAH are very unique.
Many of the exhibitions highlight bilingual and diverse community members, others display light shows, and some represent important regional happenings, like the California wildfires. The exhibitions are constantly changing, and you can see what exhibitions are currently ongoing and coming up on the museum's website here.
In addition to its art and history exhibits, this Santa Cruz museum offers public festivals, along with visual and performative artwork displays.
The history collection at the Santa Cruz Museum of Art & History includes over 7,000 items of Santa Cruz history, along with a research library & archive.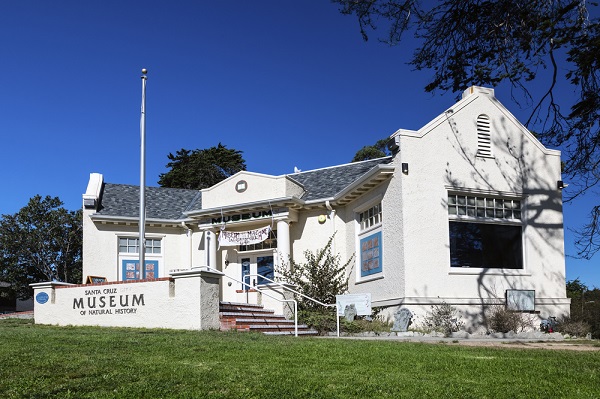 Address: 1305 E Cliff Dr, Santa Cruz, CA 95062
The Santa Cruz Museum of Natural History is one of the best museums in Santa Cruz. The museum features exhibits on everything from geology and paleontology, to biology and history. They have over 15,000 artifacts that go back thousands of years.
Some of the exhibits you'll find within this Santa Cruz museum include an interactive exhibit on California's wildlife with an entire section devoted to birds, along with an impressive selection of fossils.
This is a great Santa Cruz museum for both children and adults alike, and a wonderful place to learn more about the natural world.
In addition to its exhibits, this museum also offers classes covering subjects like birdwatching and geology, along with hands-on workshops and camps for kids. Throughout the year, the museum also hosts a variety of special events, including fairs, journaling studios, and guided nature walks.
Address: 1855 41st Ave #10, Capitola, CA 95010
The Santa Cruz Children's Museum of Discovery consists of 8,000 square feet of exciting, educational, and interactive exhibits for children in the Capitola Mall. This is definitely one of the best things to do with kids in Santa Cruz.
While the exhibits are constantly being updated to keep the museum fresh and new, some of the exhibits you might find within this Santa Cruz museum include doll houses, a model pizzeria, train tables, nets to climb on, and a mini rock climbing wall.
Additionally, the Santa Cruz Children's Museum places a great emphasis on art and creativity. Kids get to tap into their creative sides by completing puzzles, playing with kinetic sand, and working in the art room with several different mediums.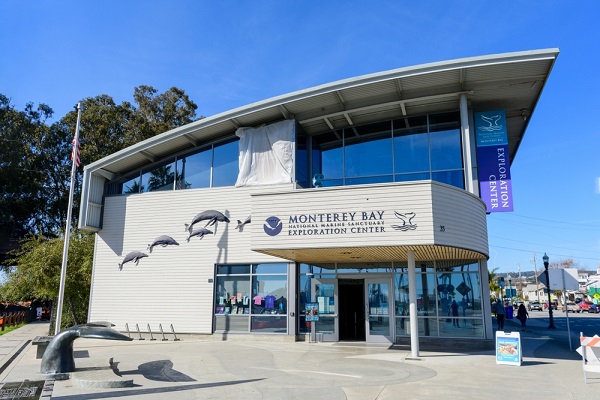 Address: 35 Pacific Ave, Santa Cruz, CA 95060
This Santa Cruz museum is dedicated to preserving and teaching its visitors all about the Monterey Bay National Marine Sanctuary.
The museum itself is located next to the Santa Cruz Wharf, with sweeping views of the Pacific Ocean. Visitors can look out over the marine sanctuary from the deck of the museum. The deck also has a display of historical photos that document what the bay looked like during its fishing port days, as well as what it would look like today if it weren't for its conservation status.
Inside the museum, there are several exhibits highlighting different aspects of the marine sanctuary, and there is even an exhibit that teaches visitors about pollution and its effects.
At the museum's open ocean mini theater, you can watch footage of native sunfish, whales, and dolphins on the big screen in their natural sanctuary habitats. Visitors can also experience the sanctuary in a hands-on way, by exploring the intertidal touch pools, filled with realistic models of tidal animals.
The Monterey Bay National Marine Sanctuary Exploration Center is a great museum in Santa Cruz to visit if you love the ocean, and want to learn more about the marine sanctuary that lies just beyond the sandy shores of the Santa Cruz beaches.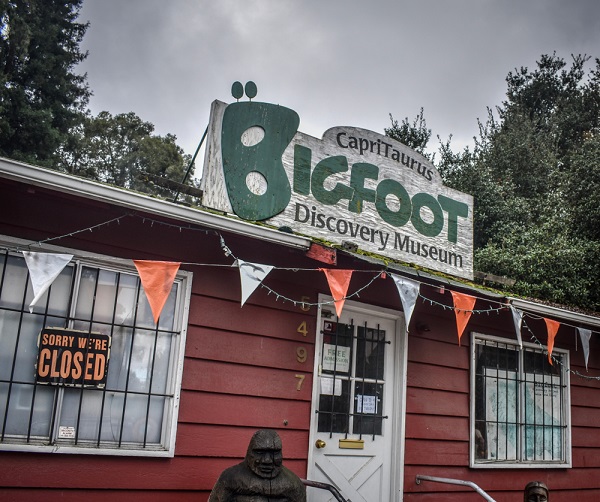 Address: 5497 Hwy 9, Felton, CA 95018
The Bigfoot Discovery Museum in Felton is one of the most fun and unique museums in the Santa Cruz area. The museum contains a small, but well-curated collection of artifacts and information about the mythical creature known as Bigfoot.
Inside the museum, there are several pieces of "evidence" of the existence of Bigfoot- including footprints, photos, and videos of what people claim to be Bigfoot.
The museum also explores different Bigfoot stories and legends, and dives into their cultural significance and how it relates to the natural world. There is even an audio-video viewing area in the outer cafe area where you can watch Bigfoot documentaries.
Whether you're intrigued by local folklore and paranormal activities, or simply looking for a fun way to spend an afternoon, the Bigfoot Discovery Museum is very fun and unusual, and one of the best Santa Cruz museums to visit.
Address: 410 Capitola Ave, Capitola, CA 95010
The Capitola History Museum is located right in the heart of downtown Capitola, and provides visitors with an excellent glimpse into the past of the region.
Within the Capitola History Museum, visitors will find an extensive collection of photos and artifacts detailing the diverse history of Santa Cruz. One particularly unique exhibit showcases "Capitola Then and Now", where you can see historical examples of clothing and furniture from the past, as well as what the Capitola Village used to look like, compared to what it looks like now.
If you're interested in learning more about the community's history, this small but beloved local museum is a great place to explore Capitola's multifaceted history.
Enjoy the Best Santa Cruz Museums
Whether you're a history buff, art lover, passionate about the ocean, or simply looking for a fun and exciting activity during your trip to Santa Cruz, you're sure to have an amazing time at one (or more) of these unique, educational, and interesting Santa Cruz museums.