Things To Do In Santa Cruz
Located on central California's coast, Santa Cruz has been a popular vacation destination for many years. From amusement parks to beaches and botanical gardens there is so much to see and do while visiting the area.
Just over an hour from San Francisco and 30-minutes from San Jose, Santa Cruz is a great road trip destination for a day trip or to rent a vacation rental and stay in town for a while.
While when most people think of this area, they think of the beach, the wharves, and even cliff diving or surfing, the city has much more to offer. You can enjoy the sun and sand, or head out to one of the many popular nature sites, historic sites like Mission Church, or even just a nice stroll downtown.
For those who have never seen Santa Cruz, take a drive along the beautiful coastline and stop to soak up the amazing ocean views. While you are stopped, make sure to look out for the seals in the mysterious deep blue waters of Monterey Bay. From hiking in the state parks to finding exotic plants in the US Santa Cruz Arboretum, there will never be a dull moment in Santa Cruz.
In this travel guide, you'll get a few of our favorite things to do in Santa Cruz to help you plan the perfect vacation before you even get here.
Enjoy a Whale Watching Cruise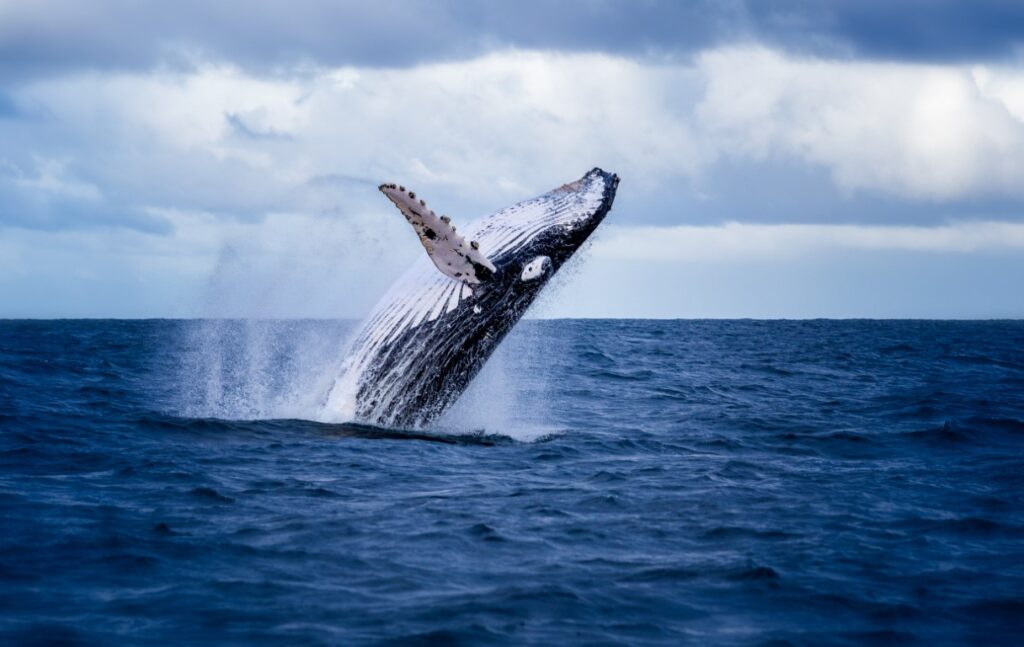 When visiting Santa Cruz, marine life, dolphin, and whale watching cruises are among the top things to do in the area. The Monterey Bay National Marine Sanctuary is situated alongside Santa Cruz making these adventures even better.
While the whales migrate through the area from April to November, some humpback whales may stick around all summer. However, from December through April visitors can see Gray Whales, and in the spring you may have the opportunity to see a few killer whales as well.
This is easily one of the best guided tours to go on while you visit Santa Cruz.
Hit the Sea on a Chardonnay Sailing Charter
While staying with us in Santa Cruz, why not explore the area by water, not just land? With whale watching is only possible from April-November, you can enjoy a sailing trip any month of the year. Chardonnay Sailing Charters offers public and private cruises and a number of different types of cruises, so you'll have plenty of options to choose from.
The most popular sailing trip is the Santa Cruz sunset sail where you can enjoy pizza and a scenic sunset – what more could your friends and family be looking for in a night out? They also offer boozy brunch cruises and ones ideal for the foodies in your group.
Browse all of their sailing trips at Chardonnay Sailing Charters.
Stroll Along the Santa Cruz Wharf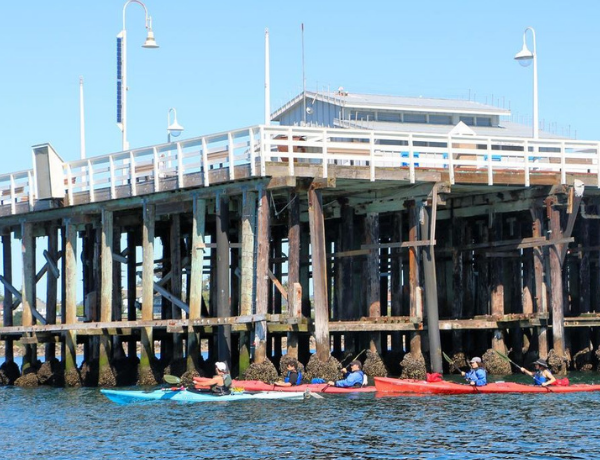 Built-in 1914 to serve deep-water vessels, the Santa Cruz wharf now serves as a fishing pier and sightseeing platform. With 9 different restaurants on the pier, walkers are able to test and sample the local seafood as they pass by. Grab some ice cream and walk the Wharf as it is a great place to see many fish and mammals in their natural habitat.
You could bird watch or you could try and spot sea lions, who make this area their home year-round. During certain seasons you could also see whales, dolphins, and otters. The wharf is also the perfect place to rent anything you may need for your watersports experience. From kayaks to fishing poles the Santa Cruz Wharf has it all.
Address: 21 Municipal Wharf, Santa Cruz, CA 95060
Listen to Local Live Music
What's a beach trip without great music in the background? If you plan your trip in the summertime, you'll be lucky enough to enjoy this music live at various locations throughout Santa Cruz, Aptos, and Capitola.
A few of our favorite places to listen to live music include:
Twilight Concerts in Capitola: Hosted every Wednesday in Capitola during the summer months, you can catch local live acts starting at 6 p.m. at the Esplanade bandstand in Capitola Village.
Thursday Night BBQ at the Crows Nest: Located right on Twin Lakes Beach, every Thursday enjoy live music at the Crows Nest. The party starts at 5:30 pm and lasts until sunset. Enjoy delicious BBQ and live tunes.
Midtown Fridays! Summer Block Party: Running all summer long, each Friday evening join in on the fun in downtown Santa Cruz. Enjoy food trucks, live music, and local fun.
Seymour Marine Discovery Center
The Seymour Marine Discovery Center is a perfect way to spend a day in a beach town. The center features an aquarium, shark pool, and a touch pool that is filled with sea urchins, hermit crabs, sea anemones, and starfish. It is an interactive way to see and learn about oceanic research topics such as elephant seals and the otter's ecosystem. The center changes exhibits regularly so you can always expect something new.
Address: 100 Shaffer Road, Santa Cruz, California
Get Adventurous at Mt. Hermon Adventures
Located a short drive north from Santa Cruz in Felton, CA, Mt. Hermon Adventures is the place to go for outdoor excitement. Calling themselves the ultimate redwood adventure, you'll get up close and personal to the mighty trees while suspended among them on their zip lines or aerial course.
Ideal for anyone over the age of 10, the zip lining canopy tour is best for someone that wants a little dose of relaxation with their adventure, whereas the aerial course is the perfect place to get your energy out in this adrenaline pumping excursion.
Both options are great team building exercises for friends, family, or coworkers. Visit their website at Mt. Hermon Adventures to learn more about their offers.
West Cliff Drive & The Santa Cruz Surfing Museum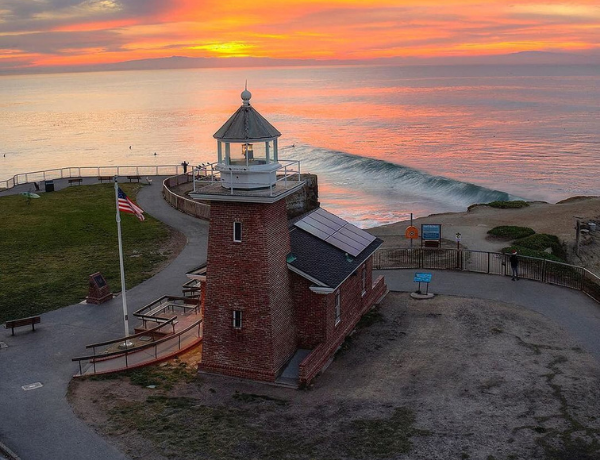 If you are interested in a breathtaking biking, walking, or hiking experience, head to West Cliff Drive. This six-mile road stretches along the coastline offering travelers a scenic route with beautiful panoramas of the cliff-fringed Pacific Ocean.
The pathway is flat and is bike and wheelchair- accessible. However, the views are not the only thing that makes this area popular, but the Mark Abbott Memorial Lighthouse, or where the surf museum is located, is on a bluff overlooking the crashing waves. You can find a bronze statue of a surfer that lines the path to the museum.
Address: 701 W Cliff Dr, Santa Cruz, CA 95060
Enjoy the Arts of First Friday
If you're in the area on the 1st Friday night of the month, there's no better place to be than First Friday Santa Cruz. For this event, the city of Santa Cruz transforms into a vibrant celebration of the arts. The open-air gallery offers free admission, countless creative opportunities, and a wide range of activities for all ages.
Each month, the event takes over a different neighborhood in Santa Cruz County so each event is always slightly different than the last. A few things remain the same though – you'll always be able to enjoy stunning art from local artists that you might otherwise have never gotten to see.
Spend Time in Downtown Santa Cruz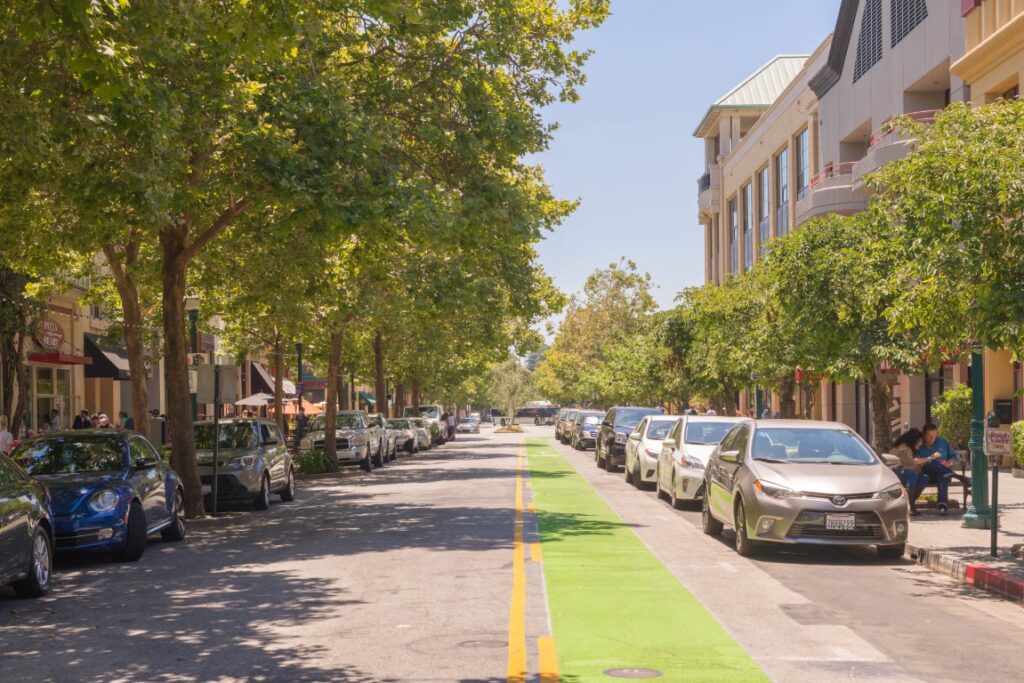 Enjoy the tree-lined streets in Downtown Santa Cruz that are perfect for an afternoon stroll. Pacific Avenue, or Main Street, is filled with restaurants, cafes, fresh-squeezed juice kiosks, and ice cream shops.
Enjoy the beautiful ambiance as you wander into your favorite shops as well as unique boutiques that carry one-of-a-kind items. You can enjoy live music during the summer months and see many performances that are not only open to the public but also free.
Depending on the day you plan to visit, you might also be able to enjoy one of the many local Farmers Markets downtown. By visiting these markets, not only can you get some fresh produce to cook for yourself at your vacation rental home, you can also try already prepared meals and treats from local restaurants and small businesses.
Get Wild on a Sidecar Wine Tour
Yep, you read that right. You can enjoy the best Santa Cruz wineries and vineyards while scooting from one location to another in a sidecar. Does it get much more memorable than that? I think not!
This one is certainly for those looking to add some extra laughs and unique pictures to the typical wine route in Santa Cruz County. You'll get to enjoy the wind in your hair, fully soaking up the views, without needing to stay responsible to drive yourself home. In addition to wine tours, Sidecar Tours also offers a brewery tour.
Get Shocked at the Mystery Spot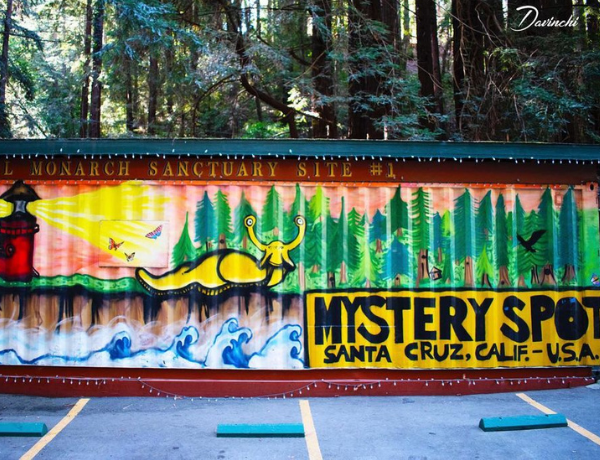 Named the Mystery Spot because you have to see it to believe it. It is located in a circular area of the Redwood Forest and is 46 meters in diameter. The spot is sought after because normal effects of gravity do not apply.
People and objects appear to be titled even when trying to stand up straight. This area will make you question the laws of physics.
There has been no successful research proving how this historic phenomenon works, but it was discovered in 1939. After experiencing a truly puzzling building, clear your head on a hiking trail. With miles of trails winding through the Redwood trees, the Mystery Spot will definitely be a day well spent.
Address: 465 Mystery Spot Road, Santa Cruz, California
Try the Pie at Gizdich Ranch
For a family-friendly day out in nature outside of the city, we recommend you visit Gizdich Ranch. Although we highly recommend you go simply for a bite of their mouthwatering pie, you can also enjoy picking fresh produce, take a tour of the farm, and enjoy lunch from their deli.
Depending on the season you visit, you can pick strawberries, olallie berries, boysenberries, and apples. In the fall, they also have a pumpkin patch. To know exactly what's in season during your visit, check their website for updates.
Spend a Day at the Roaring Camp Railroad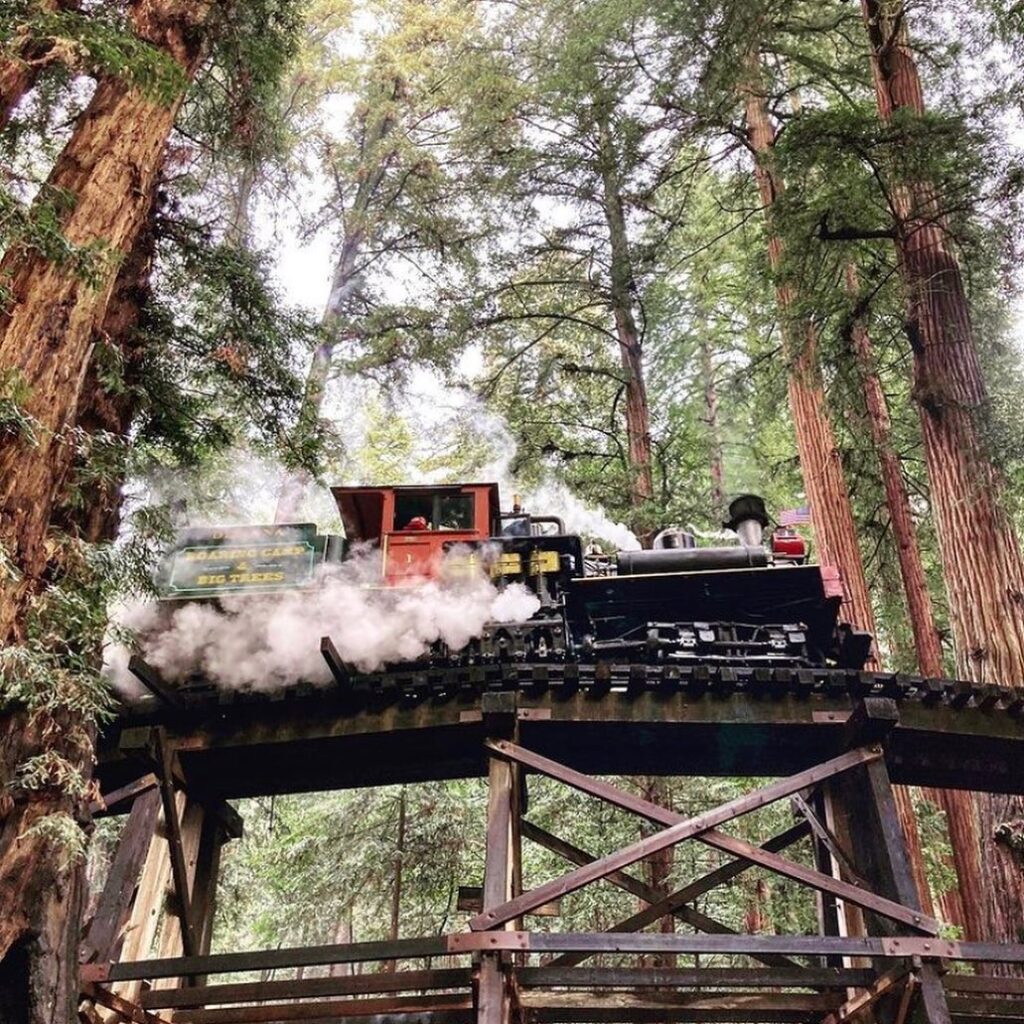 If you are searching for a nostalgic feel, the Roaring Camp Railroad brings you just that. Great for all ages and stages of life, the railroad, close to Felton, offers two different routes on its 19th-century narrow-gauge steam trains. On top of that, they also offer different events and concerts throughout the year.
The Redwood Forest Steam Train and the Santa Cruz Beach Train are up and running on the weekends during the spring and fall and they run daily during the summer. Departing from two separate locations, the Santa Cruz Beach Steam Train leaves from the Santa Cruz Mountains in Felton and takes you through the beautiful Henry Cowell Redwoods State Park. The ride ends at the Santa Cruz Beach Boardwalk.
While The Redwood Forest Steam Train travels to the top of Bear Mountain. Hop on and enjoy a beautiful train ride through the mountains.
Address: Roaring Camp Railroad, 401 Graham Hill Road, Felton, California
Express Yourself at Petroglyph Ceramic Lounge
Have a rainy day in your forecast? While there are plenty of things to do on a rainy day in Santa Cruz, one of our favorites is to go to Petroglyph Ceramic Lounge. Open to all ages, here you'll get to paint your own pottery and watch it turn into a masterpiece as it sets in the kiln.
With so many pieces to choose from, you and each member of your group can paint something different. This freedom really allows each of you to express themselves creatively and have some fun doing something unique. Plus, you'll get to take your ceramic home with you as a souvenir!
Address: 125 Walnut Ave, Santa Cruz
Get Outside at U.C. Santa Cruz Arboretum and Botanic Garden12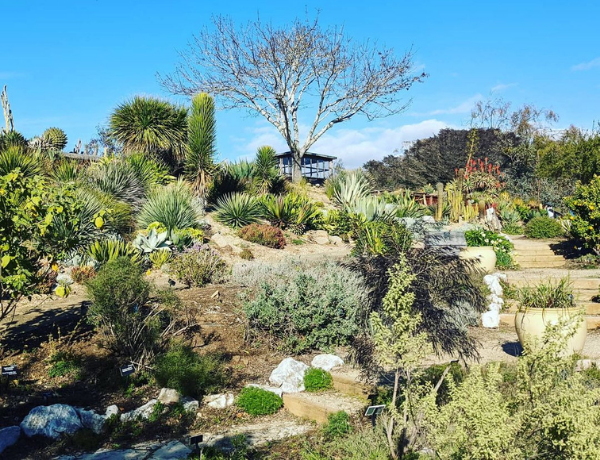 The University of California Santa Cruz Arboretum located on an ancient marine terrace in the Santa Cruz mountains overlooks Monterey Bay. The garden is currently on the university campus and is used for scientific study as well as a nice place for nature lovers to escape to.
The area is 145-acres and features microclimates, soil types, and topography, which combined makes an incredible botanical diversity. The different sections of the garden represent plants from many different areas like Australia, California, New Zealand, and even South Africa.
Some of the plants are even endangered but in their native environments. The garden works hard to protect them from extinction.
Address: 1156 High Street, Santa Cruz, California
Laugh & Play at Santa Cruz Beach Boardwalk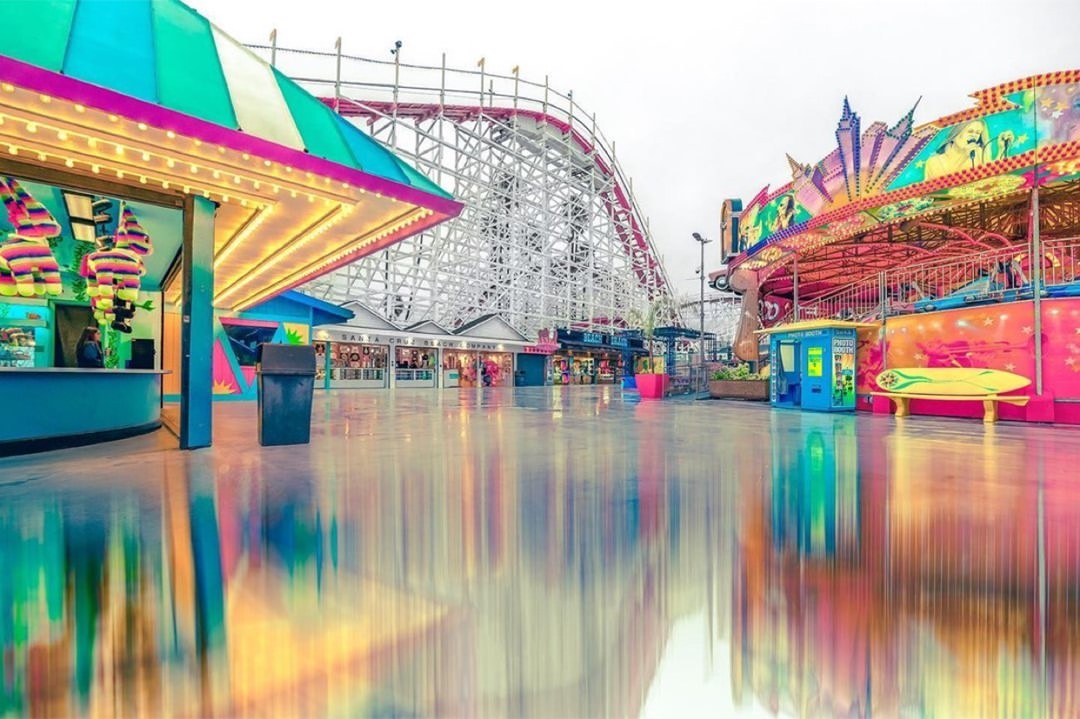 Explore the iconic Santa Cruz Beach Boardwalk where you can find rides, games, attractions, and plenty of fun things that will interest every age group. The boardwalk is free of charge and you can choose to buy a wristband to the amusement park, or go on ticketed ride admission. Ticketed rides are great options for families on a budget or not looking to stay the entire day.
Enjoy a day trip to the boardwalk for an exhilarating day full of wooden roller coasters and carousels. The most famous ride is definitely Giant Dipper. The exciting park overlooks the beautiful shore of Monterey Bay. The boardwalk also features a variety of attractions and activities, as well as free entertainment and dining options.
For those uninterested in the amusement park, or maybe too small to ride some of the bigger rides, check out the several arcades with some offering classic and modern video games. You can also test your hand at laser tag, live music, mini-golf, bowling, and a climbing tower.
Address: 400 Beach Street, Santa Cruz, California
Visit the Many Beaches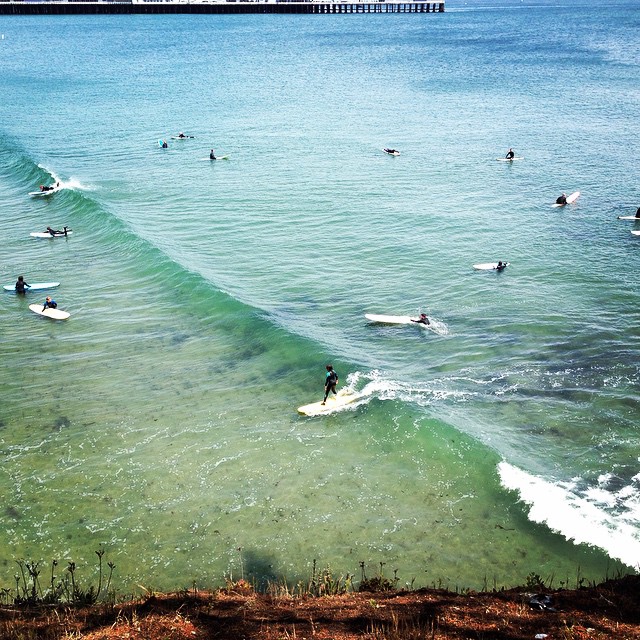 The sunny, Mediterranean weather that Santa Cruz offers along with the safe to swim waters, makes the beaches a very popular place among locals and visitors. There are many beaches in Santa Cruz however, the two most popular are Main Beach, adjacent to the Boardwalk, and Cowell Beach, which is next to Main Beach on the other side of the Wharf. Although popular, the Santa Cruz area offers plenty more beaches than just those 2.
For a beach that's truly unique though, pay a visit to Natural Bridges State Beach. Originally created by the fractures in mudstone cliffs, the sea arch graces the beach with its iconic natural beauty. This small protected section of the beach is the perfect place to sit back and relax, bird watch, and enjoy your day.
The serene area often has groups of people who come for whale watching as they migrate through from April to November. You may also see seals, and farther along the beach, you can find some sea stars, sea anemones, and small crabs.
Be Free at Wilder Ranch State Park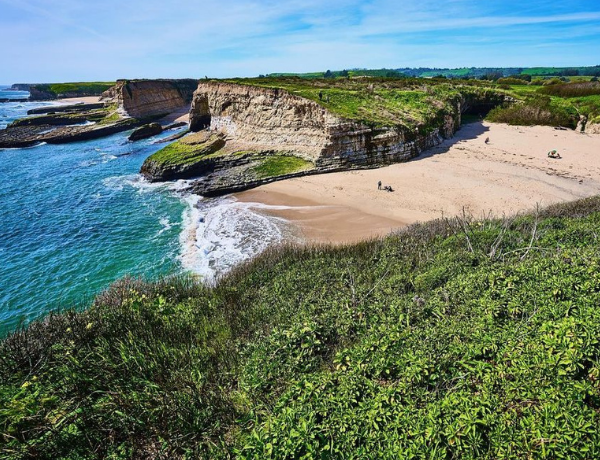 Located just four miles north of Downtown Santa Cruz, Wilder Ranch State Park is immediately west of Highway One and bordering the UCSC campus. The park offers over 34 miles of trails on its 7,000 acres of unspoiled nature. It is a great place to go hiking, biking, and even horseback riding.
Visitors and locals can also come to the park to learn how life was as an early California rancher by visiting the park's historic dairy ranch. You can also explore the 1859 Gothic Revival Farmhouse and an 1897 Victorian home, the ranch's barns and rodeo area, as well as a water-powered machine shop built-in 1896.
If you're a big fan of nature and parks, others in the area worth visiting are Big Basin State Park, where you can hike to waterfalls, and Seabright State Beach, where you can enjoy an undeveloped beach.
Address: 1401 Coast Road, Santa Cruz, California
Embrace History at Santa Cruz Mission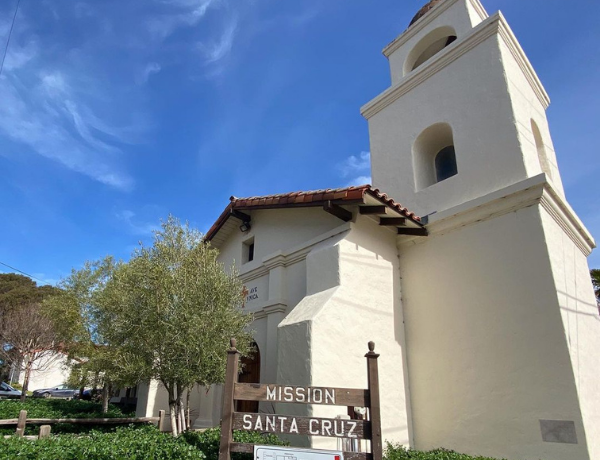 The Santa Cruz Mission is a part of the historic park on Mission Hill. Founded by Franciscan Christian missionaries from Spain in 1791, this was part of the 12 missions established in California.
In 1857 the building was severely damaged by an earthquake and today only one small adobe building survives from the original mission. The town constructed a replica in 1931 from adobe and wood designed to look like the original. Some of its original paintings, wooden crosses, and a tabernacle door can be found in the new church in an attempt to recreate the historic ambiance.
Address: 144 School Street, Santa Cruz, California
Summary
No matter what you choose to do, you will have a great time in Santa Cruz. You can spend the day at the Discovery Center, stop by a local eatery, or head to the golf course for a round of golf. Try out a few new wines at a wine tasting or local winery or go whale watching at Big Sur.
There are plenty of vacation rentals in the area that will keep you centrally located and only minutes away from the beach and shops.