The Best Spots to Watch a Santa Cruz Sunset
California, the land of milk and honey, surfer's paradise, the land of eternal summers; whatever phrase you associate with it, California is paradise.
And within this lovely state you'll find Santa Cruz. Santa Cruz is one of California's paradisiacal natural, climactic, and cultural gems and a significant contributor to its famed reputation as one of the most beautiful states in America.
With its year-round mild and sunny climate, perfect pacific beaches, an abundance of palm trees, fruit trees, grassy knolls, and striking stone cliffs, Santa Cruz is the ideal location for spending all day outside. With Downtown Santa Cruz, Capitola, Aptos, and beyond, you'll have plenty to see and do while visiting Santa Cruz county.
Additionally, because all California beaches face west, the sunsets are spectacular.
Whether you're at the beach, a rooftop bar, the famous coastal Highway One, or a lively carnival on the boardwalk, you are at the perfect location to witness vibrantly colorful sunsets that will surely leave you speechless. While sunrises are also nice when the sun lights up with pinks, oranges, and blue, it's really the Santa Cruz sunsets that'll leave you in aw.
After you book your vacation to Santa Cruz, get ready to have a front-row seat to experience one of the more breathtaking natural phenomena the west has to offer. Just be sure to check the sunset time before heading outdoors to ensure you make it to your lookout spot with plenty of time to spare.
These are our 7 favorite places to catch a sunset in Santa Cruz county.
Sunset State Beach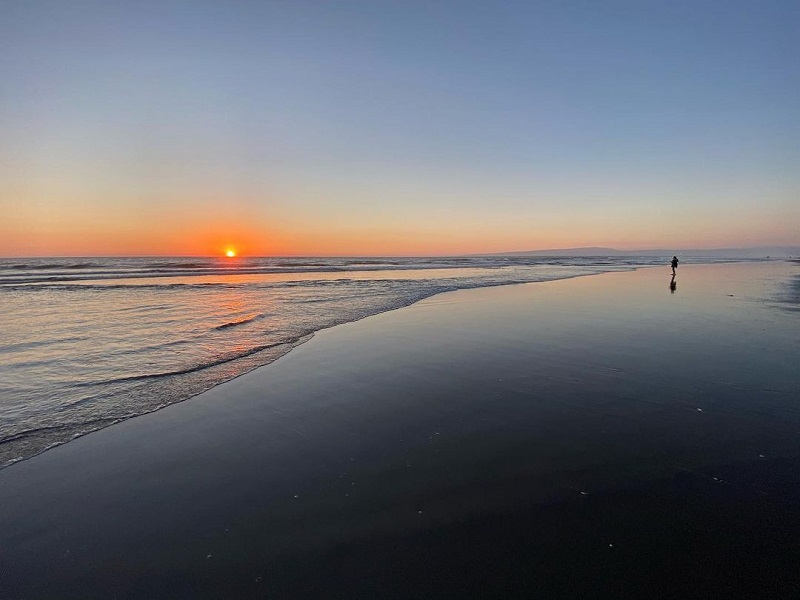 Why not start the list out with a beach named for the main event of the article? You can bet that the most spectacular California sunsets in Santa Cruz county can be seen in the south at Sunset State Beach.
The beach has an ample sandy shoreline with impressive dunes and bluffs to climb and explore as you search for the best possible ocean sunset angle.
Sunset State Beach has all the equipment and accommodations for a sunset cookout. Located nearly in the center of Monterey Bay, there's no better way to end the day than with a freshly grilled meal and a sunset that'll make you swoon. Just be sure to arrive early as this spot is also popular with campers and RVers.
Seacliff State Beach and Pier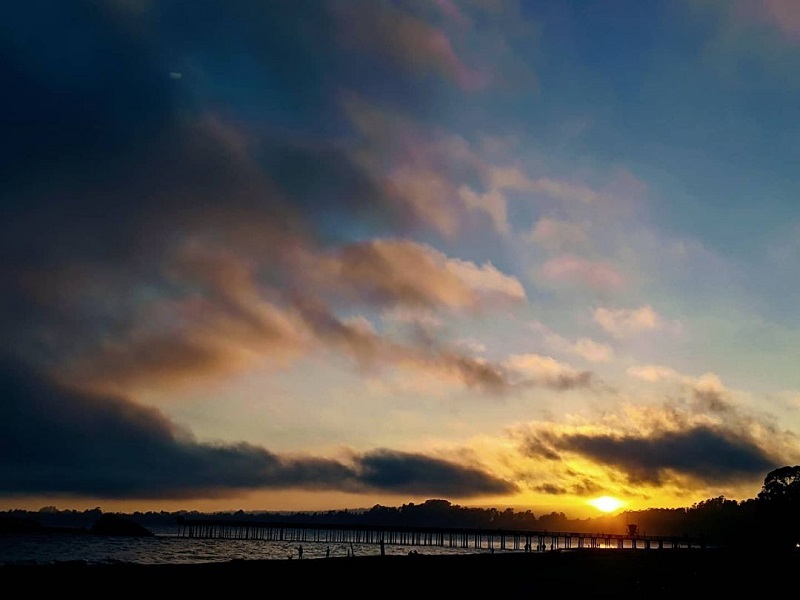 Located right in the heart of Aptos, this is the most convenient place to catch the sunset if you're staying in one of our Aptos vacation rental homes. This state beach stands out for its natural beauty as well as a fascinating historical and cultural landmark. An old WW1 warship is still docked at the end of Seacliff State Pier, offering a striking silhouette against a vibrant fiery sunset sky.
Seacliff State Beach is also home to various bird species, including the brown pelican and sooty shear that you will see soaring over the pier or perched atop the decrepit warship for added drama to a sunset scene.
Davenport Bluffs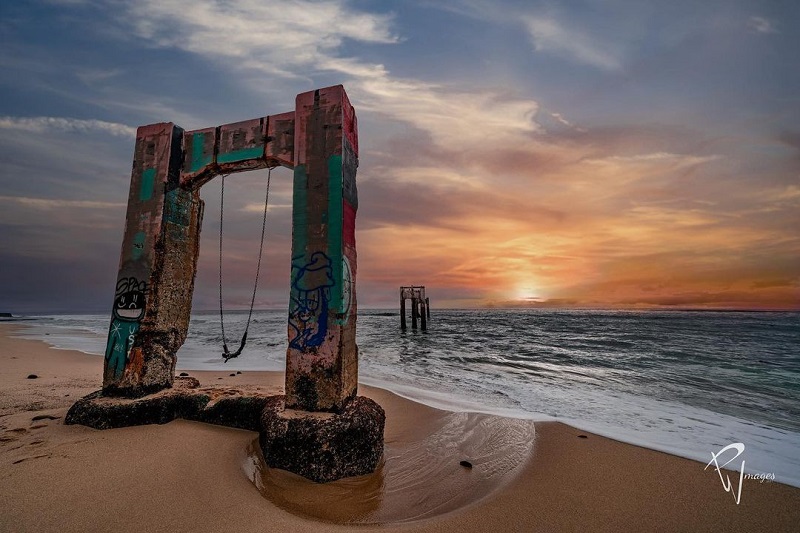 Whether you're a visitor or a California native, you've probably heard of Highway One, one of the most scenic drives on earth that happen to pass through Santa Cruz.
HWY 1 should be on your bucket list, and what better time of day to witness breathtaking views of waves crashing against the high coastal bluffs than at sunset? I'll never forget my first sunset from this iconic drive and I'm certain you won't either.
Davenport bluffs run parallel to Highway One and offer the best bird's eye view of the ocean and a panoramic view of the sky, making for an all-encompassing and genuinely breathtaking sunset experience. During the right season, this is also a great spot for whale watching, too.
There are various viewing points along the bluffs, with a trail connecting each one so that you can make an evening hike of it.
Natural Bridges State Beach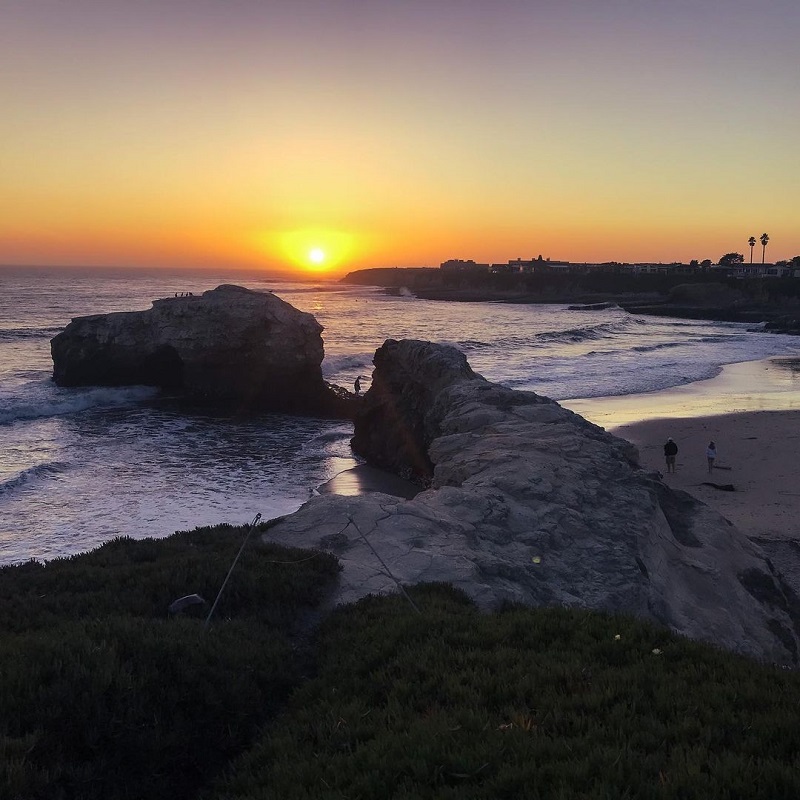 Natural Bridges State Beach is a nature lover's paradise. Its magical tide pools and coves are a monarch butterfly pitstop along their migration route to the Mexican state of Michoacan. Given it's chances for exploration, it's also one of the best kid-friendly spots to visit in Santa Cruz.
Let your kiddos play in the tidepools and then when the sun starts to set, get ready for the daily show. There is a sizable beachside parking lot that locals use as a sort of drive-in sunset theatre, bringing pillows, blankets, and snacks to enjoy atop the roofs of their cars or truck beds.
West Cliff Drive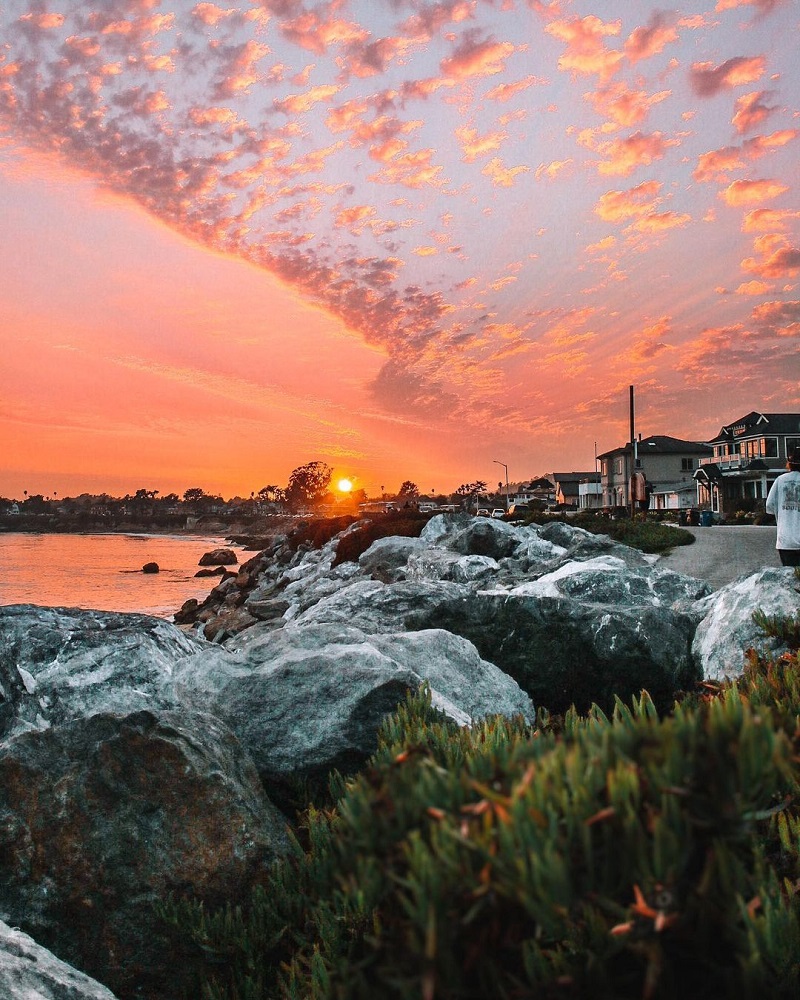 Despite its name, West Cliff Drive is a three-mile boardwalk that runs from Santa Cruz Wharf to Natural Bridges State Beach, offering enchanting views of the ocean, shrubbery, and sandy coves that make up the stretch of coastline.
You won't regret a three-mile walk down West Cliff Drive at sunset, with each new cove and bluff offering an even more stunning sunset view than the last.
Santa Cruz Beach Boardwalk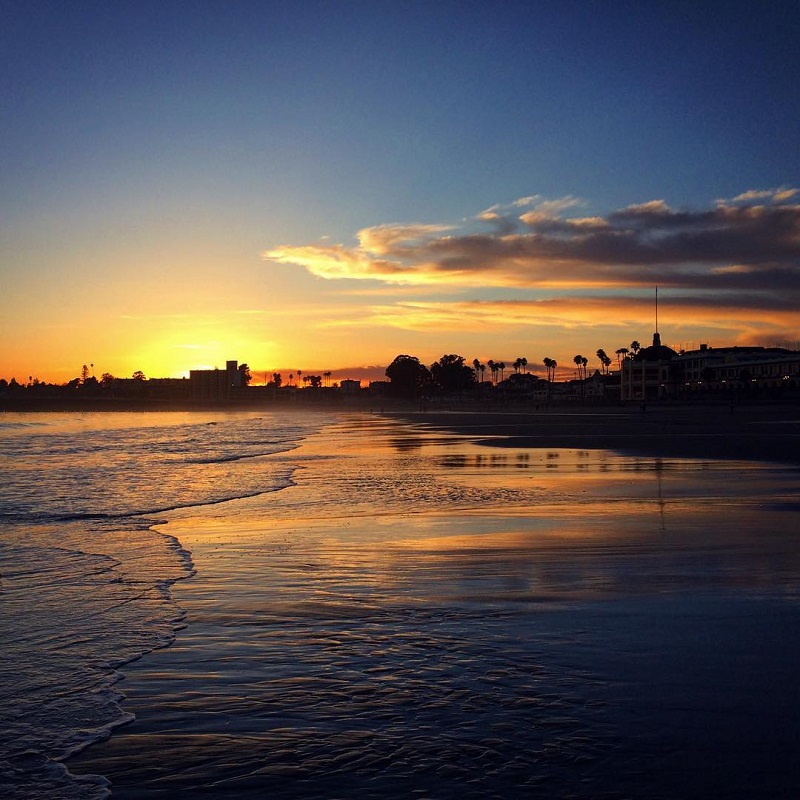 No matter what time of day it is, the Santa Cruz Beach Boardwalk is a must-see attraction for all ages.
Along with a highly colorful amusement park that's been around since the turn of the 20th century, the boardwalk also spans Santa Cruz's main beach, which is excellent for swimming, people watching, and enjoying the sunset!
Harbor Beach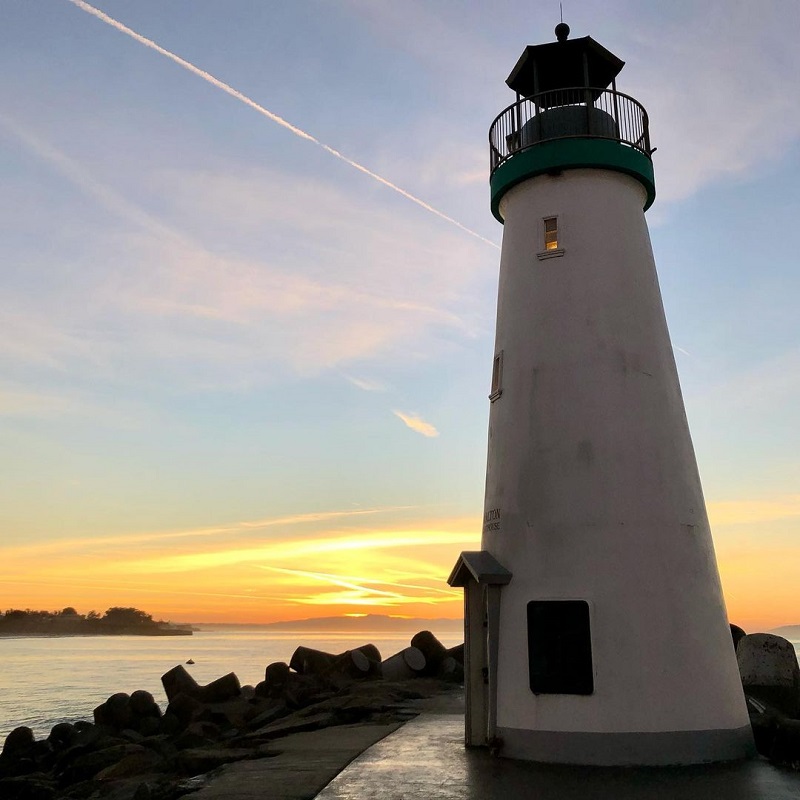 Harbor beach lies at one end of Santa Cruz's massive marina, so you'll have front row seats to all the entertaining and eclectic boat traffic sailing in and out of the harbor.
Harbor Beach is also directly across the channel from the iconic Walton Lighthouse, which looks even more charming against a sunset sky.
Due to its proximity to the harbor, there is an abundance of outdoor dining options to enjoy the sunset at Harbor Beach while eating a delicious dinner.
Catch a Daily Show While in Santa Cruz
Lucky for you, while on your trip to Santa Cruz, you can watch a unique sunset light up the night's sky each day. Pick and choose a different spot each night of the week to get a new vantage point or enjoy it from the comfort of your vacation rental home. Hop in the hot tub and watch the sun slowly slip below the horizon for the perfect ending to your beach day.