The Best Santa Cruz Surf Spots
California has a rich surfing culture and history, and Santa Cruz is at the epicenter of it all. Santa Cruz is even said to be where surfing first started on the mainland United States.
Today, that surf culture is alive and thriving, and can be experienced at each of the best Santa Cruz surf spots. Just be warned, you might have Surfin' USA in your head the entire time!
Whether you're a seasoned pro looking to explore the more advanced waves Santa Cruz has to offer, or an absolute beginner looking to surf for the first time, Santa Cruz has something special in store for you. Most of these spots are easily accessible from your vacation rental home but if you can't walk to them, they'll only be a quick drive away.
Here's everything you need to know to soak up the surf scene and catch your next (or first!) big wave in Santa Cruz.
When to Surf in Santa Cruz
The best time of year to surf in Santa Cruz depends on your skill level, and the types of waves you are looking for. Year round you'll find great waves, based on how experienced of a surfer you are.
If you are an absolute beginner then there is no better time to surf in Santa Cruz than the summer! This is when the waves and swells are much smaller, and more beginner friendly. Catching one of these gentle waves is the perfect way to check surfing off of your bucket list.
If you're an advanced surfer looking to surf some bigger waves, then the best time to surf in Santa Cruz is the winter. This is when bigger swells start to roll in and the waves will frequently be overhead. Just be prepared for extremely cold water in the winter months especially.
The fall is a great time for everyone to surf in Santa Cruz, and it is a particularly great time for intermediate surfers. During the fall months there will be the occasional big swell, but typically the waves are very fun for intermediate surfers. The fall also tends to be the least windy surf season in Santa Cruz, which is great news for surfers of all levels.
It's important to keep in mind that there are strong currents in Santa Cruz all year long, especially during the winter months and during any big swells. So, regardless of your experience and the time of the year you choose to catch a wave, be aware of the currents and enjoy with caution.
The Best Gear for Santa Cruz Surf
If you plan on surfing Santa Cruz in the summer months, you'll be most comfortable in a 3/2 mm wetsuit. In the winter, a 4/3 mm wetsuit will keep you warm.
If it's a hot and sunny summer day, you can even get away with surfing without a wetsuit in Santa Cruz, and still be comfortable.
In regards to surfboards- in the summer, the waves tend to be much smaller and much more easily ridden on a longboard. The fall and winter are more suited to shortboarding.
If you have your own board and wetsuit that's great, bring them along! However, if you don\'t, that\'s perfectly fine because you can easily rent whatever surfing equipment you need to surf in one of the many surf shops in Santa Cruz.
Now that we know the basics, let's dive into the best surf spots in Santa Cruz.
Cowell's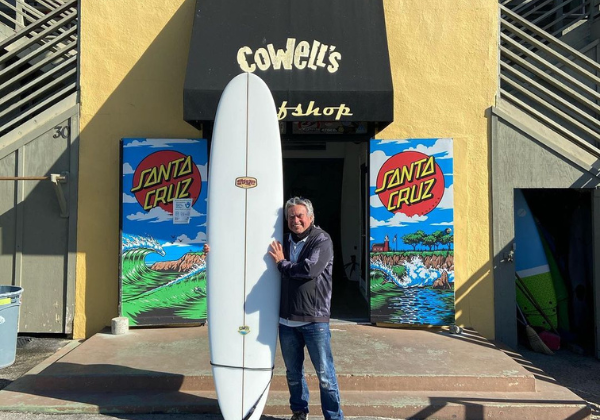 Cowell's is the best beginner surf spot in Santa Cruz. It runs north of Santa Cruz Wharf until you get to Steamer Lane.
On most days, Cowell's is a fun and mellow surf break for longboarding. Because this surf break is fairly protected from larger north and northwest swells, it rarely gets too big to surf. Cowell's is also great for beginners because it has a very laid-back atmosphere. Unfortunately, many Santa Cruz surf spots are notorious for locals being aggressive to visiting surfers.
Cowell's is not like that! Because most of the surfers at Cowell's are beginners, the crowd here is usually very welcoming and easygoing. The only thing to watch out for at Cowell's is getting run over by another beginner's board because it does get so crowded. And given that so many people are beginners, they might have the best control over their boards.
For parking to access Cowell's, you can park in a metered spot in front of the beach, try to find free street parking on the bluffs overlooking the water, or park in the neighborhood next to the beach.
Club Ed offers private, group, and semi-private surf lessons at Cowell's Point if you're looking to learn how to surf from a professional instructor. All gear is included, and your surf instructor will teach you everything you need to know!
Capitola Beach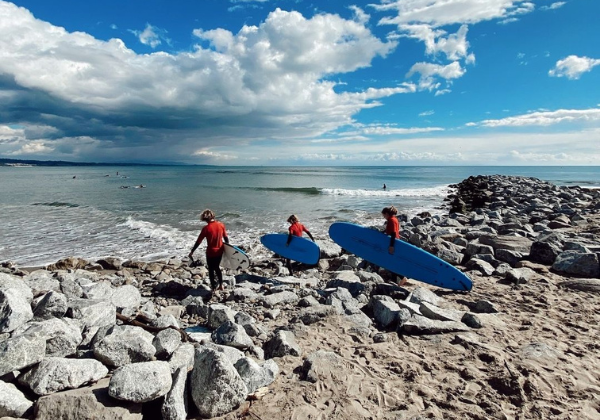 Capitola Beach is another excellent surf spot in Santa Cruz for beginners. This popular beach boasts fun, easy, and mellow waves that are just perfect for beginner surfers learning how to stand up on a longboard!
Capitola Beach is also very easy to access. You have a few options for parking, including the Beach and Village Upper & Lower Lots, Cliff Drive Public Parking, and Village Public Parking.
This is also an excellent beach to visit with any non-surfing friends or family, as Capitola Beach is an excellent place to relax if surfing isn't quite your cup of tea.
However, for those keen to paddle out and learn to surf, you're in luck because it's incredibly convenient to surf at Capitola Beach.
If you're interested in booking surf lessons to learn to surf, Capitola Beach Company offers group, semi-private, and private surf lessons. No matter which type of surf lesson you choose, all equipment is included, and the lessons are designed for absolute beginner surfers.
If you\'d rather rent some equipment and learn to surf on your own, both Capitola Beach Company and Capitola Surf and Paddle provide surfboard and wetsuit rentals.
Overall, Capitola Beach is a great surf spot in Santa Cruz for absolute beginners learning to stand up on a board for the first time.
If you're still learning but not an absolute beginner, you should go to Cowell's where the waves are slightly better shaped, but still very beginner-friendly.
The Hook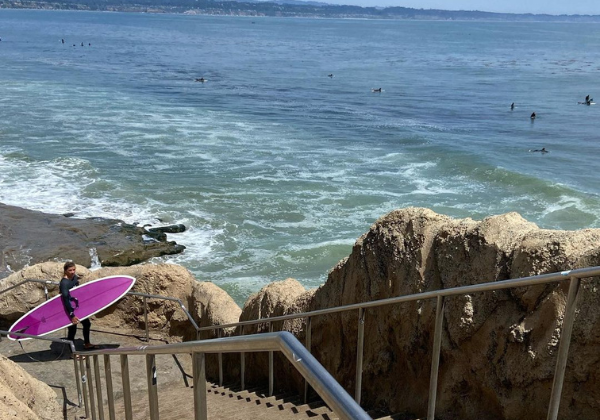 The Hook is a really fun, super clean right-hand point break located along Cliff Drive. To get to it, you can park right at the 41st street parking lot and take the stairs down to the beach.
While the waves break pretty soft, The Hook is not a beginner surf break. The waves here break on top of a rocky reef that is much less forgiving than a sandy bottom. At higher tides, the waves also crash against the cliff, which can make the paddle-out as well as the paddle back to the beach more dangerous.
If you're an intermediate or advanced level surfer you'll have a lot of fun surfing at the Hook. You can catch long, clean rights over and over. Since this surf break is so exposed it picks up lots of swells, and there are usually always some waves to catch at The Hook.
Additionally, The Hook is fairly crowded, but as long as you're respectful of the lineup you're sure to have a good time.
Overall, The Hook is a great surf spot for intermediate and advanced longboarders looking to catch some good waves.
Pleasure Point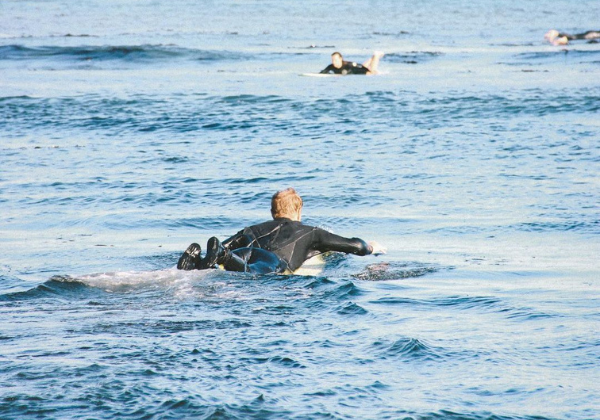 Pleasure Point is not only one of the best longboarding breaks in Santa Cruz, but also on the entire west coast.
This famous surf spot is close to The Hook, and the main takeoff area is down 30th street. However, the beach runs all the way between 41st and Moran Lagoon, and you can surf anywhere in between as Pleasure Point has tons of different take-off spots. You'll just have to hike down a few sets of stairs with your board to get out to the lineup.
The waves here are amazing. Pleasure Point is a reef break, and the waves primarily break to the right. If you're looking for incredibly long rides, Pleasure Point is one of the best Santa Cruz surf spots you can go to.
When the waves are smaller, especially in the summer months, this is primarily a wave to be surfed on a longboard. However, when the right swells come around, Pleasure Point can have some bigger, more powerful surf that shortboarders will love.
Since the waves here break over a rocky reef break, Pleasure Point is another spot that's definitely more suited for intermediate and advanced level surfers.
Manresa Beach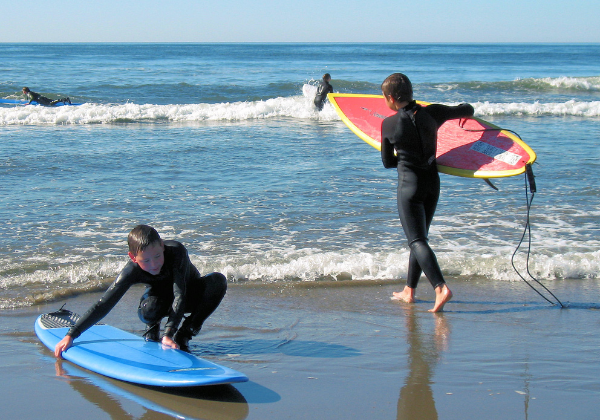 Manresa State Beach is located in southern Santa Cruz County, in the town of Watsonville, and the perfect place to surf if you're looking to surf uncrowded waves in Santa Cruz.
Manresa is a mile-long sandy stretch of beach break, with countless places to surf along the beach. You can park right in the Manresa State Beach parking lot and paddle out wherever you'd like.
This beach doesn't have one specific area to surf that is better than the others, and that's part of the beauty of it. Since fun little peaks will pop up all over, you're bound to have a good session no matter where you decide to surf.
Since Manresa Beach is a little more exposed than other Santa Cruz surf spots, it picks up a lot more swells. This is great for intermediate and advanced surfers- if other breaks in Santa Cruz are flat, you're bound to find some sizable waves at Manresa.
When other surf breaks are working in Santa Cruz, Manresa is likely going to be huge, in which case it's best left to advanced surfers.
In the summer and during smaller swells, Manresa is suitable for longboarders, but it's still not a good beach for beginners due to its isolation and strong currents. Overall, Manresa State Beach is best suited for more intermediate through advanced level shortboarders.
Steamer Lane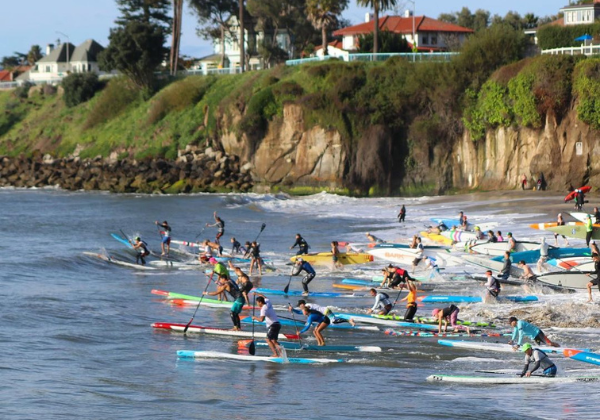 Steamer Lane is quite different from the rest of the best Santa Cruz surf spots. This surf spot, dubbed 'The Lane' by locals features some of the most crowded and powerful waves in Santa Cruz, and it is only to be surfed by very experienced and advanced surfers.
Steamer Lane is located at Lighthouse Point off West Cliff Drive, and it consists of three different surf breaks: The Slot, Middle Peak, and Indicators.
The Slot:
The Slot is the most intense of the breaks at Santa Cruz. The takeoff zone for this wave lies right against the cliff face, and is an incredibly steep, fast-breaking right. It's pretty much an experts-only take-off area.
Middle Peak:
Middle Peak is a bit more relaxed than the Slot. It's further out, meaning you can get in earlier before the wave gets too steep. You can ride Middle Peak both right and left, and it's almost always pretty crowded. It's a world-class wave, and even if you don't paddle out it's a great experience to sit out on the bluffs and watch the surfers go for it.
Indicators:
Indicators typically only break when there is a huge swell in the water, and it breaks inside of Middle Peak. When Indicators are breaking, you can ride the massive right-breaking wave almost 300 yards, all the way back to Cowell's Beach.
Overall, Steamer Lane is an incredibly advanced break. Not only are the waves powerful here, but they also break right next to the cliffs and there are tons of rocks in the water that you need to watch out for. If you're an experienced surfer and can handle a crowd, you'll enjoy surfing at this famous Santa Cruz surf break.
Enjoy the Best Santa Cruz Surf Spots
With this surfing guide, you're ready to enjoy the best of the Santa Cruz surfing scene. Whether you're a beginner, advanced, or somewhere in between, you'll forever remember catching your first wave in Santa Cruz.