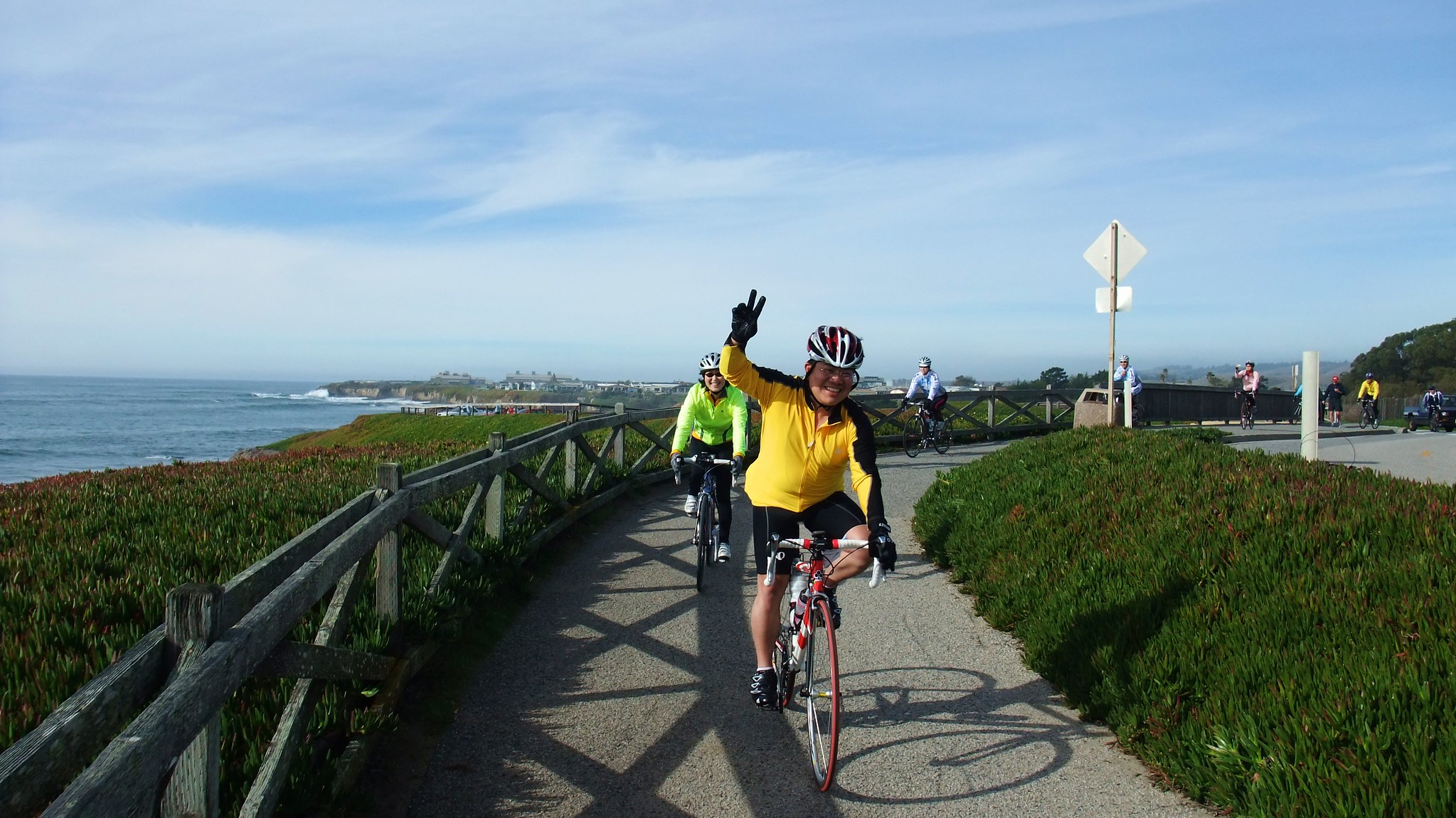 The Perfect Day on West Cliff Dr Santa Cruz
Sunshine, surf, an excellent cup of coffee, and spectacular views. This is the world-famous West Cliff Drive. Popular with visitors to Santa Cruz, local bikers, pet owners, families, and everyone in between. An outing here is easy.
The path is just a stone's throw from Downtown Santa Cruz, conveniently near Beachnest's luxurious oceanfront villas that offer visitors many comfortable amenities. The big draw to this coastal walkway is the spectacular scenery surrounding it. The few historical museums and statue monuments scattered along the way are just an added bonus.
This is your guide to the Santa Cruz West Cliff Drive.
All About West Cliff Drive
Address: West Cliff Drive, Santa Cruz, CA
Amenities: Coffee shops, walk + bike paths (same path), public restrooms, and multiple parking lots.
Accessibility: About 2 miles of the path is wheelchair accessible.
This trail is perfect for all. You can walk, bike, skate, or jog along the three-mile scenic path that guides you through the best attractions in Santa Cruz. Here's absolutely everything you need to know to plan the perfect visit to West Cliff Drive on your next getaway.
Getting There
Santa Cruz, CA. Just South of San Francisco and North of the curvature of Monterey Bay on the Pacific Ocean. It's a central California town with a southern California feeling.
West Cliff Drive is a stunning coastal walking/biking route that connects Natural Bridges State Park with the Santa Cruz Municipal boardwalk. Showcasing the very best of this small coastal city and highlighting California's surfer culture.
Your West Cliff Drive Itinerary
Your day at West Cliff Drive should begin around coffee time in the morning to make the most of your day while exploring the iconic street. Be sure to bring sunscreen, your camera, and your walking shoes, and we recommend you pack a small picnic lunch as well as there are some excellent opportunities to set up your blanket for lunch along the way.
Start at the Santa Cruz Boardwalk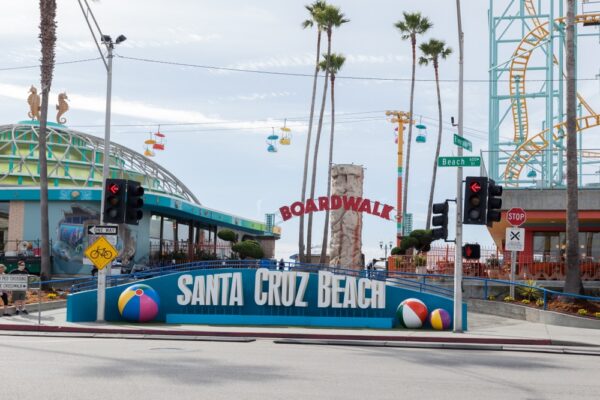 Welcome to the beginning of West Cliff Drive. You've probably already seen the chaotic, bustling boardwalk if you've spent any amount of time at all in Downtown Santa Cruz. But in the early morning hours, the boardwalk is calm and serene. Allowing you to walk its length and take in the fresh sea air. You might even see some seals or fishermen along the way.
Grab a Dirty Chai and a Chocolate Croissant at Shrine Coffee
This dog and family-friendly cafe is at the head of West Cliff Drive. Well, the interesting parts of it, that is. Get your goodies and enjoy your breakfast while you take in the views on the next parts of the walk.
Snap a Pic of the Surfer Statue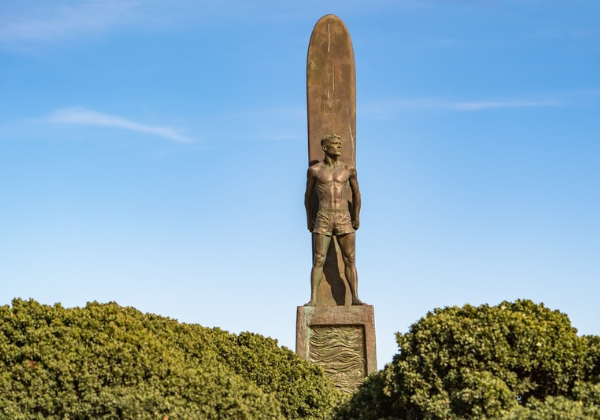 If any single photo spot in Santa Cruz can be called "iconic," this is it. The large statue meant to "honor surfing" is in a picturesque coastal setting overlooking the ocean. Savor the views of the Santa Cruz beach boardwalk and amusement park, Santa Cruz Wharf, and the lovely bay while you're here.
Proceed to Lighthouse Point and Watch Surfers on Steamer Lane
This is the best people-watching in Santa Cruz. As you walk to Lighthouse Point, you'll pass numerous locals (even in the winter months) crossing Lighthouse Field with their board slung under their arms and a half-zipped wetsuit dangling around their waist, headed to go "shred the gnar" on the best surf spot in Monterey Bay.
The Steamer Lane surf break sits far below you here. Press up against the guardrail with the other onlookers and watch the experienced surfers take on the waves. Also, watch for surfboard-stealing otters.
Pet-Friendly Tip: If you happen to have brought your furry friend with you…the area around Lighthouse Field is totally pet-friendly and a great place to toss a frisbee around.
Check Out the Santa Cruz Surfing Museum Inside the Lighthouse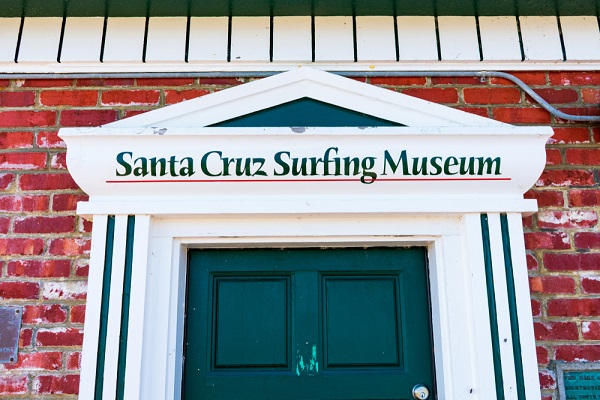 Surfing has become synonymous with Southern California culture. But Santa Cruz can actually claim that mainland surfing began on its beaches. Back in the late 1800s, some Hawaiian princes were vacationing in the city and had a local lumber mill construct surfboards from some Redwood trees and taught the locals how to ride the waves for the very first time.
From there, the modern-day surf culture of California was born. This museum details the full evolution of the sport and the impact it has made on life in Santa Cruz.
Fun Fact: Surfing is the state of California's official sport.
Hit the Beach!
Its Beach and Mitchell's Cove are two of the best beaches bordering West Cliff Drive, and both are dog-friendly beaches! Both are wonderful places to stretch out a blanket and have a nice picnic lunch soaking in the warm Central California sun. Just be sure to apply some sunscreen.
Mitchell's Cove even allows your pup to be off-leash.
Search the West Cliff Drive Tide Pools
You can continue along the trail to the tide pools once you've eaten, digested, and soaked in the sun to your heart's desire. This is a fun activity for couples or the whole family.
Spot Whales from the Shore at Whale Point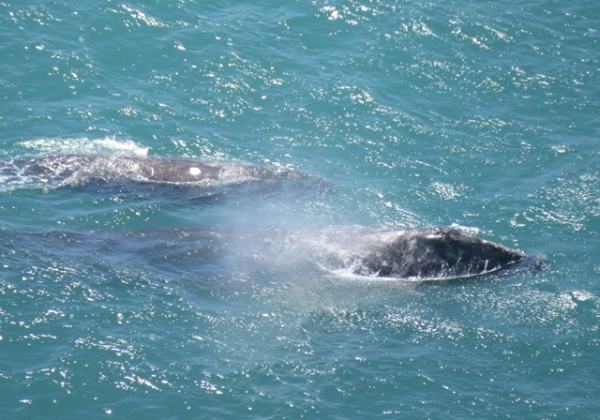 This incredible little stretch of sand is perfectly positioned to gaze out into the neverending expanse of the Pacific Ocean and look for blowhole spouts and whale tails. While Gray Whales mostly visit the coast of California during their winter migration, you can see Humpbacks, Orcas, and Dolphins year-round.
End Your Afternoon at Natural Bridges State Park
This is the final stop, and we may have just saved the best for last: Natural Bridges State Beach. There's a scenic beach with a sandy cove, a monarch butterfly refuge thick with eucalyptus groves brimming with orange wings in the wintertime, and lovely rock formations that set the scene for the perfect sunset shot.
The park itself is named after these structures that used to form a series of "natural bridges." Now, thanks to erosion, only one remains. If you're not too tired from the day's walk, you can wander through the tide pools here at low tide to spot crabs, anemones, and brightly colored sea stars, or better yet, hit one of the short hiking trails that crisscross the park.
Return to Your Villa Downtown
After a stellar sunset, you'll be ready to return home to your cozy oceanfront villa. You can either walk back the same way you came, making a 6-mile roundtrip or call yourself an Uber from the park.
Don't Want A Full-Day Trip?
If you don't want to make a full day of West Cliff Drive, we recommend coming in the late afternoon/evening instead. Then, you can enjoy the golden lighting of late afternoon and a spectacular Santa Cruz sunset from one of the numerous viewpoints along the trail. It doesn't take a person of average fitness more than 1.5 hours to walk the entirety of the path.
Come Experience the Prettiest Walk in Santa Cruz!
This is the best scenery that Santa Cruz has to offer. You simply cannot miss it on your next trip to this idyllic beach town. Stay in one of our Downtown oceanfront villas or a little further afield in one of our Capitola or Aptos homes (if you have your own mode of transportation) to make your Santa Cruz trip one to remember.