A Traveler's Guide to Pleasure Point Santa Cruz
No trip to Santa Cruz is complete without seeing Pleasure Point. While most visitors make this quintessential beachside neighborhood a mere stop on their whirlwind tour of the area, savvy travelers know that Pleasure Point merits more than just a quick drive-by.
While it may be small—covering only a few square miles and housing just under 6,000 people—Pleasure Point is overflowing with surf culture, laid-back vibes, and views of some of California's remaining unspoiled coastline overlooking Monterey Bay. Bottom line? It's a great place to book a vacation rental as a central location for exploring the rest of the area.
So, how can you make the most of your stay? Read on for an in-depth guide to Pleasure Point.
Pleasure Point History
The Ohlone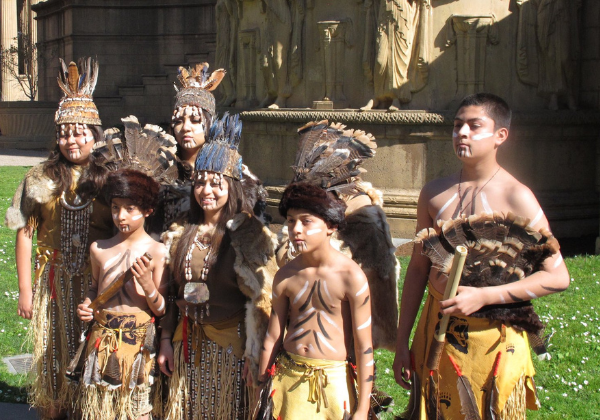 Pleasure Point's roots can be traced all the way back to the early 1700s when the Ohlone people—who had been calling the general Santa Cruz area home for likely centuries—had their land seized by the Mexican government. The Mission Era is credited for the influx of missionaries who brought Christianity to the region and pushed out the native population.
Cattle Roundups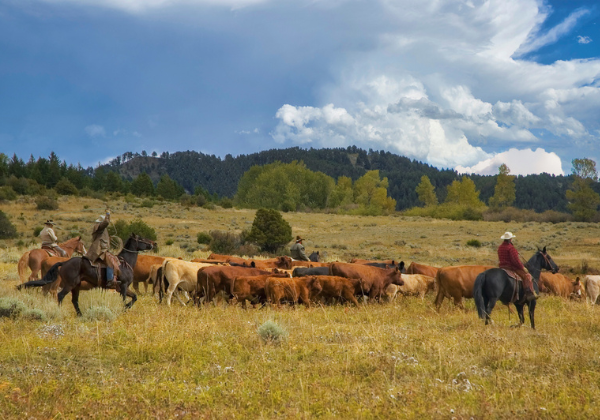 The Point was mostly used for cattle roundups until more and more prominent families from Mexico, Europe, and America started to buy up land. Between the nineteenth and twentieth centuries, Pleasure Point started to grow into the vibrant community it is today, with many of its original buildings standing firm as monuments to the area's past.
Speakeasies and Flappers
One of those monuments was The Roadhouse, easily the most popular speakeasy in Santa Cruz back in the early 1900s. Bootleggers from San Francisco would make their way up the coastline to deliver liquor to the property on East Cliff Drive, which was also frequented by flapper girls and ladies of the night. It's this tawdry background that gave Pleasure Point its name.
Eventually, the building was remodeled as a more legitimate operation: a gas station and grocery store that also had rooms for visitors to rent. Around that time, local farm boys began to take on a new hobby they dubbed "surf diving," which involved riding waves into the shore. This new sport was the forerunner to what we know today as surfing.
Surf Culture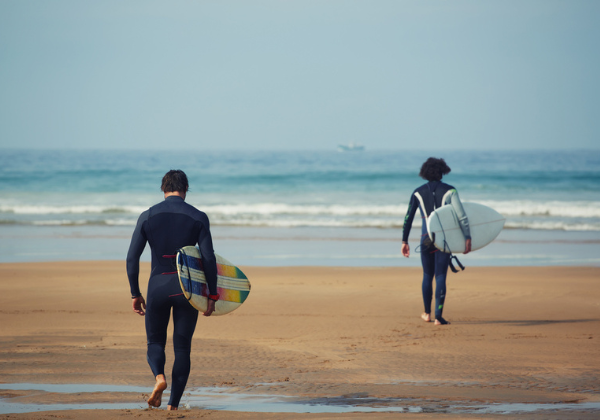 As the pastime developed, Pleasure Point's iconic swells attracted more and more surfers to the region, creating the expansive beach culture that defines it today. But the area's main claim to surfing fame is that it was the home of Jack O'Neill, the pioneer of the wetsuit and founder of O'Neill Clothing.
Despite local efforts to get The Roadhouse listed as a historical site, it was sadly demolished in 2008.
Sights in Pleasure Point
Today, Pleasure Point is a bustling community of surfers, sunbathers, and locals alike. Check out some of these must-see attractions when you're in the area.
The Hook
Located right off East Cliff Dr. on Cliff Beach, the Hook is a famous surf spot that offers great waves for beginners and advanced boarders alike. But you don't have to be skilled with a board to enjoy this locale spot. There's a killer viewing area right above the beach, perfect for watching the pros take on the waves.
Pleasure Point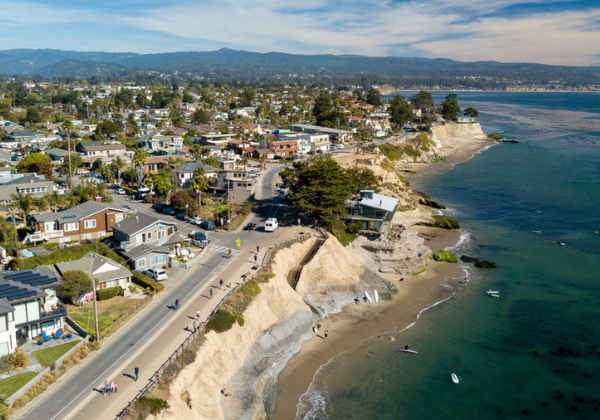 Pleasure Point Beach is a long stretch of sand that offers striking views of Monterey Bay. You'll likely spot some surfers—as you will at any of the beaches in the area—as well as some furry friends. Pleasure Point is dog-friendly (as are several other beaches in the area), so bring your pup along for the ride.
Two-Six Beach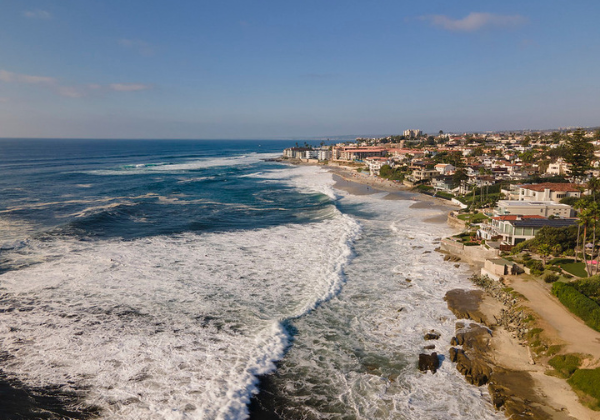 Another dog-friendly option is Two-Six Beach, locally known as 26th Avenue Beach. It's more of a local hang with a rocky coastline and smaller waves, perfect for a casual day of soaking up the sun.
Moran Lake Beach
Moran Lake is a calm lagoon just off the ocean that's home to a variety of local animal and plant life. Across a small stretch of land that lines the lake, you'll find Moran Lake Beach, a small pocket that sometimes has a low enough tide to let you explore the rocks in search of a variety of sea creatures.
Rockview Drive County Park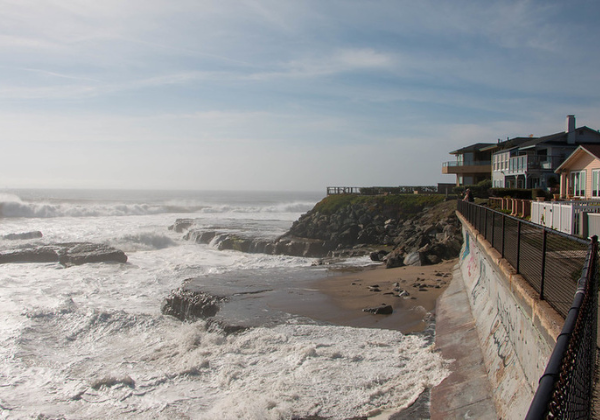 Looking for some of the best ocean views in the area? Head to Rockview Drive County Park, where you can get a stunning overlook of algae-covered bluffs and the bright blue Pacific waters.
Pleasure Point County Park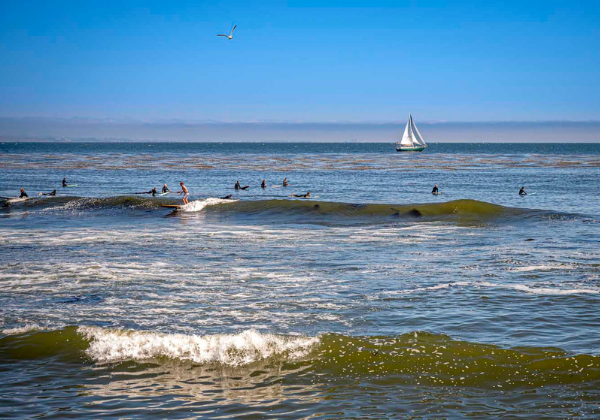 Easily one of the most hoppin' beach spots in the neighborhood, Pleasure Point County Park is a mecca for beachgoers and surfers alike. Local art decorates the area, as do a number of friendly beachgoers — making it a prime spot for people-watching.
Privates Beach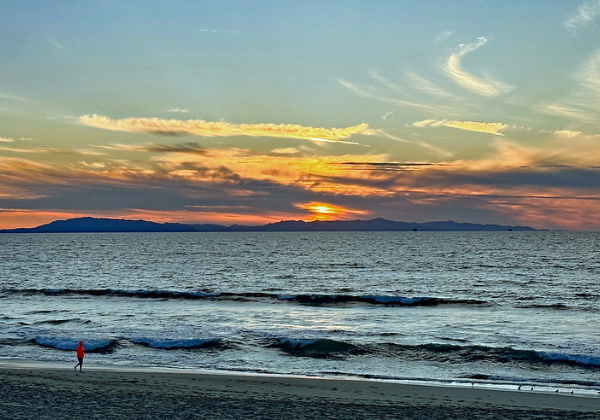 Skip the crowds that take over some of the more populated Santa Cruz spots and head to Privates Beach. The small stretch of shore is a great spot for beachcombing and exploring the tidepools.
Corcoran Beach
Sitting in front of the Corcoran Lagoon, Corcoran Beach is a great spot for a leisurely day of sunbathing. With shallow waters and gentle waves, its high-tide lagoons and pools are ideal for small kids. And like many of the beaches in the Santa Cruz area, it's dog-friendly.
Food & Drink
If you're looking for a bite to eat in Pleasure Point, there's no shortage of great restaurants and bars.
Over the Hill Gang Saloon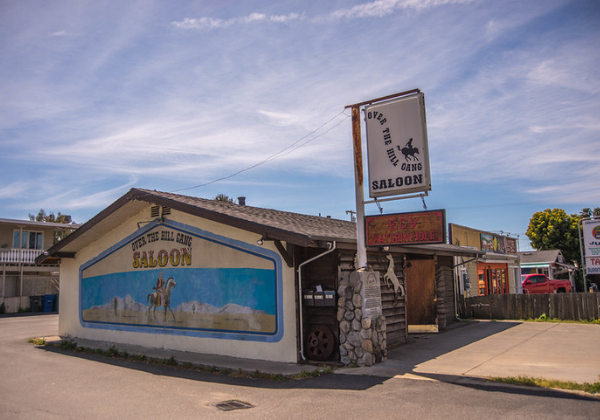 California may not be the first place you think of when you hear about the Wild West, but it is alive and well at the Over the Hill Gang Saloon. This family-owned lively bar has served the community for over 30 years as a great place to grab a cold drink and listen to live music.
They have a rotating roster of talented bands and musicians that come through their swinging doors, and there's usually a food cart parked out front whipping up some amazing eats.
Pleasure Pizza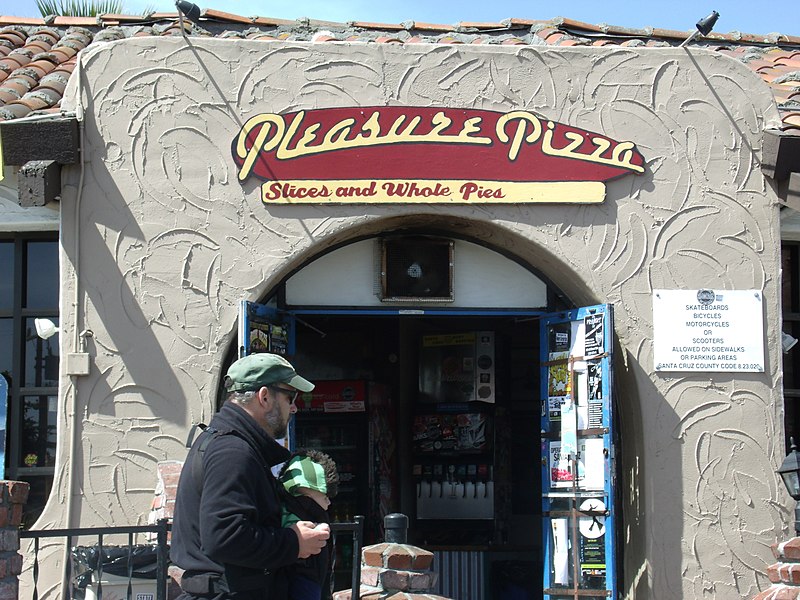 There's nothing a slice of pizza can't cure—especially as thick and topping-heavy as the slices you can grab at Pleasure Pizza. Operated by a former Google Executive Chef (yep, you read that right), this local joint serves up some of the most creative and delicious pies in town.
You'll find your classics like pepperoni and pineapple as well as some out-there dishes like prawns and artichoke hearts.
Cat & Cloud Coffee
Santa Cruz locals are big fans of this charming little coffee chain that has four locations throughout the city. But the original (and arguably best) Cat & Cloud can be found in Pleasure Point.
The space has a warm, inviting atmosphere, and the drinks are some of the best-made lattes in town. Plus, it's only a block from the beach, so it's a great place to stop for a drink on your way to the waves.
Süda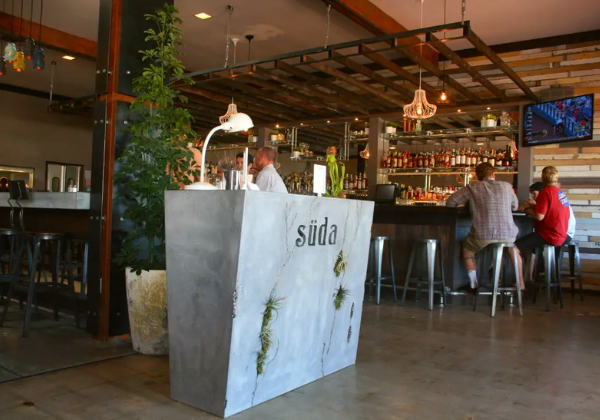 For a more upscale dining experience, there's Süda. Located in the heart of Pleasure Point, this modern bistro works with local farmers to source seasonal, organic ingredients that they incorporate into dishes like wild mushroom pasta and stuffed sole. The atmosphere is cozy and intimate, perfect for a romantic dinner with someone special.
The Point Kitchen and Bar
Craft beer fans—rejoice! The Point Kitchen and Bar is a rustic gastropub that serves up classic American fare alongside some of the best craft beers around. This American eatery is open for breakfast, lunch, and dinner in its hip interior dining room or quaint outdoor patio. There are also some TVs hanging around the bar area so you can catch the latest game.
New Bohemia Brewing Co.
Mix Czech Republic's beer culture with Santa Cruz's laid-back vibes, and you get New Bohemia Brewing Co. This local brewery joins a vibrant brewpub culture in Santa Cruz and is known for creating out-of-the-box brews as well as serving up some killer food in its two-story restaurant space. Be sure to grab a pint of the signature brew, Pilsner Soquel, and a giant pretzel with beer cheese.
Things To Do
Whether you're looking for a day of sand and surf or something more off the beaten path, Pleasure Point will not disappoint in the activities department.
Take Surf Lessons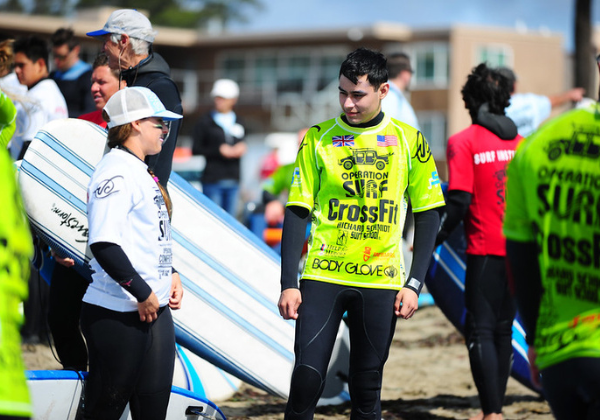 If you've never taken to the waves before, now is your chance! Surf School Santa Cruz offers both private lessons and group classes for surfers of all skill levels. You can even sign up for a "buddy ride" with world-famous professional surfer Bud Freitas.
Moran Lake Trail
There are plenty of great hiking trails around Santa Cruz to choose from, but this one shouldn't be missed! This 2.6-mile out-and-back trail is perfect for a morning walk or sunset hike, offering stunning views of both Moran Lake and Pleasure Point's coastline. It only takes about an hour to complete, and you can bring your furry friend along with you.
Go Tidepooling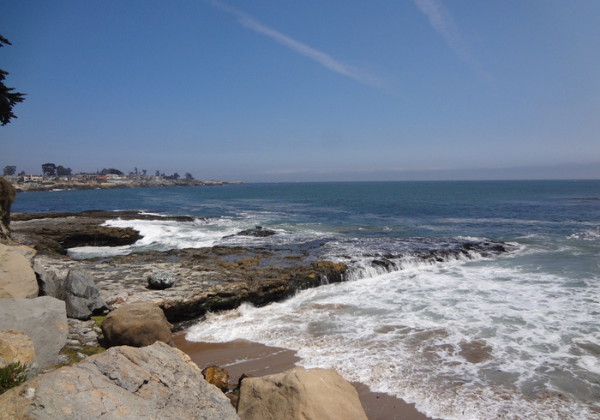 During extreme low tide events, the tidepools that parallel East Cliff Drive are teeming with life. From small creatures to hermit crabs to sea stars and larger beings like octopi, there's so much marine life to explore. You can access the pools via the staircases at 36th Avenue and 38th Avenue—just remember to take only photos and leave all living creatures in their natural habitats.
Bike Down East Cliff Drive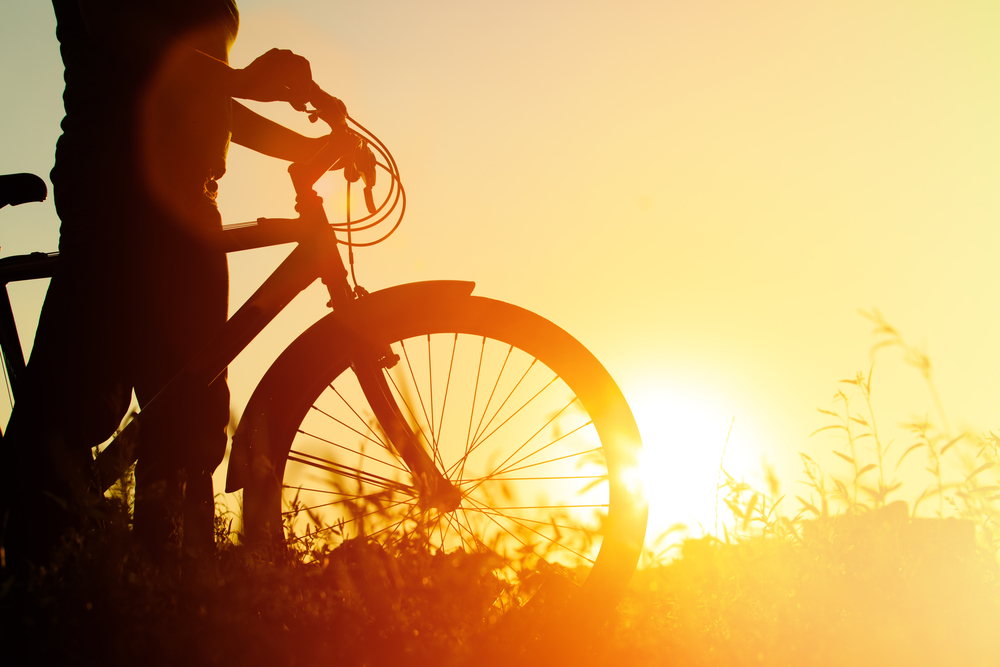 Let's get real: you're staying in Pleasure Point for the views. So immerse yourself into the laid-back culture of the neighborhood and rent some beach cruisers from SV Cycle Sport. While you and your gang will have fun moseying around town, make sure to bike along East Cliff Drive. It offers an easy ride through the area's incredible oceanfront scenery.
Spend A Day At The Beach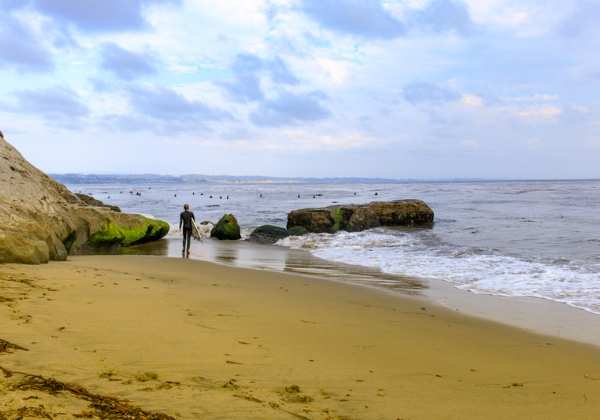 Obviously, there is a ton of beach time to be had in Pleasure Point. From Privates Beach to Two-Six State Beach (a local favorite), the area has a number of sandy shores to choose from. Pack a lunch and your sunscreen, then hit the waves or just hang out and people-watch.
Go Shopping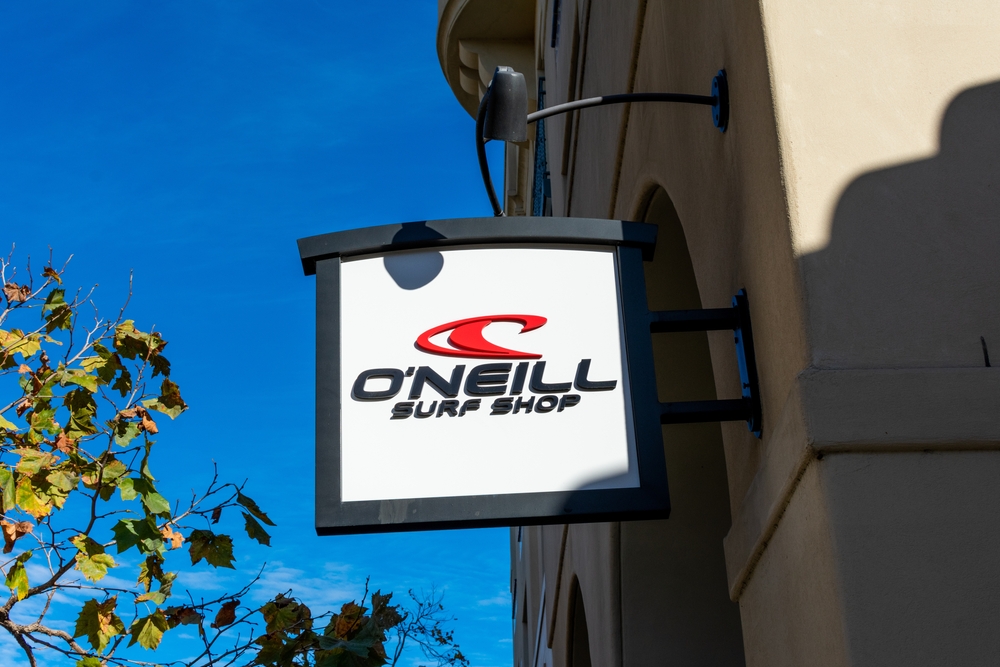 What's a vacation without a little retail therapy in Santa Cruz? Portola Drive and 41st Avenue are home to a number of great boutiques, vintage stores, and—of course—surf shops.
Hit up Hip and Chick Organiks for some self-care essentials like scrubs and body lotion, or get yourself geared up with local surf wear and surfboards at Freeline Surf Shop. And all good tourists need to pay homage to Jack O'Neill at O'Neill Surf Shop. Urban legend has it that it was he who coined the phrase "surf shop."
Hit Up The Pleasure Point Street Fair
Every year in June, the city shuts down a few blocks of Portola Drive for the Pleasure Point Street Fair. This free event has been taking place for the past nine years and is a great opportunity to sample some of the area's delicious food, listen to music, and peruse handcrafted items from local artisans. There's also a skateboarding contest that kids can enter, so don't forget to bring your most daring little ones.
Venture Out To Other Santa Cruz Spots
Pleasure Point is central to many of Santa Cruz's most popular attractions. From here, you can easily make your way to downtown, the Wharf, Natural Bridges State Beach, Capitola, Steamer Lane, and beyond. With a little bit of planning, it's easy to take full advantage of the city and all it offers.
Pleasure Point: The Best Home Base For Visiting Santa Cruz
Whether you're looking for a prime surf spot, delicious food, drinks, or a beautiful beach, Pleasure Point has it all. With its natural beauty and classic California vibes, this neighborhood is the perfect spot to base yourself when visiting Santa Cruz.
So be sure to check out Beachnest Vacation Rentals' Paradise Point vacation homes to find the perfect accommodations for your next trip.