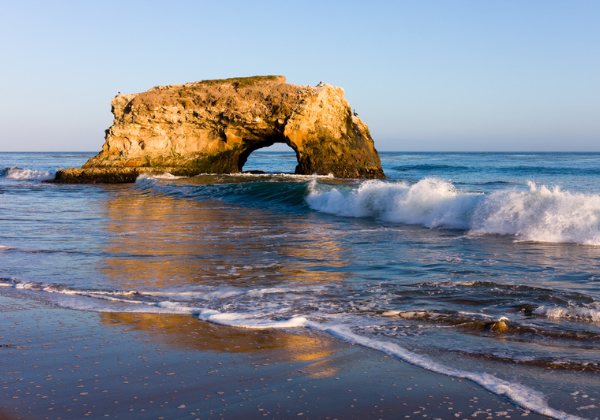 A Visitor's Guide to Natural Bridges State Beach
Santa Cruz is known for its relaxing beach escapes, and Natural Bridges State Beach is no exception. Located between Downtown Santa Cruz and Wilder Ranch State Park Natural Reserve, this 65-acre California state park is perfect for a day trip from a Santa Cruz vacation home rental.
From the moment you step foot onto its sandy shores, you'll spot the rocky structure from which the park got its unique name. The famous natural stone bridge juts out into the ocean, providing a stunning backdrop for your beachside visit.
Today, only one bridge arch remains where there used to be three. One collapsed in the 1900s, and the other broke during a storm in 1980. While locals used to walk, climb and even drive across the bridges when two remained, it's now off-limits for safety reasons.
Even though you can no longer cross the infamous natural bridge, there are still plenty of reasons to take a day to explore Natural Bridges State Beach.
About Natural Bridges State Beach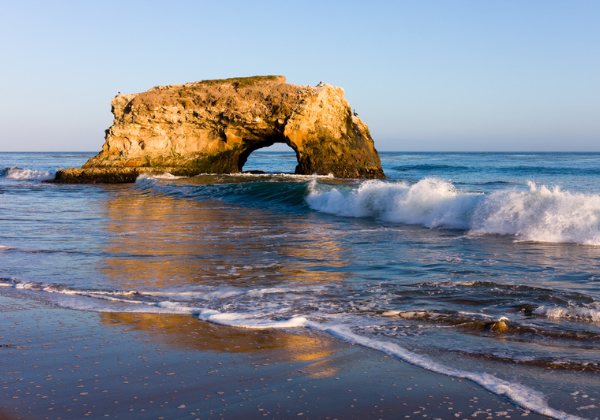 Address: 2531 W Cliff Dr, Santa Cruz, CA
Website: parks.ca.gov
Cost: There is a $10 vehicle day-use fee.
Amenities: The park has restrooms, picnic tables, and plenty of street parking.
Like much of Santa Cruz, the first people to stumble across this beach were likely the Ohlone people. This Native American tribe inhabited much of the area until the Spanish arrived in the late 1400s and began their efforts to colonize the Americas. After the Mexican War of Independence in 1810, Mexican citizens began to use Natural Bridges State Beach to house their cattle.
In the following years, the area was home to a dairy farm, a Brussels sprouts farm, a hotel, housing for local workers, a movie set, and even a housing development that was never completed. Finally, in 1933, the State of California purchased the land and turned it into the iconic park it is today.Monarch Butterfly Natural Preserve
This is also one of Santa Cruz's pet-friendly areas. (Beachnest has pet-friendly vacation rentals as well!) While dogs are not allowed on the beach (except for service animals), they are allowed in the parking lots and picnic areas.
What To Do & See at Natural Bridges
Natural Bridges State Beach is packed with entertaining activities to keep you occupied all day. Guests can enjoy sunning on the sand, surfing in the waters, spotting sea shells, or exploring nearby tide pools and coves.
Here are just a few of the most popular attractions and things to do.
Monarch Butterfly Natural Preserve
Every year, from mid-October through mid-February, up to 150,000 monarch butterflies take refuge at the beach's Monarch Butterfly Natural Preserve. During this time, visitors can stroll along the Natural Bridges Monarch Trail through the eucalyptus trees and milkweed and observe these majestic creatures in their natural habitat. Be sure to stop by the visitor center and learn all about the eucalyptus grove these butterflies flock to.
Tidepools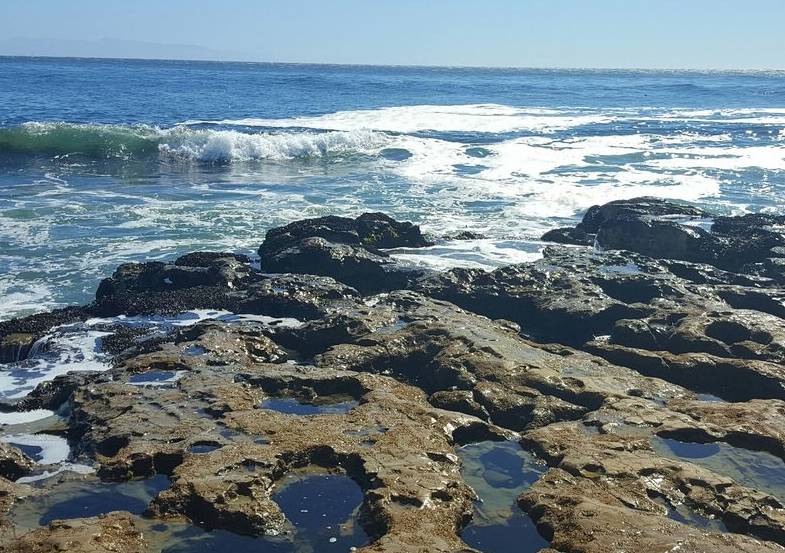 The Natural Bridges State Marine Reserve shoreline is teeming with all kinds of marine life. Brave explorers can approach the tide pools and spot sea stars, crabs, urchins, sea anemones, mussels, and a variety of other ocean inhabitants. Just be sure to leave sea creatures in their natural habitat and be mindful of the environment.
Wildlife Spotting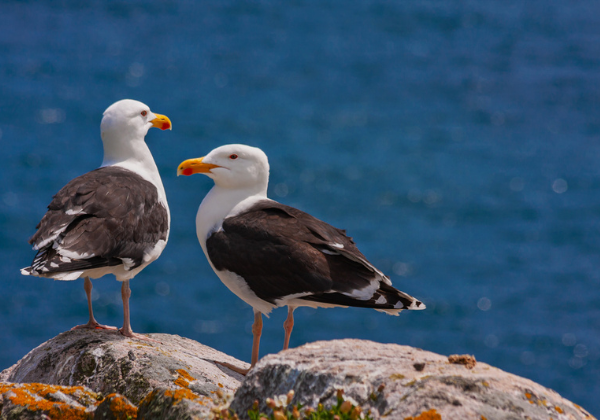 In addition to the butterflies and sea creatures, Natural Bridges State Beach is also home to a wide variety of shorebirds. Visitors can often spot egrets, gulls, and herons in the skies overhead or resting on the bridge itself. You'll also want to keep your eyes peeled for migrating whales, seals, and sea otters that call the ocean home.
Surfing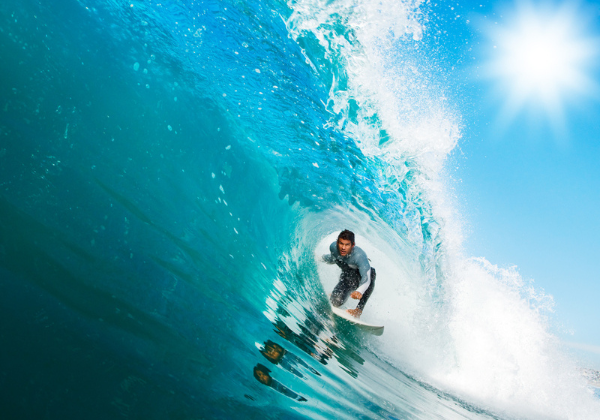 Natural Bridges State Beach draws in beginner to intermediate surfers from all across the region. In the winter, the swells are particularly huge, making ideal conditions for experienced riders. In the summer, however, calmer waters make it much more suitable for newbies and boogie boarders to catch some waves.
Swimming
The beach is an excellent spot for swimming as the waters are generally calm throughout the year. That being said, always remember to obey posted signs and take safety precautions when entering the ocean.
Hiking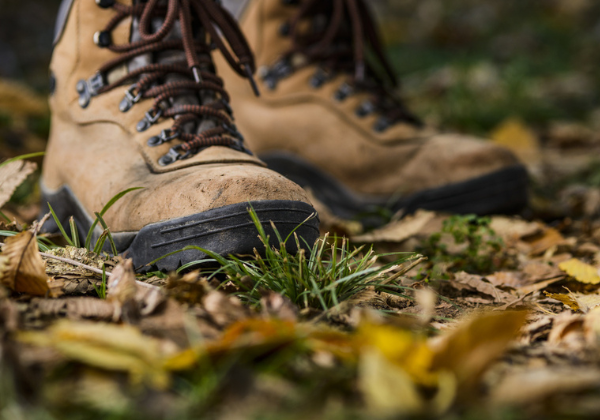 In addition to the trail that takes you through the Monarch Butterfly Natural Preserve, there are several other hiking trails that wind through the area. The most popular is the West Cliff Multi-Use Trail, a 3-mile walking and biking path along West Cliff Dr. that starts at Natural Bridges State Beach and winds along the coastline all the way to Santa Cruz Wharf.
Natural Bridges State Beach Tours
If you want to learn a little more about Natural Bridges State Beach and the creatures that inhabit it, join a guided tour with one of the park's knowledgeable docents. These leisurely hikes take visitors through some of the beach's most notable sights and provide plenty of interesting facts about its history, plants, animals, and geology.
Currently, the state beach offers Monarch Tours from October to January, Tide Pool Tours from March to July, and Guided Nature Walks all year round.
Catch A Sunset
There is nothing like watching the sunset over the Pacific Ocean. Natural Bridges State Beach offers one of California's most beautiful sunsets and is a perfect place to watch the sky change colors as day turns into night. Photographers will especially love this spot, as the setting sun casts an orange-pink glow across the shoreline and behind the bridge.
State Beach Etiquette
In order to protect the fragile wildlife and environment of Natural Bridges State Beach, please adhere to the following guidelines:
Do not collect seashells or interfere with any marine life. Leave everything where you found it.
Don't let your dogs on the beach. Dogs are only allowed in the parking lot and picnic areas and must be kept on a leash at all times.
Fires, drones, camping, and glass containers are prohibited.
Always keep an eye on the ocean, as strong currents and riptides can make swimming dangerous. No lifeguards are on duty, so visitors should take extra caution when entering the ocean and only enter the tidepool areas during low tide.
Nearby Attractions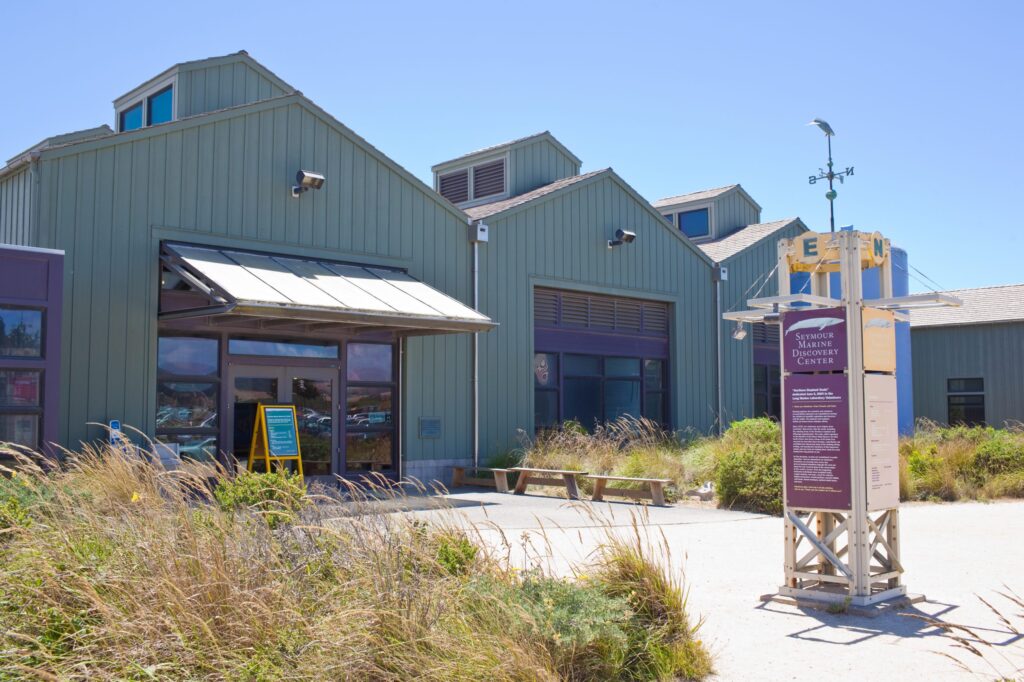 Once you have soaked up some of the beauty and tranquility of Natural Bridges State Beach, there are plenty of other attractions in the area worth exploring. The Seymour Marine Discovery Center is a marine science museum and aquarium home to eels, sharks, jellies, and even an octopus. It's a great spot for kids and families to get up close and personal with some creatures inhabiting our local waters.
The Moore Creek Preserve sits inland from the beach and offers visitors a glimpse into Santa Cruz's wilder side. Here, you can explore miles of trails that wind through redwoods, streams, meadows, and amazing ocean views. You can also head down the coastline to Wilder Ranch State Park for more outdoor exploration and adventure.
Where To Eat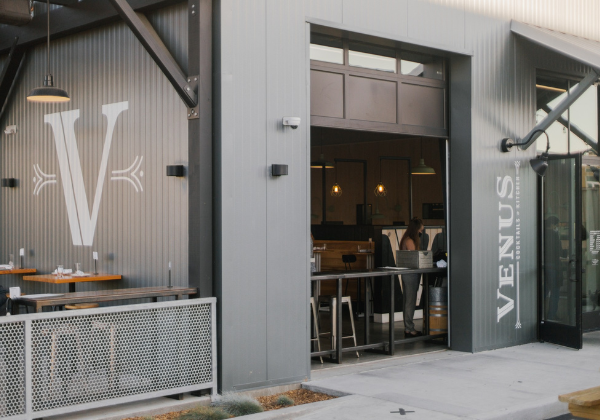 For a bite to eat after your beach day, head over to Venus Spirits Cocktails & Kitchen or Ivéta Westside, both of which serve up some delicious grub and are a 15-minute walk from the beach. If you don't mind driving, Humble Sea Brewing Co. is only a few miles away and has a great selection of craft beer, and West End Tap and Kitchen is a great spot for dinner after sunset.
And Cat & Cloud Coffee makes for an excellent coffee stop before your beach day.
Explore Natural Bridges State Beach
Whether it's your first or fifth time visiting Santa Cruz, there is always something new to explore and enjoy at Natural Bridges State Beach. With its rich history, stunning views, and endless outdoor recreation and exploration opportunities, this state beach has something for everyone.To make the most of your trip, book a nearby rental with Beachnest and ensure your home base is as close to the beach as possible. With an array of vacation homes available all throughout Santa Cruz County, you can find the perfect spot for your beach getaway.