A First Timer's Guide to the Santa Cruz Wharf
Nothing says beachside getaway quite like a day at the Wharf. This 2,745-foot wooden pier—the longest on the West Coast—is one of Santa Cruz's most iconic landmarks and a must-visit stop if you're in town. 
Situated on the west side of the city between Main Beach and Cowell's Beach, the Wharf offers a variety of restaurants, bars, shops, boat rentals, and even a bocce court—not to mention the multiple events that draw in huge crowds every year.
Don't be fooled by the touristy vibe. The Wharf is a local favorite for those staying at local vacation home rentals.
If you're planning a trip to Santa Cruz and want to make the most of your time, here's everything you need to know about visiting the Santa Cruz Municipal Wharf.
What Is The Wharf?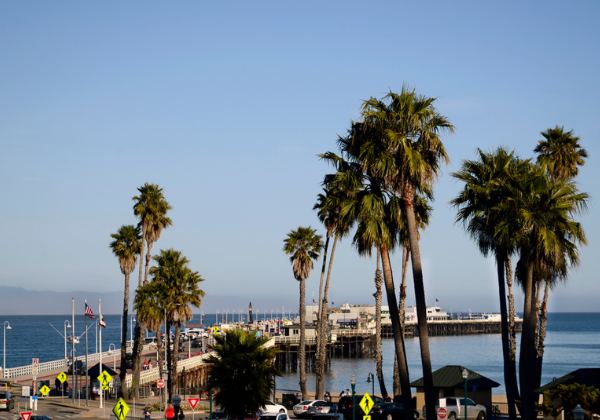 Many first-time visitors make the mistake of thinking that the Boardwalk and the Wharf are the same thing. But they are vastly different locations with vastly different offerings.
Despite the name, the Santa Cruz Beach Boardwalk does not jut out thousands of feet into the ocean as the Wharf does. Rather, this Downtown Santa Cruz icon is an amusement park that stretches a mile alongside the infamous Santa Cruz Beach. So if you want to get your rollercoaster on, this is the place to be.
But if you're looking for a more chill, seaside vibe, head to the Wharf, where you'll find gift shops, restaurants, and many special events throughout the year. Originally built way back in 1914 to service larger ships that used to travel up the coast, the Wharf is actually the sixth pier to occupy that same area of Monterey Bay.
Prior to its construction, there was the Cowell Wharf, the Gharky, Wharf, the Railroad Wharf, the Connecting Wharf, and the Pleasure Pier—all of which failed to withstand storms and serve deep-water ships.
Over the years, it's evolved from a functional pier to a more lively destination, where local businesses have opened up bars and eateries, and millions of people come every year to experience the beauty of Santa Cruz Wharf. And, of course, watch the cute sea lions that cuddle up underneath it. The landmark can even be spotted in two 1980s films: Sudden Impact and The Lost Boys.
What To Do & See
There's no shortage of things to do at the Santa Cruz Wharf. Here are just a few of the many activities at your dispoShop Aroundsal.
Play Bocce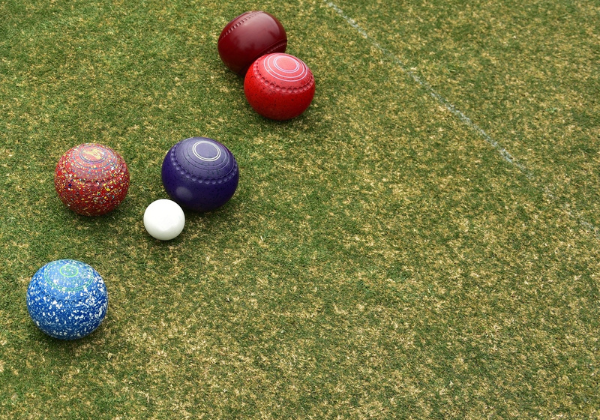 Yep, you read that right. There's a bocce court right at the center of the Wharf overlooking the bay. You have to call Parks and Recreation to reserve a court and it's BYOB—bring your own balls. Luckily Stagnaro Bros has some in supply on the Wharf that you can purchase. Make sure to reserve your court well in advance because spots fill up quickly.
Take A Boat Ride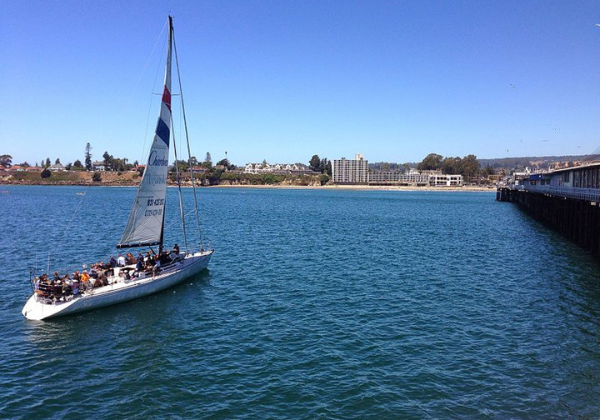 If you're feeling adventurous, rent a motorized ocean skiff from Capitola and Santa Cruz Boat Rentals along the Wharf. Boats run about $50/hour or $175/day and come with a full tank of gas, life vests, and instructions. You can even rent some fishing gear if you want to try your luck at hooking the catch of the day.
Go Kayaking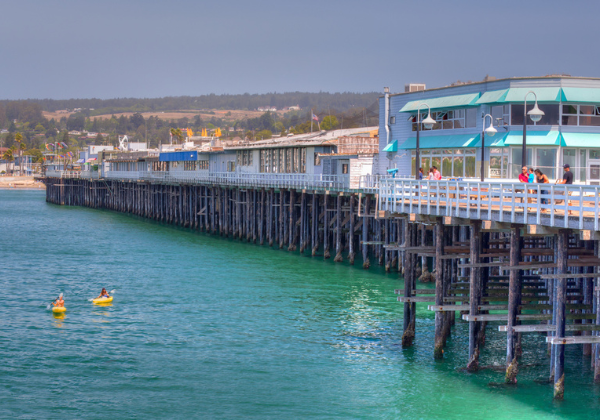 Looking for a more serene sea experience? Venture Quest Santa Cruz offers kayak rentals by the hour or the day, as well as guided nature tours along the California coast. Whether you want to explore secluded coves or get up close and personal with some otters and sea lions, kayaking is an idyllic way to spend time on the water.
Try Whale Watching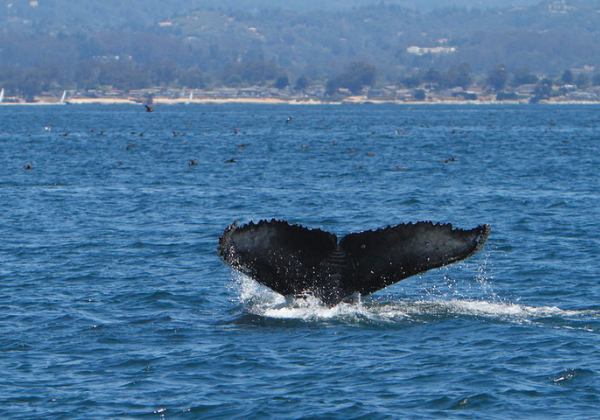 You don't even have to leave the pier to spot some whales. Humpbacks, gray whales, and dolphins can be spotted year-round from the Wharf, and each season brings its own unique wildlife sightings. And if you want to take your sightings to the sea, a knowledgeable guide from Stagnaro's Whale Watching Boat Tours can help you admire these majestic creatures up close.
Shop Around
The Wharf has plenty of souvenir and surf shops for you to enjoy some well-earned retail therapy. Grab a cool sweatshirt from Made In Santa Cruz, some novelty socks from Sockshop, and, of course, a bag of delicious saltwater taffy from Marni's Candies. Even if you don't plan on cooking this trip, be sure to swing by the fish market to see the local catch.
Attend An Event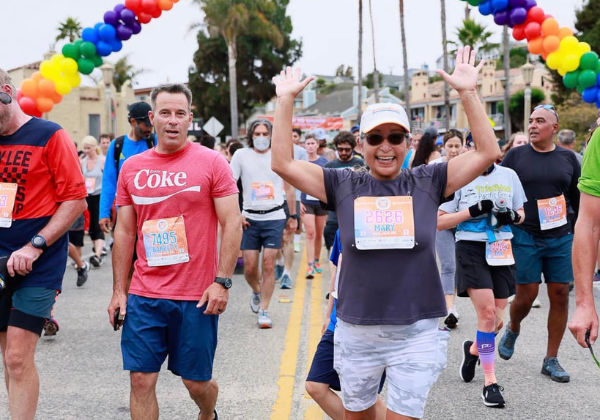 There are two major events that happen at the Wharf every year: Woodies on the Wharf and Wharf to Wharf.
Woodies on the Wharf is the largest show of wood-bodied cars featuring over 200 vintage, classic cars, music, food, drinks, and tons of other fun stuff. Admission is free, and it takes place in June. Wharf to Wharf is an annual six-mile race that happens every fourth Sunday in July and features 16,000 runners from all over the world. Spectators can join in on the fun, cheer on their favorite runners, and snack on some local goodies.
Beyond these two major events, the Wharf also holds a ton of lowkey (but still lots of fun) events like swing dancing classes, summer concerts, and outrigger races. You can always check the city's upcoming event page to see what's happening during your stay.
Head To The Beach
The Wharf is the perfect spot to take a leisurely stroll out to Cowell Beach. It's a great place for sunbathing, swimming, and even surfing if you're feeling adventurous. It's actually a pretty infamous spot for surfers, so be prepared to watch them take on some pretty impressive waves.
Where To Eat & Drink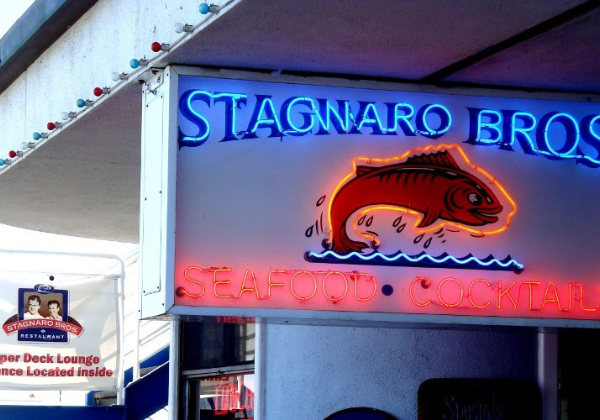 There are nine different restaurants, bars, and wineries located on the Wharf, so you can always find something to satiate your hunger and thirst. Stagnaro Bros. Seafood Inc. is a local's favorite spot for seafood with some of the freshest catches in town, and Firefish Grill is a great option for some delicious California cuisine. You can even grab some fish and chips to-go from the Dolphin Restaurant's takeout window if you want something quick and easy.
Fine dining and drinks more your speed? Check out Gilda's Sesame Ginger Prawns or stop by Vino by the Sea for one of their delectable wine flights. And if you're looking for a happy hour situation, nothing beats Riva Fish House's offerings or the scrumptious cocktails (and fun tiki glasses) at Makai.
Don't think we've forgotten about dessert. If you've already gotten your taffy fill from Marni's, head back to Stagnaro's for their Chocolate Oblivion. It'll make your sweet tooth swoon.
How To Get To The Wharf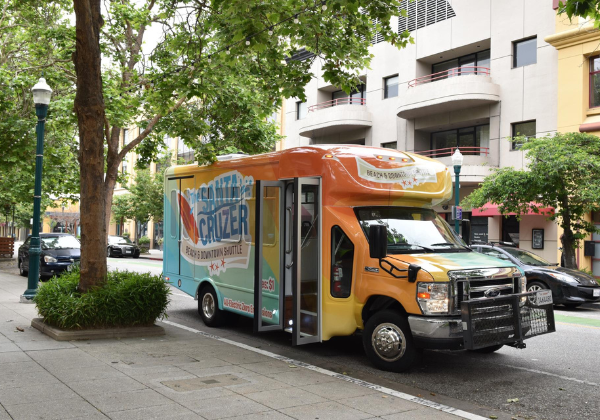 While the Wharf is centrally located to a lot of Santa Cruz neighborhoods, there is one major issue tourists and locals alike face: parking. Luckily, biking and walking to the Wharf is an easy option, and public transportation is also available. You can catch the Santa Cruzer Beach & Downtown Shuttle for just $1 per ride, and it drops you off at a stop that's close to both the Wharf and the Santa Cruz Boardwalk—perfect for a day of sightseeing.
Spend the Day at the Santa Cruz Wharf
No matter what you decide to do at the Santa Cruz Wharf, one thing is for sure: you want to stay somewhere comfortable and convenient. Booking with Beachnest ensures that you'll get the best vacation home rental in Santa Cruz County—so you can focus on having the time of your life. From Pleasure Point to Aptos and Capitola, Beachest has all the best locations for your stay.Find your perfect Beachnest rental and make the most of your time in Santa Cruz!