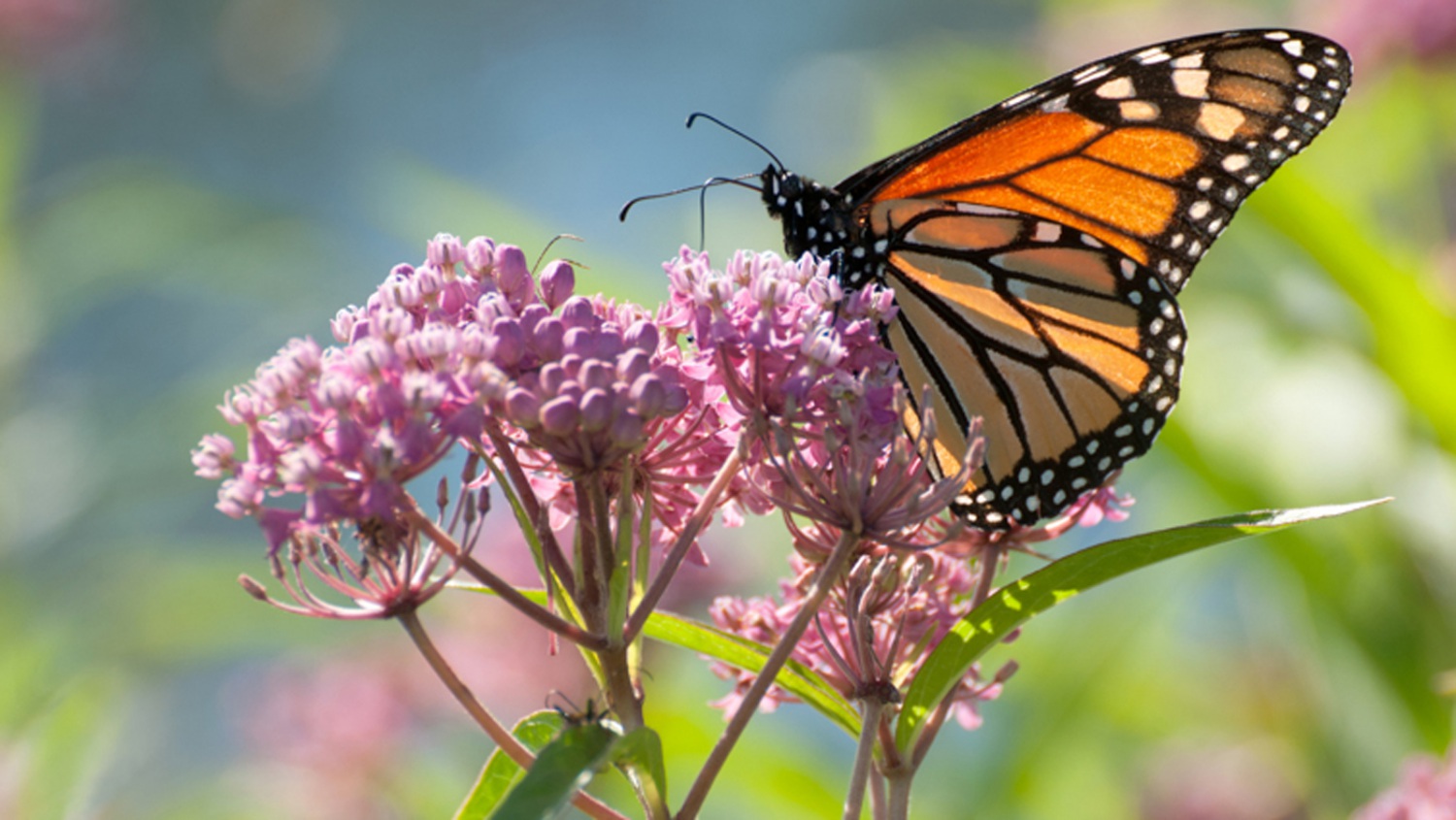 Where to See the Butterflies in Santa Cruz
In addition to beautiful beaches, Santa Cruz is particularly special because it is home to endless hiking trails, beautiful beaches, and the teeming wildlife found on and offshore. From the whales of Monterey Bay to the banana slugs of the forest, a diverse array of creatures call Santa Cruz home. Every winter, the area is graced with a front-row seat to thousands of Monarch Butterflies migrating. But where is the best place to see them?
Fortunately, some of the best viewing locations are just a short drive away from a Beachnest vacation home. Here is everything you need to know about the butterflies of Santa Cruz!
About the California Monarch Butterfly Migration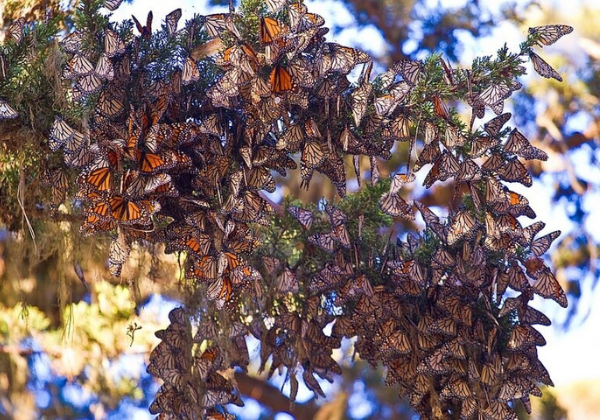 Monarch Butterflies are known for their rich, orange-colored, black-lined wings with white dots along the edges. They are one of the most famous and well-studied butterflies in the world.
One of the reasons Monarch Butterflies are so famous is the sheer spectacle of their annual migration. Western Monarchs fly south along the California coast yearly to wait out the winter over several specific locations.
Fortunately for us, Santa Cruz is one of the places the Monarch Butterflies choose to refuel before continuing their journey down to Mexico! The mild, coastal climate of Santa Cruz, complete with abundant groves of eucalyptus trees, is the perfect haven for Monarch Butterflies.
When to See the Santa Cruz Butterflies
Timing is everything if you're planning a trip to Santa Cruz around the flight of the Monarchs. The butterflies usually arrive in Santa Cruz in mid-October and remain there until January or February. The peak season for Monarch Butterflies in Santa Cruz is from November to January, when thousands of beautiful Monarch Butterflies will be fluttering through the Santa Cruz Monarch Butterfly Groves.
Come February, the Monarchs leave their overwintering homes in Santa Cruz and fly inland in search of milkweed plants they can lay their eggs on.
The Best Viewing Areas for Monarch Butterflies
Natural Bridges State Park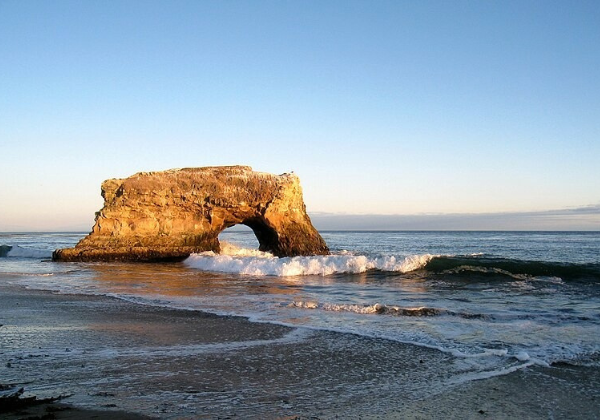 Address: 2531 W Cliff Dr, Santa Cruz, CA
Website: parks.ca.gov
Entrance: $10 Parking
If you want to see butterflies in Santa Cruz, you'll want to head straight over to Natural Bridges State Park. The State Park is home to a large grove of eucalyptus trees, where the Monarchs cluster and remain for the winter to wait out the cold. It is the only State Monarch Preserve in California.
The Monarch Butterflies chose Natural Bridges State Park as their winter home for various reasons.
Food Sources: The eucalyptus groves grow flowers in the winter, providing the butterflies with a constant food source.
Shelter: The grove is sheltered from the wind thanks to its location within the canyon.
Warmth: The trees allow light to filter through, which helps keep the tropical butterflies warm.
The Monarch Butterflies fly all over the park. However, if the temperature is below 55 degrees, the butterflies will be clumped together in butterfly clusters within the trees to stay warm.
While you're walking along the park's trails, keep an eye out for the park's milkweed patch. Monarch Butterfly larvae live exclusively off of milkweed, where Monarch Butterflies come to eat and live and where female Monarchs come to lay their eggs. You might spot caterpillars, chrysalises, and butterfly eggs at the park's milkweed patch.
You can take a self-guided walk among the eucalyptus trees or join in on a free weekend guided tour of the monarch butterfly grove by park docent naturalists. These happen on weekends from mid-October thru December from 11 am and 2 pm. Enquire at the visitor center for more information!
Pro Tip: Pack a picnic; this is a great spot to catch a coastal sunset!
Lighthouse Field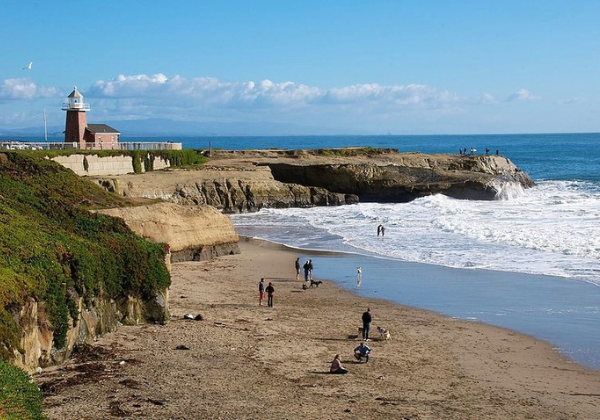 The Lighthouse Field offers another opportunity to spot the migrating western Monarch Butterflies. This large field is located two miles south of Natural Bridges State Park on West Cliff Drive, across from the Surfing Museum.
Tips for Butterfly Watching
Bring binoculars and camera.
Sometimes, especially on colder days, it can be difficult to spot the Monarch Butterflies. If you want to look at the Monarchs, we recommend bringing a pair of binoculars. It's also a good idea to bring a camera to snap photos of these beloved Santa Cruz visitors.
Take a guided tour.
While you're welcome to explore the Monarch Butterfly Trail in Natural Bridges State Park alone, a guided tour from an expert guide is an excellent way to learn more. Your guide can answer any questions you have about the butterflies and also help you spot them if they're difficult to see!
Bring layers.
While winters in Santa Cruz are mild, they can be unpredictable. It might be sunny one moment and chilly and rainy the next. Be sure to pack a few warm layers to bring with you when coming to see the Santa Cruz butterflies.
Other Wildlife You Can See in Santa Cruz
Monarch Butterflies aren't the only amazing animals you can see in Santa Cruz. Santa Cruz is home to a wide variety of other animals. Between the redwoods and the marine habitats of Santa Cruz, here are some of the other animals you might encounter in the area.
Whales
The Monterey Bay National Marine Sanctuary is located right offshore of Santa Cruz and is home to various whales. Plan your trip between May and October if you want to spot Humpback Whales.
If you want to spot Gray Whales, you can catch them heading south in January and north in March. Blue Whales frequent the area during the summertime, and you can spot Killer Whales March-June.
Birds
Santa Cruz is a birder's paradise. Thanks to the area's diverse habitats, ranging from coastal beaches and lagoons to dense redwoods and mountain meadows, you'll find Snowy Plovers, Great Horned Owls, Wilson's Warbler, and over 400 other species of birds here in Santa Cruz.
Elephant Seals
Año Nuevo State Park is located only a 30-minute drive north of Santa Cruz, and it's home to the largest mainland elephant seal rookery in the world. From December to April, you can embark on a ranger-guided hike to come and see thousands of elephant seals.
Sea Otters and Dolphins
If you spend time in or around the beaches in Santa Cruz, you'll almost certainly spot a few playful sea otters and maybe even a dolphin or two.
Forest Animals
The Redwood forests surrounding Santa Cruz are teeming with life. Mountain lions, black-tailed deers, salamanders, squirrels, banana slugs, and countless other animals call the surrounding Santa Rosa Mountains their home.
Marvel in the Magic of the Monarchs
The Monarch Butterflies in Santa Cruz are truly a sight to behold. If you want to see this amazing natural phenomenon, book your Santa Cruz vacation rental during the peak Monarch butterfly season between November and January. The Monarchs await you!