Best Public Golf Courses Near Santa Cruz
There's no better way to take advantage of the beautiful scenery and temperate climate in Santa Cruz than playing a round—or two—of golf. While the sport may not be the primary driver for a getaway to a luxury vacation home rental, Santa Cruz County is home to some fantastic public golf courses set in some equally fantastic settings. 
From cliffside holes that parallel the ocean to lush fairways tucked amongst century-old forests, players of all skill levels are sure to have a great time on the greens.
You may take a mini day trip outside the city, but most top-notch public courses are within an hour's drive outside of Downtown Santa Cruz. Plus, it gives you an excuse to explore some of the neighboring beach-side communities that dot the coast.
Here are ten of the best public courses you should play around Santa Cruz.
DeLaveaga Golf Course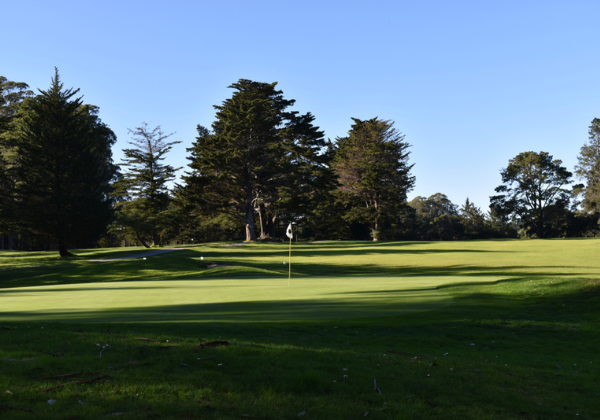 Address: 401 Upper Park Rd, Santa Cruz, CA
Distance from Downtown: 2.5 miles
This par-70 hilltop course is situated in the foothills of the Santa Cruz Mountains and runs along the forest and canyons surrounding the city. The DeLaveage Golf Course offers a challenge to all levels of golfers—especially that tricky 10th hole that's continuously ranked as one of the toughest in Northern California—as well as some non-golf amenities the whole family can enjoy, like disc golf and hiking trails.
While the ocean views will certainly draw you in, it's the extra touches at DeLaveaga that will keep you coming back. The clubhouse offers a full-service restaurant, Grille at DeLaveaga, as well as a golf shop and a two-level driving range.
Pasatiempo Golf Course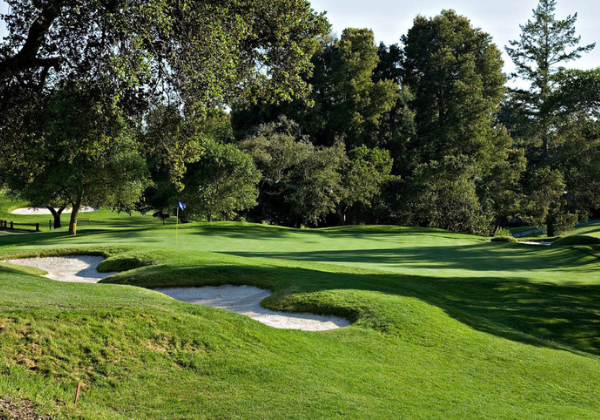 Address: 20 Clubhouse Rd, Santa Cruz, CA
Distance from Downtown: 3 miles
Designed by the legendary golf course architect Alister MacKenzie, this par-72 championship course is one golf history buffs need to have on their bucket list. With its meandering fairways, rolling elevation changes, and beautiful views of Monterey Bay, it's easy to see why Pasatiempo Golf Club is a must-play.
But unlike the laid-back vibe Santa Cruz is known for, this course is on the fancier side, with a strict dress code that includes a bill-forward rule for hats. Facilities include a driving range, a practice area, and two dining options: The Hollins House & Tap Room and MacKenzie Bar & Grille.
Technically, this course is more private than public, but they do set aside a few tee times every day for public play.
Seascape Golf Club
Address: 610 Clubhouse Dr, Aptos, CA
Distance from Downtown: 10 miles
Located in the nearby town of Aptos, Seascape Golf Club is a par-71 course that will transport you into a dense, pine-tree forest—despite being only a half-mile out from the ocean. Stretching over 6,000 yards and boasting gorgeous peek-a-boo oceanfront views, this 18-hole course offers small yet challenging greens as well as a practice facility and full-service restaurant.
There's no denying that golf can be a spendy sport. So take advantage of Seascape's "super twilight" rate after 4 PM when the fee drops to just $37—with a cart included.
Boulder Creek Gold & Country Club
Address: 16901 Big Basin Hwy, Boulder Creek, CA
Distance from Downtown: 17 miles
Want to swing amongst towering Redwoods and sparkling mountain lakes? Then you'll want to head out to Boulder Creek Golf & Country Club. This former 18-hole course was hit hard by the 2020 California wildfires and had to close operations. But they recently reopened as a 9-hole course with a full-service restaurant and an 18-hole disc golf course.
The smaller footprint only gives players more of a chance to take in the stunning natural surroundings, including vistas, bridges, and dense forests. It's the perfect place to unwind and practice your putting stroke at the same time.
Spring Hills Golf Course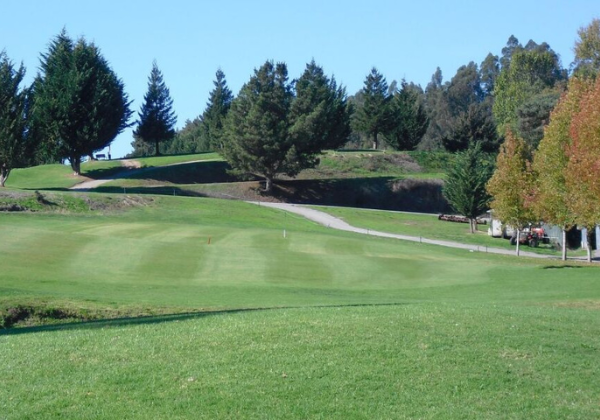 Address: 501 Spring Hills Dr, Watsonville, CA
Distance from Downtown: 18 miles
This par-71 course is tucked away in the rolling hills of Watsonville and is beloved for its welcoming atmosphere and well-maintained fairways. Originally a ranch that housed cattle and horses, Spring Hills Golf Course offers a unique experience with its close proximity to nature. Not only can you spot wild geese and deer on the grounds, but you'll also come across Fat Thomas—the course's designated cat.
After you play a round, grab some drinks and snacks on the wrap-around veranda of the clubhouse, which is set in the original ranch home built in 1911. And if you time up your trip right, you can play on your birthday and get a free green fee.
Casserly Par 3 Golf Course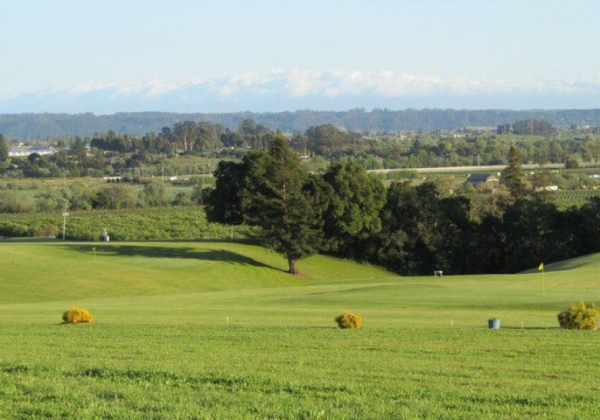 Address: 626 Casserly Rd, Watsonville, CA
Distance from Downtown: 18 miles
Don't have time for a full 18? That's where Casserly Par 3 comes in. This small, 9-hole course is perfect for those short on time or beginners looking to brush up their skills before tackling the more challenging greens.
The layout is great for a short game and includes some features unique to a course of its size, like sand traps and water hazards. While you won't get the full-service restaurant and other amenities of a larger course, it does have something other tourist-heavy courses in Santa Cruz don't offer: no reservations required.
Pajaro Valley Golf Club
Address: 967 Salinas Rd, Royal Oaks, CA
Distance from Downtown: 20 miles
For a more rustic experience, head over to Pajaro Valley Golf Club in nearby Royal Oaks. This par-72 course overlooks the Pajaro Valley and features four ponds, three of which are water hazards. Even if you successfully dodge fishing your ball out of any of those, you'll still want to prepare for the course's fourth hole: a 420-yard par 4 with triple-tiered green. 
The course features include a driving range, a full-service restaurant, and tons of opportunities for bird watching, thanks to the bird sanctuary situated next door. The neighboring rescue is perhaps where the course gets its name, seeing as "Pajaro" is Spanish for "bird."
Cinnabar Hills Golf Club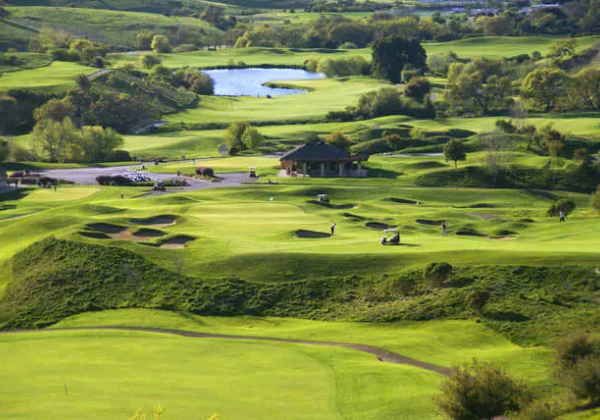 Address: 23600 McKean Rd, San Jose, CA
Distance from Downtown: 41 miles
Probably the most expansive course on this list, Cinnabar Hills is unlike any round you've played. Starting with the fact that it has 27 holes and six different combinations of 18-hole games. By choosing one of three district nines—the Canyon, the Lake, and the Mountain—you can customize your experience and create a unique game every time you play.
In addition to this quirky setup, Cinnabar Hill also has an elevated full-service restaurant (which includes innovative entrees and specialty cocktails) and a museum. The Lee Brandenburg Historical Golf Museum currently displays a 60-year-old collection of clubs, trophies, jackets, and vintage photos from a local collector.
Tee Off Around Santa Cruz
After a long day of golfing, you'll want to come back to a relaxing accommodation that has everything you need. That's why here at Beachnest Vacation Rentals, we pride ourselves on offering only the best vacation homes all throughout Santa Cruz County. Whether you're looking for a beachfront property or something in a more secluded location, we've got that perfect spot for you.