The Tastiest Sushi Places in Santa Cruz
Laid-back Santa Cruz is among the most popular places to visit on the central California coastline. Set along Highway One, the charming town brims with a nonchalant sort of cool that appeals to everyone from surfing enthusiasts to families. Then there are the shoppers and watersports lovers who flock to the famed surf town in search of the unforgettable.
They'll undoubtedly find it in sunny Santa Cruz, where delicious restaurants also happen to be a big part of the equation. That the city is something of a foodie's paradise is no surprise. In fact, it's considered one of the "foodiest" of food haunts in the country. That's quite an accolade for a town known for its epic surf culture.
Another non-surprise? It's not just of the hot dogs and French fries variety, either. Surf City also happens to be a hotspot for some of the best sushi restaurants in the state. That's something that locals know quite well. For out-of-towners and infrequent visitors, however, it may come as a pleasant treat to learn that you've got quite the list of options to consider.
Here are some of the most impressive Japanese restaurants where you can score some of the best sushi while you're vacationing in Santa Cruz.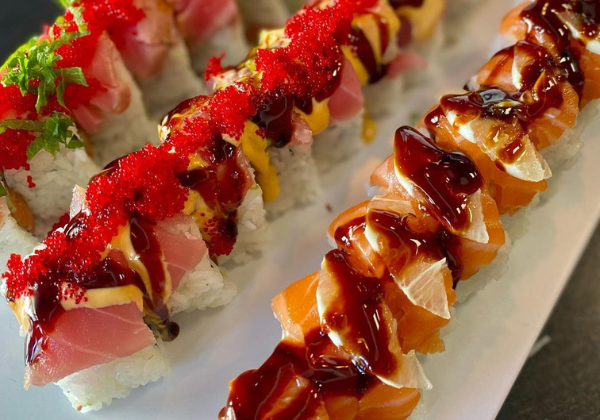 1222 Soquel Ave, Santa Cruz
Casual fare, but with an upgrade. Though Akira Seabright is among the most humble spots in town, you won't remember you're in a low-key establishment once you feast your eyes on their lengthy menu. Come for happy hour and you'll enjoy an array of favorites, like tempura, dumplings, and poke, along with a variety of beers and wines.
Local favorites abound on the dinner menu. Treat yourself to Cowboy Bebop, a medley of tempura unagi, cream cheese, garlic, and basil topped with mango, avocado, and toasted sweet coconut. Dig into classic favorites like edamame, calamari, gyoza, tempura tofu, and spicy tuna wraps, too.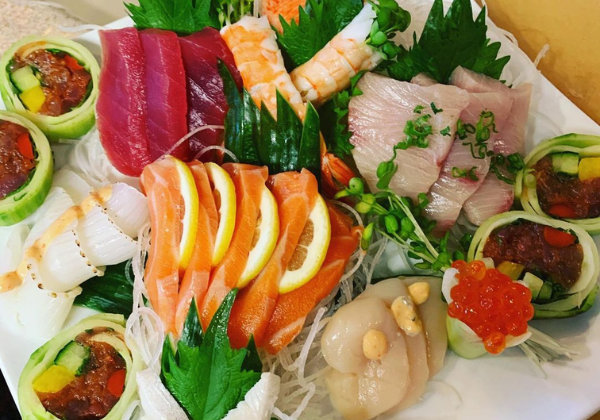 105 River St S, Santa Cruz
A buzzy night out in Santa Cruz isn't complete without a visit to one of the area's best sushi restaurants. Mobo Sushi more than lives up to the hype. First, there's that name. "Mobo" is, according to the eatery, the shape one's mouth takes when they consume something irresistible. The menu makes that simple, with favorites like kamabobko, ikura, Hamachi, and saba all up for the taking.
They make it simpler for vegetarians to choose, too. The menu is filled with distinctive favorites, like the satisfying Crop Burning roll packed with avocado, cucumber, shiitaki, cilantro, and spicy mayonnaise. Then there's Artishaw, infused with artichoke hearts, avocado, and cashews. Try Magic Maki and indulge in a medley of avocado, shiitaki, macadamia, negi, and gobo.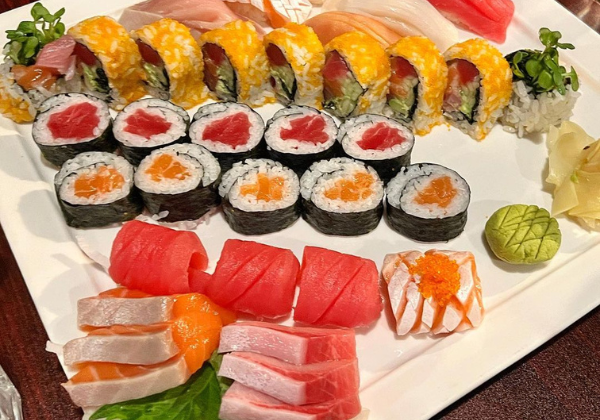 516 Front St, Santa Cruz
Fresh, fun, and modern, I Love Sushi is as much a prime spot for Santa Cruz sushi as it is a hip date option. If you're seeking a break from convention you'll find it in this dim, streamlined space with a nonchalantly chic vibe. Yes, there's even a karaoke night too if you happen to be in the mood. This spot regularly earns raves for its extensive menu of sushi rolls, its tasty appetizers, and its sheer consistency.
The menu makes selecting the right option a breeze, too. It's highly detailed, so you won't miss a word of what's inside your dish of choice. You can keep it simple with a handful of rolls and a beer, or stay a while and linger over hot sake bombs and cold beer. You can grab something to go, but it's worth the dine-in experience for the combination of drinks and bites alone.
1701 Mission St, Santa Cruz
There's good sushi, and then there's Sushi Totoro. The self-proclaimed "best sushi in Santa Cruz" feels cramped the moment you step inside — but you'll quickly warm to the ambiance as you discover the Polaroid pictures plastered over the walls are, in fact, the establishment's customers. Then there are the flashing lights and the quirky artwork, along with the artist-rendered menu that's so intricately crafted you may want to stop and take a photo
It\'s what\'s on the menu that counts, though, and Sushi Totoro offers quite the range. There are a handful of offbeat rolls that are sure to delight true sushi connoisseurs, along with conventional bento boxes and even vegan options for those who don't eat fish. The food is prepared right before your eyes, so there's no question of its freshness and quality.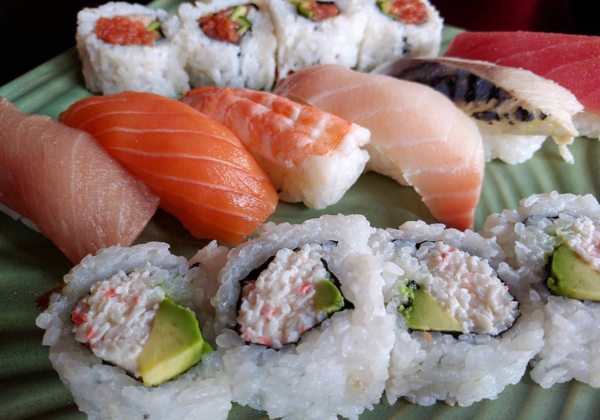 1733 Seabright Ave, Santa Cruz
Seabright Avenue is home to many a hotspot, including the renowned MG Sushi. Blink and you'll miss this no-frills property that's just a short distance from Aptos — but don't be fooled by its outward simplicity. The menu belies its outward appearance, and is considered by many natives one of the go-to spots for the best sushi in the area. Fresh ingredients and reasonable prices add up to big wins for anyone craving an affordable and satisfying meal.
Fan favorites include the hearty avocado salad, the Lion King roll, and the baked mussels. The diverse menu may explain why the restaurant is often packed. Be prepared to wait, or call ahead. Explore Soquel Village, a mere 10-minute drive from the eatery and situated a few miles north of Capitola, while you wait. The time will fly by as you lose yourself in the destination's antique shops and wineries.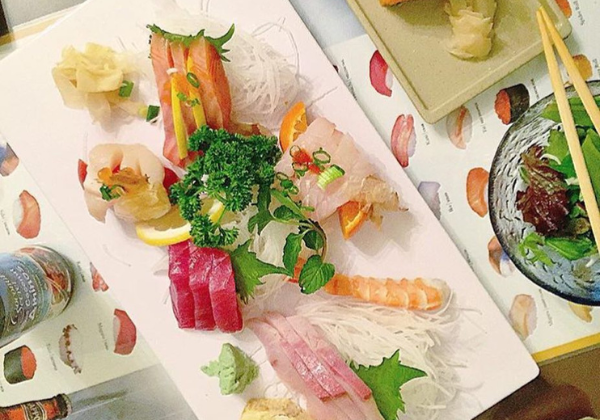 1200 41st Ave, Capitola
A Capitola favorite is Naka Sushi, an area mainstay renowned for its fresh preparations and, simply put, its downright good sushi. This chilled out, laid-back sushi bar makes a suitable choice for a low-key date night or evening with the family. They put a considerable amount of energy into the presentation, too, something you'll appreciate if you want to share a photo or two on your grid.
What's more, they seem to understand that variety is king. The eggplant tempura roll and asparagus tempura roll are big favorites among vegetarians. Then there are crowd-pleasers like ebi fry curry and enormous portions of nigiri you probably won't find elsewhere in the city — all for a very fair price. "Fresh" is the key word here, something that enthusiasts in particular will pick up on right away.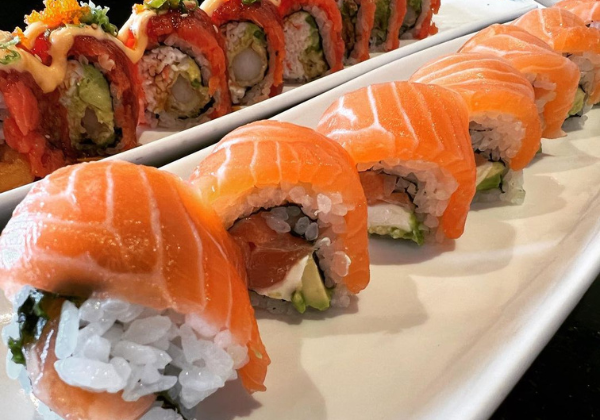 235 Mt Hermon Rd #G, Scotts Valley
Forget fast food! Bright and open, Otoro Sushi is the type of place where you'd be more than comfortable hanging out for a few hours. Don't let its unassuming plaza location fool you — it's what's beyond the doors that matters, and here in this relaxed space you'll find many favorites. Santa Cruzians attest to the vast vegetarian findings here, including the Yummy Yam Roll and the Grinch Roll.
It\'s a reliable spot for fresh salmon, maki rolls, and albacore sashimi in particular, according to Yelp devotees. If you're visiting with the family, take note of the kids' menu — there's even a chopstick helper to make life a little simpler for beginners. So, yes, bring the family, especially if you want to make it more of a sampler event. The bento boxes are perfect for that reason alone.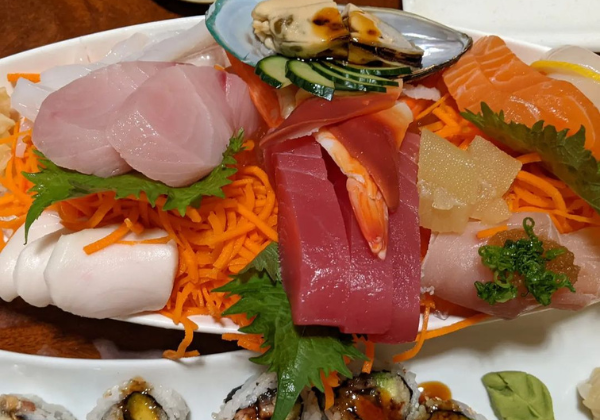 1123 Pacific Ave, Santa Cruz
If you happen to be in downtown Santa Cruz, make your way to Shogun for some truly great sushi. Offering a combination of modern and traditional fare, the restaurant uses seasonal fish and plenty of fresh ingredients to craft its extensive menu of tempura, sashimi, and hand rolls. Keep it simple with your choice of an udon noodle dinner with rolls or a donkatsu dinner complete with steamed rice, a salad, and miso soup.
If you're dining with the family or grabbing something for takeout, the shogun special dinner box is an excellent value. It includes your selection of a main course and sashimi, tempura, or hand roll, along with miso soup, a house salad, and steamed rice. The ambiance here is warm and inviting, with an elegant feel that lends it a more upscale and sophisticated vibe than more casual sushi bars.
—
Whether you're in Scotts Valley or Westside, downtown or midtown, or simply exploring on foot, you'll discover there's so much more to Santa Cruz, California, than meets the eye. From the casual to the posh, sushi restaurants of all kinds abound.