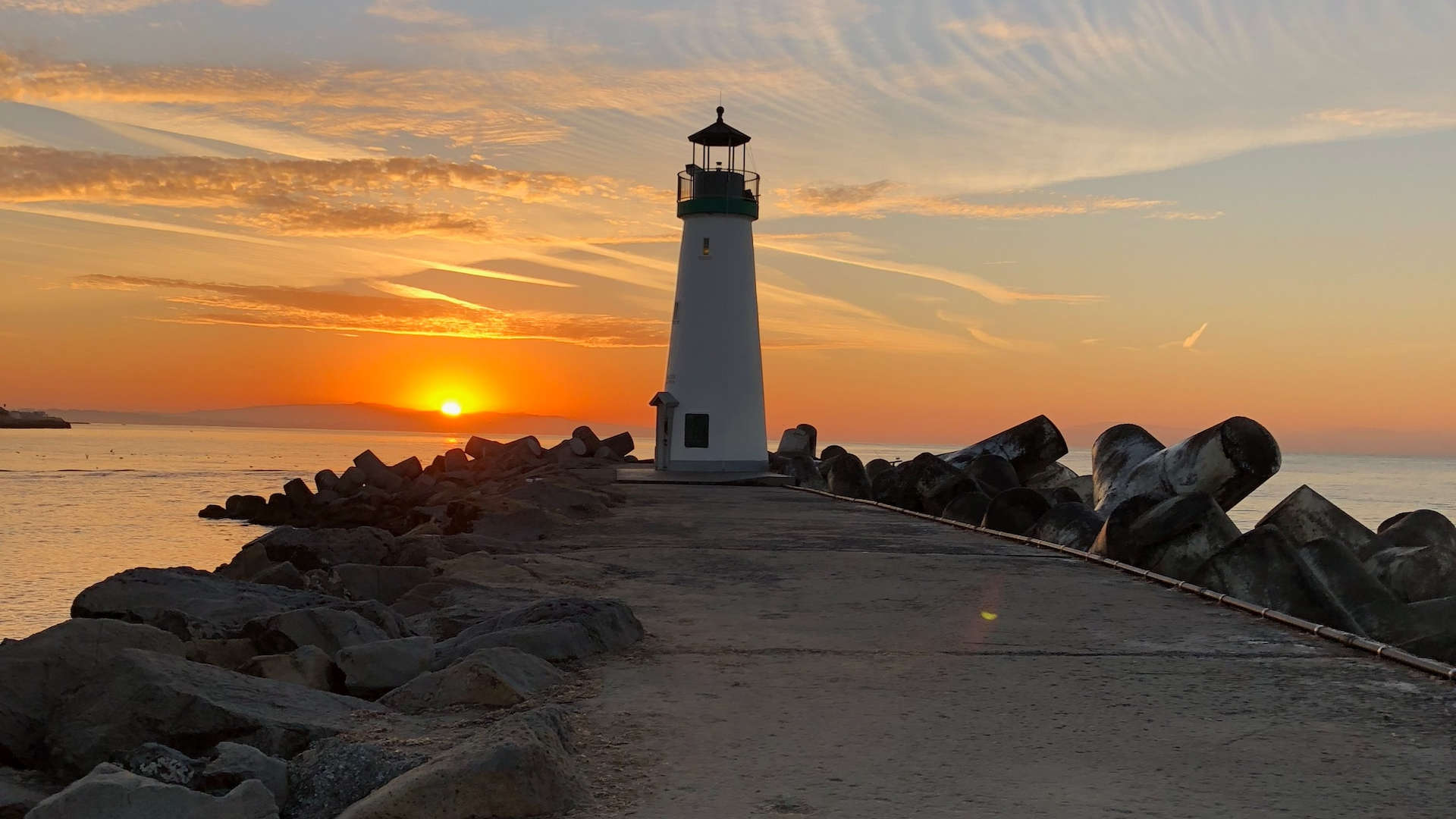 A Traveler's Guide to Seabright Beach, Santa Cruz
Nestled between a jetty and a natural rock wall in the Monterey Bay area, Seabright Beach Santa Cruz is one of the most lovely beaches in Santa Cruz! This spacious beach has soft, clean sand, with plenty of room to lay out some towels, beach chairs, or even a shade tent for a beach day.
Seabright Beach has more than enough amenities for the perfect beach day. Along with free parking and public restrooms, lifeguards watch over the beach on the weekends, and beach wheelchairs are available for rent.
The location of Seabright Beach couldn't be much better either- you're only a skip away from the Santa Cruz Beach Boardwalk, the Santa Cruz main beach, and several tasty beachside restaurants. If you arrive early, it's usually easy to find street parking right at the main entrance to the beach.
Make it even easier on yourself and enjoy your vacation just a few blocks away. Our Seabright vacation rental homes are sure to please any family or group of friends!
The Best Things to do at Seabright State Beach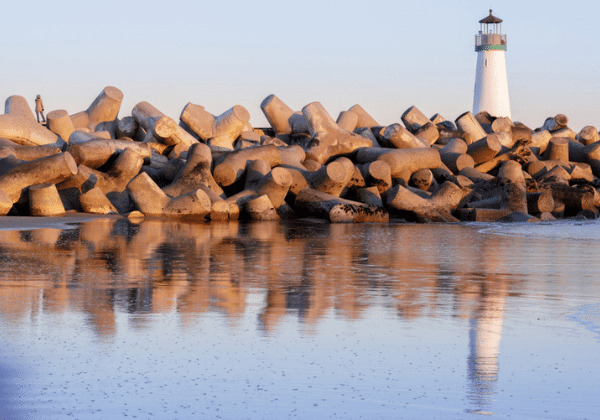 Seabright Beach is one of the nicest beaches in Santa Cruz and most local's favorite beach. It's far less crowded than some of the most popular Santa Cruz Beaches, which only adds to its charm.
In the early 1900s, Seabright Beach was named "Castle Beach", after Conrad and Louie Scholl constructed the iconic Moorish Castle right on the beach, nicknamed the Scholl Marr Castle. The Scholl Marr Castle was loved by both tourists and locals alike, and was a popular gathering place for dancing and entertainment, until it was destroyed in 1967.
Today, Seabright Beach is still loved by tourists and locals, but for its large, sandy beach rather than the Old Moorish Castle. Here are the best things to do at Seabright Beach!
Relax on the beach
Relaxing on the beach is by far one of the best things to do at Seabright Beach. This beach is clean, has soft sand, and picturesque ocean views that will never get old. Seabright Beach is almost always warm and sunny, so you're in luck if you have sunbathing in mind.
Seabright is also a dog friendly beach, and your (leashed) dog will love playing in the sand and water. It's a great beach to spend a day in the sun with your friends, family, or your pet.
Go for a Swim
Seabright Beach is sheltered by the jetty, making the water at the beach nice and calm- excellent for swimming! The clean, calm waters are perfect for taking a dip to cool off, going for a leisurely swim, as well as for playing in.
In the summer months, the water might feel brisk at first, but once your body adjusts, you'll be feeling incredibly refreshed.
During the winter months, you'll still find plenty of courageous beachgoers swimming, especially on sunny days! If you want to enjoy the water any time of year without the cold, you can always wear a wetsuit that will keep you plenty warm.
Have a Campfire
One of the best and most unique features of Seabright Beach Santa Cruz is all of the available firepits! Nowadays, there aren't many California beaches that allow fires at all, let alone ones that offer fire pits. This is just one of many reasons why Seabright Beach is so special.
At night, you can gather around a firepit and warm up by the bonfire while toasting marshmallows, and listening to the peaceful sound of the waves- there's really nothing quite like it.
If your heart is set on having a campfire at Seabright Beach, it's a good idea to get to the beach well before sunset to claim your firepit. The fire rings are available on a first-come, first-served basis, and you can't have fires outside of the rings.
Walk to the Santa Cruz Beach Boardwalk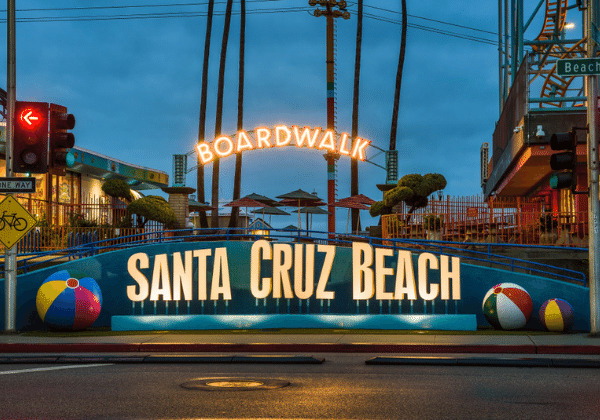 Seabright Beach is only a short walk from the Santa Beach Boardwalk. The Santa Cruz Beach Boardwalk is completely free to visit, and is home to exciting rides, games, and music!
If you're looking for a thrill, hop on one of the boardwalk's famously exhilarating rides, like the Giant Dipper or the Cyclone. Or, you can take in the incredible beach views from above by riding the Sky Glider.
The Santa Cruz Beach Boardwalk also boasts an indoor arcade, and plenty of classic, amusement park dining options like funnel cakes, corn dogs, as well as adult beverages.
Walk Along the Jetty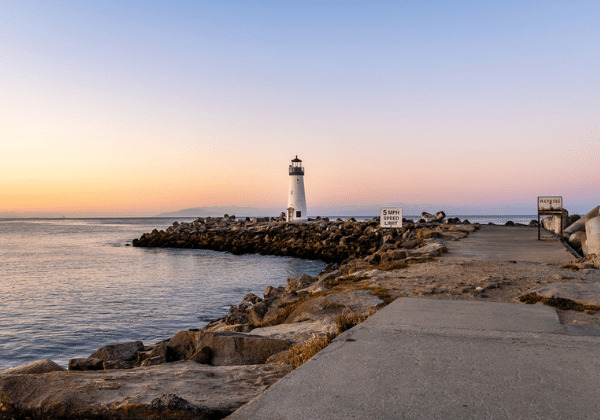 If you're feeling adventurous, you can climb up the Seabright jetty and walk to the end of it. The end of the jetty is the perfect place to secure a great view of the sailboats passing by, or catch a glimpse of the marine life.
Just be sure to only do this if the seas are calm- when it's stormy, waves can crash up and over the jetty, making it unsafe to walk along it.
Watch Sailboat Races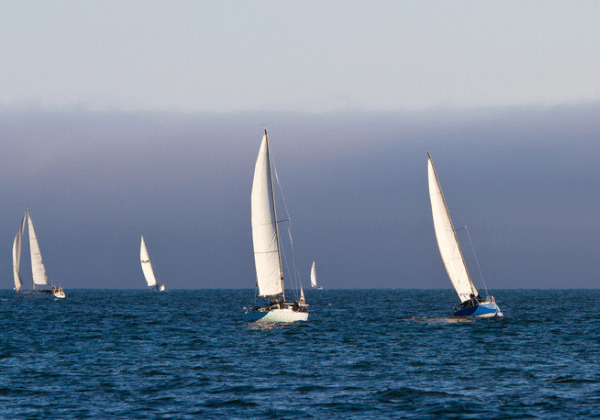 Every Wednesday evening from March to October, the Wednesday Night Regatta runs in Santa Cruz. This thrilling boat race is completely open to the public, and there are upwards of 50 participants every week. While the course of the sailboat race changes weekly due to the wind, Seabright Beach is consistently one of the best places to watch the race from land.
Whether you're watching the boats from the jetty, or the comfort of a campfire while roasting smores, the Wednesday night sailboat race is a real treat.
Stand-up Paddle Boarding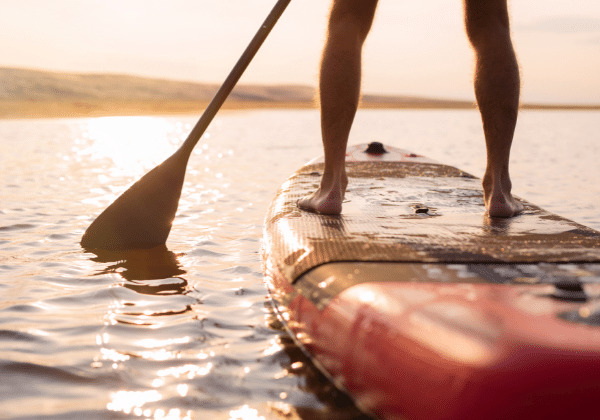 Thanks to the calm seas and shelter of the jetty, Seabright Beach is an excellent beach for stand-up paddleboarding.
If you've never been stand-up paddleboarding before, now is the perfect time to learn! If you want to go paddleboarding independently, you can easily rent a standup paddleboard (SUP) over at SUP Shack, and the crew at the shop can tell you everything you need to know in order to have a fun and safe experience.
If you're interested in a bit more guidance, SUP Shack also offers paddleboarding tours in the neighboring Santa Cruz Harbor, where experienced guides can lead the way for you to explore the water, and get a closer look at the seals and otters.
Whale Watching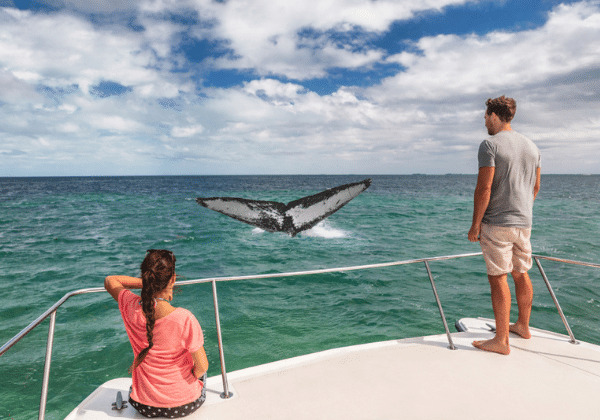 Since Santa Cruz is situated on the northern end of Monterey Bay in a prime location for whale watching.
While you can spot whales and dolphins all year long, there are certain times of year that are better than others for whale watching. The best time to spot whales from Seabright Beach is from December-April, during the yearly Gray Whale migration. However, you can spot other whales like Humpbacks and Blue Whales well into the summer.
It's possible to spot whales from the shore at Seabright Beach, especially if you're visiting during the Gray Whale migration time.
If you really want the best shot at seeing whales during your trip to Seabright Beach Santa Cruz, you can book a whale watching tour! There are plenty of reputable whale watching tours in Santa Cruz, and your knowledgeable boat guides will not only know exactly where to go to spot whales, but they'll also be able to give you plenty of information about those amazing creatures.
Amazing Restaurants in Seabright Beach
Aldo's Harbor Restaurant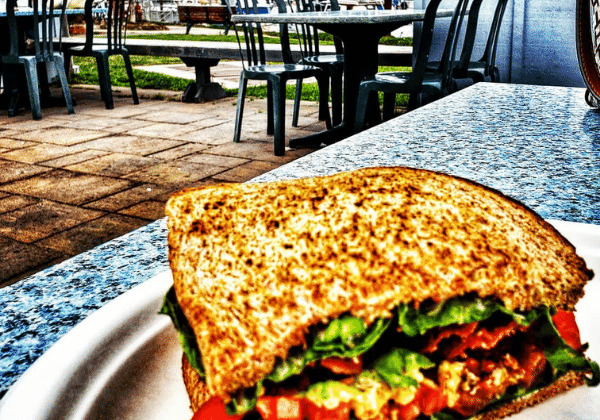 If you're looking for delicious seafood and a view, you can't go wrong at Aldo's Harbor Restaurant. This family-owned Italian restaurant has been in Santa Cruz for over 40 years, and still serves an incredible breakfast and lunch every day of the week.
Known as one of the best seafood restaurants in Santa Cruz, we're sure you'll love your meal here!
Their breakfast menu includes not just classics like omelets and eggs benedict, but also unique offerings like an Artichoke Heart Scramble and Blackened Mahi Mahi and Eggs. For lunch, you can enjoy delicious seafood appetizers like calamari and New England clam chowder, along with sandwiches, fresh salads, burgers, pasta, and sandwiches.
Seabreeze Cafe
For incredible brunch with a friendly neighborhood atmosphere, you can't miss Seabreeze Cafe. This amazing cafe serves omelets, scrambles, and french toast for brunch, as well as a variety of sandwiches, soups, and salads for lunch.
Seabreeze Cafe is incredibly popular amongst both locals and tourists, so we recommend going right when they open to secure a table.
Betty Burgers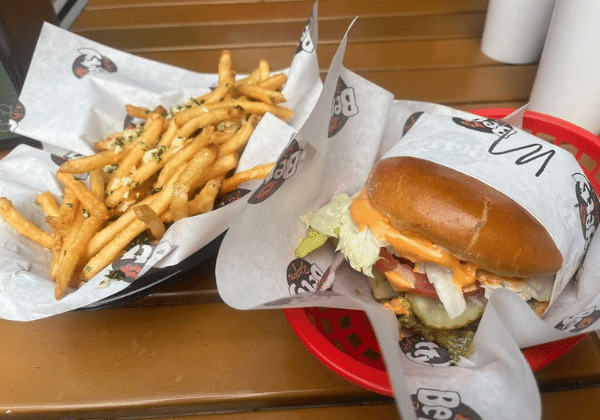 If you're craving a burger after a long day of lounging at Seabright Beach Santa Cruz, Betty Burgers has you covered for both lunch and dinner.
Their hearty burgers, milkshakes, and fried chicken sandwiches are sure to fill you up and energize you for your next beach day at Seabright Beach!
Tramonti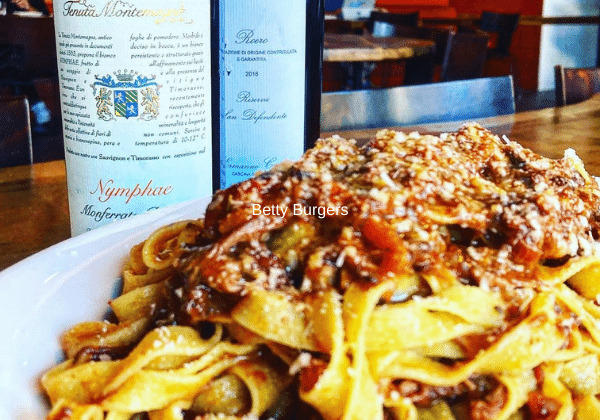 Tramonti is an authentic Italian restaurant located just a 5 minute walk from Seabright Beach. They're open daily for lunch and dinner, where you can enjoy woodfired pizzas and authentic Italian salads and pasta.
Enjoy Your Trip to Seabright Beach Santa Cruz
Seabright Beach has something in store for every traveler, and is one of the best beaches in Santa Cruz for a fantastic beach day. Whether you spend your time basking in the sun, playing in the waves, or enjoying one of Seabright's many fun beach activities, you're sure to have a marvelous time.