Enjoying First Friday Santa Cruz
The Santa Cruz art scene is unlike any other. From the large exhibitions put on by nonprofits like the Santa Cruz Museum of Art & History to the small galleries and studios that line downtown streets, this coastal community is ripe with painters, sculptors, musicians, and creatives of all kinds. And it's no wonder why. The breathtaking natural landscape alone provides more than enough inspiration to last a lifetime.
While you can tap into this artistic energy any day of the week when staying at a Santa Cruz vacation home rental, the first Friday of every month is when it really comes alive. 
The city of Santa Cruz transforms into a vibrant celebration and open-air gallery offering free admission, countless creative opportunities, and a wide range of activities for all ages. It's called First Friday Santa Cruz, and it's easily one of the city's most beloved traditions.
If you want to experience this lively event to the fullest, here's everything you need to know.
What Is First Friday Santa Cruz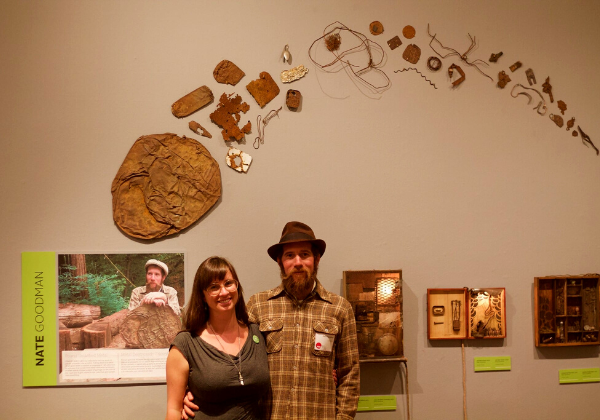 First Friday Santa Cruz is a monthly art tour across the county that celebrates the region's booming art and culture scene. While it may have started out small when it launched in 2003, it's since grown to include around 80 different venues and over 100 local artists.
You'll find tangible expressions from emerging makers and established locals that span every imaginable medium and format.
Many artists are usually present at their exhibits, and some give talks or demonstrations to help visitors understand their creative process. So whether you're in the mood for a unique piece to buy or just want to soak up some eye-catching visuals, you won't be disappointed by what's on display.
By connecting local artists with venues, visitors, and the community at large, First Friday Santa Cruz has helped to build an incredible network of creatives throughout the city. This network is actually accessible to the public via a directory that you can browse at any time to learn more about the artists and their work.
Beyond the artwork, there's something happening at practically every corner. Venues and businesses take part in the fun by offering discounts, live music, interactive experiences, and other special events for visitors to enjoy.
You'll also find numerous food vendors offering a variety of delicious bites. Everything is self-guided, so feel free to traverse around town at your own pace. Think of it like a huge block party fueled by art and creativity.
First Friday Santa Cruz Neighborhoods
As you probably can guess by the event's name, First Friday Santa Cruz takes place on the first Friday of every month, rain or shine. The festivities are usually between 5-9 p.m., but some specific event listings have different times.
The free event spans six different neighborhoods across Santa Cruz County, giving you the
opportunity to explore all the pockets of artistic energy the area has to offer. Most venues are dog- and kid-friendly, Just be sure to check out the First Friday Santa Cruz website, as new venues and events are added all the time. There's also a downloadable map that you can print out and use as your guide.
Here's a sneak peek of what you can expect from each participating neighborhood.
Downtown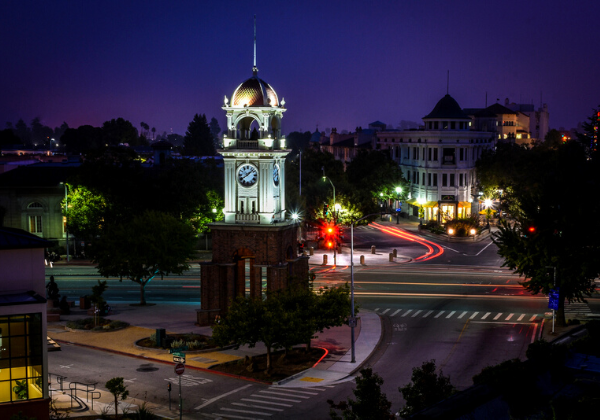 Downtown Santa Cruz is the epicenter of First Friday Santa Cruz. This walkable, oceanfront neighborhood has by far the most venues and galleries and tons of great food and drink options. 
Stroll down Pacific and Cedar streets to check out the vibrant murals and window displays, then take a break to enjoy an outdoor acoustic set or local artisanal brew.
Downtown Santa Cruz also offers tons of boutiques and other places to shop (and sip) as you make your way through the festivities. Food trucks, street performers, caricature drawers, face painters, and palm readers add to the unique charm of this lively district. 
Don't forget to swing by popular venues like:
Tannery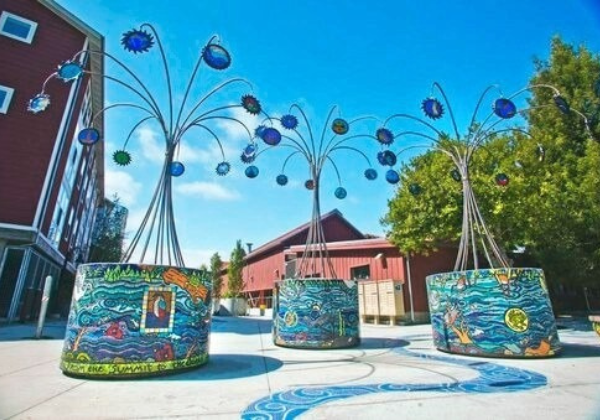 Tannery refers to the Tannery Arts Center, a first-of-its-kind multicultural and interdisciplinary arts campus that serves as a vibrant hub for the creative minds of Santa Cruz. 
Artists of all kinds call the Tannery home, ranging from painters and sculptors to writers and performers. And when we say home, we literally mean home. The center features a whopping 100 live-work residences and about 28 working studios, many of which stay open for the First Friday art tour.
TAC is probably the best starting point for the event, as it has tons of parking as well as food trucks, pop-up shops, and public art installations. Immersing yourself in this creative space and getting to know the artistic souls that inhabit it is truly a magical experience—so don't miss it!
Westside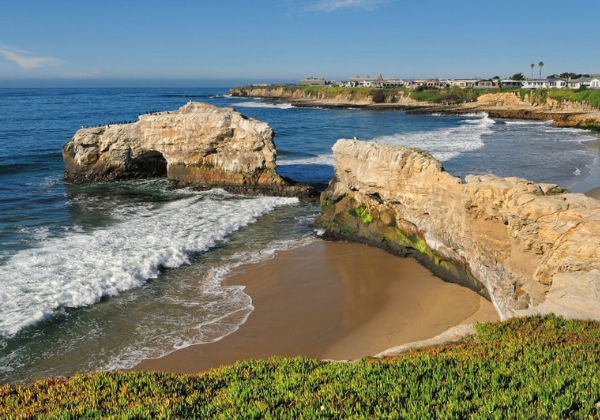 Take a walk on one of the hipper 'hoods of Santa Cruz: Westside. Known for its drip coffee shops and small-batch wineries, Westside is often associated with Natural Bridges State Beach, but it has so much more to offer. 
Most galleries and venues in this laid-back area are located between Ingalls Street and Delaware Avenue, which is perfect for strolling visitors.
The main attraction here? Live glass-blowing in action at Chris Jonhson Glass. This mesmerizing and unique experience is a great way to start your First Friday—but don't dawdle too long since other activities await. Soaking in the street art and exploring local artists that are setting up shop at boutiques like Illuminèe Studio will surely captivate you.
Midtown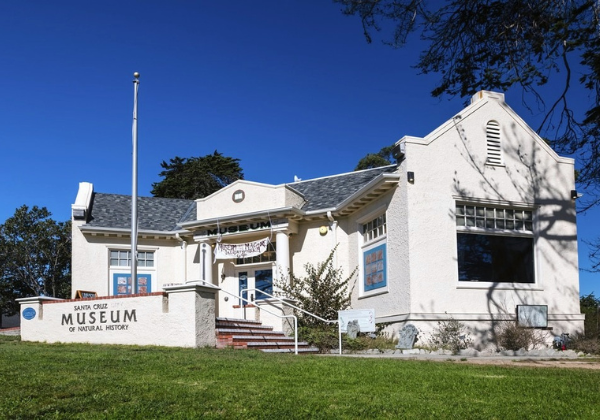 Most California towns are known for their beachside vistas, but Midtown Santa Cruz is proof that inland neighborhoods can pack an equally powerful punch. This eclectic neighborhood is home to two huge venues: the Santa Cruz Museum of Natural History and the Treehouse Dispensary.
The museum offers free admission all day long, along with special outdoor activities, local science illustrators, food, and adult beverages while the dispensary collaborates with a wide variety of 420-friendly makers and vendors.
Of course, the surrounding streets—particularly the walkable corridor on Soquel Avenue—are bustling with art galleries, delicious food trucks, and talented street performers.
Capitola/Soquel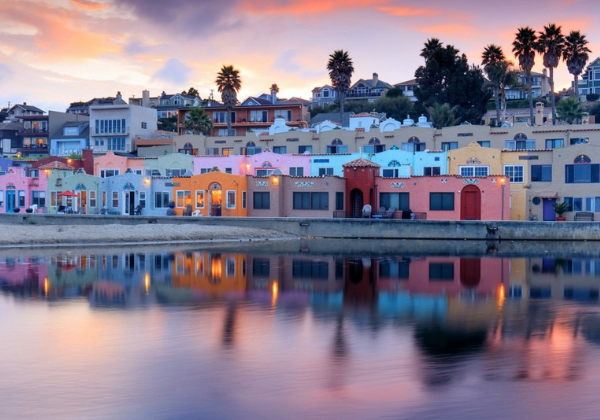 Capitola is as scenic as it is quaint. Here, the traditional beach town vibe blends with the contemporary art scene to create a dreamy atmosphere that draws in locals and tourists alike.
While you'll, of course, want to see the vibrantly colored cottages that overlook Soquel Cove and check out the iconic pier, be sure to stop by Art of Santa Cruz inside Capitola Mall. This nonprofit exhibition highlights local artists by creating large-scale exhibitions and other creative events—a great addition to the First Friday circuit.
Santa Cruz Mountains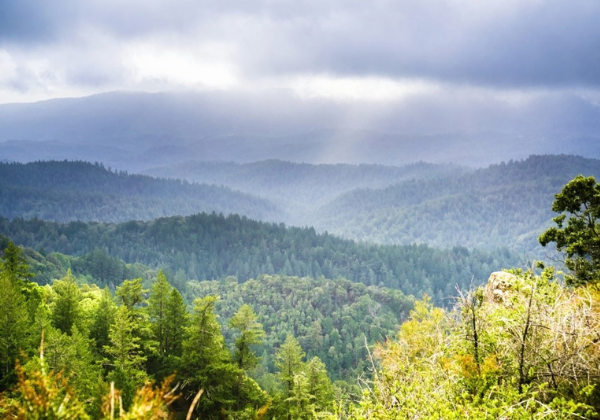 About a half hour inland from downtown, you'll find the Santa Cruz Mountains, a sprawling area of over 2,000 acres of natural wildlife. These lush hills and valleys are home to the University of California Santa Cruz and numerous wineries, galleries, and studios that allow visitors to slow down and enjoy some art with a side of nature.
Check out the Santa Cruz Mountains Art Center, an educational art center that displays a monthly youth art exhibit. The center also hosts workshops, so be sure to check their website for more information and upcoming events.
Experience the Art of Santa Cruz
No matter where you choose to go during First Friday Santa Cruz, one thing is certain: you'll be in for an unforgettable experience. The city's unique blend of art, nature, and culture creates a truly one-of-a-kind vibe that can't be found anywhere else. So plan your next coastal getaway to a vacation home rental around this beloved event, and see why so many people fall in love with Santa Cruz.