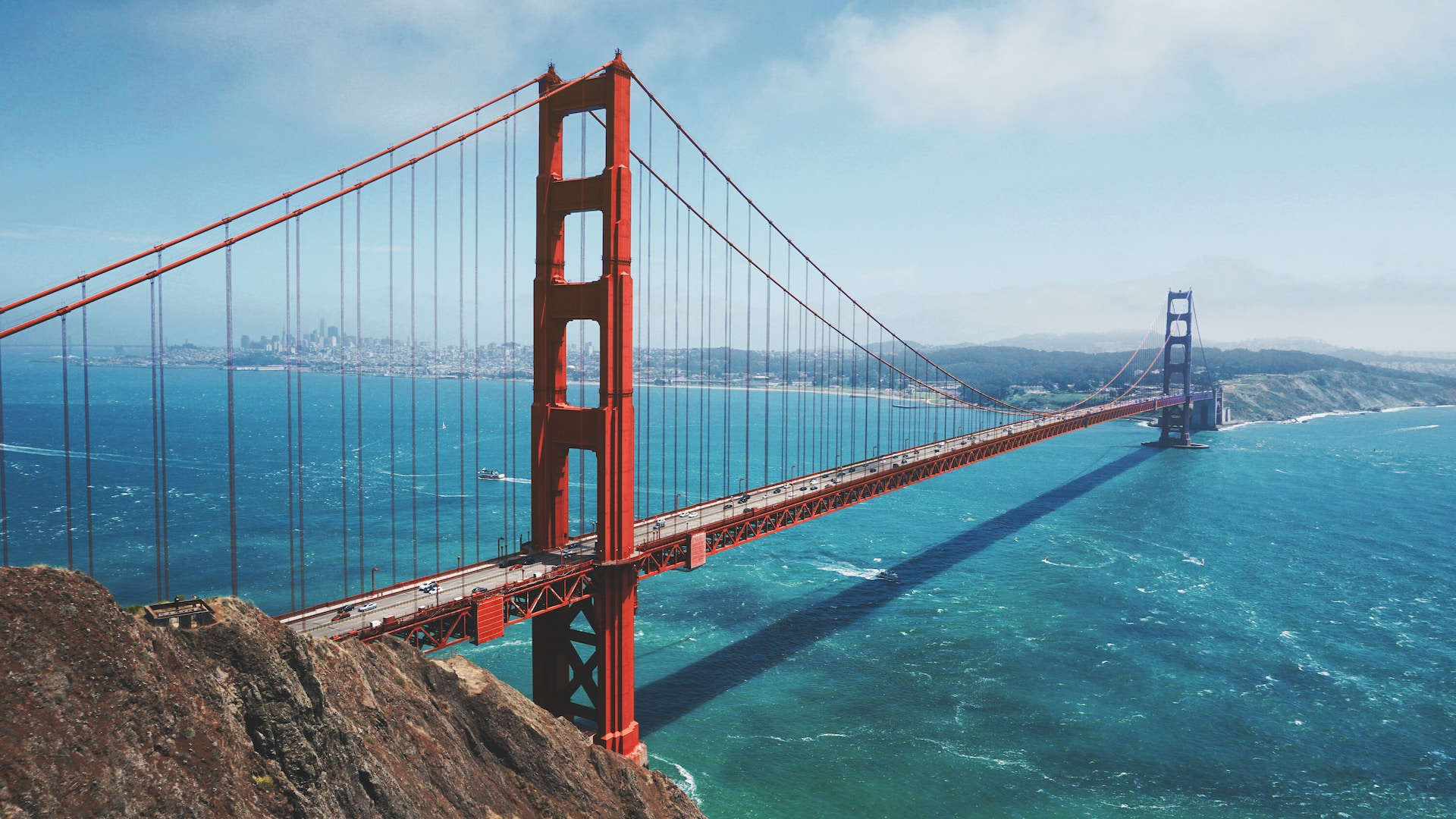 San Francisco to Santa Cruz: Ultimate CA Road Trip
If you're planning a road trip from San Francisco to Santa Cruz, you're in for a treat because there's nothing quite like taking a road trip down the iconic Pacific Coast Highway (PCH).
The infamous PCH covers 656 miles of California's pristine wild coastline. The portion of the route stretching from San Francisco to Monterey Bay in Santa Cruz offers stunning views of the Pacific Ocean, charming small towns, and even an opportunity to see the native wildlife (whales, elephant seals, and seabirds!) up close.
It is an ideal day trip from the bustling city to a vacation rental in a laid-back beach town!
Here is our guide to all the best stops to take, when to go, and how much time to set aside. Buckle up, and get ready for a trip you'll never forget!
Driving Time from San Francisco to Santa Cruz
There are essentially two routes from San Francisco to Santa Cruz, with different scenery and driving times. Both offer their own benefits depending on your preferred day trip.
The Mountainous Route
If you take the CA-17S, the drive from San Francisco to Santa Cruz will only take about one hour and fifteen minutes, assuming you don't make any stops or hit any traffic. This route will take you along the San Francisco Bay and through a redwood-lined path inland until eventually turning towards the coast. There are many amazing stops amongst the Santa Cruz Mountains on this route.
The Coastal Route
The drive from San Francisco to Santa Cruz via the Pacific Coast Highway (California Highway 1) has a travel time of around two hours, assuming you don't make any stops or hit any traffic. All this to say that a round trip day adventure is very possible.
Even if you're in a rush, we recommend taking the Pacific Coast Highway. Without stops, the drive isn't too much longer, and the incredible scenic views more than warrant the extra driving time. Driving south, this route is particularly amazing because that vantage point gives you the best views of the Pacific.
If you want to make the most of your road trip from San Francisco to Santa Cruz. In that case, we recommend getting an early start leaving San Francisco so you can take your time exploring this stunning stretch of coastline and have time to enjoy a sunset on the Santa Cruz Beach Boardwalk before heading back.
This article will focus on the Pacific Coast Highway route, what to see, and where to stop!
The Best Sites Between San Francisco and Santa Cruz
From remarkable beaches to quaint coastal towns, these are the best places to stop on a road trip from San Francisco to Santa Cruz.
Pacifica State Beach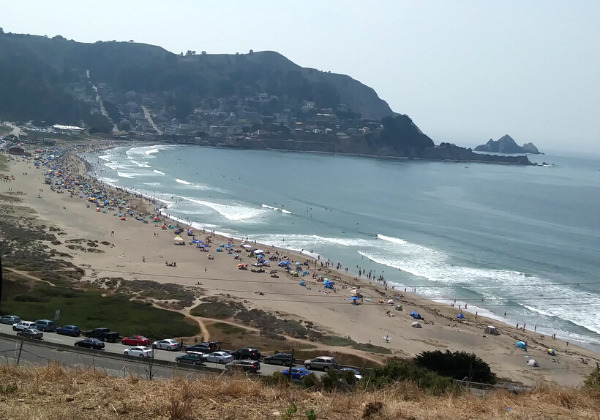 Crescent-shaped Pacifica State Beach is one of the most beautiful beaches in the bay area, and it's the perfect first place for your first road trip stop.
If you want to grab a coffee or a quick breakfast to enjoy on the road, you can make a stop at Soul Grind Coffee Roasters. They're located right next to the beach and have delicious lattes and grab n' go breakfast and lunch options.
If you want to kick the road trip off with a short hike, you can hike out to Pedro's Point, where you'll have sweeping views of the Pacific Ocean and all the way up the coast. To hike to Pedro's Point, you'll park at the Devil's Slide North Parking Lot and take the Pedro Point Headlands Trail. The full loop is 2.3 miles long and a great place to spot birds and wildflowers.
JV Fitzgerald Marine Reserve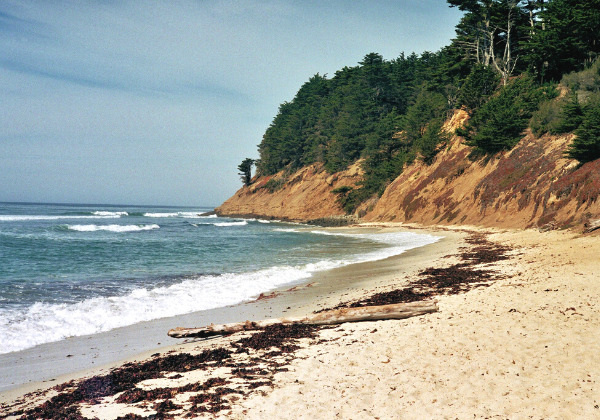 Next up is the JV Fitzgerald Marine Reserve, around 30 minutes into your road trip. This 3-mile stretch of coastline is very famous for its thriving marine life and intertidal pools.
The intertidal pools are home to sea urchins, hermit crabs, starfish, sea anemones, mussels, barnacles, algae, and more! While you explore the tide pools, you're also likely to spot sea otters, birds, and harbor seals at this marine reserve.
The best time to visit the tide pools at the JV Fitzgerald Marine Reserve is during or close to low tide, as that is when the tide pools are exposed. If you're planning on exploring the tide pools, be sure to wear shoes with good grip, as the footing near the tide pools can be quite slippery.
Pillar Point Bluff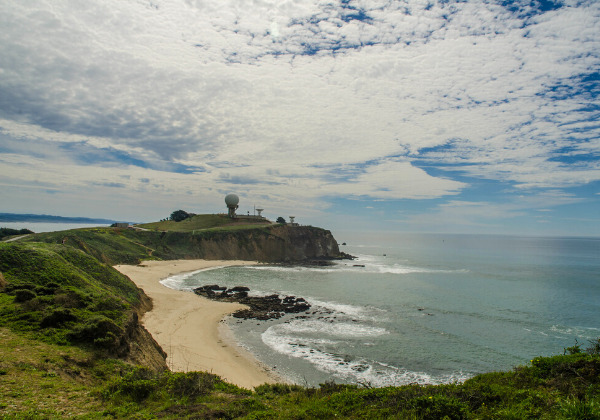 If you're making this drive between late September and April, the behemoth wave Mavericks might be working. There are many big wave surfing spots outside of Santa Cruz, but Mavericks is the biggest wave in the United States, with waves here in the winter maxing out at anywhere from 25-60 feet high!
If you're intrigued, the Pillar Point Bluffs are the perfect place to stop and catch a glimpse of this natural wonder.
Half Moon Bay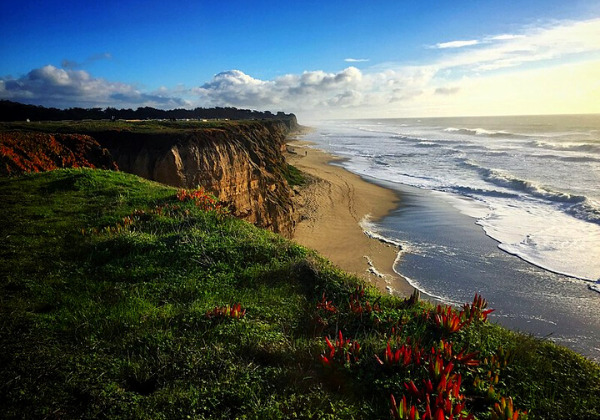 Located about halfway between San Francisco and Santa Cruz, Half Moon Bay is another of the best stops to take during your road trip. Here are some of the best things to do in Half Moon Bay.
Explore the Beaches
Half Moon Bay is full of amazing beaches, but Poplar Beach is one of the best for sunbathing. It is also dog friendly and has plenty of soft white sand to lay out on. If you want to surf or watch surfers, Surfers Beach (El Granada) is a great beach to check out.
For fewer crowds, go to Venice Beach, which has a nice seating area with benches and picnic tables.
Walk the Coastal Trail
The Half Moon Bay Coastal Trail is a lovely trail that meanders along the bluffs overlooking the beaches.
The trail is an easy 3.7-mile walk each way. Even if you don't have time to do the whole walk during your road trip, it's worth at least doing a small portion of it, as the views are amazing. If you want to bike the trail, you can rent bikes from Half Moon Bay Kayak Company.
Explore Downtown Half Moon Bay
Downtown Half Moon Bay is full of historic buildings, unique shops, and delicious restaurants. Take a quick walk down Main Street to see the best of downtown Half Moon Bay.
Pescadero
About 25 minutes south of Half Moon Bay, you'll find the charming town of Pescadero. The town itself is tiny, but it does have a few cool places to visit during your road trip down to Santa Cruz.
Harley Farms Goat Dairy
Harley Farms in Pescadero is a working farm that sells incredible goat cheese, jams, fresh honey, and other delicious homemade goods. In addition to their goats, they also have several cats, chickens, and alpacas at the farm. If you visit the farm between February and May, you can book a tour and snuggle with their baby goats!
Pescadero Alliance Gas Station
A gas station? Yes! This one is notable for its authentic snacking options. Inside the Alliance Gas Station, you'll find some of the best Mexican street tacos at the Mercado and Taqueria de Amigos. If you're hankering for some tacos, this is the place to stop.
Arcangeli Grocery Co.
Arcangeli Grocery Co. opened in 1929 and, to this day, has some of the best fresh baked bread, sandwiches, and deli cuts around. Even if you've already fueled up on tacos, you'll want to take home a loaf (or two!) of their famous artichoke garlic herb bread.
Pigeon Point Lighthouse
Pigeon Point Lighthouse is one of the most photographed lighthouses in California and well worth a stop during your road trip from San Francisco to Santa Cruz.
At 115 feet tall, this iconic structure is one of the tallest lighthouses in the United States. Pigeon Point Lighthouse first started operating in 1872, and it is still used today to help the Coast Guard navigate the coastline.
While you can no longer go inside the lighthouse, you can still tour the surrounding grounds and buildings and learn all about the park's history from the various exhibits.
Año Nuevo State Park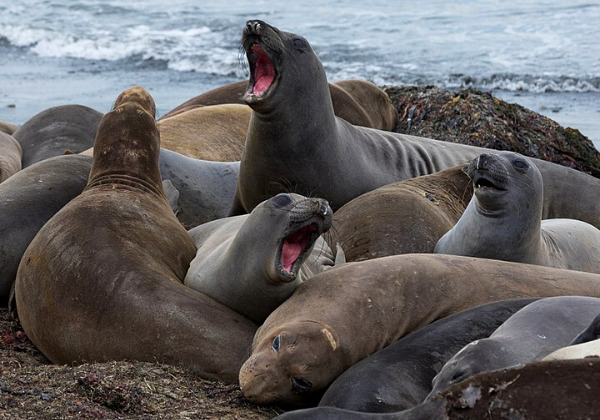 Año Nuevo State Park in California will greet you around an hour and fifteen minutes into your road to Santa Cruz from San Francisco.
This dynamic state park is home to the world's largest mainland breeding colony of northern elephant seals. Every year, over 10,000 elephant seals come to the park to breed, give birth, and molt.
It's a truly wild sight to behold. To see the elephant seals, you'll hike a total of 4 miles while enjoying incredible ocean views and crossing a few sand dunes.
The elephant seal breeding season takes place from December 15th to March 31st. This is the best time to see the most elephant seals, although you will need to book a ranger-guided tour to visit at this time. The rest of the year, you can walk the trail independently to the elephant seals.
Año Nuevo State Park is not just a place to come and view the elephant seals, but it is also an important research and education site. Scientists come from all around the world to study the seals and to learn more about their habits, behavior, and lifestyle. The park's staff also provides educational programs to help visitors learn more about the park and the animals that inhabit it.
With its breathtaking views, picturesque beaches, and unique wildlife, Año Nuevo State Park is the perfect place to experience the beauty of nature during your road trip.
Swanton Berry Farms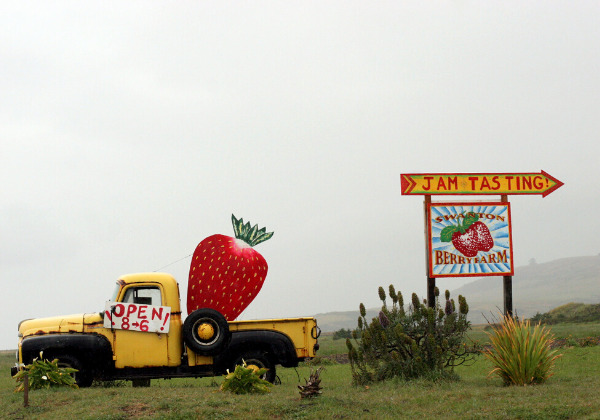 Swanton Berry Farms is another excellent stop to make during your road trip from San Francisco to Santa Cruz. Situated just off PCH in the picturesque coastal town of Davenport, the family-run Swanton Berry Farms is a local favorite.
Here you can sample delicious organic fruits, purchase seasonal baked goods, and even enjoy a hot cup of coffee or strawberry apple cider.
However, the best part of a visit to Swanton Berry Farms is their U-Pick produce! Depending on the season, you can pick your own basket of either strawberries, kiwis, or olallieberries. Currently, the U-Pick is only available on Saturdays and Sundays from 9 am to 5 pm.
Shark Fin Cove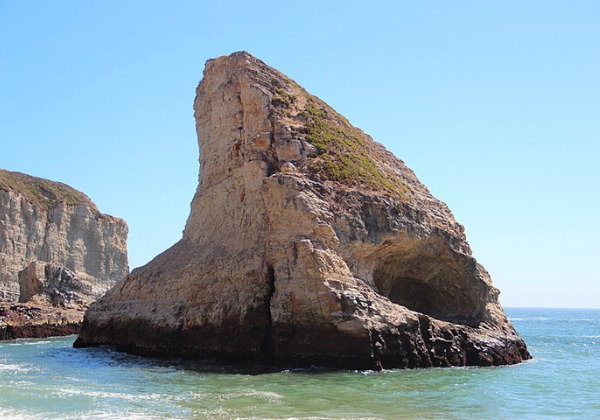 Just 15 minutes from Ano Nuevo State Park, you'll find Shark Fin Cove in Davenport. It is an ideal place to take in the stunning beach features jagged cliffs and a rocky shoreline, perfect for exploring and taking in the stunning views of the Pacific Ocean.
However, the most impressive feature of Shark Fin Cove is the massive, shark fin-shaped rock jutting out of the water.
The shark fin shape of the rock is much more prominent when looking from above, so it's best to take it all in and snap a photo before heading down to the beach below.
The cove itself is a lovely secluded beach with wonderful views of the ocean and surrounding rocky cliffs. There is even a sea cave on the beach that you can check out; just be wary of the tide and water rushing into the cave.
The Best Season to Road Trip
Thanks to the mild California climate, there is never a bad time to road trip from San Francisco to Santa Cruz. However, each season offers a little something different, so you might want to keep the seasons in mind when planning your trip. Here's what to expect each season.
Fall
If you're looking for warm, sunny days and very few crowds, the best time to road-trip down to Santa Cruz is in the fall. The weather in September, October, and even early November is still very warm and pleasant in this part of California. You don't get hit by the foggy marine layer that is common during the summer months.
Winter
Winter is the least crowded season for road-tripping down the PCH, making it the best time to make this trip if you want to avoid crowds.
Additionally, winter is when the northern elephant breeding seal takes place and is the best time to go if you want to see the elephant seal rookery in Año Nuevo State Park.
Spring
Spring is the greenest season in Northern California and the best time to road trip down the Pacific Coast Highway if you want to enjoy the sights of wildflowers blooming, rolling fields of green grass, and the baby goats at Harley Farms!
Spring in Santa Cruz also brings a lot of potential for fun activities!
Summer
The summer is the most popular time to road-trip from San Francisco to Santa Cruz. You'll experience very few rainy days, and the weather will be very sunny, except for the occasional fog layer.
Don't worry too much about the fog, though, as it usually does burn off by the early afternoon. Overall, summer is the best time to road-trip down Highway 1 if you want to experience the warmest beach and ocean temperatures.
Enjoy this Iconic California Road Trip
Between the breathtaking coastline, vibrant marine life, and memorable seaside towns; there are plenty of amazing stops to take along the way from San Francisco to Santa Cruz.
From the Bay to Downtown Santa Cruz, roll the windows down and cruise down the Pacific Coast like you have all the time in the world! Enjoy this stunning little slice of California on your way down to a luxurious vacation rental in Santa Cruz.