Jaw-Dropping Sightseeing in Santa Cruz
Santa Cruz is mainland surf's birthplace, synonymous with seaside cliffs dotted with lighthouses, epic surf spots, and dramatic ocean and redwood forest landscapes. Whether it's the beaches, the surf breaks, the vistas, or the vast coastline, everywhere seems to be a postcard-worthy view.
Relax on your getaway to your Beachnest vacation home, give your eyes the feast of a lifetime, and indulge in the laidback beach town energy that many come to this part of California to escape to. These are the most snap-worthy attractions around Santa Cruz!
The Santa Cruz Wharf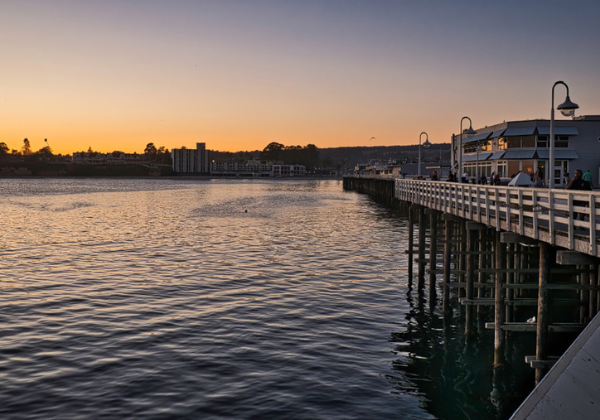 If there's one activity that comes close to surfing in Santa Cruz, it's strolling above the waves along the Santa Cruz Wharf. This area offers sea lion spotting, onshore fishing, and numerous restaurants and crab shacks to snack your day away. It's not a bad place to enjoy sunny afternoons or those iconic California sunsets!
Santa Cruz Beach Boardwalk
Back on land, nearby and impossible to miss, is the Santa Cruz Beach Boardwalk. Packed full of rides, this small beachfront amusement park has arcades, a roller coaster, mini golf, and shops for all ages. It's a favorite for thrill seekers, couples on a first date, or just for some plain old-fashioned people-watching.
Located smack dab in the middle of Cowell Beach, this famous landmark is hard to miss and worth the trip.
The Downtown Seawall Murals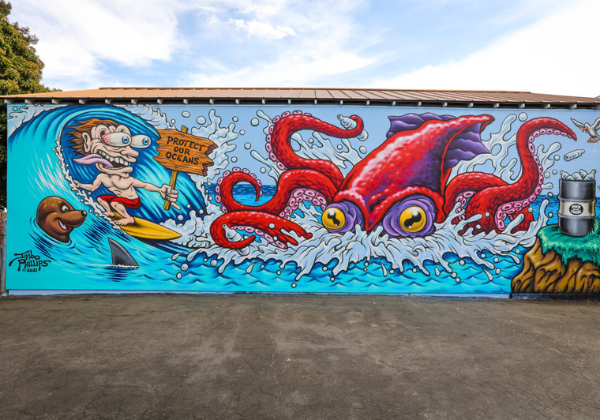 Witness activism through art! Pangeaseed is a Hawaiian-based nonprofit that runs festivals all over the world by enlisting artists to paint murals depicting and calling attention to the issues of climate change and the deteriorating health of our planet's oceans.
In Santa Cruz, a well-established local artist, Taylor Reinhol, took to the streets with his collective Made Fresh Crew and other talented artists to paint beautiful murals around Santa Cruz's downtown area. Headed by Artists for Oceans, the purpose of these art pieces create a call to action for marine environment issues and advocate for sustainability while also serving as educational tools. Most of these pieces can be seen along Front Street and Pacific Avenue between the Soquel and Laurel Street Bridges.
Seymour Marine Discovery Center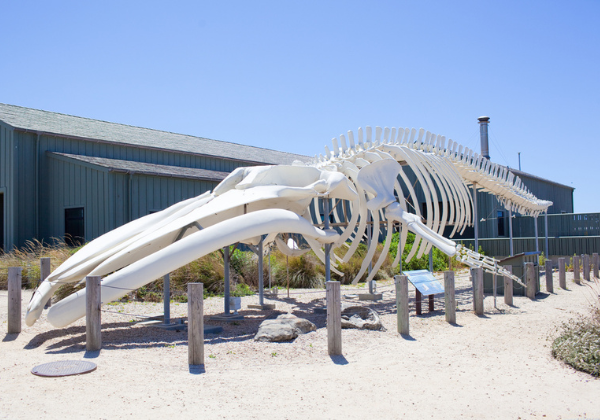 Founded by the University of California Santa Cruz (UCSC), this marine educational center is an interactive and hands-on experience to aid in learning about ocean sciences within our oceans. With aquariums, research specialists, amazing views, and complete with a shark tank, the Seymour Marine Discovery Center is well worth a look.
Make sure to find the massive whale skeleton on display outside the building!
Surf Statue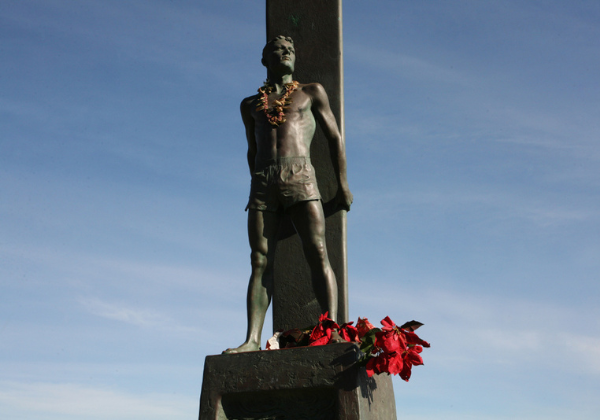 If surfing didn't make the city of Santa Cruz, it certainly defined it. No trip to this oceanside community is complete without dipping your toe into this culture. Just onshore of the popular Steamer Lane surf spot along West Cliff Drive, a statue overlooks the coastline, paying homage to all those who have surfed the area since its inoculation.
This is a perfect place to scan the waters, watch locals dropping in below, and pay your respects to the surfing gods above and below.
S.S. Palo Alto Concrete Ship at Seacliff State Beach in Aptos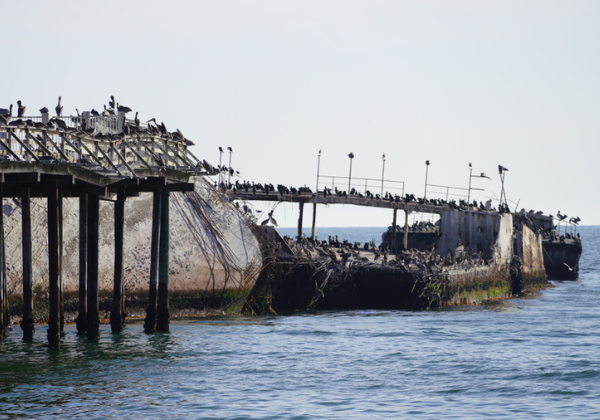 One of the oddest sights in Santa Cruz County, in the waters of the small seaside town of Aptos, California, lies a mass jutting from the waves like a modern shipwreck off the pier. Constructed of concrete in 1919 due to steel shortages during the war, this ship never saw service during the war it was intended to; it was sold off to the State of California for $1, where it was used for parties during the Roaring 20s, and was eventually damaged beyond repair after decades of storms battering its massive hull.
Today, the ship serves as a bizarre but historical sight and an artificial reef supporting an unimaginable amount of marine life along the wreckage.
Land of Medicine Buddha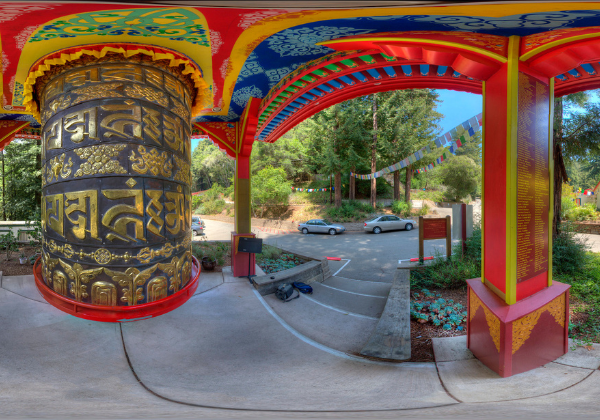 Align your chakras and tap into the path to enlightenment in a unique spiritual center located only a 15-minute drive from Capitola, Aptos, and Santa Cruz; the Land of Medicine Buddha is a Buddhist compound centered around the teachings of Dharma, meditation, and spiritual retreats. Surrounded by the serenity of the redwood forests, this 100-acre respite will take you away from the sea and land you in a world of temples, shrines, and nature.
Mystery Spot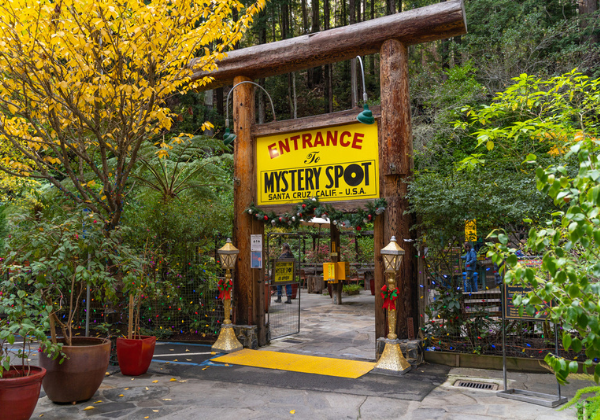 Deep within the redwood forests surrounding Santa Cruz lies a mystery. Along the scenic Pacific Coast Highway, the legend of the Mystery Spot was discovered by surveyors in 1939. An anomaly, this perception puzzling display defies logic, gravity, and reality itself.
Since then, it's been blowing the minds of visitors from all over the world. If you're in the area, it is worth the small hike up to this perplexing area. Without giving too much away, you'll have to see it for yourself and prepare to get dizzy while your mind tries to make sense of this mysterious hillside.
Tickets cost $10, and kids under five enter for free.
Fun Fact: This is one of those very odd roadside attractions that became popular in the 1950s. They are scattered throughout the country, but the Pacific Coast Highway (Highway 101) has tons of them. They are a quirky slice of American history.
Hit up a Santa Cruz Museum
Touring a local museum is always an excellent way to spend a day in a new destination. Santa Cruz has several fantastic museums. Some of the best are the Santa Cruz Museum of Art & History, the Santa Cruz Museum of Natural History, and the small but interesting Santa Cruz Surfing Museum at the top of Steamer Lane.
UC Santa Cruz Arboretum & Botanical Gardens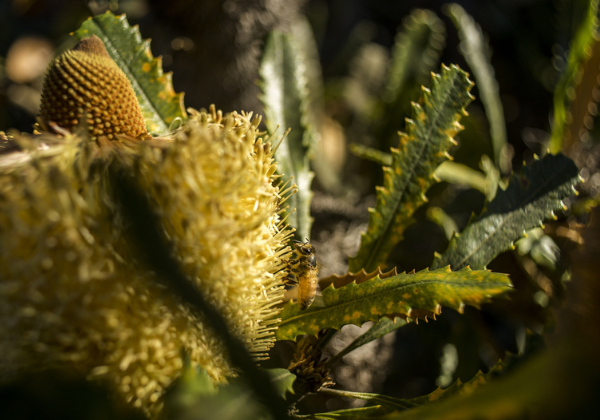 If you like your outdoor time to be a little more indoors or simply want to stroll through the varied California ecosystems with a coffee in hand, visit the UC Santa Cruz Arboretum & Botanical Gardens. Here, you'll see hundreds of varietals of plants and flowers that can be found throughout the massive state's varied landscape.
The gardens are open daily, and admission is $10.
Take a Train Ride on the Roaring Camp Railroad in Felton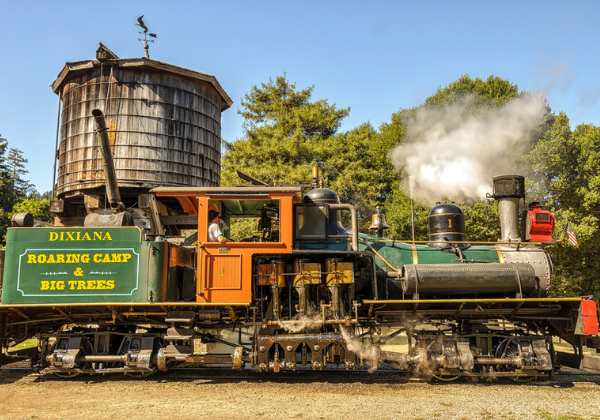 Just outside of Santa Cruz lie two unique and scenic guided tours of the Redwoods and the California Coast via the Roaring Camp Railroad! The classic Redwoods forest steam train lasts about 75 minutes and takes you all the way to the summit of Bear Mountain in a locomotive that dates back to 1890. This is one of North America's oldest (and most authentically preserved) steam engines.
Spectacular Views in Santa Cruz
These sights focus on the natural beauty of the Pacific Ocean and surrounding coastline and are the perfect addition to any California road trip or Santa Cruz itinerary.
Natural Bridges State Park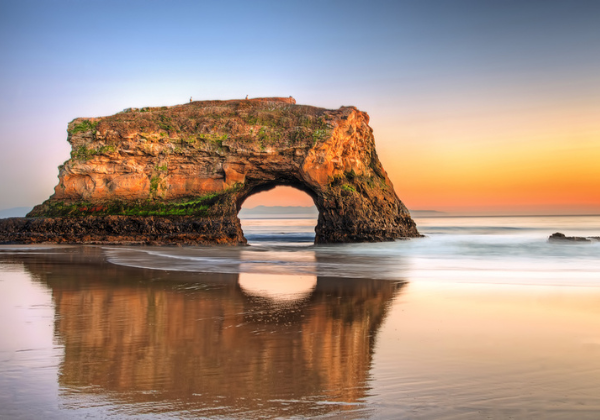 If dramatic rock formations, stunning sunsets, and tide pools are your thing, then Natural Bridges State Park is the place for you. Few places along California's coast can compare to the beauty of the Natural Bridges State Beach, located just west of downtown Santa Cruz near the University of California campus.
The name derives from the Sandstone rock rising out of the depths of the crashing surf. Over time, wind and waves have carved a natural bridge through the center of it, creating quite a dramatic feature to pair with a breathtaking sunset.
Bring a blanket, pack some food, and enjoy a picnic or watch the rock come alive with the bird species that call it home, like cormorants and pelicans. At low tide, tide pools brim with life featuring sea stars, crabs, and sea anemones. During the winter, the park's grove of eucalyptus is covered in clusters of hibernating monarch butterflies.
Lighthouse Field State Beach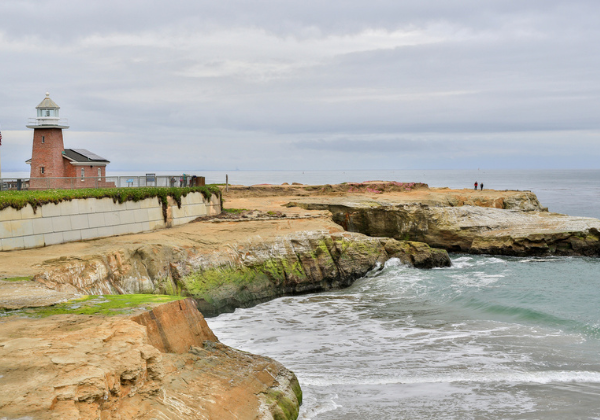 Life is a beach. At Monterey Bay's north end, this cliffside viewpoint is a must for any visit to Santa Cruz. Watch local surfers (and otters) from shore at the iconic Steamers Lane, or stroll along the protected stretch of sand surrounded by cliffs and admire the lighthouse.
This area is found along West Cliff Drive and is one of many Santa Cruz spots that are popular with dog owners (leash required). Slightly further down is Mitchell's Point, an off-leash friendly area where you can toss the ball and play in the surf with your pups.
Capitola City Beach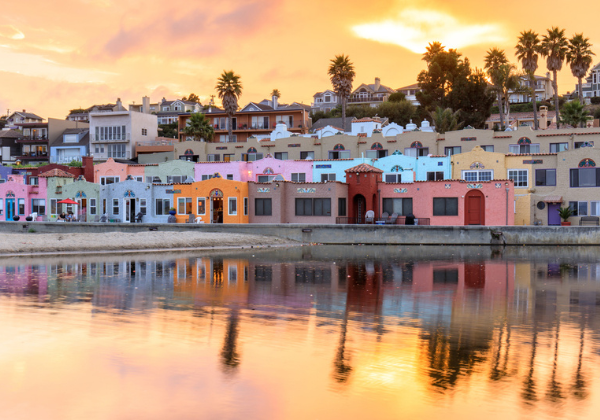 When you need a break from swimming, volleyball, and surfing, this laidback beachfront town (Capitola), which originated as a tent camp, hosts an array of colorful shops and delicious restaurants while giving off that chilled-out quiet seaside town vibe.
Henry Cowell Redwoods State Park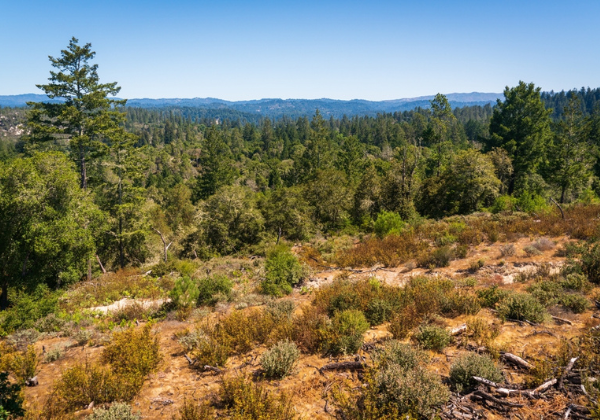 Away from the surf breaks and sandy shores, journey into the Santa Cruz mountains and experience some of the world's largest redwood trees at Henry Cowell Redwoods State Park. With campsites and over fifteen miles of easily accessed walking and riding trails, this state park is perfect for a day or two with the entire family to explore the old-growth forests of the redwoods. You will be amazed how a twenty-minute drive from Santa Cruz can take you to such a lush region.
West Cliff Drive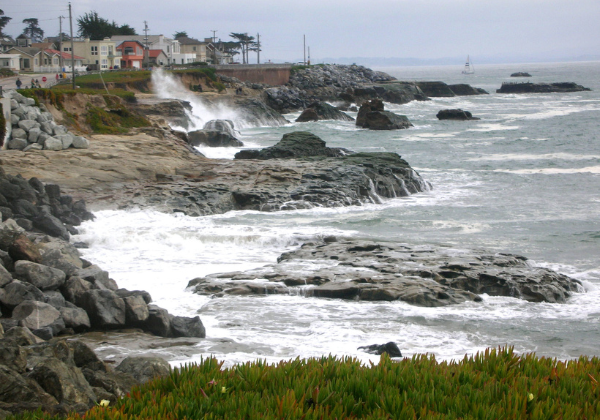 Why not get some dramatic coastal views with some exercise and fresh, salty sea air? West Cliff Drive is ironically not a drive but a 3-mile stretch of bike and walking paths perfect for stretching your legs and taking in the scenery.
You'll find locals and visitors alike walking dogs, exercising, and strollers. This pathway leads you along cypress trees as you pass Lighthouse Point. Keep your eyes peeled for pods of dolphins or whales that tend to swim parallel along the coast.
Directly south of Lighthouse Point lies Seal Rock, where you can see the famous California Sea lions lazing around the small rocky outcrop. You'll meet up with the aforementioned Santa Cruz Surfer Statue a little further along West Cliff Drive. The vista from this point is unparalleled, where you can drink in the view of waves on the main beach, wharf, and boardwalk and survey the greater Santa Cruz coastline.
The hiking trail ends (or begins) at Natural Bridges State Park, where a sandstone rock carved by wind and waves looks out over the Pacific. If you've got the time and energy, this easy walking trail is great to double back, double your views, and turn it into a tall six-mile walk.
Wilder Ranch State Park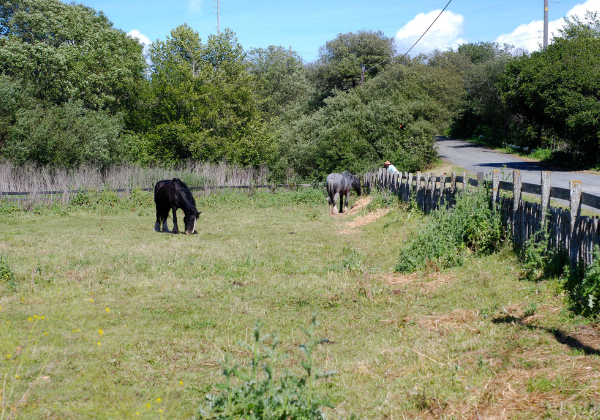 This park just north of Santa Cruz was once a dairy farm and today is a 7,000-acre area that boasts small coved beaches, excellent surf breaks, over thirty miles of hiking and equestrian trails, and restored historic ranch buildings showcasing the cultural significance of the area to indigenous and colonial heritage.
With sheer cliffs and crashing waves, Old Cove Landing Trail is an easy 2.4-mile walk along the dramatic landscapes of this State Park. Starting at the preserved Dairy farm and taking you to Ohlone Bluff is a great way to take in the sights and beauty of this area.
Santa Cruz is Worth More than A Day Trip!
Skip Los Angeles and soak in the miles of trails, numerous beaches, and countless sights to be seen in Santa Cruz instead.
In addition to all the top-notch sights listed above, you could spend some time at Santa Cruz Harbor, kayaking on the Pacific, horseback riding along its surrounding trails, eating your way through a local farmers market, going whale-watching, and so much more. Book your vacation home stay in Santa Cruz today!