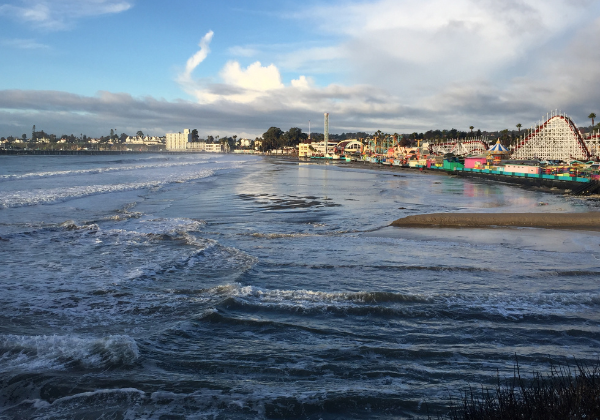 A Visitor's Guide to Winter in Santa Cruz, CA
On an average sunny summer afternoon in California, the beaches are crowded, the traffic is tangled, and temperatures soar to 100 degrees or higher. This is peak season for coastal cities like Santa Cruz. But winter has just as much to offer vacationers staying in one of our centrally-located villas as any other season. More in fact, because you won't have to deal with the chaos of crowds and traffic or the surging summer prices.
Santa Cruz has a vibrant local community that creates a welcoming atmosphere year-round. This travel guide will guide your trip to Santa Cruz in the wintertime.
Winter Weather in Santa Cruz
While winter is undoubtedly a little colder and wetter than the summer months, here, that only means one rainy week per month and daytime temperatures of about 50-60 F. The fog may hang around the coastline a little later in the morning, but typically, you'll still get some sunshine, and that fresh sea breeze will continue to blow.
We're calling the months of December-February "winter" here – although the weather may disagree!
Getting There
Just north of the famous Monterey Bay, the city of Santa Cruz sits at the crux of two scenic highways— Coastal Route 1 and Highway 17 through the Santa Cruz mountains. Several major airports are nearby, including San Jose, Oakland, and San Francisco.
San Jose is the closest airport accessible to Downtown Santa Cruz by car rental, Bus #17, and an airport shuttle service.
Getting Around Santa Cruz
Public Transportation: Santa Cruz metro is surprisingly well connected with 34 different routes servicing the area. Better still, it will only cost you about $2 a ride!
Bicycles: This might just be our favorite way to get around Santa Cruz! There are plenty of bike rental shops, like Epicenter Cycling, where you can rent your wheels for the day. Just be sure to pack a jacket and some gloves.
Walking: If you plan on spending most of your time in downtown Santa Cruz, then conceivably, you could walk to all the major attractions and beaches. But if you plan to visit the surrounding areas of the county or have booked one of our villas in Pleasure Point or even further afield — you'll need to utilize some other form of transportation as well.
Car: The easiest way to get around the area.
What to do in Santa Cruz in the Wintertime
Stroll the Santa Cruz Beach Boardwalk
Even if the temperature reaches freezing (it won't), you have to visit the famous Santa Cruz Wharf. Between the resident sea life playing in the waves, the quirky local performers lining the walkway, fresh pulled salt water taffy and greasy carnival-style treats, the Giant Dipper rollercoaster, the Looff Carousel, a cable car overlooking the ocean, and a dizzying array of arcade games— this place is fun for the whole family.
See the Monarch Butterflies Migration at Natural Bridges State Beach
Beachgoers who flock to Natural Bridges State Park in the summer are replaced by butterflies in the Fall and Winter. More than 100,000 bright orange insects flutter through here during October-February every year. You can even join a free butterfly-watching tour on the weekends!
Visit West Cliff Drive for Spectacular Sunsets
This famous 3-mile stretch of path gives breathtaking ocean views (watch for the otters at the famed surf spot; Steamer Lane) and allows you to fully appreciate the more colorful sunsets of Santa Cruz in winter.
Groove to Some Live Music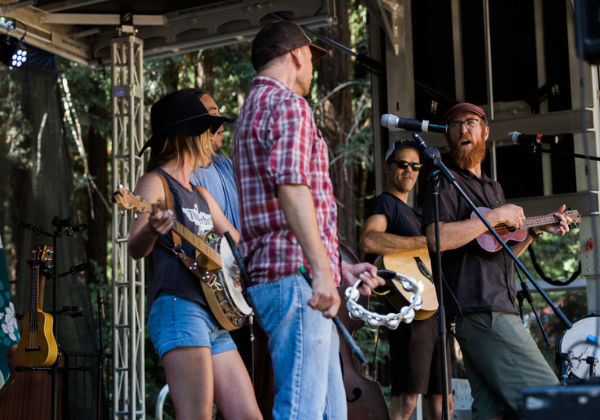 Santa Cruz has a blossoming live music scene and is often blessed with spillover from the nearby creative hotspot of San Francisco (or even Los Angeles).
Visit One of the Numerous Santa Cruz Museums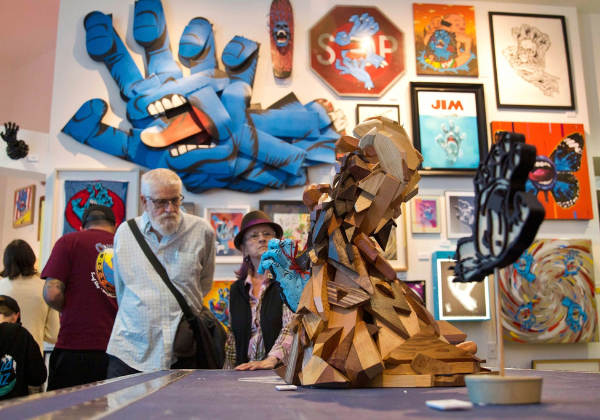 On wet and dreary days, you can always perk yourself up with an indoor activity like cruising the many excellent museums of Santa Cruz. The Santa Cruz Museum of History, where you'll find a ten million-year-old Melodeon tooth plucked from the Santa Cruz Mountains, among other local natural wonders. 
You should also visit the Santa Cruz Museum of Art and History, the Arboretum at UCSC, and the iconic Santa Cruz Surfing Museum in a scenic lighthouse high atop the famous surf break of Steamer Lane.
Search the King Tides' Pools
Wintertime brings a natural phenomenon called the King Tides to Santa Cruz. This is the year's highest and lowest tides. Excellent for tide pool scouring with the family! This also brings in impressive swells for enthusiastic (and thick-skinned) winter surfers. Winter is actually one of the best times to surf in Santa Cruz.
Experience a Crowdless Shark Fin Cove
Renowned as one of Santa Cruz's best beaches (alongside Seabright Beach), this popular spot is way too crowded in the summer months.
Witness Elephant Seal Breeding Season at Año Nuevo State Reserve
These floppy-nosed behemoths breed, birth, and molt their fuzzy skin on the beaches during the winter months from December to March. While the winds here can be quite chilly, the numerous bellowing seals and sea lions bouncing across the sand are a spectacle to behold. You must visit with a guided tour (for your own safety) so be sure to book ahead of time.
Go Gray Whale Watching!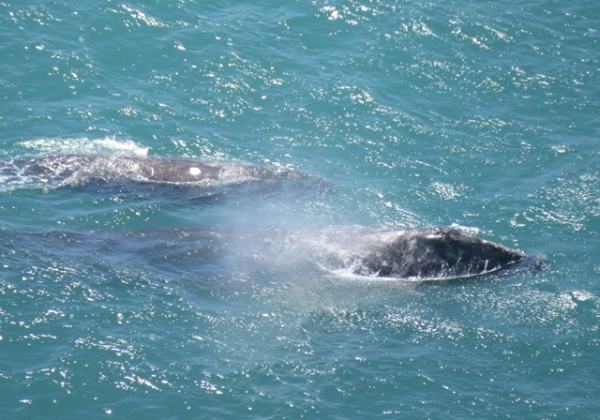 Winter just so happens to be prime whale-watching season in California. In Santa Cruz, the season peaks in January with Gray Whales, Humpback Whales, and Orcas often spotted just off-shore. If you want to have the best whale-watching experience, join a tour like Stagnaro's Santa Cruz Whale Watching, and bring binoculars, a hat, and gloves because it's colder out on the bay than you might think!
Visit the Seymour Marine Discovery Center.
The center is run by UC Santa Cruz and offers many exhibits, including one where you can touch a live shark and glimpse Mr. Blue, one of the largest whale skeletons in the world! This is an educational experience as well and great for the whole family.
You can also take a day trip to the Monterey Bay Aquarium for more undersea exploration without leaving dry land.
Watch a film at the Historic Del Mar Theatre
There are loads of movie theaters in Santa Cruz for gloomy winter days but none quite like the Del Mar. This Art-Deco, once vaudeville performing, historic building was constructed nearly 100 years ago and serves locally made treats at concessions like fresh ice cream and vegan brownies.
Enjoy a Locally Crafted Brew
The Santa Cruz craft beer scenes cup runneth over. You've got Uncommon, Santa Cruz Ale Works, Seabright, Discretion, Santa Cruz Mountain, and more!
Revel in the Warm Glow of Christmas Lights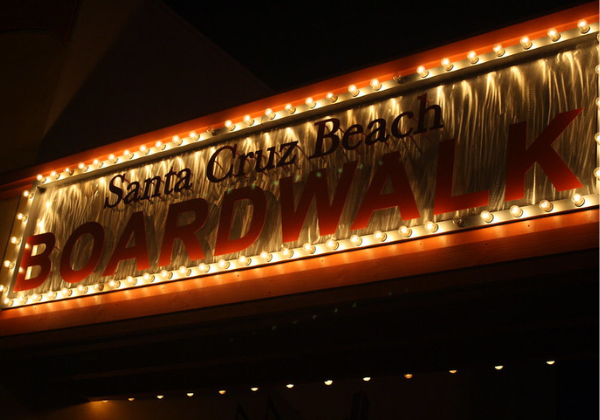 If you happen to be visiting Santa Cruz for the holidays, it might not be a winter wonderland, but you're in for the technicolor treat of a lifetime. There's a lighted boat parade every December and an array of worthwhile lighted streets to self-drive with a cup of cocoa. Check out 2580 Bean Creek Road in Scotts Valley and Depot Hill in Capitola.
Day Trips and Excursions
While many of the more outdoorsy day trips from Santa Cruz might be off-limits in the winter months, you can always meander over to San Francisco for some big-city fun, hit the aquarium at Monterey Bay, or enjoy the views from Henry Cowell Redwoods State Park or Big Sur just a short drive away.
Explore Santa Cruz in the Winter
The hot tubs are already bubbling, and our numerous pet-friendly villas are ready to welcome you to Santa Cruz no matter the season. The small town packs a punch when it comes to sights, wildlife experiences, family-friendly activities, beach days, and everything in between.
Before you go, be sure to browse our luxurious oceanfront properties for your next getaway!